In another life, before I started writing about technology, and before my days as an IT analyst, I spent nearly two years working in customer support for T-Mobile U.S.A.   

Working in support was probably the hardest job I've ever had, but I came away with not only an appreciation for the work's difficulty, but an understanding of the importance of an amazing support network when it comes to customer satisfaction, and, ultimately, a company's success.

Today, when I'm evaluating a service, whether for myself or a review, I can't help but spend an inordinate amount of time weighing that service's approach to handling the needs of its consumer base.

It's a compulsion.  

So, in the name of compulsive nitpicking, let's have a look at ten popular cloud storage services, and how they fare when it comes to customer support.

In doing so, I decided to consider common communication points, including:

Email Phone Live chat support

But I also decided to spend time weighing, what I like to think of as "DIY" options: knowledge centers, troubleshooting flows, user forums, and the like.
Table of Contents:
---
Email Support
For most cloud storage and Internet services, email correspondence is the natural, go-to channel for support.
In fact, 92.7% of all firms polled in a 2013 Society of Consumer Affairs Professionals (SOCAP) survey, used email as a support channel.

If you're thinking about adopting a cloud service that doesn't at least provide email support, then I'd recommend seriously considering other options.  

Each cloud service reviewed below offers email support, either via a direct email address that you can write to, or a web form that typically results in an emailed response.  

But despite its popularity, email support can be pretty frustrating.

Many services don't view email response time with an appropriate sense of urgency, and as a result, you can be left twiddling thumbs in frustration, until they bother to reply.

To see how each reviewed service performed in this regard, I sent off a series of inquiries. Each of which included two test questions:

Is there a way to limit sync speed? Is there a way to set an expiration date on a shared link?

The approach's intention was to not only ask questions that I could verify for accuracy, but also check to see if the services answered both questions.

I was pleasantly surprised to find that each service succeeded in both regards and even provided personalized answers, as opposed to apparently stock responses.

About response time, to keep things fair, each of the inquiries got sent within 10 minutes of each other, shortly after 2:30 PM (UTC-5) on a Monday.
Here are the results:
| Service: | Time Sent: | Time Answered: | Time to Answer: |
| --- | --- | --- | --- |
| Sync.com | Monday 2:31 PM | Monday 3:44 PM | 1 hr 13 mins |
| pCloud | Monday 2:41 PM | Thursday 4:46 AM | 62 hrs 5 mins |
| Dropbox | Monday 2:40 PM | Monday 3:55 PM | 1 hr 15 mins |
| Google Drive | Monday 2:38 PM | Tuesday 6:46 AM | 16 hrs 8 mins |
| MEGA | Monday 2:36 PM | Tuesday 7:13 PM | 28 hrs 37 mins |
| OpenDrive | Monday 2:36 PM | Monday 5:25 PM | 2 hrs 49 mins |
| Livedrive | Monday 2:33 PM | Tuesday 6:12 AM | 15 hrs 39 mins |
| JustCloud | Monday 2:28 PM | Monday 5:35 PM | 3 hrs 7 mins |
| OneDrive | Monday 2:27 PM | Monday 4:11 PM | 1 hr 44 mins |
| Box | Monday 2:30 PM | Monday 5:52 PM | 3 hrs 22 mins |
Earning top marks were Sync.com and Dropbox, clocking in well under two hours.
OneDrive, OpenDrive, and JustCloud also performed admirably. On the spectrum's lower end, pCloud took over 62 hours to reply.
Live Support Channels
There are two types of live support standards in the customer support industry today:

Telephone Online chat

Of the two, I prefer the latter, as I find it easier to articulate technical issues I'm having, in writing.

Chat help offers a nice hybrid of telephone and email support.
I'm not alone in my thinking, as it turns out. Among customer support channels, chat has the highest level of customer satisfaction, at 73%. Email and phone support are at 61% and 44%, respectively.
Sadly, many otherwise excellent cloud service companies don't provide a live support channel at all, which can be a real problem, if you're up against a deadline or running a business.
Ultimately, it's undoubtedly a cost issue.
Call centers can be expensive, and investing in them can make it difficult to provide things like lots of free storage — especially for a smaller company.  
I will point out, however, that while some cloud service providers don't offer a chat or phone option on their support page, they will initiate live support with customers if they think it'll help resolve the issue more quickly.
DIY Support Resources
Of course, like many out there reading this article, I like to research and troubleshoot issues as much as possible.
First, I find that many of the questions I have or problems I encounter, have already been documented.

Why wait a few hours or days for an email response, or endure terrible hold music, when a quick forum search can solve the problem?  

Second, I like to build expertise, and I do that best, by reading and working through issues on my own.  

When it comes to DIY support, there are two basic categories that I like to see on support pages:

Knowledge centers User support forum

Knowledge centers include tutorials, how-to guides and frequently offer troubleshooting documentation, too.

Many online services, including those selected for this article, have knowledge bases, which free up support agents, who can better devote their attention and time elsewhere.  

Pages detailing ongoing maintenance and technical issues, in addition to known bugs, are a huge help, although quite often get overlooked in the construction of a knowledge base.

Such pages deal with extraordinary issues which even a technical guru might need a heads up on.

User support forums facilitate the ability to get help from a service's larger community, as opposed to just support agents. They're an excellent way to work through common problems that a service might overlook, and tap into some creative, outside-the-box approaches.

Sadly, support forum implementation is another frequent issue missed by cloud service providers, which is surprising, as creating a support community is an excellent way of reducing support costs further.
Featured Cloud Storage Services
You've seen the email response times. Now, let's take a deeper look at what each cloud storage service has to offer when it comes to customer support.
---
1. Sync.com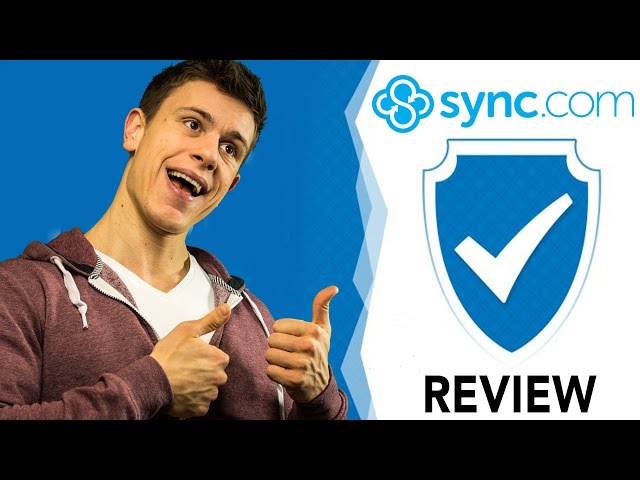 One thing I admired about Sync is they don't attempt to hide away customer care links by burying contact info beneath pages of irrelevant trivia.
Instead, from the web interface, it's just a matter of clicking "Help" in the top right-hand corner.
Once you do, a pop-up form appears over the interface, and you can start to shoot off questions, suggestions, and comments.
Of course, if you'd rather search through Sync.com's thorough knowledge base, that's an option too.
Click the link at the top of the help form, and it'll redirect to a support page where you can check out frequently asked questions, browse by topic, search, or download a PDF version of Sync's user manual for Windows or Mac OS X.
Sync also has a well put together blog, which keeps on top of new rollouts and handy tips.
Unfortunately, Sync.com falls short when it comes to live support — at least on the surface.
While they don't offer phone support, or the option to initiate a live call, I did reach out to their sales team and was informed that in certain cases, they would escalate technical issues to live chat, if it will help resolve the issue more quickly.
I'd love to see the option to begin a live chat session on your initiative, not to mention a user forum, system status indicator, and a bug reporter.
But overall, it's pretty clear the Sync.com takes problem resolution seriously.
Email support
In-depth knowledgebase
Routinely updated blog
Sync will use chat in some cases
No phone support number
No live chat option
No maintenance/known bug report
No user forum
2. pCloud
pCloud starts with a detailed support page broken down by category, which will answer most basic technical questions.  Getting there is as simple as hovering a mouse cursor over the Settings icon, on the web interface's top-right side, and selecting help.  
Categories are segmented by platform, along with miscellaneous categories for general FAQs and pCloud Crypto (the company's enhanced security feature).
To speed things up, a search option gets provided.
When you can't find answers in the knowledgebase, the final category, "Request Help," should do the trick (given time).
Clicking this link will open a pop-up window, where you can fill out a form, or use the [email protected] email address to send an inquiry via your email client.  
pCloud also has a contact number listed on their website.
Well, it doesn't explicitly get listed as a support number, but I touched base with their sales team on the matter and was informed they do offer technical support over the phone, from (9:00 – 18:00 UTC+3).
Still, at least it's a way to get in contact with a live individual, in case you're left waiting for an email response, as I was.
3. Dropbox
As you might expect of cloud storage's godfather, Dropbox has a large customer support network; which begins with their nifty support page, offered in 22 different languages.
A search box is available, alongside a well organized, related categories page. Clicking on any one category will redirect to a separate support page, brimming with knowledge.
Scroll down below the group section, and you'll find a list of FAQs.
Below that, there are links to a Dropbox tour, a user forum, and a troubleshooting tool. The latter includes detailed flows for solving issues that go well beyond the basics.
For example, the following flow:
---
Leads to an excellent overview of the likely problem, and steps to use a Dropbox tool to scan for bad files.
If your issue isn't covered, open a web form and complete a support request. Dropbox even has separate forms for developer support, if you're an IT professional, and offers priority response times for paying subscribers.
Their user forums, whether you're a typical user or a developer, are also an excellent way to solicit help from the Internet.
However, they don't offer primary users active support in the form of phone or chat, and that's disappointing, especially given their pedigree.
4. Google Drive
When it comes to touchpoints, Google Drive hits the trifecta:

Email Phone Live chat

Are all available. Each method of contact is available via the Google Drive Help Center, accessible by clicking "Contact Us" on the top-right side of the page.

Doing so opens a drop-down menu, allowing you to select your issue from a series of categories.

The setup forces a user to choose a category, not to redirect the user away from enlisting live help, but rather to make a recommendation for the fastest means of support —  based on that support category.

For example, I selected the first category, "Syncing files and folders," and received the following information:
I'm advised the fastest way to get help for my issue, is to request a phone call, while asking for a chat connection will take 2-3 minutes. The live support touch points are tantalizing but don't overlook Google's online knowledge base, as a means of getting the help you need.
Within the Google Help Center, you'll find pages devoted to organizing, syncing, sharing, and policy overview, and guides to fixing common problems.
As you might expect with a company as broadly accessible as Google, their user helps forum, called Google Drive Community, is also extremely active, and so is their product blog.
Google Drive might have its issues, but customer support isn't one of them.
5. MEGA
Despite a launch straight on the heels of its forebears' shutdown, MegaUpload, for allegedly facilitating online piracy amongst users, MEGA nonetheless proved to be an overnight hit.  
50GB of free cloud storage will do that. But once you get over the shock of all the free gigabytes, part of MEGA's new legacy includes a host of user experience issues, such as lethargic upload speeds.
As a means of creating a stronger product, MEGA took an approach that I love to see in online services.
They built a customer service strategy around smoothing the ride, opening their source code repositories to developers and creating individual email addresses just for reporting bugs and suggesting improvements.
On top of that, they offer separate emails for official support inquiries, in addition to reporting copyright infringement.
MEGA also offers a Help Center, which provides both search and category groupings. While not as robust as knowledge bases provided by other services, it'll answer most fundamental questions.
Given that MEGA now serves 50 million users, including a strong showing among technophiles, I feel the lack of a user forum is a missed opportunity.
Also, while MEGA does sport a blog, it is infrequently updated, with often weeks and months passing in between posts.
6. OpenDrive  
One of the most important aspects of OpenDrive's stance on customer service, comes on the front page of its support center site, where you'll find listings for scheduled maintenance.
Don't worry– they're infrequent. However, I find the visibility reassuring, as it suggests a commitment to communication with the user base.
In fact, the entire OpenDrive support page has a look and feel that strongly appeals to my inclinations toward customer service. I love that it's designed as a separate site, as opposed to coming off as an FAQ page.
There's even a separate tab to check on existing help desk requests that you've submitted, which I have to say is a detail I wish a few other cloud service providers would emulate.
As if that weren't enough, OpenDrive even offers live support via a help desk line. Granted phone support is only available between noon and 6 PM UTC-5.
But given the rarity of live support, I think it's worth a pat on the back, don't you? While OpenDrive doesn't feature a blog, they do have an announcements sections to keep tabs on rollouts, policy changes, etc.  
Finally, OpenDrive has an excellent community support forum integrated into their support center.
Overall, OpenDrive is a fine example of a cloud storage provider that understands customer service. Now if only they had chat support, yeah, I'm greedy.
7. Livedrive
Livedrive is a hybrid backup and syncing service. Despite having seen a lot of bumps, it's emerged into a viable service worthy of serious consideration. Still, it does have some user experience issues regarding its learning curve, so it's probably a good thing the folks at Livedrive mostly nail customer service.
Click the "Support" link on the left side of your screen, and you'll get presented with a series of available options.
Including an option to check "Service Status," so you can quickly see if there is any maintenance going on, or technical issues that might be impacting the service.
As with OpenDrive, I find this kind of visibility particularly gratifying and indicative of a service's commitment. The Livedrive blog, while aesthetically pleasing, isn't updated often enough to achieve its potential. The Livedrive Support page, however, is extremely well done.
Service status is again indicated on the right side of the page.
Livedrive also offers a "Getting Started" segment for novice users (which helps with that learning curve issue), and a detailed and searchable knowledgebase.
There's also a page to submit a ticket, and a page for tracking open tickets, so you can be certain inquiries and issues are being addressed.
I did find the "Contact Details" support link near the top of the support page rather perplexing. In clicking it, I'd hoped to see a method of contact a live customer care representative, or at the very least a list of separate email addresses for separate departments.
Instead, the text on the link advises the user to submit a ticket, which is done through the "Submit a Ticket" page.
Why even have a contact details page, if it's only purpose is to create a ticket on a separate page, which it isn't even linked to?
8. JustCloud
Prefer customer care over the phone? JustCloud offers separate direct lines based on geographic location.
Unfortunately, their telephone support only handles billing issues and not technical support. For that, you'll have to rely on either their serviceable knowledge center or email. JustCloud's knowledge center includes straightforward tutorials to help new users find their footing, which is segmented by category and searchable.
There's also a troubleshooting page to help work through various problems, although I found it to be somewhat sparse, in both breadth and depth.
Also, I prefer guided "flows" when it comes to troubleshooting, as opposed to content pages. Still, it's always nice to see a troubleshooting guide, even if it isn't fully fleshed out.
Overall, their support page is easy to navigate, but like the troubleshooting pages, could use a little more depth. Additionally, I would love to see a user forum and blog in the future.
Finally, their email support has separate channels for sales, billing, and technical assistance. I always find the "different channels" approach to be right, as customer care is better served through specialization.
9. OneDrive
Microsoft takes advantage of its deep pockets and broad user base, to provide a deep, if not incredibly well-rounded, customer service experience that's difficult for the competition to match.
Their support site can be a little difficult to navigate, as it's loaded with information for all Office Live tools, including Excel, OneNote, Outlook, Powerpoint, and Word.
Navigation gets easier with the help of a search box, and once you arrive at OneDrive's help pages, the experience is compartmentalized enough so as not to be overly distracting.
New users who prefer a more personable approach will likely be attracted to their video tutorials.
For the readers who want to get to know their cloud storage provider better, Microsoft even provides a OneDrive ebook; it may not make the bestseller list, but it is a decent introductory resource.
For business users and IT professionals, they also provide "Basic Business" and "Enterprise IT" pages. Where Microsoft falls short, in my opinion, is not using their resources to go all in with live chat support, or telephone support, for that matter.
OneDrive does have a user forum of sorts, called OneDrive UserVoice, but it isn't linked on their support page, or via the OneDrive app. Also, it's more of a feedback and suggestions forum, and a place to report bugs, than it is for soliciting help from a community of fellow OneDrive users.
While Microsoft doesn't have a dedicated product blog for OneDrive, the Microsoft Office blog can search for OneDrive posts, and is often updated enough to be a useful source of intelligence.  
Finally, as a nifty trick, you can shake a phone while the OneDrive mobile app is open, to bring up help options.  
Now that's service.
10. Box
Box gets heavily geared towards attracting business users, including the enterprise clientele, it's no wonder that it offers incredible customer support.
Box's primary support center site is dubbed "Box Community," and offers a polished and interactive experience.
You can research for answers quickly or browse by category.  
Box also offers great support forums segmented between:

Standard users Admins Developers

This sort of segmentation works wonders, as far as dictating the level of discourse, and is an excellent way to get help from fellow users, often resulting in faster and more creative solutions than relying on trained support.

Typically, support requests get sent through an email system. Such requests are tracked, so you can keep tabs on where the request is in the system.

Box also offers a concise overview of their "case process," and a page dedicated to tips, which can help speed up case resolution by providing more descriptive trouble tickets.
Additionally, for more pressing needs, Box does offer live chat, although this feature is often offline, and I couldn't find posted support hours.
Box also provides 24/7 phone support, but only for sales and billing inquiries.
As an alternative means of learning your way around Box, a separate site called "Box University" provides what's probably one of the most innovative support experiences of any cloud service I've reviewed.
There, you can take live courses ranging from introductory level to advanced, many with time at the end devoted to Q&A. The course calendar has multiple offerings each day throughout the month.  
Finally, Box maintains both a product news page and a blog, that are both frequently updated.
In Summary…
Customer support is something many users overlook when shopping around for cloud storage services. Until they need it, that is, and then they're stuck with what they've got. That said, I would NEVER suggest dismissing a service solely based on its lack of live support.
Doing so would be to overlook many other important aspects of a product, such as security (Which Cloud Service Has the Best Security?).
Sign up for our newsletter
to get the latest on new releases and more.
As long as a service has a sound knowledge base and decent email response times, a user will be able to handle most problems that come up. Business users and developers, meanwhile, might want to put a little more emphasis on other aspects discussed above.
Care to share your thoughts and experiences on the topic of cloud storage and its customer service culture? Hit us up in the comments section below!