Best Cloud Storage Services for Video in 2023: Store & Stream Your Videos
Shooting a lot of video means you need a lot of storage space and most hard drives aren't up to the task if you're an avid videographer. In this piece, we take a look at the best cloud storage for video, taking space, price and the ability to stream videos into account.
Whether it's home videos, vacation snaps or professional content you're looking to save, ensuring you have enough storage to save your videos is essential. Rather than risk your videos on only a local hard drive, you should think about also using cloud storage. Figuring out which service is the best cloud storage for video files specifically can be difficult, though, which is why we've put together this list.
Key Takeaways:
pCloud is our top pick for the best video cloud storage owing to its wealth of features aimed at video storage.
Content creators using a NAS device for local storage will be well served by using IDrive as their online storage provider.
If security for your videos is a key concern, then consider using Sync.com, with its excellent security and privacy protections.
If you're looking for the best cloud storage service in general — not just for video files — then our top pick is Sync.com. For this list, though, pCloud edges ahead due to several video-focused features, making it a clear winner for this list.
06/25/2022

Updated Sync.com's plans and pricing information.

07/31/2022

Updated to reflect an increase in IDrive's free plan to 10GB of storage.

05/23/2023

Updated to remove IDrive's discontinued free plan and add its new free 30-day trial.
Find the best Cloud Storage
How much cloud storage do you need?
How secure does your cloud storage need to be?
Are there any "must-have" features?
Subscription or one-time payment?
Services that are a match:
What Makes the Best Cloud Storage for Video?
Most of the usual criteria apply when picking a cloud storage provider specifically for video files. However, there's a greater emphasis on unlimited file size, upload speed and video-specific features such as media streaming. These are our eight best cloud storage services for video cloud storage.
If you're a video creator, having a reliable way to store your raw footage and edited videos is crucial. While all the above criteria also apply to content creators, some of them — such as file size limit, speed and amount of storage space — become even more important.
Additionally, many professional video creators use a NAS setup to organize their content, so the ability to backup network drives is also a huge bonus.
pCloud is our top pick as the best video cloud storage, thanks to its amazing video player, but you should also consider Sync.com if your top priority is security.

Although you can certainly use pCloud for storing large video files, thanks to its affordable plans, Sync.com is our top pick for the best cloud storage for large files as it doesn't place any limits on file size or bandwidth.

Sync.com is our favorite cloud storage for home use, but this can change depending on your situation. For example, if you're looking for the best cloud storage for families, you can't go wrong with Microsoft OneDrive (read our full OneDrive review).
The Eight Best Cloud Storage Services for Video
pCloud is our favorite cloud storage provider overall, and its lack of file size limit, built-in media player and fast upload speeds make it a shoe-in for the top spot on this list. If you're extra concerned with security though, our overall top pick Sync.com might be an even better choice.
Newcomer Icedrive — our fastest cloud storage service — is another good option, for the same reasons as pCloud.
However, if none of those three cloud storage options strike your fancy, then check out our remaining five suggestions: Google Drive, IDrive, MEGA, Dropbox and Box.
More details about pCloud:
Pros:
Affordable prices
Integrated media player
No limit on file size
Cons:
Encryption costs extra
No NAS support
We'll start with our top choice for video cloud storage. This has long been one of our favorites, and as we talked about in our pCloud review, there are a lot of pros, including its top security features, affordable storage plans, great sharing options (making it one of the best cloud storage services for sharing) and a built-in media player. It works well on desktop as well as its mobile app, too (find out how to set up pCloud Drive).
Mobile devices are well-supported, too. Its Android and iOS apps allow you to access your online cloud drive, and its automatic uploading makes it easy for you to continuously backup your files (pCloud is our best cloud storage for Android, too).
As for pricing, pCloud is very reasonable. You can get 10GB of storage with the free plan, but if you're looking to store video files, this won't last you very long. Upgrading won't break the bank though, as you can get 500GB or 2TB of storage for $4.99 or $9.99 per month, respectively. Unfortunately, you have to pay extra for zero-knowledge encryption in the form of pCloud Crypto.
Built-In Media Player
If you're working with large 4K or 8K video files, you'll be happy with pCloud. It doesn't restrict you by file size, meaning you can upload huge video files without any issues. It also comes, as we've mentioned, with a built-in media player that'll let you watch your saved videos from your favorite web browser.
While all this makes it great for content creators, pCloud doesn't support NAS devices, which is a potential drawback for professional video creators. Plus, the pCloud media player may need to convert these videos for you before it plays them back, but it does this automatically. It won't replace your original files, but instead will give you a web-friendly copy that you can play without issue over the internet.
More details about Sync.com:
Pros:
Unlimited file sizes
Great prices
Excellent security & privacy
Cons:
No NAS support
On the slower side
Clunky interface
If pCloud wasn't in the picture, Sync.com would be our number-one option. As it stands, though, it's a worthy runner-up, and it still counts as one of the best cloud storage for pictures and video, as our earlier Sync.com review shows.
Sync.com subscribers don't need to worry about file sizes, either. Like pCloud, Sync.com has no file limits, meaning your videos can be as large as you need them to be. Unfortunately, while pCloud allows media playback directly from its website or supplied app, Sync.com doesn't provide this feature outside of its mobile apps, which is why pCloud edges out Sync for this list.
As a Canadian-based company, Sync.com takes advantage of one of the best and most supportive privacy laws in the world. It also offers AES 256-bit encryption, along with two-factor authentication to keep your account secure from hackers (it's also our best encrypted cloud storage provider). This explains why it takes a high ranking in our most secure cloud storage short list, too.
Free Storage & Plan Pricing
Sync.com is one of the best free cloud storage, thanks to a free plan with a generous referral system. Out of the box, Sync.com offers a fairly limited 5GB of storage, which is half the storage that pCloud offers for free. You can expand this, though, with up to 20GB in extra storage, thanks to new-user referrals. Each signup you gain adds an additional 1GB to your storage limit.
Sync.com offers storage plans from 200GB to 6TB, ranging from $60 to $240 per year. For your subscription, you gain top-level security for your video files, with one of the best zero-knowledge cloud storage solutions on the market.
You gain a healthy number of practical features for your money, too. Sync.com offers file versioning for up to a month, password protection to protect your most sensitive videos and a powerful system that lets you monitor access to your account. You can also remotely remove user access and wipe files from linked devices.
If you're curious about the differences between Sync.com and pCloud, you can take a look at our Sync.com vs pCloud comparison. Like pCloud, Sync.com doesn't support NAS devices, meaning it might not be ideal for content creators who utilize network drives for local storage.
More details about Icedrive:
Pros:
Affordable
No limit on file size
Integrated media player
Cons:
No block-level sync
Lacks collaboration features
No upload links
Icedrive is a relatively new cloud storage service that has been making waves in the field. You can read our full Icedrive review for all the details on the service, but suffice it to say its beautiful user interface, excellent security and privacy and extremely affordable prices have quickly made it one of our favorite cloud storage providers.
As for video, Icedrive ticks all of the boxes. There's no limit on file sizes, meaning you can upload your massive 8K video files without any problems. There's also an integrated media player, and both upload and download speeds are lightning fast. It's also very affordable, and even offers lifetime plans for those who don't like paying a monthly or yearly subscription.
Lack of Video Features
Unfortunately, Icedrive is severely lacking in terms of collaboration features, so if you need to work on your video files with other people, you might want to consider another option. There's also no block-level sync, which in terms of this ranking might be its biggest weakness.
This last part isn't much of a concern for home users, but content creators might become frustrated with having to reupload an entire video file after making only a minor edit. Once again, there's no support for NAS, so content creators who use such a system should look to the fifth entry on our list (namely IDrive) for something that supports this.
More details about Google Drive:
Pros:
Fantastic collaboration features
A lot of free storage
Integration with Google Workspace
Cons:
Privacy concerns
No block-level sync
No NAS support
As the first of the massive tech companies to hit this list, Google Drive earns a generous fourth place on our best cloud storage for video files short list. It's a good all-round provider, thanks to a powerful, integrated office suite that rivals Microsoft Office and 15GB of free storage space, as our earlier Google Drive review explains.
If you have a Google account, you already know what you're dealing with when it comes to Google Drive. The included Drive storage spreads across the entire Google product suite, from Gmail to Google Photos, and their associated mobile apps. It's also one of the best cloud storage for collaboration tools, in case you need a tool for the your team.
With 15GB of storage included for free, this won't let you save too many 1080p or higher-quality videos. For that, you'll need to think about paying for extra, with Google Drive pricing ranging from $19.99 per year for 100GB of extra storage up to $99.99 per year for 2TB.
A paid subscription will unlock the ability to share your larger storage limit with family members, making Google Drive a good option for collaborating on a large family album with your most precious memories.
Lack of Privacy
Unlike Sync.com, Google doesn't have a stellar reputation for privacy. Previous incidents where Google has tampered with files, terminating the accounts of any users it disapproves of, could be concerning.
The service isn't perfect. However, it's also one of the easiest cloud services you could choose to use, with a good user interface and cheap pricing (it's one of the cheapest cloud storage). Find out more on how it differs from the best in this list in our pCloud vs Google Drive review.
More details about IDrive:
Pros:
No limits on file size
Stream video directly from storage
Supports NAS devices
Although it's technically an online backup provider rather than a cloud storage service, IDrive deserves the middle spot on this list due to some features that make it excellent for video storage. First is its support for NAS drives, which means it's a top-notch choice for content creators who use such a system to store their footage locally before backing it up to the cloud.
Like the other entries on this list, there's no limit on file size (as long as you use the IDrive desktop client), and its support for block-level sync means that you can make a minor edit to a file and reupload it quickly. You can also stream video files directly from storage, so you don't have to download the whole file just to watch it.
Online Backup With Sync and Share
Although IDrive might feel a little out of place on this list, it comes with fully fledged sync and share features that makes it a lot more comparable to traditional cloud storage than most other online backup providers. For this reason we've compared it to several cloud storage services, such as in our IDrive vs Google Drive and IDrive vs OneDrive comparisons.
It's not all good news though, as IDrive doesn't have a monthly plan, meaning you're forced to subscribe for a full year if you want to use the service to store your videos in the cloud.
Fortunately, IDrive is also very affordable, with plans that come with 5TB or 10TB of storage for just $79.50 and $99.50 per year, respectively. If you want the full scoop on the service, make sure to check out our complete IDrive review for all the details. There's also a free 30-day trial you can use to test it for yourself.
More details about MEGA:
Pros:
Zero-knowledge encryption
Lots of free storage
File previews
Cons:
Expensive
No collaboration tools
Poor user experience
MEGA is a frequent mention on our cloud storage short lists because of an impressively generous free plan that offers 20GB of storage space without any payments required. It styles itself as "the privacy company" and, as our MEGA review explains, this isn't an unfair assessment, even with the controversy surrounding Kim Dotcom, the founder of MEGA.
Although he's no longer involved in MEGA's operations, Dotcom's determination to build an encryption haven for data — free from government interference — remains. You can read our full guide to find out what Megaupload is.
MEGA Free Storage vs Paid Plans
Impressive as the name is, what's more eye-catching is the amount of online storage that MEGA offers. With 20GB free, it's significantly more generous than the free plans offered by some of its competitors. Plus, you can add even more storage to your account by referring new users and installing the desktop and mobile apps. However, this extra storage will expire after 365 days.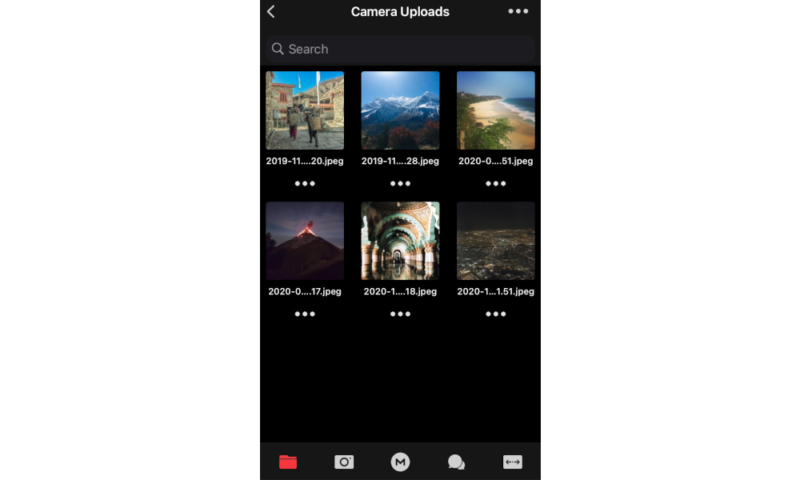 MEGA's plans go from 400GB on the low end to a whopping 8TB of storage, for between $5 and $30 per month. There are some transfer limits (from 1TB to 16TB), which could impact you if you're thinking of accessing your collection a lot.
It isn't as cheap as our top option, pCloud, but it does offer more storage, with a maximum 8TB versus pCloud's maximum of 2TB. It isn't just about the storage, though, as you'll gain access to a number of premium features, including a secure chat facility and file versioning for regular file updates.
More details about Dropbox:
Pros:
Block level sync
Collaboration tools
Smart sync
Cons:
Somewhat expensive
Poor privacy
Although it isn't the best cloud storage for streaming video, Dropbox's built-in media player and reasonably cheap storage plans make it a potential option for those who are looking for a simple, easy-to-use online provider for their video collection, as our Dropbox review explores.
We emphasize "cheap" because, although Dropbox does offer a free plan, you're limited to 2GB. This is tiny for any potential video collection, meaning you'll need to pay out if you're thinking about using Dropbox, or you'll need to hit the referrals hard, with 500MB added for each signup you obtain.
Its features are limited, too. You can share files, but you can't password-protect them or add expiry dates to any public links for files that you create. It's a fast provider, though, with block-level file syncing to speed up the process. (Read our Dropbox file size limit guide.) Dropbox also allows you to play your video files straight from the browser, without requiring a third-party app.
OG Cloud Storage, Lacking an Edge
Although it's still quite cheap, unfortunately Dropbox isn't the most competitive provider. A look at Dropbox vs Google Drive shows that, for the same 2TB of storage, you'll pay a good chunk more with Dropbox ($119.88 vs $99.99 per year).
Dropbox does offer a cheaper plan, with 1TB of storage offered at $99 per year (or $9.99 per month on the monthly plan). Dropbox also comes with simple, install-and-forget apps for Android, iOS, macOS and Windows.
As the father of modern cloud providers, Dropbox has a lot of positives, but that hasn't always been the case. Previous data breaches and a lack of zero-knowledge encryption could be off-putting for the privacy-focused, especially for sensitive videos, and it's one of the reasons it lost in our pCloud vs Dropbox battle. Read our Dropbox vs Google Drive vs OneDrive piece to see how it compares to other cloud storage providers.
More details about Box:
Pros:
Great app integrations
Excellent security
Possibility of unlimited storage
Cons:
Expensive
5GB file size limit
Zero-knowledge encryption costs extra
Box probably wouldn't be the first cloud drive you'd think of to host your video collection. To start, as our Box review explains, Box is primarily an enterprise storage solution that focuses more on its productivity apps than on video storage.
That said, with unlimited storage plans available, Box could well be one of the best cloud storage for video editors. It's become one of the best EFSS services, with private file encryption and integration with both major office suites: Microsoft Office and Google Docs.
Box looks a lot like Dropbox, especially its web client, with a similar user experience to boot. File syncing makes it easy to share video files between all of your devices, including your mobile devices.
As it offers business plans, Box guarantees the maximum possible security for your files, with AES 256-bit encryption and regularly scheduled penetration testing to limit the chance of a damaging data breach.
Basic vs Unlimited
For 100GB of storage on the basic Starter plan, Box is more expensive than options like Google Drive, which charges $19.99 per year for the same amount of storage. Unlimited storage with Box starts at $20 per month or $180 per year.
The one downside, especially if you're looking to store large video files, is the file size limit. Box has a file size limit of 5GB, which is quite poor, especially compared to some of the other providers on this list.
Many of the features Box offers are focused on business customers, which is why it isn't a great cloud storage for personal use (but is one of our top picks for the best cloud storage for businesses). However, its strong security, the potential for unlimited storage and its public file password protection and expiration dates could make this a left-field storage option for your video collection.
Final Thoughts
Eight online storage providers later, we're hoping you've come to a decision and picked a storage plan that's best for your video collection. If you still aren't sure, almost all of the providers listed here offer a free plan to tempt you, including our top recommendation, pCloud.
If pCloud isn't the option for you, then top-quality alternatives such as Sync.com, Icedrive or Google Drive could be the solution. If you want a tool with the ability to create screen recordings, Jumpshare is a great option. Each service has its own pros and cons, but you may need to look at the individual reviews for each provider before you make a final decision.
Also, we have a guide on how to backup video files, in case you want to do that.
If you've used any of the services on this list, or if you're keen to expand on or disagree with what we've said, please leave us a comment below this article. Thanks for reading.