ThunderDrive Review
This review as a whole has not been updated since September 2019, but after several reports by readers, both in the comments below and per email, we have decided to withdraw our already tentative recommendation of ThunderDrive. There are simply too many issues with its speeds, pricing policy and support for us to continue like nothing is up with this provider. 
Editor's Note Feb. 10, 2020
This review as a whole has not been updated since September 2019, but after several reports by readers, both in the comments below and per email, we have decided to withdraw our already tentative recommendation of ThunderDrive. There are simply too many issues with its speeds, pricing policy and support for us to continue like nothing is up with this provider.
We have a a new version of this review in the editorial calendar and hope to have that to you soon. For now, all ratings have been set to "50" so the star rating isn't too high for this questionable service.
— Fergus O'Sullivan, chief editor
ThunderDrive is a cloud storage service that seems as though it rushed its way onto the market. It lacks critical features, such as desktop and mobile clients, but those are in the works. Other features that are missing are two-factor authentication, private encryption and file versioning. Plus, it's lacking help articles and tutorials, which would help you fix any issues you encounter.
As if this wasn't enough, ThunderDrive doesn't offer a free plan or a trial, which is plain strange considering this is common practice for other services on the market. If you don't want to spend any money, read our best cloud storage with large free plans roundup. Most of the services on it are featured in our best cloud storage comparison.
Still, ThunderDrive isn't without its upsides. It has pricing plans that rival the top services on the market, a strong privacy policy that will satisfy even the most demanding users, hardened data centers will keep your data safe from intruders and fast transfer speeds.
Stick with us if you want to see how ThunderDrive fares in our eight different categories below.
Alternatively, you can check out our best Thunderdrive alternative pCloud with 10GB free storage space.
Strengths & Weaknesses
Strengths:
Strong privacy policy
Hardened data centers
Simple & fast web client
Quick transfer speeds
Great value
Weaknesses:
No file versioning
No block-level sync
No desktop app
No mobile app
No two-factor authentication
No private encryption
Lackluster customer service
Alternatives for ThunderDrive
Features
ThunderDrive is a rare beast, not because its quality features make it stand out, but because it lacks even the standard ones. We could attribute that to the fact that ThunderDrive seems to be a work in progress, but Icedrive is also new and checks more boxes. To see how Icedrive performs, read our Icedrive review.
The most obvious drawback of ThunderDrive is its lack of any kind of desktop or mobile app. You might say that moving everything online is a good choice, but having apps in addition to the web client is important. That said, according to ThunderDrive's roadmap, the apps are scheduled to be released in the latter half of 2019.
Such apps let you automatically sync files in real time across devices, keeping files up-to-date and preventing you from having to do it manually. The mobile clients usually let you do the same while on the go.
All services in our best cloud storage guide have these apps, so check it out if you're not keen on missing out on these staple features.
ThunderDrive doesn't lack file sharing, though, so you can use it to share your online files with friends. That's more convenient than using USB sticks, external drives or other devices to send them.
ThunderDrive lets you share via a link or invite people to your folder. We'll talk more about these features in the sharing section below.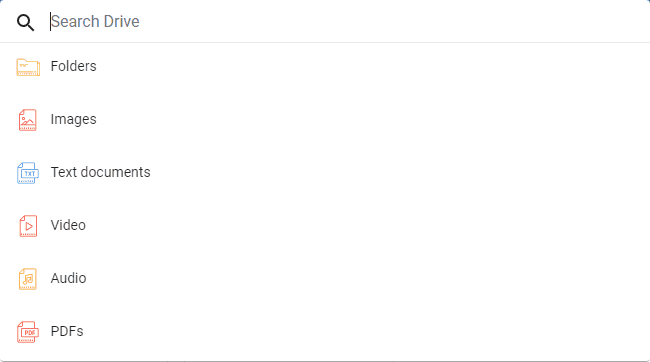 There's a search bar that you can use to quickly find your file or folder. That's a common feature, but we like how ThunderDrive lets you browse through the most common file types by selecting a type from the menu that opens beneath the search bar. You can also select to see only folders.
ThunderDrive can't preview Office files, but it can do so for PDF files. It can't edit files, either. That's because it doesn't integrate with Office Online, Google Docs or any other third-party document editor.
If you're looking for a product that's an online productivity powerhouse, you should give Box a try because it integrates with Office Online and Google's Office Suite. You can read more about its productivity features in our Box review. If that doesn't work for you, consult our best cloud storage for collaboration list.
It comes as no surprise that ThunderDrive doesn't have an integrated notes app, either. If you need it, read our best note-taking apps article for ideas. The highest-ranked app that's connected to a cloud storage service is Microsoft OneNote. If you want to learn more about it read our OneNote review.
ThunderDrive lets you preview images, but doesn't offer features that let you do much else with them. If you need that, you can learn about these services on our best online storage for photos list.
ThunderDrive also doesn't offer file versioning, which protects against ransomware or accidental file changes and deletions. If that's a feature you require, read our best cloud storage for versioning roundup. You can also check out our ransomware protection tips.
ThunderDrive Features Overview
| | |
| --- | --- |
| Sync Folder | |
| Block-Level Sync | |
| Selective Sync | |
| Bandwidth management | |
| Sync Any Folder | |
| File Link Sharing | |
| Link Passwords | |
| Link Expiry Dates | |
| Folder Sharing | |
| Folder Permissions | |
| Link Download Limits | |
| Upload Links | |
| File Previews | |
| Edit Files | |
| In-App Collaboration | |
| Office Online | |
| Google Docs | |
| Notes App | |
| Media Playback | |
| Mobile Apps | |
| Deleted File Retention | |
| Versioning | |
| WebDAV | |
| At-Rest Encryption | |
| In-Transit Encryption | |
| Encryption Protocol | |
| Zero Knowledge | |
| Two-Factor Authentication | |
| Server Location | US |
| 24/7 Support | |
| Live Chat Support | |
| Telephone Support | |
| Email Support | |
| User Forum | |
| Knowledgebase | |
| Free Plan | |
Pricing

Personal
500GB Monthly bandwidth
500GB
ThunderDrive doesn't have a free plan or even a trial, which is a rare approach for a cloud storage service to take. Asking users to subscribe on blind faith alone isn't a good business strategy. That said, the two pricing plans somewhat make up for that miss.
The Pro plan lets you store up to 2TB of data for $10 per month, which amounts to $120 per year. However, you have to pay for a whole year, as there's no monthly subscription option. ThunderDrive also doesn't provide an annual discount, and you're also limited to 2TB of monthly bandwidth.
If you don't need so much space, you can choose to subscribe to the Personal plan, which gives you 500GB of storage and the same amount of bandwidth for $60 per year. If you find that ThunderDrive is a great fit, you can also subscribe to lifetime versions of the two plans. Pro Lifetime is $1,200, while Personal Lifetime is $600.
These prices can keep up with some of the most competitive services on the market, such as pCloud and Sync.com. We say "compete," but ThunderDrive can't match their value, even though the difference is slight.
pCloud has the same monthly prices, but gives you a discount if you pay for the whole year and doesn't limit your bandwidth. Plus, pCloud's lifetime prices are more affordable. You can learn more in our pCloud review.
Both of Sync.com's plans are cheaper than ThunderDrive's. Also, like pCloud, Sync.com has a free plan, which lets you test the service before subscribing. If you're interested in Sync.com, read our Sync.com review.
Ease of Use
Considering that ThunderDrive has only a web client, it should work without a hitch, and it does. It's also fast and easy to use. Similar to web clients from other services, it has a navigation bar along the left side, shows your files and folders in the center pane and gives you their details in its right sidebar.
The left sidebar lets you navigate between your drive, the content shared with you, recent and favorite items, and trash. You can also use its two buttons to upload files or create a folder.
You don't have to use the cumbersome button to upload files. Instead, you can just drag-and-drop them. Once you do, you'll see a transfer window that shows how much time the upload will need to complete. The timer is a nice touch, which not all services have.
The center pane enables you to preview files and folders in a list or grid view. Plus, you can toggle the information sidebar and execute actions, such as move, rename, copy, download and more.
As we've mentioned, such ease of use doesn't extend to the desktop or mobile apps because ThunderDrive doesn't have them. A workaround until the mobile app comes out is for you to access ThunderDrive using a web browser.
File Sharing & Syncing
File sharing and syncing are key cloud storage features because they determine how you're going to upload your files to the cloud and then share them.
ThunderDrive lets you use its features to share while connected to the web, but sharing from your desktop and mobile is missing for obvious reasons. If sharing is important, and you'd like to have more options, including sharing from different devices, read our best cloud storage for sharing guide.
You can share files and folders from the web client by creating a shareable link. Before you do that, you can tweak the link to have an expiration date, password, disabled editing and disabled download. That's a strong set of content control features. Once you create a link, you can copy and paste it or post it directly to Facebook, Twitter and Google+.
Sharing a folder requires you to right-click on a folder and choose the poorly named "manage people" option. After that, you will see a window that lets you enter the email addresses of the people you want to add and assign them permission levels, including "can edit," "can download" and "can view."
If this was a review of a complete product and not one that's a work in progress, we would talk about the various desktop client sync options and how well they work. In this case, though, we can say that sync is non-existent. If you require syncing, consult our best cloud storage with sync comparison for some other options.
Speed
Information about ThunderDrive is sparse, and it wasn't forthcoming about the location of their data centers. Still, the distance to the servers, presumably, didn't impact our test results much. We performed our test through a Wi-Fi connection in Belgrade, Serbia, with an upload speed of 7.95Mbps and a download speed of 118.58Mbps.
| | First attempt: | Second attempt: | Average: |
| --- | --- | --- | --- |
| Upload time | 00:26:12 | 00:19:16 | 00:22:44 |
| Download time | 00:02:03 | 00:01:28 | 00:01:46 |
Our upload time averaged 22 minutes and 44 seconds to upload our 1GB test test folder, which is about three minutes more than the time we would expect without overhead. The download speed was similar because it took about 30 seconds more than it should take in theory. Still, those are fine results.
ThunderDrive has no way to throttle transfer speeds to keep them from taking too much of your data plan, which is to be expected, considering there's no desktop client. The same can be said about the lack of block-level file copying, either, which would help speed up the transfer of subsequent uploads.
Security
ThunderDrive's security section says that it uses at-rest and in-transit encryption (read our description of encryption article), but it doesn't mention what kind. We asked support about it, but they referred us back to the security section.
Still, we hope that it uses AES 256-bit, as this is the encryption standard. We do know that ThunderDrive uses TLS/SSL to protect files in transit, and it uses HTTPS to protect your communication with its server.
Because they don't have a desktop client, we also know that ThunderDrive can't provide private, end-to-end encryption. (If you'd like to know more information about that, read our article about zero-knowledge in the cloud and how it works.)
Encryption isn't everything, because certain password fails can jeopardize even the most secure systems. That's why two-factor authentication is important. If available and enabled, it requires you to enter a security code in addition to your login credentials when logging in from an unfamiliar computer. Unfortunately, ThunderDrive doesn't provide it.
That said, ThunderDrive takes great care with how it stores your information in its data centers. It uses Tier-IV facilities that are redundant, and SOC-2 and ISO 27001 compliant. Data centers are staffed during the whole year and on-site security personnel protect against unauthorized entry.
Other security measures include security cameras, biometric readers and two-factor (or greater) authentication mechanisms that secure access to the building.
This is a strong set of measures that protect against physical intrusion. However, if the description of the software protection sounds vague, you can read about other services that are more forthcoming about their security methods in our most secure cloud storage roundup.
Privacy
ThunderDrive doesn't provide private encryption, which is the best way to ensure users' privacy, so we have to rely on clauses in ThunderDrive's privacy policy to help protect user rights. That said, right off the bat it is clear that it is compliant with EU's General Data Protection Regulation.
It's a law that fortified users' privacy when it comes to online data. It's mandatory for companies operating in the EU but many cloud storage providers that work around the globe comply with its requirements. If you want to learn more about it read our GDPR guide.
ThunderDrive collects your data as a result of your sharing of your data with it, for example when you enter information into a contact form. If you do enter your information in a contact form ThunderDrive stores that information in order to reply to you but it will not share it without your consent. Plus, its system automatically records other data when you visit its website.
This data, called "metadata," holds technical information such as the type of your web browser, IP address, operating system or time the site was accessed. ThunderDrive uses that data to run and ensure its services.
ThunderDrive also uses cookies to make its service customized to you. Cookies are small text files that don't represent a security concern but if you want to manage them from your browser you can do so.
If you contact ThunderDrive by email, telephone or fax, your request along with relevant personal data will be stored by ThunderDrive but, like in the case of the contact form, ThunderDrive will not share it without your explicit consent.
Similar to this, ThunderDrive collects information when you register for the service or post comments. That's all within the scope of normal functioning for a cloud storage service and doesn't represent anything suspicious.
ThunderDrive uses Google Analytics and Google Ads which analyze your interest and provide relevant ads by using cookies. That said, you can choose to object to remarketing done by Google Analytics and set up your browser to deny Google Ads cookies.
In compliance with the GDPR you have a right to object to data collection in special cases, right to log a complaint with a supervisory agency, right to data portability which lets you transfer the data ThunderDrive collected to you or a third-party and the right to demand processing restrictions in specific cases.
Overall, we couldn't find any suspicious clauses or wording and the privacy policy is similar to those of other services and it also complies with the GDPR. With that in mind, you should feel safe about your personal data.
Customer Service
ThunderDrive doesn't have an FAQ, user forum or a knowledgebase. The only thing you can do is to contact support via email or contact form. Plus, there's no way to enter the contact form from the web client. Rather, you have to open a second browser tab and locate the links at the bottom of the homepage. On the plus side, you can also use the chat option to contact support.
We contacted support and got an answer within four hours which is faster than many services. Still, the answer was terse and referred us to the security section which would, presumably, have an answer for us. We hoped for a more detailed response which would enrich the information about the level of encryption we already found in the security section.
No tutorials, help articles videos or answers in FAQs is a big miss, but one that we hope the service will deal with in the future.
The Verdict
ThunderDrive is a checkered service. It does great in some categories such as price, security and privacy but fails in many others. Most notable is the lack of any desktop or mobile client. That means there's no way to sync your files easily across multiple devices or share from the desktop or mobile. Two-factor authentication is missing, too.
File versioning and private encryption are some of the features we've come to expect from top-tier services but ThunderDrive is missing them as well. Still, desktop and mobile clients are in the works and other features are presumably behind them.
On the bright side, ThunderDrive has great pricing plans, a strong privacy policy, hardened data centers, capable sharing, fast speeds and a user-friendly web client. Considering that what's there works well implies that ThunderDrive is a great service in the works, but one that was released far too soon. Time will tell whether ThunderDrive will live up to its potential.
What do you think about ThunderDrive? Tell us in the comments below. Thank you for reading.

Visit

ThunderDrive