5 Best Cloud Storage for Mac 2017
Finding an excellent cloud storage service for Macbooks can be hard, as OS X doesn't have as many cloud options, compared to Windows, and Linux has even fewer. On the upside, the few storage providers that do cater to the Mac crowd, are among the best in the market, which means you don't have to wade through a ton of crap to get the good stuff.
Before we get the ball rolling, let's ask a fundamental question; is there a good reason to store data files in the cloud? Well, we here at Cloudwards.net, believe there are several good reasons to safeguard files and folders using a cloud storage service.
First and foremost, cloud storage is a great way of freeing up a computer's memory, by moving large files that don't get used very often, to the cloud.
Cloud storage allows for unparalleled mobility so that you are no longer bound to a computer's physical location.  Since most modern Mac's only come with about 512GB of flash memory, cloud storage is an excellent idea.
Secondly, by using any of the services listed below, you can access files whenever and wherever you want through an:
Thirdly, cloud storage acts as a recovery system if a Macbook drops or crashes, thanks to the fact that your files exist in the great beyond, from where they can get recalled at the click of a button. And better yet, most of the services we've listed below do come with extra features, such as file syncing and sharing, so there are more benefits to cloud storage than initially meets the eye.
Best Cloud Storage for Mac 2017
Why Not Include iCloud?
Before we get the ball rolling, let's deal with the elephant in the room. Why haven't we included iCloud in this top five list? Well, the answer can be summed up in one word: security.
While iCloud itself isn't a bad service by any measures, it does have some limitations we feel limits its potential to appear as a contender on our list. Not only does the service lack zero-knowledge encryption, but it's also NSA-friendly, it's has had issues in the past, and it lacks the support, features and 3rd-party plugins that Dropbox sports.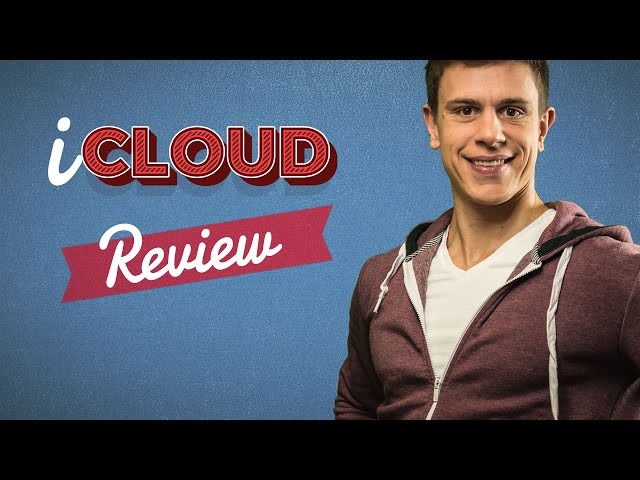 Of course, if you want to keep it native, check out our iCloud review for a better grasp of the service's advantages and disadvantages. Now, let us take a look at the five services we think are the very best for you and your OS X device.
1. Sync.com
Sync.com is a Dropbox and iCloud competitor, with powerful private encryption features and a fantastic attitude towards privacy and security. Plus it has file sharing onboard as well.
One of the new kids on the cloud storage block, this Canadian provider, is building its reputation by offering some of the best security around.
Their storage is 'zero-knowledge,' which means that at no time will Sync.com employees ever have knowledge of either the contents of your account nor access to your passwords.
On top of that, the site also boasts top-of-the-line encryption, featuring 2048-bit RSA encryption on passkeys and 256-bit AES on the files themselves.
Though, this security comes at a small price: the service's user-friendliness suffers a bit, and some may find the interface too dull. On a final note, it should be said the download buttons for Sync's different apps are rather awkwardly placed, all the way at the bottom of their homepage.
Why We Like it
Sync.com Pros:
Good syncing speeds
Strong privacy mechanisms
Easy-to-use interface
Anti-NSA service
Sync.com Cons:
Encryption slows previews
Mobile client lacks  file sharing
No Linux app available
Heavy reliance on web app
2. SugarSync
SugarSync is a real file syncing service that also comes with backup and decent collaboration features. All of which you can use on your Mac.
At  $24.99 per month for an individual plan, SugarSync is arguably the most expensive site we will talk about today.
Especially, considering this princely sum only buys 500GB of storage. Then again, no other site gives the kind of ease-of-use which SugarSync offers.
SugarSync's simplicity is a breath of fresh air, though it can turn stale when folders start piling up.
Since there isn't any cross-referencing of folders or the presence of other handy tools, which the competition hands to consumers. But this shouldn't be a big problem as long as you avoid cluttering files haphazardly.
Why We Like it
SugarSync Pros:
Combines backup & syncing
Users can sync any folder
Good collaboration features
Good mobile apps
SugarSync Cons:
Sometimes very slow
Lacks private encryption 
Lacks a free user plan
Difficult to cancel accounts
3. IDrive
IDrive boasts incredibly fast transfers, local disk backups, and restores. Plus it also provides robust compression and security.
IDrive is miles ahead of its competition, in terms of download and upload speeds. The client is very Mac-friendly and installs in just a few minutes while offering great user-friendliness.
However, problems start when you get deeper into the folder structure, as novices will find the interface a little confusing, and the multitude of options offered can make life a lot easier– but come with a slightly steep learning curve.
There is yet another drawback specific to OS X users, the handy drag-and-drop email functionality that most cloud services offer, is only available for Chrome and Mozilla aficionados.
So die-hard Safari fans will have to find another way to send large files.
Why We Like it
IDrive Pros:
Military grade encryption
Blazing fast transfer speeds
IDrive Express service
Supports unlimited devices
IDrive Cons:
Perhaps too many features
Lacks monthly payment plans
Mobile access is slow sometimes
IDrive Express can be expensive
The big daddy of cloud storage providers, Dropbox has managed to stay competitive and relevant despite being one of the oldest services on the market. Of course, there are some downsides to this service, with one of the main gripes being that it's a little too NSA-friendly.
The contents of folders sometimes get re-arranged the way Dropbox likes, rather than the way you put them there. The main objection against this otherwise excellent service is that it has suffered from some serious security breaches in the past, and is often the target of crackers and other unpleasant characters.
For those less worried about security and only want to focus more on the sharing aspect of cloud computing, Dropbox, and its features are hard to beat.
Why We Like it
Dropbox Pros:
Good syncing speeds
Easy-to-use service
Easy file sharing
Great 3rd-party integration
Dropbox Cons:
Terrible backup solution
Limited customization
Dropbox is NSA-friendly
It's a rather expensive service
5. Jottacloud
An unlimited cloud storage option, Jottacloud provides decent usability and good speed, which it combines with file syncing and sharing.
Jottacloud is one of the very few sites that offer unlimited storage, but before your inner hoarder comes out, note that it costs $9.90 a month (which is by no means expensive, but it could strain some wallets).
For those less attracted by a sleek design and more interested in security, Jottacloud is a trade-off. On the one hand, Jottacloud and its servers are based in Norway, meaning it falls under that country's (and in part also the EU's) strict privacy policy which protects it from a lot of loopholes.
On the other hand, the site's actual encryption is quite basic, and download speeds can sometimes be slower than the company's American competitors.
Jottacloud is perfect for people who cannot bring themselves to throw anything away, or want to make sure their files get protected by European legislation.
Why We Like it
Jottacloud Pros:
Servers in Norway
Unlimited storage & backup
Decent speeds
Good free service plan
Jottacloud Cons:
Lacks local encryption
Slow uploads on large files
Crappy customer support
Not very user-friendly
In Summary…
The cloud is one of the most revolutionary inventions in the last few decades, offering users unparalleled portability and convenience. Any of these five sites will make exploring the cloud a real pleasure and provide a place to stash away items in case your Mac is running low on HDD space.
Of course, every service here has either a free plan or a free trial-period, of which you should take advantage, before putting down hard, cold cash.
And of course, if you have any questions or comments to express, feel free to share them with us in the comments section below.
---