Dropbox Review
The service that made cloud storage pretty much, Dropbox still hasn't fallen victim to the usual trap for trailblazers, offering speed and ease of use. Its security leaves much to be desired, still, though, and it's a bit too cozy with Big Brother if you ask us. Read our Dropbox review for the details.

Good
Starts from
$
9
92
per month
for

1000 GB
Since 2007, Dropbox has become one of the most well-known names in the SaaS industry. Behind that success is a focus on smart but simple solutions to file management, including the sync folder copied by most of the competition today.
While Google Drive appears to have snatched away its crown for total active users (800 million for Google; 500 million for Dropbox), there's no question based on what we're hearing from our readers that Dropbox still gets a lot right. That Dropbox still deserves recognition and a top place in any best cloud storage comparison chart.
Whether or not it should be at the top of that shortlist will depend on what you need from cloud storage and how much you're willing to pay.
The service stays relevant with fast and reliable sync capabilities, integrates with Microsoft Office Online and has a nice notes app. The big problem with Dropbox is that it just isn't budget friendly. Many of the best features that Dropbox is coming up with lately require a Dropbox Professional subscription, which costs $20 a month and only gets you 1TB of storage.
We'll get into all the details over the course of our updated Dropbox review. Our focus here is the Dropbox personal plans. If you're looking for a business solution, jump to our Dropbox Business review.
Even if you ultimately decide to go with another service detailed in our library of cloud storage reviews, you can still use Dropbox with a free 2GB account. 
---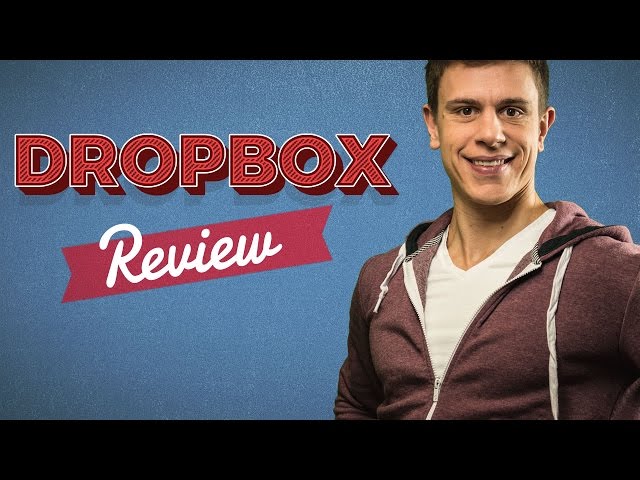 Starts from
$
4
08
per month
for

500 GB
Zero-knowledge

Fast syncing

Great interface

Secure link sharing

No 3rd-party tools

No monthly plans
Starts from
$
3
99
per month
for

500 GB
Excellent value

Zero-knowledge encryption

Fast file sync

Free plan

Crypto costs extra

No document editor
Pros:
Very fast sync
MS Office Online Integration
Dropbox Paper
Cons:
Only up to 1TB
Expensive
Not zero knowledge
No 24/7 support
Dropbox is designed both to increase your file storage capacity beyond the limits of your hard drive and to improve your productivity.
Like most cloud storage tools, it's not designed to backup your hard drive. While you can use it for that purpose to an extent, a dedicated online backup tool works much better. Check our best online backup guide for suggestions.
Dropbox works by letting you copy files to a network of remote servers, which lets you access them from different devices and save hard drive space. You can upload files by moving them into a special file system folder called a sync folder. You can also upload them by logging into Dropbox through a supported browser or the Dropbox mobile app.
Clients can be installed for computers running Windows, Mac and Linux. We rank it among the best cloud storage for Linux options, in fact. Mobile apps are available for Android, iOS and Windows Phone.  
You can connect as many devices as you want to your Dropbox account. With sync enabled, files will be shared in near real-time across each. Turn sync off using selective sync to save hard drive space.
We'll get into sync later in this review, along with file sharing, which Dropbox also supports.
In addition to being perhaps the most capable cloud storage when it comes to sync reliability, the other main draw with Dropbox is its productivity features. While not quite on the same level as Google Drive (read our Google Drive review) when it comes to app integrations, Dropbox does give you a decent notes tool and it integrates with Office Online.
Dropbox Versioning
Dropbox also supports file versioning, although previous file versions are only kept for 30 days on a Dropbox Plus account. Dropbox Professional subscribers get 120 days.
Dropbox used to sell an extended versioning add-on that let you keep previous versions for a year, but recently discontinued that feature. If you need more, there are plenty of better options. Sync.com subscribers, for example, get unlimited file versioning (read our Sync.com review).
Both music and video playback are available with Dropbox. While the Dropbox native media music player isn't that great, there are several good media players that integrate with Dropbox, making it one of the best cloud storage for video options.
The biggest feature oversight with Dropbox is probably no private encryption. There are also several important features that require the Dropbox Professional, including file-sharing password and expiry dates. However, as we'll see next, the cost of Dropbox Professional may not make it worth it.
Dropbox Features Overview
Starts from
$
9
92
per month
for

1000 GB
Two-Factor Authentication
Dropbox has two personal plans available, which are Dropbox Plus and Dropbox Professional.
---
---
Dropbox Plus isn't horribly priced at $9.99 for 1TB if you pay month-to-month. That's the same as 1TB of Google Drive storage. There are better deals out there, though, like 2TB for $8 with with pCloud (read our pCloud review).
We mentioned that Dropbox Professional gets you some useful added features. These include link passwords, 120-day versioning, Smart Sync and chat support. $20 a month probably won't be worth those perks for most people.
There is a free Dropbox plan called Dropbox Basic. While the 2GB of storage you get is a bit stingy when compared with the list of best free cloud storage options we've put together, the plan is a good way to see what Dropbox is all about.  
You can add to that 2GB of space, too, with the Dropbox referral program You get 500MB per referral, up to 16GB on Dropbox Basic. Plus and Professional subscribers get 1GB per referral, up to 32GB.
Since 2007, Dropbox has stayed near the forefront of cloud storage when it comes to streamlined user experience. Nearly every aspect of the service, on desktop, browser or mobile, is about as polished as you'll find.  
The sync folder, which is simply a file system folder connected to the cloud, is the most important mark Dropbox has made on cloud storage when it comes to ease of use. We'll talk more about sync with Dropbox in the next section.
When you install Dropbox on your computer, in addition to a sync folder, a taskbar icon is created. Clicking on this icon lets you quickly see notifications and access recent files.
Items in the Dropbox taskbar menu will let you launch your sync folder or open your Dropbox account online.
A settings wheel opens a nicely organized preferences view segmented into tabs for ease of navigation. This view is where you'll go to throttle sync bandwidth, setup a proxy and manage selective sync, among other things.
The Dropbox browser experience is likewise excellent, with plenty of whitespace, few distractions and familiar controls like drag-and-drop and search to manage your files. Navigation options down the left margin let you jump between views called "home," "files," "paper" and "showcase."
The home view shows files that you've starred and those that you've accessed recently.
The Paper view grants access to Dropbox's integrated notes app. While not on the level of Evernote or OneNote, Paper works well enough.
Showcase is a new feature and only available to Dropbox Professional subscribers. It provides some handy share features like the ability to create presentations of your work and collect feedback.
Use the files view to get at your content. You'll have new menu options on the left, including "my files," "sharing," "file requests" and "deleted files."
My files will let you access, preview and edit the files in your cloud storage. The sharing tab lets you see what folders and files you've shared so that you don't lose track of them. File requests does as you'd expect, letting you grant access to others — including non-Dropbox users — to upload files to your cloud storage space.
From the deleted files view, you can view any trashed files. Dropbox Basic and Plus users can recover files for up to 30 days. Dropbox Professional users have 120. As mentioned, the same durations apply to previous file versions if you want to rollback unwanted changes.
Dropbox was founded following an idea about ease of use, so it's no surprise it gets it right with an experience that doesn't require advanced technical knowledge.
Every folder and file you store with Dropbox can be shared from your desktop, smartphone or browser. However, only folders have an option to grant editing permissions to others, so if you want to collaborate on a project, you'll want to set up a folder for it first.  
Each cloud object has a "share" button associated with it in the browser interface. Clicking that button opens a window within which you can input the email addresses of those you wish to share with.
When you share a folder or file, a link pointing to that file is generated. Rather than email this link, you can copy and distribute it manually, too, on social media, work chat or wherever. Keep in mind that anybody with this link can access your content, however.
Dropbox Plus subscribers don't have any options to further secure sharing, which is one of the service's biggest drawbacks. If you're willing to pay twice as much to subscribe to Dropbox Professional, you can add password protection and expiry dates to your links.
These are both features you get for free with Sync.com and pCloud, however, both of which cost less and give you more storage, too. Check out our article on Sync.com vs Dropbox for some more comparisons.
Dropbox does provide a "sharing" view to see what folders and files you've shared. Without link expiry dates, this is the best way to manage your sharing to make sure you don't leave a link active that shouldn't be.
Dropbox also includes a "file request" feature, which lets others load files to a set folder on your account.
Its sharing features are a bit run-of-the-mill, but Dropbox's approach to sync is, in our opinion, the best in cloud storage right now. We've heard some complaints about reliability, but that's occasionally true of all syncing services — and Dropbox gets fewer complaints than most.  
One of the keys to Dropbox's success in sync is that it maintains multiple datacenters around the U.S. Niche competitors don't generally have the instructure to compete, which can mean bottlenecks that slow service and other issues.
On top of that, Dropbox seems driven to maintain a technological edge when it comes to sync with features like block-level file copying. This method of processing files means that when you make an edit, only the parts (blocks) of the file that changed get synced across your devices.
The approach saves time by not copying the entire file all over again. Among cloud storage services, only Egnyte, Amazon Drive and OneDrive (for MS Office files, anyway) have also made the move to block-level file copying (read our Egnyte review and Amazon Drive review for more on these two services).  
While sync is critical, it stores files both on your hard drive and in the cloud. If you're looking to save space on your computer, you'll want to turn it off. Dropbox lets you do that with selective sync.
By default, all folders in your Dropbox sync folder are also stored on your hard drive. Turning sync off on your hard drive will cause them to disappear in your sync folder, meaning they'll no longer be accessible on your hard drive.
Dropbox Professional subscribers get an advanced form of selective sync called "Smart Sync" that lets you turn synchronization off for a folder and still see it in your sync folder. A red "X" over the folder will tell you it isn't being synced.
It seems like a minor tweak, but Smart Sync is extremely useful if you don't want to be continually hopping between your computer file system and Dropbox to locate files. We fully expect other cloud storage services to follow suit.
File copying speed is crucial to a fluid sync experience. To see how Dropbox performs, we conducted a few upload and download tests using a 1GB test folder made up of different file types.
These tests were conducted over a WiFi network from SE Asia. Our internet upload and download speeds at the time of the test were clocked at 10 Mbps and 22 Mbps.
Here are the results:
---
| | First Attempt: | Second Attempt: | Average: |
| --- | --- | --- | --- |
| Upload Time: | 16 minutes | 16 minutes | 16 minutes |
| Download Time: | 6 minutes | 6 minutes, 30 seconds | 6 minutes, 15 seconds |
---
Your own sync speeds will be different according to your internet connection and location, particularly if you're in the U.S., where Dropbox is located. However, these results are consistent with good results from other services we've tested.
As mentioned, the use of block-level file copying will keep files moving in faster after that first upload.
If you find for some reason that Dropbox is slowing down your computer, you can throttle sync speeds from the taskbar icon preferences menu.
The use of throttle shouldn't be needed for most, however, since Dropbox handles sync so well.
Dropbox has been at the center of some controversy when it comes to security, including the theft of 68 million user passwords in 2012 — an incident that wasn't fully reported until years later.
The lack of quick action was probably the most egregious part of the incident on the company's part. The data dump itself wasn't technically a breach of the Dropbox cloud, but the result of a Dropbox employee reusing his password a few too many time, resulting in the theft of a project document.
Additionally, the stolen passwords were also scrambled, although about half were hashed using SHA-1, a weaker algorithm that Dropbox was phasing out at the time.
You can read more about the steps Dropbox takes today to keep your passwords safe in this surprisingly informative write-up on the subject by the company itself.  
Dropbox, along with several other tech companies, also found itself implicated in the PRISM scandal, a secret NSA surveillance program used to scour consumer data to gather intelligence about threats to the U.S.
Whether or not Dropbox was or is now actively involved, though, is unknown; leaked NSA slides merely indicated Dropbox as "coming soon," and Dropbox has always denied involvement.
What is a fact, however, is that Condoleezza Rice, Secretary of State under President George W. Bush, was appointed to the Dropbox Board of Directors in 2014 to much public outcry.
The crux of this outcry was that Rice had previously advocated warrantless wiretapping and oversaw Stellar Wind, another NSA surveillance program launched post-9/11 that included data mining of the emails, telephone calls, banking records and internet activity of U.S. citizens. At the very least, it all sounds a bit fishy.
Being mostly pro-privacy here at Cloudwards.net, we generally recommend services that offer zero-knowledge encryption, a type of encryption where only you hold your encryption key and neither your cloud storage company nor the NSA can unscramble your files. Check our best zero-knowledge cloud storage suggestions.
Dropbox Encryption
Dropbox doesn't offer a zero-knowledge feature — not even for an exorbitant price — but the company does implement the more basic cloud security measures we would expect. This includes both in-transit and at-rest encryption.
That's good, but take note that upon arrival at the Dropbox data center, your files are decrypted and their metadata pulled.
File content is re-encrypted using AES-256, the most commonly used encryption protocol. File metadata remains in plaintext on a separate server. While this metadata is put to good use indexing your files for faster access, for some it could present a security concern.
Dropbox offers two-factor authentication as a means of providing some protection against password theft. This feature was launched in 2012 in response to the password hack incident. Turned on, it will require that you use a special security code sent to you phone when accessing your Dropbox account on an unfamiliar computer.
Overall, while Dropbox has plenty of red flags and could do several things better, so long as you take your privacy into your own hands, you should be safe. Our article on 99 free tools to protect your privacy can help, as can our online privacy guide.
Dropbox's approach to customer support isn't as thorough for a SaaS company of its popularity and pedigree as we'd like. The support portal itself is mostly well designed; most of the issues stem from actually getting into contact with Dropbox.   
The support portal is searchable and full of useful articles. Categories include "photos and video," "security and privacy" and "sharing files and folders," among others.
The articles themselves are reasonably straightforward and not bogged down in unnecessary detail. The only miss is an absence of embedded tutorial videos, although Dropbox does have a YouTube channel.  
When you can't find the answers you need, you can make use of Dropbox's active community forum, ask Dropbox a question on Twitter or contact a support representative.
For most customers, email will be the usual support channel. You'll need to use a Dropbox support form to get email support, which is poorly designed with text boxes that are too small for effective communication.
We sent a test question to Dropbox to check email response time, and got a reply back in just over two business days.
That's not fast, but that email was also sent from a Dropbox Basic account, which has an expected response window of 72 hours. Dropbox Plus and Professional subscribers are supposed to receive priority support, meaning a 24-hour window.
Dropbox support is only available Monday through Friday, however, so you'll need to factor that into the equation.  
Dropbox Professional subscribers also get access to Dropbox live chat support, also available Monday through Friday.  
The lack of 24/7 support for all subscribers aside from Dropbox Enterprise users is disappointing. Google Drive, by contrast, provides 24/7 live chat support for all customers.
For those that don't mind overpaying a little and don't need more than 1TB of cloud storage, Dropbox Plus provides maybe the fastest and most reliable sync available today. If you don't mind overpaying a lot, Dropbox Professional adds Smart Sync, better link privacy, better versioning and several other features.
The reality is, though, that while Dropbox has several hundred million users, many of them may be better off looking elsewhere. For productivity, Google Drive has Dropbox beat. For security, file sharing and overall value, Sync.com and pCloud are both better options.
If Dropbox starts making some of those "extra" features Dropbox Professional subscribers get available on Dropbox Plus, we'll reconsider our stance. For now, while we respect the much of what Dropbox does technologically, before you subscribe, we'd advise checking out our best cloud storage guide to find the ideal fit for your needs.
Thanks for reading. Share your own thoughts on Dropbox, below. Let us know what you think we missed, too.
Starts from
$
9
92
per month
for

1000 GB
Two-Factor Authentication