Best Cloud Storage for Collaboration in 2023: Collaborate Online for Business & School
In the era of remote working, we all need the best tools to collaborate on tasks and projects, while having a space to store the files we create. In this article we're going to focus our attention on the best cloud storage for collaboration, for personal and professional use.
Beyond offering a space to store files, many leading cloud storage services also offer tools that help teams collaborate on tasks and projects. Of course, each service is different, and some outdo others, making it hard to know which service to choose. Not to worry, this roundup of the best cloud storage for collaboration will help you find the right software.
Key Takeaways:
Sync.com is the best option for all user types who want to improve their cloud-based collaboration.
Google, Microsoft OneDrive and Dropbox have great user friendly apps that should appeal to friends and family members.
Egynyte is the business champion and offers plenty of business tools as well as Microsoft and Google integration.
With the exponential rise in remote work, more people are collaborating on projects through their computers and from different locations. Some believe this hinders productivity; however, when used correctly, the leading cloud storage services can help boost output through their fully functioning cloud-based collaboration tools. 
We've pretty much reviewed all the best cloud storage services, so we have a strong idea of which platforms have the right tools for collaboration. We've narrowed the options down to five service providers, and below we'll break each of them down and explain why they're worth your consideration.
08/21/2022 Facts checked

Rewrote the article; updated our selection of the best cloud storage for collaboration.
No. Cloud storage is an online space where users store a range of file types in what's known as "the cloud." However, most online storage providers offer integrated tools where multiple users can work together and collaborate on documents and other file types.
The Top Cloud Storage for Collaboration Services
What Makes the Best Cloud Storage for Collaboration?
Several factors contribute to a company becoming one of the best cloud storage services for collaboration. Whenever we test a product, we're looking for how much storage space it offers and how well it performs with file syncing. We also expect to see strong security for our files and fluid, real-time functionality when simultaneously collaborating on a task with others.
The best options also need to work well with the two leaders in online collaboration tools, Google Docs and Microsoft Office 365. Naturally, Google Drive and Microsoft OneDrive offer these tools; but, that doesn't mean they're the best options with all things considered, including privacy. However, security can sometimes restrict collaboration.
With these considerations, here are our top suggestions for collaboration.
Our selections are a result of testing each of the products. Sync.com takes the number one spot, as it provides excellent security and you can get plenty of storage at a reasonable price. Google Drive and Microsoft OneDrive excel when it comes to providing native collaboration options, and Dropbox and Egnyte are excellent for third-party app integrations.
While we'll predominantly focus on the collaboration capabilities of each of the providers, we'll also point out why they're great for all of your cloud storage needs. Let's take a look.
The 5 Best Cloud Storage Services for Collaboration
Below we'll break down each of the products, sharing with you the good and the bad, to help you decide which one to choose.
More details about Sync.com:
Pricing: Free; Team Standard plan for $6 per user per month per user (billed annually)
Provider website: sync.com
Pros:
End-to-end encryption
Popular integration options
No file size limits
Sync.com is our leading cloud storage provider for all types of use. It excels when it comes to protecting all your data. It's the only option in this roundup to offer zero-knowledge encryption. That means you have full control over your files, and nobody but you and your designated users can access your sensitive information.
From a collaboration perspective, Sync.com doesn't offer native productivity apps; however, users can integrate Microsoft Office. With that you can create and share Office documents, and you can do so directly inside Sync.com's web, desktop and mobile apps.
For the artistic types, Sync.com also integrates with Adobe products such as Photoshop and Illustrator. As such creative works tend to generate large files, you'll be pleased to know that Sync.com has no file size limits for uploads and also offers plans that come with unlimited storage space.
Divide Team Collaboration
For businesses with multiple teams working on different projects, Sync.com Teams is a great collaboration tool as it allows you to separate your work across different folders. Administrators can set user permissions and ensure that only the people collaborating on a particular task can access that file. Not only is this a great way to keep your work secure, it also helps bring some structure to your workflow.
While Sync.com is an exceptionally good cloud storage service, it also has some areas of improvement. It's not the quickest option in terms of performance. Also, only selected plans have monthly payment options, which is a little frustrating.
Those who want the best cloud service money can buy and are already using Microsoft Office, Sync.com will take your team collaboration to the next level. To learn more about the service, take a look at our Sync.com review.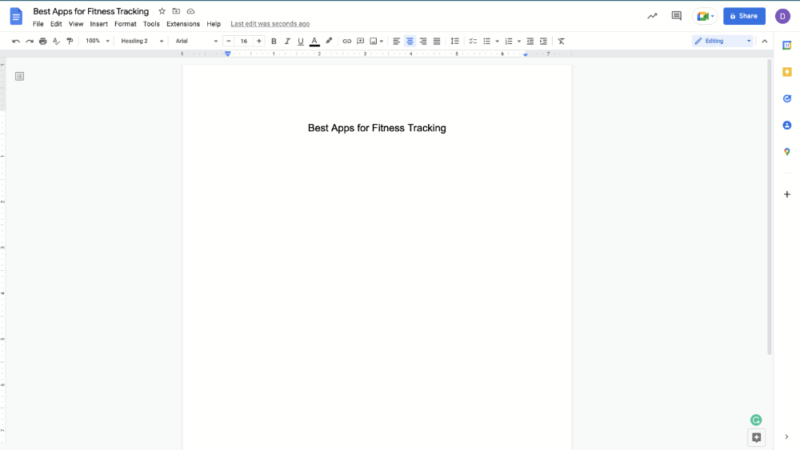 More details about Google Drive:
Pricing: Free; $1.66 per user per month (billed annually)
Provider website: google.com/drive
Pros:
Easy to use
Plenty of storage options
Great collaboration features
With around one billion active users, Google Drive is by far the most popular cloud storage provider for personal, family and business use. So many people flock to the service because it's affordable, easy to use and has arguably the best collaboration functionality built directly into the app.
It comes with several online storage plans, appealing equally to personal users and larger sized businesses. There's no unlimited storage option; however, those added to a Google Workspace account can access up to 5TB of storage per user.
The simplicity of Google Drive makes it one of the top cloud services when it comes to file sharing and giving other users access to folders and documents. Setting user permissions is easy too, and you can have full control over who can view, comment and edit certain files.
Exceptional Collaboration Tools
When we think about what makes the best online storage service for collaboration, it's about how well it functions. Google Drive offers incredible real-time performance that allows you to work on joint tasks. Users can comment on documents, photographs and videos, and it's possible to see previous versions of an edited file, although this isn't unique to the service.
As the result of recent updates to the software, Google Meet is now available directly inside other Google Apps. If you're collaborating on a document, you can now open a Google Meet call inside the document and discuss any changes or improvements you need to make.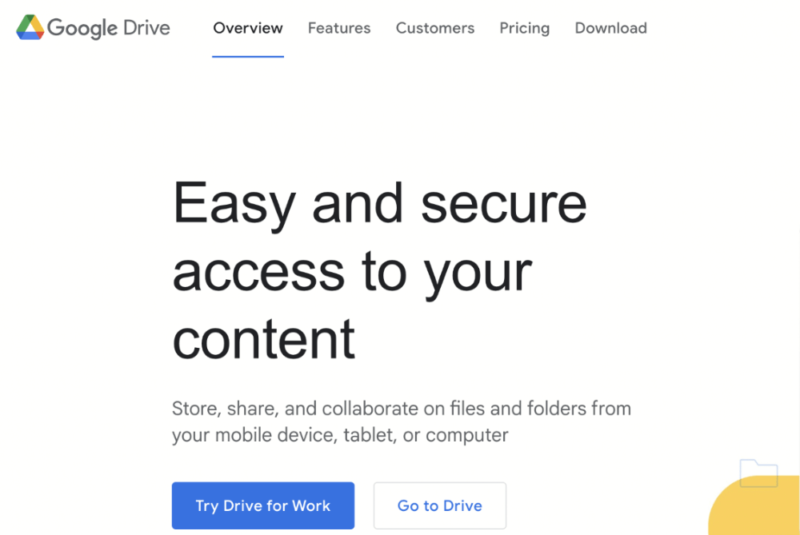 For all intents and purposes, Google Drive should be number one on this list. The reason it isn't is because it has a terrible track record when it comes to user privacy. Google likes snooping around your business and targeting ads toward your interests. For those cool with that — and who prefer Workspace apps over Office 365 — there's really no reason to look elsewhere.
The free account will be great for families who want to share images or work on personal projects together, and with Google Workspace, businesses will be able to operate fully across different departments. To learn more about the service, read our Google Drive review.
More details about OneDrive:
Pricing: Free; Personal plans start at $1.66 per month (billed annually)
Provider website: microsoft.com
Pros:
Office 365 integration
Excellent for collaboration
Fast file syncing
Cons:
Limited customer support
Privacy isn't great
Microsoft OneDrive is a natural choice for those already using Office tools. Windows users automatically receive an account just for using Microsoft's operating system, and for most people, there's little reason to look elsewhere.
Performance-wise, Microsoft offers very fast file syncing. It also has block-level sync, meaning edited files will update quickly in the cloud and without putting too much pressure on your computer's performance.
For family members already in the Microsoft ecosystem, you can sign up for a Family plan, which, on top of OneDrive, allows access to Office tools and 1TB of storage each (up to 6TB in total). File sharing will be easy, and you can work in Excel, Word and PowerPoint individually or simultaneously.
The Business plans offer more Microsoft apps, and the most expensive option allows users to have HD conference calls, implement cross-departmental collaboration and create a SharePoint intranet to keep employees up to date with what's going on in your business.
Personal Vault
For those super confidential files, Microsoft OneDrive offers what it calls the "personal vault." It works through two-factor authentication, as users can only access files stored in the vault by entering a unique password or through fingerprint recognition. If an unauthorized person gains access to your account, it will not be possible for them to access the essential files in your vault.
While Microsoft does everything to keep your data safe and secure, one thing to remember is that its data centers are located in the United States. If the authorities want to look into your information, Microsoft is obligated to cooperate and hand over your data.
If you feel like this of no concern, or you're a family looking to work on projects and share the files you care about, then Microsoft OneDrive is great. We'll also mention it has fast upload speeds, and its collaboration options through Office 365 speak for themselves. To learn more about what OneDrive is offering, check out our OneDrive review.
More details about Dropbox:
Pricing: Free; Family plan starts at $16.99 per month (billed annually)
Provider website: dropbox.com
Pros:
Google Docs integration
Office tools integration
Fast file syncing
Cons:
Poor free plan
Privacy concerns
Dropbox is the OG of commercial cloud backup. It was the first company to make software once reserved for IT professionals easy to digest and usable for the average person. While other services have caught up, Dropbox still continues to do a lot of things right, and it puts ego to one side to allow you to integrate your favorite third-party collaboration software.
Starting with Dropbox's native tools, the service has its own take on a document creator, aptly named Dropbox Paper. In comparison to the heavy hitters, it's a very basic document creator and is likely only suitable for making lists and notes, which you can share with others and allow them to edit.
In terms of storage capacity, Dropbox's family plan gives you a total of 2TB storage, and like OneDrive, allows up to six users. This Standard Business plan has 5TB of file storage, and the Business Advanced plan gives you as much storage as you need. Both business plans require a minimum of three users.
Those looking for free storage will need to look elsewhere, as Dropbox offers a disappointing 2GB for free — 13GB less than Google.
Integrate Google and Office
What's great about Dropbox is that it allows you to integrate Google Docs and Office 365 tools such as Word, PowerPoint and Excel. We like this because it gives you more flexibility and choice over which tools you want to use. You can also use them simultaneously if you don't have a preference. All documents are created externally, but they automatically sync to your Dropbox account.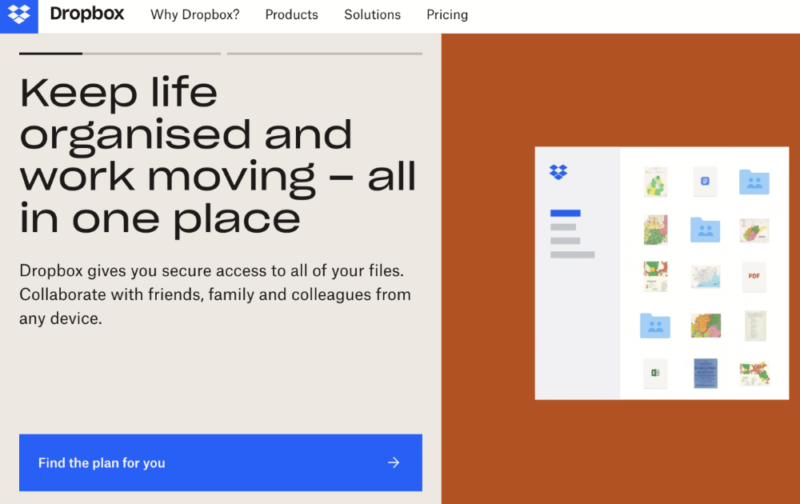 Dropbox's Family plan is considerably more expensive than OneDrive and offers considerably less storage space. The Standard Business plan is more expensive too, and provides the same online-only Office tools. Beyond its flexibility in terms of integrations, it's hard to see why Dropbox is the way to go.
Price aside, Dropbox offers 180 days of file versioning, and for business use, has "spaces," where you can log meetings, do a range of file sharing and some basic project planning. Dropbox also does well in terms of upload speeds and file syncing. You can learn more about the services by reading our Dropbox review.
More details about Egnyte:
Pricing: No free plan; Business plan starts at $20 per month (billed annually).
Provider website: egnyte.com
Pros:
Great security
Google & MS integration
Built for business
Cons:
No free storage plan
Expensive
Egnyte is less about personal use and focuses more on teams and business. From email clients to form builders, Egnyte paves the way for you to integrate a range of tools that help you manage your business and remain on top of projects. It's also a great option for collaboration.
The "collaborate" folder allows you to create new folders and upload files, sharing them with all members that have authorization to access the account. Users can leave comments, download files, and view the download and file versioning history of all files in the collaborative folder.
Just like Dropbox, Egnyte allows you to integrate with Microsoft Office and Google Workspace. Here's where you will do most of your collaboration in terms of shared tasks and projects, and you can do so without leaving the application.
Deep Integration Options
Egnyte is excellent for integrating third-party applications. Beyond collaboration, Egnyte lets you integrate communication tools such as Slack and Zoom. You can install project management tools for time tracking and project planning, and there are also plenty of integrations to help create a document management system and workflow automations.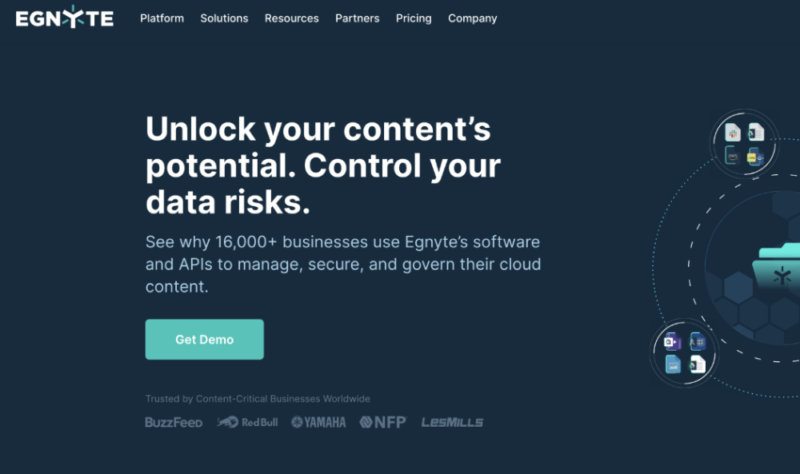 On the pricing front, Egnyte isn't cheap; it costs more than both OneDrive and Dropbox. That said, it has a better track record when it comes to respecting user privacy, and its customer support is also excellent. For those unsure, you can try Egynyte with a 15-day free trial before you commit.
Egnyte is one of the top cloud services for business, and that's mainly due to performance and its range of software integrations. You can learn more about the software by reading our Egnyte review.
Final Thoughts: Best Cloud Storage for Collaboration
By now, it should be apparent that not much separates the best services when it comes to collaboration tools. They all excel in different areas, and it may be difficult to ascertain which is the best.
We stand by our position that Sync.com is the top collaborative cloud service your money can buy because of its ease of use, great security and ability to integrate with quality collaboration tools.
Google Drive, Microsoft OneDrive and Dropbox are all very similar to one another, in terms of both positives and negatives, and if you go for the cheapest option, it won't be a bad idea.
The business user should consider Egnyte, it offers a little more flexibility than Sync.com, but be mindful you'll be paying more for the privilege. Whatever you choose, all of them will help you improve collaboration both in your personal and professional life.
Which is your favorite tool for collaboration? Is there another option you think we should include? What collaboration issues are you currently facing? Let us know in the comments. Thanks for reading.