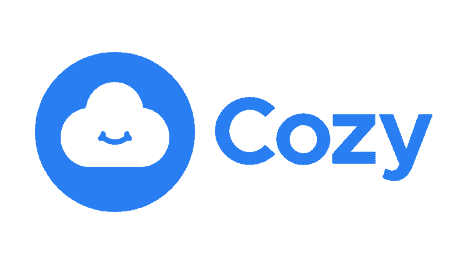 Visit

Cozy cloud
Manages multiple file types
Mobile & desktop app sync
EU-based servers
Cozy Cloud Review
Cozy Cloud wants you to import files from different sources to become a single repository for all your data. However, as you will see in our Cozy Cloud review, Cozy Drive may not bring as much security and privacy as you'd expect from a privacy-focused cloud storage company. Keep reading to see our evaluation of its features, pricing, security and more.
Cozy Cloud's appeal comes from the incredible number of native and third-party apps designed to make Cozy the only location you'll need for all your data. Cozy Drive is its cloud storage service, which is the main focus of this Cozy Cloud review. However, you'll see, there's far more to Cozy Cloud than its Drive feature.
It's challenging to look at any Cozy Cloud product in isolation, as each app integrates with many others. While it is possible to use Cozy Drive as your primary cloud storage, certain file types will automatically interact with other apps. Because of that, we'll spend some time on Cozy's other apps — namely, Cozy Pass, Notes and Banks, and how they integrate with Cozy Drive.
Key Takeaways:
Cozy Drive works best when incorporating the various interconnected Cozy Cloud applications.
Despite a strong stance on privacy and security, Cozy Cloud doesn't encrypt your stored files, making it risky for storing any sensitive information you haven't encrypted yourself.
Cozy Drive makes it easy to import your files from different places through an impressive number of native and third-party apps.
There's certainly some appeal to having a one-stop shop for your banking, health and productivity files. However, Cozy Cloud's questionable security and privacy features make it tough to compete with the best of our top-ranked cloud storage services. Keep reading to see our full evaluation of the service.
Cozy Cloud is a personal cloud storage service designed to be a single repository for data from many different sources. It offers excellent native apps such as Cozy Drive, Cozy Pass, Cozy Banks and Cozy Notes.

Yes, Cozy Cloud is a legitimate service designed to consolidate all your data in one place, including files from banking, health care and personal files.
Cozy Cloud Review: Strengths & Weaknesses
Pros:
Third-party app integration
Manages multiple file types
Mobile & desktop app sync
EU-based servers
Two-factor authentication
Cons:
Limited server-side encryption
No zero-knowledge security
Limited plan options
Features
Cozy Cloud encompasses four different functions into one service: Cozy Drive, Cozy Pass, Cozy Banks and Cozy Notes. The focus of this review is Drive, but we will spend some time detailing the other functions, as well.
Cozy Drive
Cozy Drive brings a few nice features to try and separate itself from its competitors. As expected, you can upload and share files with anyone, manage shared links and sync your Cozy folders to your desktop. The mobile app syncs with your account to automatically upload photos and includes the ability to scan a document.
Aside from integrating your account, Cozy Cloud makes it easy to import many different file types. Logging in to your Cozy Cloud account doesn't automatically take you to your Drive folder.
Instead, you'll see options to import your files from different sources, including banks, ISPs or insurance companies. Clicking the "add" button takes you to every connection Cozy Cloud has in its store.
Notes and Photos
An excellent feature within Cozy is Notes. With Notes, you can quickly create a note with the "+ add" button. Any notes you make go to a dedicated folder where you can edit and share as needed. Your Cozy Notes folder isn't limited to only notes files, as you can add anything you like to it.
Cozy Notes is both a function within Drive and a stand-alone app that doesn't need the Drive folder. The Cozy Notes app is a dedicated web-based word processor used to create and share notes for anything you can think of. Best of all, you can share your notes with anyone and the recipient can add to your note, even without a Cozy account.
There's a similar section for photos in your Cozy Drive account, but Cozy Drive doesn't automatically move photos or images you upload to the photo folder. Aside from being designated as a photos folder, it functions like any other folder. However, any photos you sync through the mobile app will automatically upload to the photos folder.
Standard Cloud Features
You can preview nearly all file types in your Cozy Drive account, which includes music and video playback in the browser. Additionally, Cozy Cloud keeps the last 20 versions of your files, accessible through the "history" option on each document.
A few other elements of a Cozy Drive account include trash, sharing and creating shortcuts. Any files you delete end up in your trash. There's no time limit or auto-deletion for trash, so you can restore files whenever you wish. However, files in your trash still count against your overall storage allotment.
Any files you share show up in the "sharings" tab. This section makes managing all your shared items easy. Options with your shared items include changing permissions or deleting links.
Creating hyperlink shortcuts is a nice feature not often seen with other cloud providers. Shortcuts are convenient if you want quick access to a website for a project, your favorite review site or other online interests.
Third-Party Integrations
Your Cozy Cloud account comes with a huge number of third-party integrations. A visit to the Cozy store reveals just how many connections Cozy provides for data importing. These apps cover a wide range of options and include some popular choices.
For example, Cozy can sync your address book, making it easier to share your folders or files with your Google Drive contacts. You can connect to your GitHub account to manage your repositories, while a Netflix connection pulls your invoices to help you keep track of your subscription.
The Cozy store offers over 100 apps and connections, although a few of the apps show up in more than one category.
Cozy's Connection Maintenance
Cozy does a good job maintaining its connections to the apps in its store, especially since apps and software change all the time. When Cozy needs to update an app, you'll see a "service interruption" message, making that particular app temporarily unavailable. Cozy doesn't advertise when it will fix the connection, but Cozy as a service fails without them.
During the writing and editing of this article, Google became unavailable, but had its connection restored.
With Google, it took a couple of attempts to establish a connection. To access your Google contacts, you'll need to install Cozy Contacts. Once installed, Cozy Contacts syncs with your Google account. The connection runs once a day; however, you can manually sync whenever you like. Any new contacts from Google automatically populate to your Cozy Contacts app.
Cozy designs nearly all of the apps in its store to assist you with data imports. However, a couple of the native Cozy apps go beyond simply collecting data. Cozy Banks and Cozy Cloud Pass are two excellent apps that come with your Cozy Cloud account.
Cozy Pass
Like many of the best password managers, Cozy Pass aims to make it easy and secure to log in to your internet accounts. In addition to creating and autofilling strong passwords, Cozy Pass encrypts your passwords — it is built on the Bitwarden password manager.
Cozy Pass isn't limited to just your login credentials. You can create and save profiles (which are basically contact cards) and credit cards for online purchases. If you already have passwords saved on your computer or another password manager, you can use the import tool to bring them to Cozy Pass.
Cozy Banks
Cozy Banks gathers all of your bank accounts in one place, making it easier to get a holistic picture of your financial life using data visualization. Importing your bank data shows each transaction from your account in the main chart at the top, separated by month. Clicking into each bank gives you a more granular view of your transactions.
Perhaps the main catch with Cozy Banks is the inability to manually add your bank information. If Cozy doesn't offer a connection to your bank through its store, you can't take advantage of Cozy Banks.
The banking section has the most connections of any category in the Cozy store. A few of the apps have familiar names like American Express, HSBC or ING Direct. Most of them, however, are banks based in Europe.
Cozy Cloud Features Overview
| | |
| --- | --- |
| Sync Folder | |
| Block-Level Sync | |
| Selective Sync | |
| Bandwidth management | |
| Sync Any Folder | |
| File Link Sharing | |
| Link Passwords | |
| Link Expiry Dates | |
| Folder Sharing | |
| Folder Permissions | |
| Link Download Limits | |
| Upload Links | |
| File Previews | |
| Edit Files | |
| In-App Collaboration | |
| Office Online | |
| Google Docs | |
| Notes App | |
| Media Playback | |
| Mobile Apps | |
| Deleted File Retention | |
| Versioning | |
| WebDAV | |
| At-Rest Encryption | |
| In-Transit Encryption | |
| Encryption Protocol | HTTPS |
| Zero Knowledge | |
| Two-Factor Authentication | |
| Server Location | EU |
| 24/7 Support | |
| Live Chat Support | |
| Telephone Support | |
| Email Support | |
| User Forum | |
| Knowledgebase | |
| Free Plan | |
Pricing
Besides the 5GB free plan, Cozy Cloud offers only two paid plan options. The Cozy Comfort plan has 50GB for around $3 per month, while the Cozy Super Comfort plan offers 1TB for around $10 per month (pricing is in euros, so the price will fluctuate depending on market rates). There's no option for an annual plan; you can only pay by the month.
Cozy Cloud markets itself strictly as a personal cloud storage service, which means that it's not really suited to businesses. If you need more than 1TB of storage, you'll need to look elsewhere.
Despite the limited options, the paid plans trend on the higher side if all you're looking for is cloud storage. As we cover in our Sync.com review, its 2TB plan is priced lower than Cozy Cloud's 1TB plan at just $8 per month, annually. Similarly, our MEGA review highlights its 2TB plan for $10.86 per month.
Even when looking at everything a Cozy account comes with, its paid plans don't add any extra features or functionality — you're only paying for more storage. To get the most out of a paid plan, you'll need to use everything Cozy Cloud has to offer, and not just its cloud storage.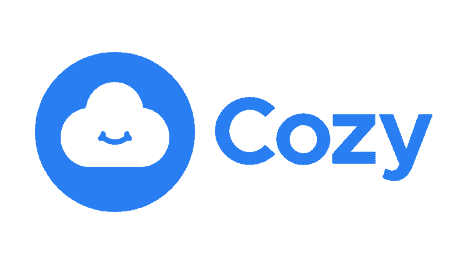 *Pricing converted from euros and is subject to change depending on the exchange rate.
Ease of Use
Cozy Cloud offers a streamlined and uncluttered user interface. Aesthetically, the landing page is a pleasure to look at and provides quick access to the Cozy Cloud applications. Navigating to the Cozy Cloud store reveals all the different categories for which you can import your data.
Cozy Drive's account page layout looks like many others, with your main folders and files dominating the page and quick-access tabs in the left sidebar. Selecting a folder or file pulls up options to share, download or remove it along the top of the page. Additionally, you can preview most files and play music and videos from the web interface.
You can access Cozy Banks, Notes and Pass from the dropdown, with each having a similar look and feel to Cozy Drive. Cozy Banks puts your finances across the top as the main focus, with analysis and categorization options appearing in the sidebar. Any bank data you add populates as a list below the visualized data.
Cozy Notes provides a focused and uncluttered space to take and share your notes. However, it functions more like a proper word processor with plenty of functions and features to add headings, links, images, tables and font options.
Cozy Pass has the password manager features you'd expect, while adding the option to create profiles and credit cards. You can import saved passwords from others locations, or enter the login, password and URL manually.
Cozy Drive's UI
The desktop app for Cozy Drive creates an icon in the menu bar for a Mac and the hidden icon section of the taskbar for Windows. Cozy Cloud also offers a desktop app for Linux. No matter your operating system, Cozy Cloud creates a folder that you can drag and drop items into that automatically syncs with your account.
Cozy Drive has a mobile application for iOS and Android. It looks and functions similarly to the desktop app and gives you access to your folders and files. However, it's less obvious how to upload a file, which you do by touching the three dots in the upper right.
Cozy for Mobile
One option on the mobile app is scanning a document. Document scanning apps are a great addition to mobile devices by creating PDFs through the camera. That's not what happens here, however. Although it says "scan," it just captures an image and saves it as a JPG file.
File Sharing & Synchronization
File sharing on Cozy Drive looks and feels familiar to many other cloud storage services, but isn't quite as robust as our top choices for file sharing. You can share files or folders by generating links or adding email addresses to send them to specific contacts.
Additional sharing options include letting the recipients view or change the file. Generated links do not have an expiration date or download limitations; however, you can deactivate the link at any time.
Cozy Drive does not technically limit bandwidth, but it does monitor individual bandwidth usage to prevent abuse. Additionally, you can share files of up to 5GB each on Cozy's servers. However, you will get unlimited file sharing if you host Cozy Cloud on your own server.
Two Cozy Drive users who share files will see edits and changes synchronized in their accounts. This feature encourages Cozy Drive interaction and increases the potential for productivity.
File Sync & Versioning
File synchronization works best through the desktop app. Any work you do on a file in your sync folder using the desktop app automatically updates and syncs with your account. With the desktop app, you can drag and drop folders, which upload to your account. However, on the web interface, uploads are limited to only files.
File versioning with Cozy Drive isn't the most robust you'll encounter with a cloud storage provider, but it's nice to know you can revert if needed. Simply select a file and click on the three dots to see the available options. If there are older versions, you can view them by clicking "history." Cozy Drive keeps the 20 most recent versions of a file.
Speed
We ran Cozy Drive through our standard speed test to see what you can expect from uploads and downloads.
Our control test takes place on a virtual Windows machine hosted in Dublin, Ireland, with an overall speed of 1 Gbps. We cap the test environment speed to 100 Mbps before we upload and download 5GB of files, including videos, PDFs and images. We have a baseline upload and download time expectation of six minutes and 40 seconds.
Cozy Drive isn't the fastest cloud storage on the market, and the upload times were among the slowest we've tested. Download speeds, however, weren't too slow.
| | 1st Attempt: | 2nd Attempt: | Average: |
| --- | --- | --- | --- |
| Upload | 0:59:40 | 1:07:45 | 1:03:42 |
| Download | 0:7:42 | 0:6:58 | 0:07:20 |
It's tough to view Cozy Drive as a go-to for productivity and collaboration, based on our speed results. A good comparison comes from our Sync.com review, which doesn't have the fastest speeds due in part to its excellent security and privacy.
However, Sync.com is still faster and more secure than Cozy Drive, and also offers a much wider range of cloud storage features.
Security
Cozy Drive uses the popular decentralization security model to protect your account and files. Decentralization works by not storing all your data in one place or on a single server.
Additionally, Cozy Cloud uses open-source code, encouraging independent audits. By doing this, Cozy Cloud attempts to build trust with its users, who can see there's nothing malicious hidden deep in its code.
Lack of Encryption
The Cozy Cloud company often talks about how it protects your data to give you peace of mind. However, Cozy Cloud doesn't go into great detail on exactly how it does so.
When it comes to data encryption, Cozy Cloud encrypts passwords and data in transit. However, that doesn't include your files at rest, due to a perceived negative user experience. Cozy Cloud's many native and third-party apps value user experience over data security.
The lack of at-rest encryption means that your data is potentially unsafe with Cozy servers. Cozy Cloud does plan to address this in the future, but it's not a top priority for now. Although unrelated to Cozy Drive, the Cozy Pass password manager encrypts data on the client side, as it uses the free version of Bitwarden password manager.
The most significant risk with the lack of encryption comes with storing sensitive or confidential information. Unencrypted files are vulnerable to data breaches, no matter how secure a company says its servers are. Using third-party encryption software would be the only way to protect any files you keep on Cozy Drive.
One recommended option to protect your account is enabling two-factor authentication. To Cozy Cloud's credit, many of its articles remind the reader that some of the responsibility for account security lies with the user. Within the settings for your account, you can toggle two-factor authentication on or off.
Privacy
Like many European cloud storage companies, Cozy Cloud considers user privacy a pillar of its service. The company is based in France, and it has servers in three locations within the country, which means Cozy Cloud adheres to the GDPR.
Data at Risk
However, as with security, Cozy Cloud only says it uses "reasonable organizational, technical and administrative measures to protect personal data." Additionally, Cozy Cloud is not zero knowledge, since there isn't any at-rest encryption for files.
Cozy positions itself as a single place to store all your data, including sensitive financial information, precious photos and videos and personal data from your files. None of these items are encrypted on Cozy's servers, making it hard for us to recommend it for storing anything you deem private.
Transparent Data Collection
Cozy Cloud dedicates an entire page to its privacy efforts, which provides a behind-the-curtain look at data usage. It is one of the few cloud storage companies that show how it uses your data without requiring you to decipher its privacy policy. Should you want the full version, Cozy Cloud has a dedicated privacy policy that goes into more detail.
Cozy Cloud collects your data when you visit its website, sign up for a premium account or opt in to marketing communication. None of this is out of the ordinary, except for a highlight from the page focused on your data and third parties.
Of note are the different apps that also have access to your data, which is a byproduct of all the connections Cozy Cloud offers its customers.
The third-party data disclosures include infrastructure, communications and payments. A good example is Mailchimp. Cozy Cloud uses Mailchimp to conduct some of its marketing outreach in the U.S. Despite the high number of third-party interactions, the company's transparency helps ease privacy concerns.
Customer Support
Cozy Cloud offers a dedicated support page as the primary source of helpful information. A "first steps" section takes you to a curated list of articles designed for new users. This page is part of Cozy Cloud's searchable articles section.
Also on the support page is a link to Cozy Cloud's FAQ. However, clicking on any link on this page brings you to the searchable articles page. Having multiple links that eventually take you to the same place is a bit redundant. However, Cozy Cloud's article database is reasonably robust.
If the articles aren't enough, clicking "contact us" or the chat icon in the lower right of the page opens up a contact form. Despite how it looks, there isn't a live chat function, but the contact form does allow you to include an attachment if needed.
All of these options are on Cozy Cloud's public-facing pages. There's another chat-like icon in your account; however, like the public pages, it's just a contact form. All direct correspondence happens through email. We experienced the standard two-business-day response time with our questions and the answers we received were timely and relevant.
The Verdict
Cozy Cloud is an interesting option for files of all types, as we depend more on digital connections to manage all parts of our lives. The sheer number of native apps and third-party integrations makes it easy to import and manage all of your data from a convenient single account.
From a pure cloud storage perspective, Cozy Drive offers many of the same functions as other cloud providers, but with far less security and privacy, plus fewer collaboration features with non-Cozy Cloud users.
Cozy Cloud's 5GB free plan competes with some other free cloud storage providers. However, its paid plans tend to be more expensive for limited storage. This, combined with the lack of at-rest encryption, makes it hard to recommend Cozy Drive for your cloud storage needs.
Are you a Cozy Cloud user? What are your experiences like using Cozy Drive? Does the lack of encryption make you question Cozy Cloud's security and privacy? Let us know in the comments section below. Thanks for stopping by to read our article.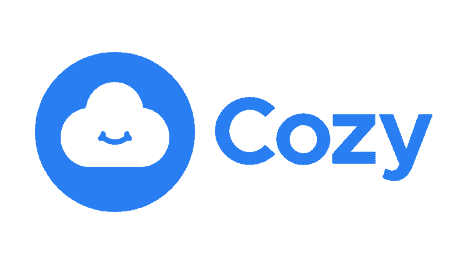 Visit

Cozy cloud