The Most Secure Cloud Storage of 2023: Free & Premium Security
One major concern when storing files in the cloud is security; hacks have become commonplace, after all. In this article, Cloudwards goes over the most secure cloud storage services that will keep your data out of harm's way.
Large-scale data breaches are becoming more common, with businesses faced with the disruptive loss of sensitive data. We're not immune at home, either, due to ransomware and phishing attacks. When we store our information online, it's important to use the most secure cloud storage for your data.
Key Takeaways:
Sync.com offers secure cloud storage and a generous amount of storage space.
pCloud's security and privacy is just as good as Sync.com's, but its zero-knowledge encryption — called pCloud Crypto — costs extra.
Icedrive is an easy-to-use service that also offers zero-knowledge encryption.
Thankfully, there are a number of cloud storage services out there who have made it their mission to offer cloud storage with strong security at reasonable prices. We've created a shortlist of five of the best and most secure cloud storage providers for personal and business use.
05/09/2022

Added Internxt as an honorable mention, included key takeaways.

06/25/2022

Updated Sync.com's plans and pricing information.

05/24/2023

Updated information about Icedrive's future plans and data centers
What Is the Most Secure Cloud Storage?
When talking about cloud storage security, zero-knowledge encryption is king. Beyond that, multi-factor authentication is a huge bonus. Privacy is also implicitly included with security, so physical server location, data center hardening and a clear stance on users' data privacy are all very important.
No suspense needed — the most secure cloud storage provider on our list is Sync.com. It offers zero-knowledge encryption as standard, even as an option for shared files. For our other top cloud storage providers for security, take a look at our shortlist below.
pCloud makes a close second, despite requiring an add-on to provide zero-knowledge protection. We're big fans of both Sync.com and pCloud for secure cloud storage, but each of our providers offers something different, depending on your needs. Let's take a closer look at each provider.
More Details About Sync.com:
Pricing: 5GB free, 2TB for $96 per year ($8 per month)
Website: Sync.com
Pros:
Very affordable
Excellent security
Easy to use
Full of features
Cons:
Slower than some other services
Few collaboration features
Sync.com is one of our favorite cloud storage services, and the level of security it offers plays a big part in why. You can learn more about its other cloud storage features in our Sync.com review, but we'll be focusing on security here.
For the best security for your files, you need a cloud storage service that offers zero-knowledge encryption. This means that your provider does not store a copy of your encryption key. Without the key, the company cannot access your files — period. If the servers were accessed illegally or a government issued a warrant, your information would still be inaccessible to anyone but you.
Sync.com offers zero-knowledge security on all of its plans, starting with a free account that includes 5GB of cloud storage, which we consider to be one of the most secure free cloud storage options.
If you're looking to store only a few files, but want them to be as secure as possible, then this free, secure storage plan is the perfect fit. It's one of the reasons that Sync.com topped our list of the best zero-knowledge cloud services.
The security features that Sync.com offers don't stop at zero knowledge. The TLS protocol is used to protect your data in transit, while data at rest is secured with industry-standard AES 256-bit encryption (read our guide on what AES is). The encryption keys themselves are protected with RSA 2048-bit encryption.
Sync.com also offers two-factor authentication, although it isn't fenabled by default, so it's something we'd recommend you turn on immediately.
Sync.com Privacy
With such a strong focus on security, the payoffs apply to privacy, too. Everything you store on Sync.com has data residency in Canada, one of the best nations for data privacy.
This means that your information is kept safe from any attempts to access it through the USA Patriot Act. It falls under the Canadian Personal Information Protection and Electronic Documents Act (PIPEDA) instead, which requires businesses to seek an individual's consent when they disclose personal information.
In fact, Sync.com's privacy and security are so good that it is HIPAA compliant (and it's our best HIPAA compliant cloud storage service). This means that businesses that need to store sensitive personal health information can use Sync.com's cloud storage services and still remain compliant with the regulations. Only providers with a proven track record of strong cloud security and privacy meet these standards.
If you're concerned about sharing private information with other people, then Sync.com has you covered there, too. You can choose to send your links with SSL encryption in transit, but if you enable enhanced privacy, then your links will also have end-to-end encryption.
One issue with this level of privacy for links is that it is not fully compatible with some browsers, including Safari, the default browser for most iPhone users.
Personal accounts start from as little as $5 per month for 200GB of storage or just $8 per month for 2TB. Business accounts start from $6 per month for each user, with 1TB of storage space each. Most of these plans are billed annually, with only two plans having the option to pay monthly.
More Details About pCloud:
Pricing: 10GB free, 2TB for $95.88 per year ($7.99 per month)
Website: pCloud.com
Pros:
Great value
Sync any folder
Excellent privacy & security
Integrated media player
Cons:
Zero-knowledge costs extra
Lacks productivity integrations
If you've read some of our other guides, you'll know that pCloud regularly features near or at the top of many of our lists. It's a very good all-rounder, and we have no hesitation recommending it for a wide range of uses. You can read a broader examination of its merits in our pCloud review.
We raved about Sync.com's zero-knowledge protection, but you may be surprised to find that pCloud doesn't actually offer zero-knowledge as standard. If you want zero knowledge for your files and folders, you'll need to pay for an add-on called pCloud Crypto, which costs $3.99 per month for an annual subscription.
With 2TB of storage costing $9.99 per month, pCloud Crypto could be a significant additional cost for consumers, which is something to consider if you're on a budget.
pCloud Crypto
We're not fans of paying extra for security, but pCloud has benefits that shouldn't be ignored. It allows you to store both encrypted and unencrypted files in the same account. If you're only worried about protecting some of your more sensitive files, you can isolate these with much higher security than non-sensitive files, making your other files more accessible.
This is intended to overcome one of the major drawbacks of using zero-knowledge security — the server itself has no idea what type of files it is dealing with. This limits how much it can help you with your files. For instance, the server cannot transcode media files, preventing you from playing them in the cloud in most cases.
One of the most common issues is that you are unable to preview thumbnail images of encrypted cloud storage photos, which can be a real problem when you're trying to deal with your photo collection. With pCloud Crypto, you can turn off zero-knowledge encryption for all of your photos or turn it on only for the ones that you don't want any prying eyes to see.
When it comes to storing photos in the cloud, pCloud is a strong choice; it ranked highly in our list of the best online storage for photos. No wonder why it's also one of the best cloud storage for large files. Read our how to use pCloud guide to learn how to upload, sync and back up files.
Another very useful feature of pCloud Crypto is that you can lock your local files so that a password is required to open them. With some other providers, if someone has access to your desktop or laptop, they can go into your sync folder and see all of your decrypted files.
This feature offers greater protection if you use a shared computer or if you are unfortunate enough to have your laptop stolen. Read our what is pCloud Crypto? guide for more.
Additional pCloud Features
pCloud is a provider that puts its money where its mouth is when it comes to security. The pCloud Crypto Hacking Challenge — a six-month contest in which pCloud offered a reward of $100,000 to anyone who could hack through its client-side encryption — had nearly 3,000 participants. Not a single participant succeeded in breaching pCloud's security measures.
Unlike some of the other providers on this list, pCloud also offers a Linux client, as well as Windows and macOS clients. If you're a Linux user then you'll be interested to learn that pCloud topped our list of the best cloud storage for Linux. There's even an Adobe Lightroom add-on that allows you to save directly from the photo-editing software to your pCloud account.
As a Swiss-based company, pCloud is compliant with the EU's GDPR regulations. Your files can be stored on servers in the U.S. or Luxembourg, though you have to choose this during registration.
More details about Icedrive:
Pricing: 10GB for free, 1TB for $4.99 per month
Provider website: www.icedrive.net
Pros:
Cheap
Great security & privacy
Gorgeous interface
Cons:
Few collaboration features
No productivity integrations
No block-level sync
Icedrive is another excellent option for secure cloud storage, and unlike pCloud, it doesn't charge you extra (technically) for the privilege. The zero-knowledge folder is limited to paying customers, so if you're on the free plan you won't be able to take advantage of this.
As for that encryption itself, it stands out a little in that it uses the less common Twofish protocol over AES. The differences are minor though, as both feature the same key size and a similar time to brute force. Twofish might even be slightly more secure, since it's less common, but that's definitely on the theoretical side of things.
Store Your Data Outside The U.S. With Icedrive
Another important aspect of data privacy is the physical location of the servers being used. Icedrive is a British company, but its servers are hosted in three separate locations: Germany, the U.K. and the U.S. Which one your data ends up on depends on your location during signup, so make sure to use a VPN if you want control over this.
Not only is Icedrive secure, but it's also incredibly cheap. For just $4.17 per month (or $4.99 if you opt for monthly billing) you get 1TB of cloud storage and access to advanced sharing features and the aforementioned encrypted storage.
As always, we don't have the space here to go into all the details that make Icedrive really shine. However, if low prices, great security and a gorgeous interface appeal to you, make sure to check out our full Icedrive review for all the details.
More Details About Egnyte Connect:
Pros:
Two-factor authentication
Great business security features
Enterprise plan offers private encryption
Cons:
No zero-knowledge on most plans
No Linux support
Egnyte is one of the most secure cloud storage for business options, and it's definitely worth a look if you need to store commercial files, especially as it came out on top overall in our list of the best enterprise file sync and share providers. If you're a small business owner, we'd definitely recommend taking a look at our Egnyte review.
Egnyte doesn't offer zero-knowledge protection out of the box, but if you want to take control of how your encryption key is stored, you'll need to use Egnyte Key Management. This allows you to manage your own encryption keys, either yourself or via a third-party solution, such as Microsoft Azure Key Vault.
It should be noted that Egnyte Key Management is only available on Egnyte's Enterprise plan, so it doesn't come cheap.
The good news is that if the Enterprise plan is too much, there is another way to get the security of zero knowledge even if your provider doesn't offer it. Encryption software allows you to encrypt your files before they're uploaded into the cloud.
Third-party services, such as Cryptomator, allow you to encrypt your files, no matter which provider you use. If you want to learn more, take a look at our Cryptomator review.
Egnyte Security Features
Despite the lack of zero knowledge, Egnyte still offers a lot of strong security features, especially the more "physical" protection your information might require. Its data centers have 24-hour surveillance, biometric access controls and are resistant to natural disasters, ensuring that your information is kept safely stored.
On a more technical level, Egnyte uses industry-standard AES 256-bit encryption for storing your data, and the TLS protocol to protect it during transit.
There is also an option to set up two-factor authentication so that your information is safe, even if your password is exposed. As the account administrator, you can also set minimum password strength requirements to ensure that none of your colleagues are trying to sign in with weak passwords.
Egnyte business plans also allow you to manage employee devices to give you greater control over your data security. You can set passcode locks so that users need to enter a four-digit code when they log in to Egnyte. It's also possible to remotely wipe devices if they're lost or stolen to avoid sensitive information falling into the wrong hands.
Because Egnyte is aimed at the enterprise market, there aren't any individual plans. If you want to use Egnyte for personal storage, then the Team plan has a minimum of a single user and costs $10 for 1TB of storage.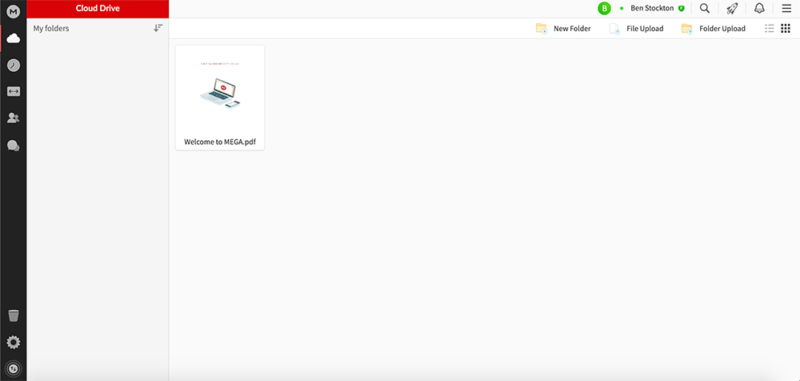 More Details About MEGA:
Pricing: 20GB free, 2TB for $122 per year
Website: MEGA.io
Pros:
Zero knowledge as standard
GDPR protections applied to all users
Recovery key for lost passwords
Cons:
Free storage is time-limited
Relatively expensive
MEGA offers users a huge 20GB of cloud storage for free, plus the opportunity to add more space for free if you complete "achievements," like referring users — though it times out after one year. As you can read in our MEGA review, its paid plans are definitely worth a look, too.
The company has a bit of a reputation, thanks to its infamous creator, Kim Dotcom, who is wanted by the U.S. to face copyright infringement charges. The company is now independent of his leadership and control, but it continues with his ethos, offering zero-knowledge security designed to prevent state agents from accessing your data at will.
MEGA recommends the use of a password manager so you don't lose access to your information, and we'd recommend an option like 1Password to do the job. Unlike many zero-knowledge providers, MEGA does give you the option of saving a backup recovery key in case you lose your password.
The end-to-end encryption means that MEGA can't reset your password for you, so this key will allow you to reset your password yourself. If you don't handle this encryption key correctly, someone else may be able to reset your password and access your account, so you'll need to think about storing it safely.
MEGA's approach focuses on the weakest link to data security: the user. With that in mind, the site strongly recommends the use of two-factor authentication as well as encrypting your entire hard drive to keep data secure at the point of use. The 2022 security flaw is the only MEGA's stain, though the provider remedied that swiftly.
MEGA Privacy
MEGA's data centers are in reasonably privacy-friendly locations, such as Luxembourg, Germany, Canada and New Zealand. However, none of these locations make our list of the countries with the best cloud privacy laws.
More importantly, none of your files are ever stored in or made available from the U.S., so they fall outside of the reach of legislation, such as the Patriot Act. The European locations mean that its pricing is in euros, but it works out to be about $11 per month for 2TB of cloud storage.
MEGA is one of the best cloud storage for Europe. It complies with European GDPR regulations designed to protect the data of EU citizens. The company takes things one step further and applies those same GDPR protections to all of its users, regardless of whether they reside in the EU or not.
MEGA's privacy policy is not quite as clear as some we've seen, but it explicitly states that none of your personal data will be sold to any third party. In the interests of transparency, MEGA's client apps are open source so that anyone is able to check them for bugs or security weaknesses.
There is also a vulnerability reward program that offers cash incentives to anyone that can find potential security issues.
Honorable Mentions
Although that's it for our top five picks, there are a couple of providers that deserve a highlight despite not making it onto the main list.
SpiderOak ONE
SpiderOak made waves with security-minded users back in 2014 when it got a recommendation from none other than Edward Snowden for its commitment to data security and privacy. It's not technically a cloud storage provider, as it's more of a backup service (check out our guide on the difference or our review on SpiderOak vs Dropbox — a platform specializing in backups vs an established cloud storage solution), but it comes packed with file sync and share features that make it a hybrid solution.
As we note in our SpiderOak Review, the biggest problem with the service is its price, which at $14 per month for 2TB of storage is relatively steep compared to the competition. pCloud, for example, sits at about $8.33 per month (find out more details in our pCloud vs SpiderOak review). Still, if you're willing to pay a bit extra for a service that goes the extra mile in terms of security and privacy, then SpiderOak might be for you.
Internxt is a relatively new service, and it doesn't come close to competing with any of the other services on this list when it comes to features. Its speeds are also terrible, and its pricing is nothing to write home about. However, Internxt earns a spot here due to its unique approach to encryption.
When a user uploads a file, Internxt breaks it into many pieces, encrypting them all before sending each to different servers connected together in a decentralized network. This creates an huge degree of security and privacy for your information, but it causes incredibly slow upload speeds. Read more about it in our Internxt review.
IDrive
Like SpiderOak, IDrive is an online backup service first and foremost. Also like SpiderOak, it offers syncing and sharing functionality that allows it to compete in both fields. IDrive gets top marks for both security and privacy in our IDrive review, so it's definitely worth checking out for those concerned with keeping their cloud data secure and private.
IDrive offers reasonable prices and a whole host of features sure to cover most storage and backup needs. However, there's no way to get unlimited storage or pay per month.
How We Picked Our Providers
As with all of our cloud storage reviews, we look at each provider to consider the strengths and weaknesses of each. We pick what we think are the best providers for each category, regardless of how we've rated them in other reviews.
Our aim is to provide you with the best advice possible. That's why we're happy to recommend SpiderOak, a backup product, in this list of cloud storage providers, due to its focus on security mixed in with good pricing. It's also why pCloud and Sync.com make our list, with affordable plans, as well as good security and privacy measures on offer.
Final Thoughts: Secure Cloud Storage
If you're looking for the most secure cloud storage, our number-one pick is Sync.com. It offers zero-knowledge encryption out of the box, even for free users. Paid plans are very reasonably priced, so if you've got a lot of data to store, it's not going to break the bank.
A close second is pCloud, which — despite requiring a paid add-on for encryption — has some unique features that make it a strong contender. These include the ability to decide which files and folders get the strongest encryption, allowing you to share other files with different users.
Icedrive, Egnyte and MEGA all bring something different to the table, and any of them would do a great job of keeping your data secure in the cloud. Let us know your own thoughts and opinions on these secure cloud storage services in the comments below, and thanks for reading.