Understanding Cloud Storage Pricing in 2023
Many cloud storage providers offer the same amount of storage for similar prices, but no two offer the same value. Read this guide to cloud storage pricing to learn how to best gauge the value of a cloud service.
Cost is one of the most important things to consider when making a purchase, and that goes doubly so for services that you need to commit to for a long time. Cloud storage is one of those things that you really don't want to change very often, so you need to make an informed decision before you make your purchase. This guide to cloud storage pricing will help you do just that.
Key Takeaways:
Cloud-based storage can vary in price, but it's more important to compare the features each service offers and the value for your money.
In most cases, simply going for the cheapest cloud storage is a poor way to choose a cloud storage service.
Personal cloud storage platforms generally don't offer unlimited storage — that typically falls in the realm of business cloud storage or online backup.
You will generally get less storage for free with a premium provider than you will with an untrustworthy one. If a service offers 100GB or more storage for free, you should probably steer clear of it.
Cloud storage services stick with you for a long time, and you need to know what you're committing to before buying. In this article we'll discuss the things to look out for when choosing a cloud data storage service and how to best judge if a service is worth the money, so keep reading.
07/25/2022

Updated to reflect an increase in IDrive's free plan to 10GB of storage.

05/23/2023

Updated to remove IDrive's discontinued free plan.
Cloud Storage Pricing: Understanding Value
At first glance it seems a bit obvious: low cost is good, high cost is bad, right? Well, this isn't always the case, mostly because of a little something called value. In our cloud storage reviews, we always place the "pricing" section after "features" because you need to know what you're getting for your money.
Sometimes value comes in the form of increased privacy, sometimes it's an irreplaceable feature or just all-around good performance of the product. However, all of this can be pretty vague without looking at the context. You need to know what different services cost to really know a service's value, or if you can get a better deal with other services.
Case Study: Sync.com
Our best value pick is Sync.com. In short, the service is ultra secure with its zero-knowledge encryption. It has excellent sharing features and it even lets you edit Office documents securely. Best of all, it does all this at the lowest market price for a major company, at just $8 per month for its 2TB plan. (Read our Sync.com review for more details.)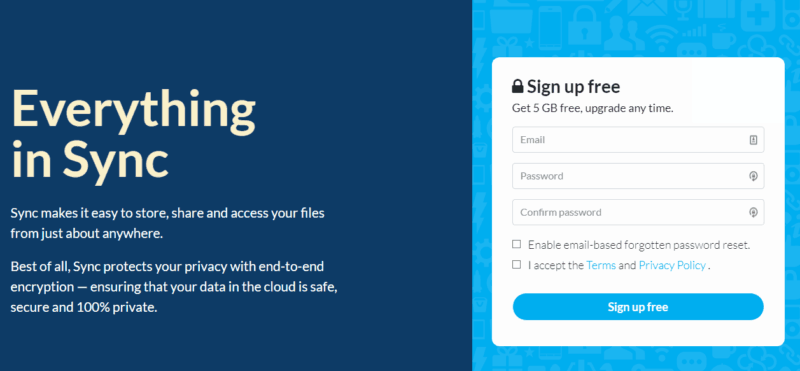 It does have one downside, and that is you have to pay for a year in advance; there's no way to pay monthly. This can be too much for some people's budgets, though it's not a problem for most (as you'll see in the "lifetime plans" portion, you'll probably want to pay an upfront cost).
Value Comparison: Sync.com vs pCloud
Let's contrast this with pCloud — a service that regularly places first or second on our lists. pCloud actually offers more features than Sync.com at a similar price of around $8.33 a month for the 2TB annual plan, but it falls short because of one thing: zero-knowledge encryption.
The failure here is offering the most important security feature, zero-knowledge encryption as a paid add-on. It's called pCloud Crypto, and it costs $3.99 a month on the yearly plan. Suddenly the value starts to drop against Sync.com, which includes zero-knowledge encryption across the board. (Read our full pCloud review for more details.)
Value Comparison: Sync.com vs IDrive
IDrive isn't exactly a cloud storage service. It's an online backup platform that offers quick-access storage as a side feature. Although the service offers excellent backup features, it doesn't offer any extra cloud storage features apart from storing your files and letting you share and access them remotely. Still, the service is secure and reliable, and it tops our best online backup list.
Looking at the price tag alone, it's dirt cheap. In fact, it blows proper cloud storage options out of the water. You can get 5TB of storage for as low as $60 per year. However, because you really get no typical cloud storage features to speak of, you don't get much value out of it beyond its backup features. (Read our IDrive review for more details.)
We can't stress enough how important context is for deciding the value of a cloud service. As a starter, we recommend using the quiz in our best cloud storage article to give you an idea of which services to take a closer look at, then peruse our individual reviews to discover which one suits you best. We also have a handy article on the best value cloud services that you can use as a guide.
Monthly vs Yearly Plans
Now let's get down and dirty with actual numbers. Pricing plans can vary greatly between online storage services, but once you've looked at a few, you'll start to see some patterns.
For example, you'll see that most services offer monthly and yearly payment options, and the yearly option usually comes at a discount. There are exceptions, like Sync.com, which only offers a yearly subscription for personal plans.
Let's take Google Drive as an example. If you pay monthly, it costs $9.99 for 2TB, and its yearly 2TB plan costs $99.99. The yearly plan works out to $8.33 per month, which is an overall bargain compared to the monthly cost.
In the table below, you'll notice that most providers follow the same pattern of offering a 17% discount on yearly plans. The services we listed are all on our best cloud storage list, and we excluded services that don't have both monthly and yearly plans. We also excluded Box, which doesn't have a personal plan larger than 100GB.
Service:
Price per year
Monthly 1TB or closest plan
Price per year
Yearly 1TB or closest plan
Annual savings
pCloud
2TB for $119.88
($9.99 per month)
2TB for $99.99
($8.33 per month)
17%
Icedrive
1TB for $59.88
($4.99 per month)
1TB for $49.99
($4.17 per month)
17%
MEGA
2TB for $140*
($11.70* per month)
2TB for $115*
($9.50* per month)
17%
OneDrive
1TB for $83.88
($6.99 per month)
1TB for $69.99
($5.83 per month)
17%
Google Drive
2TB for $119.88
($9.99 per month)
2TB for $99.99
($8.33 per month)
17%
Dropbox
2TB for $143.88
($11.99 per month)
2TB for $119.88
($9.99 per month)
17%
*Estimated price converted from euros; this price will vary depending on the exchange rate.
Data Storage Capacity
Another thing is that most services offer similar amounts of storage. Nearly all of them have a 2TB plan as their premium plan. Some offer smaller plans — usually 500GB or 200GB — and some offer larger plans of 5TB or more.
This makes it easy to compare different online storage options to ascertain their value, since you'll have an apples-to-apples comparison most of the time. The video below discusses this, as well.
If a service offers an odd amount of storage, like Icedrive's 1TB plan, you can look at its price per terabyte or gigabyte for a comparison. For example, Icedrive costs $4.17 per month on the yearly plan, which comes out to $4.17 per terabyte, or $8.34 for 2TB of storage space — pretty much the same as pCloud's 2TB plan. (Read our Icedrive review and Icedrive pricing guide for more details.)
The following table shows some of the most popular cloud services and how they compare in terms of cost per terabyte.
*Estimated price converted from euros; this price will vary depending on the exchange rate.
Lifetime Plans
Lifetime plans are a bit of a rarity in the cloud storage world, but they offer some of the best value you can find. They allow you to make a one-time payment for lifetime access to your account. These plans carry a higher upfront cost than yearly plans, though they tend to pay off in around three years.
Let's take pCloud again. Its 2TB lifetime plan costs $350, which over three years ends up costing $9.72 per month. Compared to its monthly cost of $9.99, this basically means that after three years have passed, your storage is free. When you put it that way, free storage space for a lifetime doesn't sound half bad, does it?
An important thing to consider is that there are actually very few services with lifetime plans on offer. pCloud and Icedrive offer them, as does a very young service called Filen.
Koofr also has lifetime plans, but only via a StackSocial offer, and it doesn't have them officially on its website. That's pretty much every respectable cloud storage option with a lifetime plan. (Read our Koofr review for more details.)
You'll find a comparison of lifetime plans and how long it takes to break even in the table below.
Service:
Price per month
1TB or closest plan
Lifetime price
1TB or closest plan
Time to break even
pCloud
2TB for $9.99 per month
2TB for $350
(one-time payment)
3 years
Icedrive
1TB for $4.99 per month
3TB for $499
(one-time payment)
10 years (compared to 1TB plan)
2 years 9 months (compared to 5TB plan)
Koofr
1TB for $11.50* per month
1TB for $169.99
(one-time payment)
1 year 3 months
Filen
1TB for $10.48 per month
2TB for $233.12
(one-time payment)
1 year 11 months
Free Storage Plans & Trials
Free cloud storage is frequently the most attractive feature for many users. A lot of the time, people just want a place to store some photos or documents, and don't really need 2TB of storage space. Here, more is always better. In general, you won't see a free plan breaking 50GB very often, and even that is a reach most of the time.
To give a few examples, Icedrive and pCloud each offer 10GB of free online storage. Sync.com only gives you 5GB free, and Dropbox offers a measly 2GB. Google Drive does better than all of them, with 15GB free, though you sacrifice some privacy for using it. (Read our Google Drive for more details.)
MEGA has always been known for its massive free plan, which used to sit at 50GB, but now gives you "only" 20GB. (Read our MEGA review for more details.)
A good rule of thumb: If a product is free, you're the product. This rings true for cloud storage as well. MEGA is a secure zero-knowledge service, and we trust it enough to recommend its free plan. On the other hand, Degoo is not, despite offering 100GB of free storage.
Providers that offer 1TB or more for free are likely harvesting user data, and you'll probably have your account deleted at some point.
The table below compares the free plans for some of the services we mentioned in this article.
Referrals
Most services let you expand your free storage via referrals. You can give a friend (or whomever) a referral link, and when they create an account, you'll get some additional free storage. Sometimes this extra storage is only temporary, but most of the time the extra storage is permanent. You'll usually find the link somewhere in your profile settings.
Filen has a very good referral program that lets you get up to 40GB of permanent free storage with just three referrals. Here's how it works: When you refer someone, you both get 10GB or storage. This means that if you get referred by someone, then refer two other people, you'll get 40GB for free. (Read our full Filen review for more details.)
Unlimited Storage
Unlimited storage is usually reserved for businesses, so most of these plans have a minimum required number of users. However, if you have a friend you're willing to split the bill with — or are comfortable with footing the entire bill yourself — you could go for it even as a private user.
For example, Sync.com for Teams gives you unlimited storage for just $15 per user per month, with a minimum of two users. This comes out to $30 per month if you choose to pay for both users. Unfortunately, this offer is really the only affordable option for personal users, as you can see in our best unlimited cloud storage article.
Unlimited storage is more common in online backup software like Backblaze B2, but backup solutions aren't cloud storage and don't let you easily access your files the way cloud storage does.
Final Thoughts
Trying to sort out cloud storage provider pricing can be a chore, especially when you don't know what to look for. We hope this article helped you figure out how cloud storage pricing works, so you can make the best buying decision and get the most value for your money.
Did you find this guide helpful? Which cloud storage services have the best values for your needs? Let us know in the comments below, and as always, thank you for reading.