Icedrive Review
Icedrive is new to the storage scene, but is already showing great promise with its tight security and great ease of use. It has some rough edges, but you just can't beat 10GB of free space now, can you? Check out our full Icedrive review for the details.
Starts from
$
1
67
per month
for

150 GB
Icedrive is a promising newcomer to the cloud storage scene, focused on privacy and security. With its sleek interface and excellent security features, Icedrive seems destined for a great future. It's entering a crowded field, though, with some strong competition from established cloud services. Find out how Icedrive fares against the competition in this full Icedrive review.
Icedrive came to the scene in early 2019, and since its launch it has been steadily growing and improving its service. Its main selling point is its airtight zero-knowledge encryption, and it has made some unique choices that set it apart from other cloud services. However, it still lacks key features, and there are great alternatives on our list of the most secure cloud storage providers.
Icedrive offers an elegant and easy-to-use interface, and it's also light on the hard drive, as files never get permanently downloaded to your computer. Its free plan is very generous, offering 10GB of space at no cost. However, it still lacks collaboration options, such as upload links for folders and integration with third-party productivity apps like Google Docs and Microsoft Office 365.
Still, it's a young cloud storage service, and it promises to bring more features in the future. If you're looking for a fully fleshed-out service right now, though, you might want to check out some better alternatives, like pCloud or Sync.com.
07/08/2021

Updated review to reflect recent addition of two-factor authentication.

10/01/2021

Updated the Icedrive lifetime pricing change: Lite is now $99 for life (formerly $59), Pro is now $229 (formerly $149) and Pro+ is now $599 (formerly $499).
Icedrive Video Review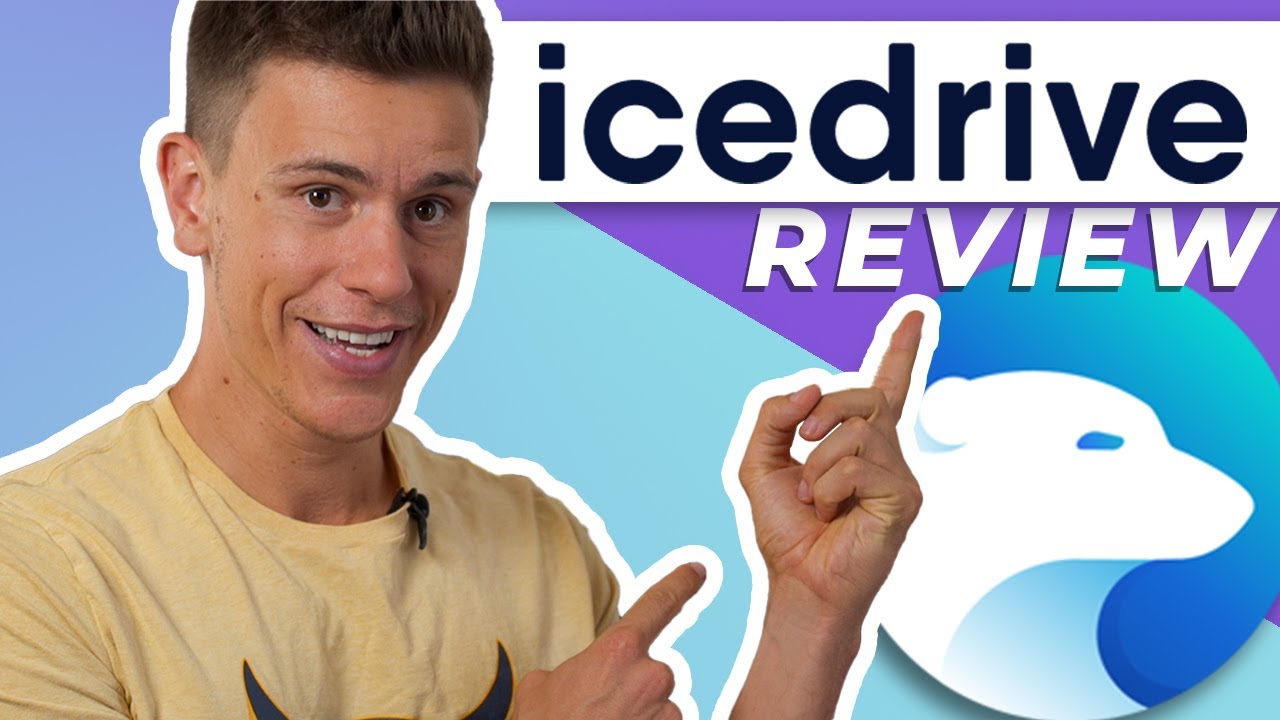 Strengths & Weaknesses
Strengths:
Excellent privacy & security
Generous free plan
Zero-knowledge encryption
Beautiful user interface
File previews
Virtual drive on desktop
Good pricing
Weaknesses:
Lacks collaboration options
No upload links
No chat support
No block-level sync
Not good for productivity
Alternatives for Icedrive
Features
For a relatively new cloud storage service, Icedrive has some very useful features. Its implementation of encryption is impressive and practical, and its approach to sync gives you the option to keep files off your hard drive, freeing up space on your computer.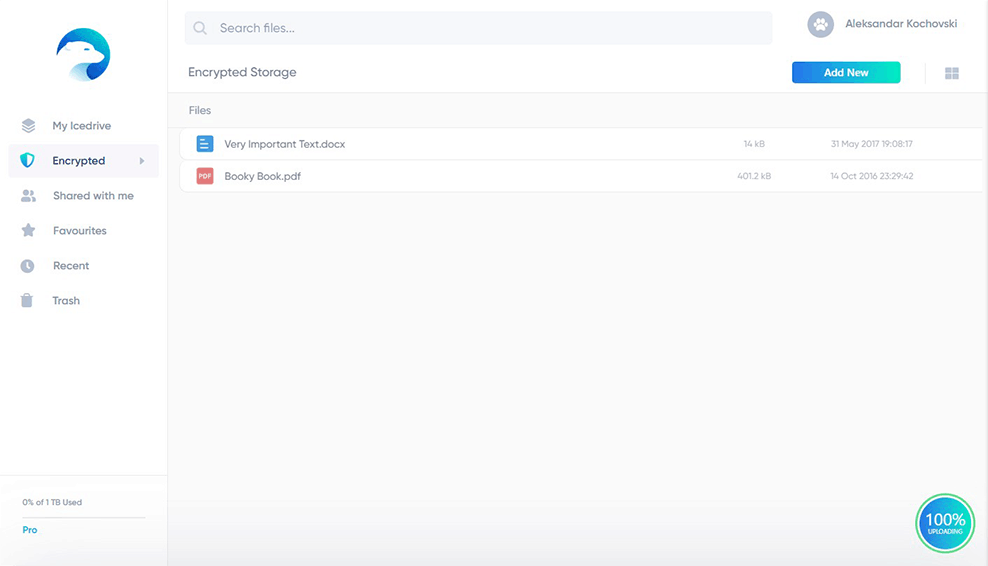 Icedrive isn't the most feature-rich cloud storage service around. It still lacks a few basic sharing features, and encryption is available only for paid accounts. Although its free plan is excellent, the lack of features leaves something to be desired. If you're looking for a genuinely stellar cloud service, you can try out Sync.com (read our Icedrive vs Sync.com comparison).
If you have a paid account, Icedrive lets you encrypt essential files, keeping them safe and private. Encryption is made easy with Icedrive. There is a separate "encrypted" tab, where all your private files are kept. You can upload files here just as you would with any other folder, but you can't move uploaded files to this folder.
Another great feature Icedrive offers is its virtual drive, which lets you interact with all your online files as if they were on your computer. You can move, copy, rename, upload and delete files, and it'll all get synced to the cloud. You can also preview files here, and you can even edit documents in their native apps, with any changes you make being uploaded after you're done.
Icedrive doesn't create a sync folder on your hard drive. However, you have the option to sync any folder on your computer to the cloud, which means you can keep your existing folder structure. If you really need a separate sync folder, though, Dropbox offers some excellent sync options.
Productivity Features
A particularly impressive feat is Icedrive's implementation of file previews, which are available even with encrypted files. To keep your files private, Icedrive streams encrypted data to your computer, where it becomes decrypted and viewable only for the user. Previews work with all popular video and image formats, as well as Office documents and PDF files.
Icedrive also saves past versions of your files, so you can restore any file to a previous version. Versioning and deleted file retention is unlimited, so it doesn't matter how old your file versions or deleted files are, you can always restore them. Take this with a grain of salt, though, as customer support informs us that this might change in the future.
Unfortunately, Icedrive still hasn't implemented any integration with third-party apps, so if you need to collaborate on a cloud-based document, say, via Microsoft Office 365, OneDrive would be a much better cloud storage choice. If you need to collaborate on files in the cloud, you should look at our list of the best cloud services for collaboration.
Also missing from Icedrive are several sharing features. Although Icedrive lets paid users add password-protected and expiring links to files, you can't create upload links.
You also can't set permissions for links, like limiting who can download the file or how many times a file can be downloaded. You can try out pCloud if you want a cloud service with great sharing options.
Icedrive Features Overview
| | |
| --- | --- |
| Sync Folder | |
| Block-Level Sync | |
| Selective Sync | |
| Bandwidth management | |
| Sync Any Folder | |
| File Link Sharing | |
| Link Passwords | |
| Link Expiry Dates | |
| Folder Sharing | |
| Folder Permissions | |
| Link Download Limits | |
| Upload Links | |
| File Previews | |
| Edit Files | |
| In-App Collaboration | |
| Office Online | |
| Google Docs | |
| Notes App | |
| Media Playback | |
| Mobile Apps | |
| Deleted File Retention | |
| Versioning | |
| WebDAV | |
| At-Rest Encryption | |
| In-Transit Encryption | |
| Encryption Protocol | Twofish |
| Zero Knowledge | |
| Two-Factor Authentication | |
| Server Location | EU |
| 24/7 Support | |
| Live Chat Support | |
| Telephone Support | |
| Email Support | |
| User Forum | |
| Knowledgebase | |
| Free Plan | |
Pricing
Probably the most attractive aspect of Icedrive is the excellent value it offers. Its free plan is among the best free cloud storage options, with 10GB of cloud storage space on offer. Plus, its paid plans are also very cheap, especially when you consider their large amount of storage and the excellent security features you get with them.
Icedrive has three premium plans to complement its generous free plan: Lite, Pro and Pro+. Going with a paid plan will give you access to some advanced features, notably the client-side encryption service. Paid users also have additional sharing options, including passwords and timeouts for links, plus a backup option for your phone on the mobile app.
When you create your Icedrive account, you receive 10GB of free storage, with a 3GB bandwidth limit. The first upgrade option on offer is the Lite plan, which is available only as a yearly subscription, to the tune of $19.99 yearly for 150GB of cloud storage and a 250GB monthly bandwidth limit.
Moving up a tier, the Pro plan will get you 1TB of storage for a mere $4.99 monthly (or $49.99 yearly). The bandwidth limit also goes up to 2TB for monthly transfers. That's a lot of value for your money, but if you need even more cloud storage capacity, Icedrive offers one more plan.
The most expensive plan that Icedrive offers is the Pro+ plan. It comes with 5TB of cloud storage and an 8TB monthly bandwidth limit, at a price of either $17.99 per month or $179.99 yearly, which equals only $15 per month.
Although these plans are very appealing, Icedrive could do even better by adding a plan in between the Pro and Pro+ plans, which would give users a bit more freedom of choice.
For personal use, Icedrive's premium plans are very competitively priced, but if you need cloud storage for multiple users, Sync.com has more affordable high-capacity plans for your business needs.
Icedrive Lifetime Plans
Icedrive offers interesting lifetime cloud storage plans which means you only have to pay once. Lifetime plans come with a bandwidth cap to avoid abuse of these plans. The cost of the lifetime plans are as follows:
Lite: $99 for 150GB
Pro: $229 for 1TB of storage
Pro+: $599 for 5TB cloud storage
In October 2021, Icedrive increased its lifetime pricing. Lite increased by $40 (formerly $59), Pro increased by $80 (formerly $149) and Pro+ increased by $100 (formerly $499).
Overall, we think these lifetime plans are still good value for money. However, the pricing has edged it closer to pCloud's pricing, where you get 2TB lifetime for $350. Nevertheless, Icedrive still earns a top spot on our best lifetime cloud storage list.
Ease of Use
Icedrive's user interface design is, simply put, stunning. It's supremely sleek and modern, with matte gradients in cool blues and greens, which is fitting of its icy brand image.
Beyond the design, though, the interface is also very easy to use. Everything is exactly where you'd expect it to be and functions as you'd assume, which means the learning curve is practically nonexistent.
Users have four main ways of using Icedrive: the Icedrive website, a desktop app for both Windows and Mac, mobile apps for Android and iOS, plus the virtual drive that's available only on Windows. The desktop app is portable, meaning you don't need to install it to run it. The virtual drive, however, requires both installation and a reboot.
Icedrive on Desktop and Mobile
Icedrive's web interface is particularly well designed and user friendly. It's very intuitive, with large icons and fonts, and contextual menus that pop up when you click on a file or folder. Right-clicking an item will bring up a dropdown menu with file management and sharing options, something most websites don't allow.
The desktop app functions the same way as the website, with the same menus and dropdowns, with the exception of the "open/edit" option in the right-click menu.
This option temporarily downloads the file to your computer, letting you open it in its native app and edit it. The edited version will be uploaded to the cloud and deleted from your device's memory when you save your changes.
Mobile users have access to a similarly well-designed app. Besides the regular cloud app features, Icedrive's mobile app can be set to automatically upload media files, such as photos and videos, and paid users have the option to encrypt these files, as well. There is also a backup feature, which lets you backup all of your documents, videos, photos and music at once.
Icedrive can also mount a virtual drive on your Windows computer, which will have the native Windows File Explorer interface. This means you can interact with files in the virtual drive just as you would with any other file on your computer. Cloud-based files and folders will appear in this drive as icons that you can interact with, but they won't take up any space on your hard drive.
One thing that disappoints, though, is a bug in the desktop app that stops you from encrypting files through it. You can access the "encrypted" folder via the desktop app, and the option to upload files is there, but encrypting files through the desktop app doesn't work due to the bug. Although the bug doesn't affect everyone, it may affect your Icedrive experience.
File Sharing & Syncing
Icedrive makes some interesting choices with its implementation of file syncing. Although there are multiple ways to access your online files, there is no actual file sync folder. Instead, you have the option to sync any folder on your device. File sharing is pretty standard, with some nice extras, such as password-protected links, but there are some pretty big letdowns, as well.
Icedrive's sharing system is pretty basic. Clicking on a file in Icedrive will reveal two sharing options. You can share files either by email or with a sharing link. Email sharing is simply named "share," and clicking it will open a pop-up window where you can add the email addresses of the recipients. You can also write a message to the recipient if you want.
Sharing files via a link is done with the "public link" option. Clicking on the option will open up a dialog that will let you set a password and an expiration date for your link. You can then copy the link and share it wherever you want, but there are no options for social media sharing directly from Icedrive.
Unfortunately, that's pretty much all the sharing options available. You can't set download limits and you can't select exactly who can use your link. Plus, you can't set permissions for users, which means you can't send view-only links or allow someone to edit a file or folder.
However, the biggest thing missing is upload links for folders, which severely limits your collaboration options.
If you're looking for a cloud service with more advanced sharing options, Icedrive might not be right for you, but we have a guide where you can find some excellent cloud services for sharing. For example, Google Drive offers a robust sharing experience for free, with all the bells and whistles (read our Icedrive vs Google Drive comparison).
Icedrive Sync Features
As we mentioned, Icedrive's virtual drive doesn't truly sync your files to your computer, it just creates icons of them that you can interact with. Whenever you open a file through the Icedrive desktop app or the virtual drive, it is downloaded but isn't kept permanently, which frees up storage space.
Plus, if you install the virtual drive you have the option to sync any folder from your hard drive to the cloud. When you sync a folder from your hard drive you can choose to create a new folder in the cloud or select an existing folder. The latter option will also download any cloud-based files in that folder to your computer, so you should take caution when using it.
You can still open and edit files with their native apps, though, either through the portable desktop app or through the virtual drive. This lets you make changes to files, and any changes you make this way get uploaded to the cloud. However, this method of work would require a constant and stable internet connection, which isn't always possible.
Icedrive is useful if you're short on hard drive space, as it doesn't create a sync folder that would keep duplicates of your files. However, using only the virtual drive isn't suitable for sensitive work because it relies on a stable internet connection. Thankfully, the folder syncing option remedies that issue entirely while still keeping your hard drive free of clutter.
Speed
| | First attempt | Second attempt | Average |
| --- | --- | --- | --- |
| Upload: | 29:32 | 29:27 | 29:30 |
| Download: | 05:38 | 05:29 | 05:34 |
Icedrive manages some very good speeds, both for upload and download. Of course, this will depend on how close you are to its servers, which are located in the UK, Germany and the U.S. To perform our speed testing, we used a 1GB test file, with a download speed of 32 Mbps and an upload speed of 6 Mbps.
Uploading our test file to Icedrive took around 29 minutes, a few minutes off from the expected upload time of 23 minutes and 40 seconds. Downloading the 1GB test file took five and a half minutes, only one minute behind the expected download time of four and a half minutes.
This all means that, although Icedrive is a fairly fast service, it won't be winning any marathons, as it does exhibit some lag, both on upload and on download. Plus, block-level sync isn't available, so any changes you make to large files will mean the entire file has to be reuploaded, instead of only the altered bit.
Security
Security and privacy are Icedrive's strongest selling points. Icedrive employs the Twofish protocol to encrypt all your files, instead of the usual AES protocol used by most other cloud storage providers. According to Icedrive, using this lesser-known encryption protocol will result in higher security, since most hackers aren't as familiar with it.
Icedrive offers zero-knowledge encryption and end-to-end protection. It encrypts your files from the moment you start uploading them, to keep them safe from man-in-the-middle attacks while in transit. Upon reaching Icedrive's servers, your files are re-encrypted. All encryption and decryption happens client-side, and you're the only one with access to your encryption key.
Icedrive even allows you to preview encrypted files, something that isn't usually possible. It does this by sending you encrypted data, which is temporarily downloaded and decrypted on your side, allowing you to preview the file, though this isn't possible with all file formats.
Icedrive also offers two-factor authentication for an added layer of security. You can set this up using Google Authenticator (which is one of the best 2FA apps) if you want a software solution, or via the FIDO and U2F protocols if you prefer hardware such as the YubiKey. Finally, there's also an option for two-factor authentication via SMS, but only for users on one of the paid plans.
Privacy
Privacy is an area where Icedrive truly shines. It makes a point of not keeping any of your data unless you give it permission, and you can download your personal data to see exactly what is available to Icedrive. They also never use third-party tracking apps, such as Google Analytics, so whatever you do on Icedrive is known only by you.
Looking at the privacy policy, it seems a little short, but it's to the point. It claims that your personal info, like your email, may become available to them if you contact them via email or subscribe to email updates, which is all very obvious. The privacy policy also states that this data is kept secure and is never given to a third party.
Icedrive's DMCA policy is mostly legal fluff, but it has some clauses that require clarifying. A clause in the DMCA statement says that Icedrive uses a filter to calculate the unique hash of any file entering its system. Although this sounds worrying at face value, a hash is just a simple identifier, and it's nowhere near enough to reconstruct or decrypt your data.
Icedrive is based in the UK, which means it complies with UK privacy laws, and it's also GDPR compliant. In all, Icedrive's service is private, with zero-knowledge encryption keeping your data safe. Plus, all files are encrypted client-side, so you should have no worries about privacy, as long as you keep all your files encrypted.
Customer Support
Customer support is one area where Icedrive is lacking. The only support option is to submit a ticket with customer service. There is no chat support, and you can't make a phone call, either.
When the service was still in its infancy, its support team was communicative and quick to respond. However, in recent months, the company has developed somewhat of a poor reputation for its slow response time. According to user comments (keep leaving those, please) and our own testing, you might end up waiting over a week for a reply.
The Verdict
Even though it is still very young, Icedrive shows a lot of promise. It's an attractive choice for those with security and privacy on their mind. Plus, Icedrive has promised to completely cover its service with its client-side zero-knowledge encryption by 2022.
If you've got price on your mind, Icedrive's free plan has plenty of storage, and its paid plans offer some good bang for your buck, as well.
There are still a couple of bugs to iron out, though, and Icedrive's lack of features shows its young age. However, with many features on the horizon, Icedrive could soon find itself in the cloud storage hall of fame.
Thank you for reading our Icedrive review.
Icedrive FAQ
Icedrive is a cloud storage service offering 10GB free storage. Icedrive allows you to free up hard drive space by moving files into the cloud but you can access them like an external hard drive. Icedrive can also share files with any number of people regardless of them having an Icedrive account.

Icedrive is free up to 10GB of storage. Icedrive pricing starts at $4.99 for 1TB of cloud storage. Lifetime plans start from $59 for 150GB.

That depends. Icedrive is a very new to the cloud storage field yet it offers very similar features to pCloud. Icedrive includes zero-knowledge encryption while you have to pay extra for pCloud to get the privilege. Icedrive is also slightly cheaper than pCloud.

We would say very. Icedrive offers end-to-end encryption which means only you have access to your files, not even Icedrive employees can see the contents of what you upload.