Best Lifetime Cloud Storage in 2023: No More Recurring Payments
If you want to rest easy knowing your files are safe forever, or simply hate paying a monthly fee, lifetime cloud storage may be for you. Keep reading for our top picks that let you ditch the recurring payments.
Cloud storage has become one of the most ubiquitous pieces of software, with most people using one service or another, sometimes without even being aware of it. Paying a monthly or yearly subscription in perpetuity can be frustrating for users, though. We've put together this list of the best lifetime cloud storage deals so that you can get your online storage for a one-time purchase.
Key Takeaways:
pCloud and Icedrive are the only two reputable cloud storage providers that offer true lifetime plans.
pCloud is our favorite lifetime cloud storage solution, but Icedrive is the better option for those more concerned with price and privacy than features.
You can also get a lot of free storage from excellent cloud storage services such as Sync.com, Google Drive and MEGA.
Our top pick is pCloud, which ranks second on our overall best cloud storage list, below Sync.com, a service that unfortunately doesn't offer any lifetime plans. Icedrive is our second pick for lifetime cloud storage, but depending on your specific needs it may be the better option.
Besides these two services, pickings are slim when it comes to lifetime cloud storage. For that reason, we've decided to throw in some of the best free cloud storage services to give you some more options, as well as a bit more context.
10/01/2021

Updated Icedrive's lifetime pricing increase. The Lite, Pro and Pro+ plans increased from $59, $149 and $499 to $99, $229 and $599, respectively.

06/25/2022

Updated Sync.com's plans and pricing information.

07/05/2022

Update pCloud's information to include the new 10TB lifetime plan option.

08/24/2022

Updated to reflect IDrive's larger 10GB free plan.

05/24/2023

Updated with new Icedrive Lifetime plans.

05/23/2023

Updated to remove IDrive's discontinued free plan and add its new free 30-day trial.
The best option for cloud storage without having to pay a recurring subscription payment is pCloud, closely followed by Icedrive.

Our favorite cloud storage provider here at Cloudwards.net is Sync.com, but we're also big fans of pCloud and Icedrive.

Currently there are only two cloud storage providers we'd recommend that offer lifetime plans, namely pCloud and Icedrive.
What Makes the Best Lifetime Cloud Storage Deals
The first criterion for selecting our top picks is obviously the availability of a lifetime plan. The price of said plan and the value provided in terms of storage space is next on the list, followed by our general cloud storage criteria, such as features, ease of use, speed, security and privacy.
The most important features for any cloud storage service are those you use to sync your files between the cloud and your devices as well as share them with other people. Beyond those, we like to see strong collaboration options — though this is often directly at odds with security and privacy — as well as other quality-of-life features like media players and file previews.
For security and privacy, encryption is king. Not only does your data need to be encrypted by TLS in transit and use an encryption protocol with adequate key sizes while at rest (read our description of encryption for more info), these services also need to offer a way to do this client-side to get top marks for privacy.
As we mentioned, there are unfortunately only two good choices for lifetime cloud storage, namely pCloud and Icedrive. In order to give you a few more options, we've included three more services that offer excellent free plans, which in practice serve as lifetime cloud storage, provided you don't need that much space.
The Best Lifetime Cloud Storage Picks
Now that we've covered our criteria and given you a quick overview of our top picks for lifetime cloud storage, it's time to get into some more detail. Naturally, we'll be kicking things off with our number-one pick, which is pCloud.
More details about pCloud:
Pricing: From $47.88 per year; from $175 for lifetime
Website: www.pcloud.com
Pros:
Zero-knowledge encryption
Fast
Integrated media player
Feature-rich
Cons:
Encryption costs extra
No document integration
pCloud, being one of only two reputable cloud storage providers that offer lifetime plans, is our top pick for this list. It offers three lifetime deals: 500GB, 2TB and 10TB of storage, which cost $175, $350 or $990, respectively.
You also get a huge number of features included in the price. The standard file sync and share capabilities are all there, of course, but so are more advanced features like block-level file copying, media playback, file previews, selective sync and extendable versioning.
Its security is also excellent, with strong data encryption, zero-knowledge policies and two-factor authentication. Unfortunately, the zero-knowledge encryption requires you to make an additional purchase of pCloud Crypto, which will run you an additional $125 for lifetime access.
Aside from this, security and privacy are all-around excellent with strong data encryption and the ability to store files on servers located in Europe, which means they're protected by the GDPR.
pCloud is also very easy to use, as all of its clients — desktop, web and mobile — are well designed. The mobile app also comes with some photo management features, like automatic photo upload and duplicate removal. If pCloud sounds like something you're interested in, be sure to check out our full pCloud review.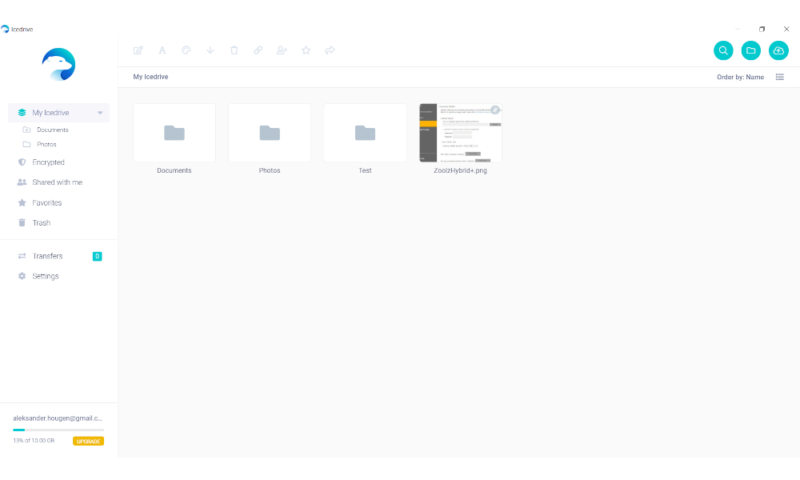 More details about Icedrive:
Pricing: From

$19.99

per year; from

$99

for lifetime
Website: icedrive.net
Pros:
Cheap
Gorgeous user interface
Private data encryption
Solid file syncing & sharing capabilities
Cons:
Lacking in collaboration features
No block-level sync
No chat support
If the price tag of pCloud lifetime plan is a bit too steep for you, then Icedrive is the perfect pCloud alternative. Although it doesn't have as many features as pCloud does — especially when it comes to file sharing — it's still one of our favorite cloud storage providers that also comes with great security and very affordable plans.
Icedrive is relatively new on the cloud storage scene, having launched in early 2019. Despite its fresh face, it's quickly become one of our favorite providers with its beautiful user interface, top-notch security and privacy, and amazingly reasonable prices.
With the lifetime plans, you get 150GB, 3TB or 10TB of storage for $99, $499 or $999 respectively. Icedrive also holds the top spot in our list of the best 1TB cloud storage plans. Learn more about Icedrive plans in our comprehensive Icedrive pricing guide.
The real standout with Icedrive is the downright gorgeous user interface. A lot of cloud storage software feels either clunky or outdated, but with Icedrive this couldn't be further from the truth. On top of this you get all the syncing and sharing features you'd expect, strong 256-bit AES encryption with private key management, and lightning fast upload and download speeds.
If you'd like a more in-depth analysis of Icedrive's pros and cons, be sure to check out our full Icedrive review. At the end of the day, if you're looking for an easy-to-use cloud storage service for a reasonable price without sacrificing on features or data security, then you can't go wrong with Icedrive.
Now that we've covered the two cloud storage providers that actually offer lifetime plans, let's move on to some other lifetime-alternative options that are excellent services with a generous amount of free storage. Unless something dramatic changes with these services, you should have these free options for life, too.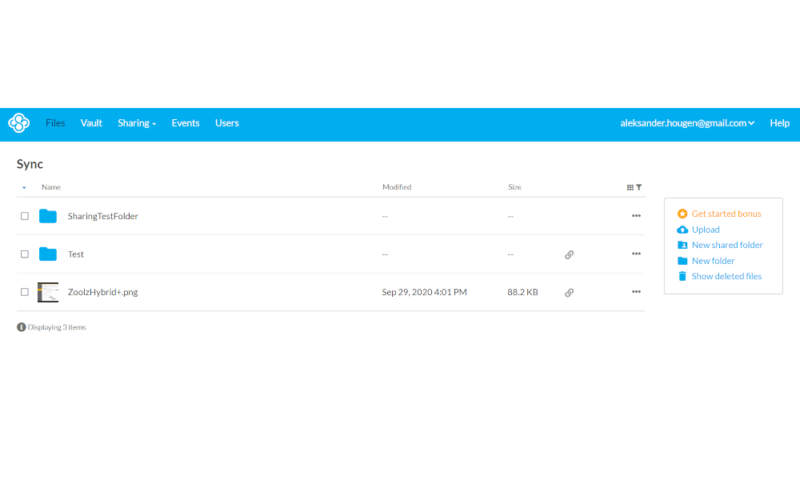 More details about Sync.com:
Pros:
Tons of features
Strong security & privacy
Client-side encryption
Cons:
Clunky user interface
Slow speed
Sync.com is our top pick overall for the best cloud storage due to its wealth of features, excellent pricing and solid security and privacy. You get 5GB of storage for free, but if you want more, its storage plans are among the cheapest you can get.
Plus, Sync.com is full of features like 365-day file versioning, selective sync and advanced file-sharing options. It also gets top marks for security and privacy, as your files are protected with zero-knowledge 256-bit AES encryption.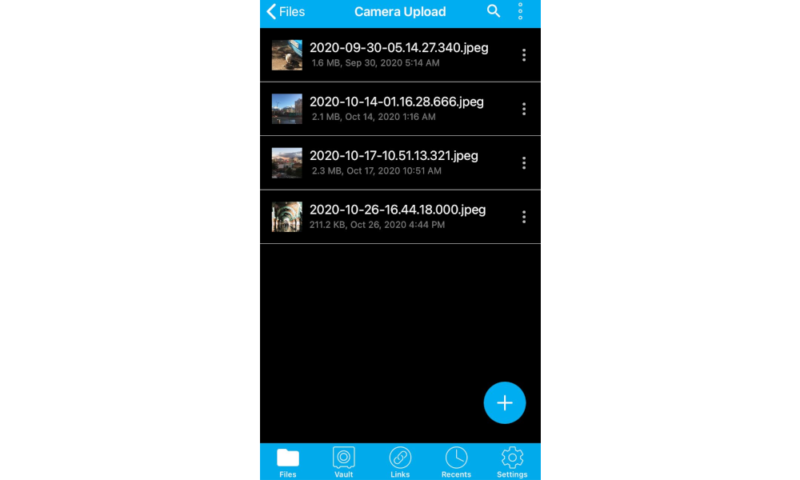 You can enable client-side encryption for increased privacy, and Sync.com's servers are located in Canada, which has solid digital privacy legislation on the books. There's also two-factor authentication if you want an added layer of security for your files, and the privacy policy is clear and concise.
The only real downside to Sync.com is its somewhat clunky user interface and its mediocre upload and download speeds. For more information about our favorite cloud storage provider, head over to our Sync.com review, which goes into much more detail.
More details about Google Drive:
Pros:
Integration with Google Workspace
Third-party extensions
15GB of free storage with no restrictions
Great photo management app
Cons:
Serious privacy concerns
No passwords on shared links
No block-level sync
Unless you've been living under a rock for the past decade, you've probably heard of Google Drive. In fact, chances are you already have an account, even if you've never used it. As of now, you get 15GB of free storage space, as well as unlimited photo storage. This means that any photos you upload before June 2021 won't count toward your storage cap.
On top of this, Google Drive is one of the best cloud storage services for collaboration, owing to its integration with Google Workspace apps like Google Docs, Sheets and Slides. It's also an excellent place for photo backups, as the stand-alone Google Photos app has solid tools for managing your pictures. There's also a vast number of third-party extensions you can download.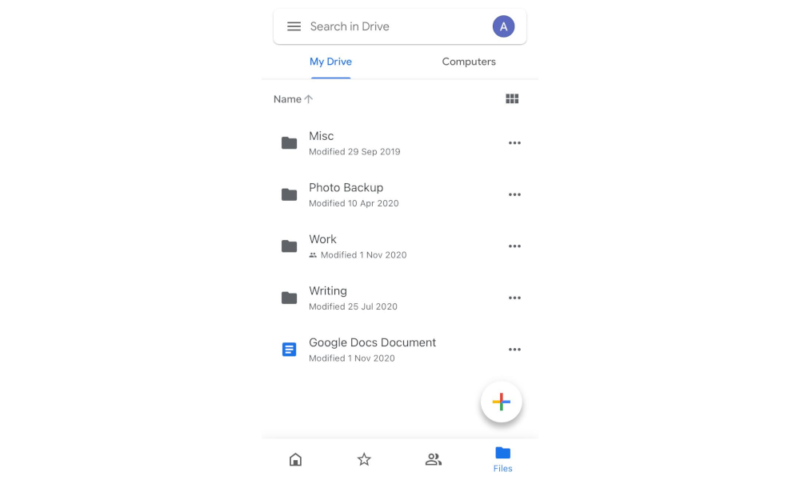 Unfortunately, there are some pretty big privacy concerns with Google as a whole. Since the company's entire business model is predicated on collecting its users' data and optimizing ads, it's hard to trust it with your files, especially since there's no zero-knowledge encryption.
To make matters worse, the downright confusing privacy policy makes it hard to decipher what actually applies to each individual Google product. The lack of block-level sync is another drawback, as it might mean reuploading large amounts of data when only a small part of a file has changed.
That said, Google Drive is still very fast, so you won't have to wait long for your files to upload and download. As always, you can check out our full Google Drive review for a deeper dive into the pros and cons of the service.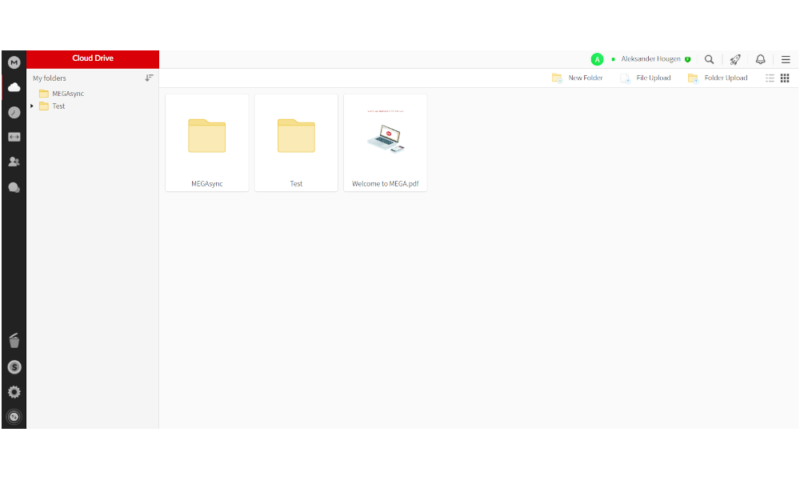 More details about MEGA:
Pros:
Zero-knowledge encryption
Encryption for shared links
Generous free plan
Media & document preview
Cons:
Paid plans are expensive
Mediocre user experience
Not a good option for collaboration
Rounding out our top five is a name that's somewhat infamous for a cloud storage provider, namely MEGA. As far as free storage goes, MEGA is one of the most generous options out there. You get 20GB for free forever, on top of which there are numerous temporary storage bonuses you can unlock through the service's "achievements" program.
This includes relatively simple things, from installing the desktop and mobile apps on your devices to referring other people to the service. Achievement bonuses last 365 days.
MEGA is feature-rich, as long as you don't count collaboration, with functionality ranging from extensive sharing options to more niche additions like a chat and email client.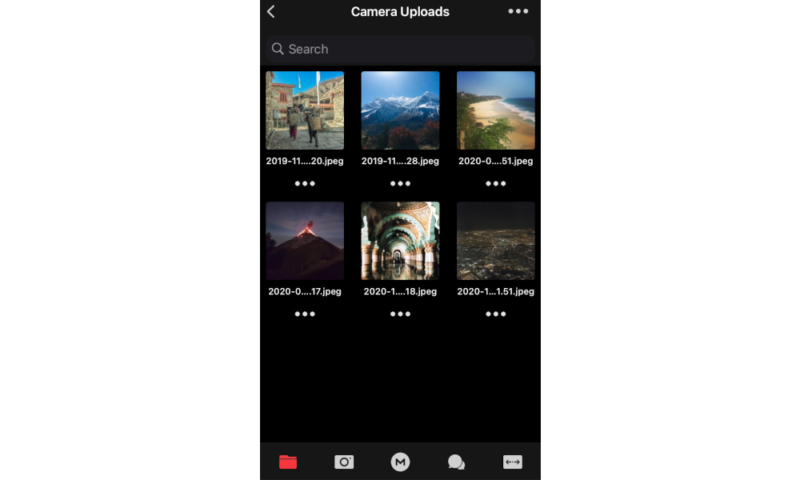 There's also a strong focus on security and privacy that includes zero-knowledge encryption of all files — which explains the lack of collaboration features — and two-factor authentication. However, a 2022 study found problems in MEGA's cryptographic model that casts some doubt on its claim of being zero-knowledge.
Unfortunately MEGA is quite expensive if you decide you need more storage than what you get for free, and the user experience could definitely use some work. Its lack of collaboration features also means that you'll want to look elsewhere if you plan on using your cloud storage to work with other people. To learn more about the service, make sure to check out our in-depth MEGA review.
Honorable Mentions
While the above picks are the best options for those who are looking for lifetime cloud storage — or at least a generous free plan — there are other services that deserve a quick mention.
Dropbox
The first is Dropbox, which is arguably the "elder statesman" of cloud storage. In fact, many of the features we now take for granted in cloud storage — such as sync folders — were popularized by the service.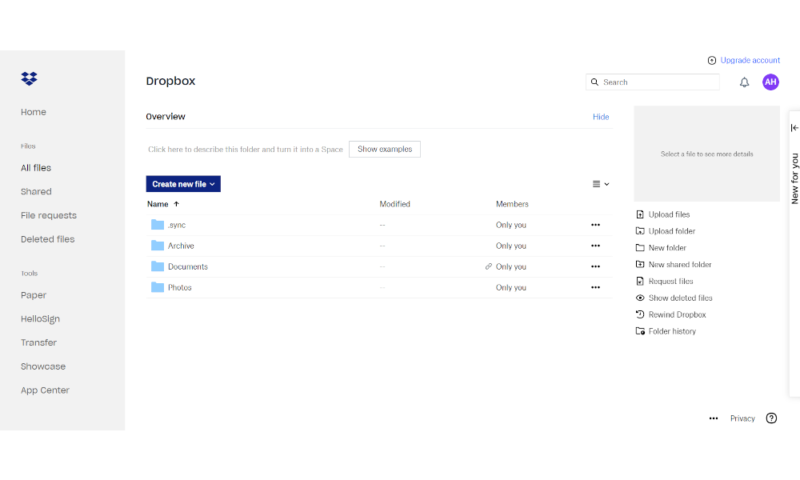 Like with our picks above, you can check out our full Dropbox review for more details, but suffice it to say that Dropbox is a more than adequate cloud storage solution if you're mostly concerned with ease of use and speed. Its security and privacy leaves a lot to be desired, though, and the free plan offers only 2GB of storage, although this can be extended up to 16GB.
OneDrive
Our next honorable mention is OneDrive, which is Microsoft's own cloud storage solution. If you use a Windows computer, chances are you already have an account as this comes packaged with the operating system these days.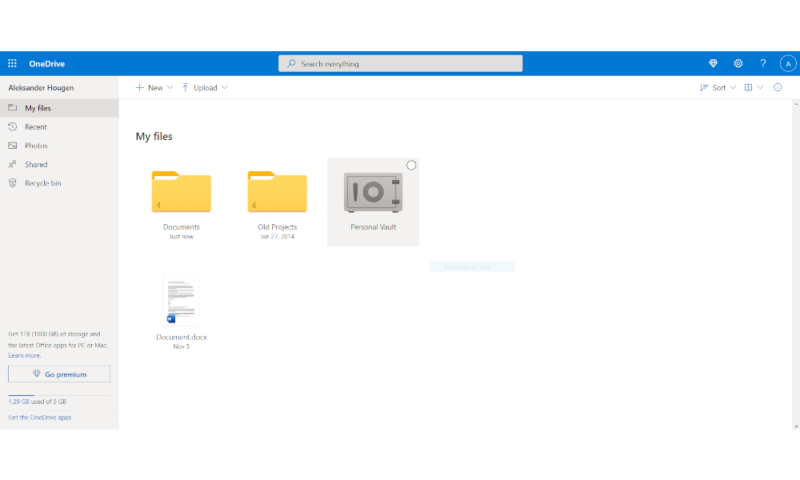 OneDrive is a feature-rich cloud storage solution that works especially well if you need its integrations with Office 365. It also has great speeds, but like Google Drive it lacks zero-knowledge encryption, and its free plan isn't the best with only 5GB of free storage space. Read our full OneDrive review for a comprehensive rundown of this service.
IDrive
Finally, we also want to give a quick shout-out to IDrive. Technically it's a cloud backup service rather than cloud storage, but it's a great option for users who need scheduled automatic file uploads and external hard drive backup. It also has a 30-day trial so you can see if it's right for you.
Unlike most online backup providers, IDrive actually comes with file syncing and sharing, which is more of a cloud storage thing. For this reason we did our IDrive vs OneDrive and Google Drive vs IDrive comparisons to see how the cloud backup provider stacks up against some bigger names in the cloud storage field. You can also read our IDrive review for more details.
Pros & Cons of Lifetime Cloud Storage
The most obvious benefit of lifetime cloud storage is that there's the potential to save a lot of money, as an annual subscription fee will eventually add up to dwarf the initially larger one-time lifetime purchase.
To break down the math, the pCloud lifetime plans start to pay off after about three-and-a-half years on both the Premium and Premium Plus plans. Meanwhile, Icedrive starts to save you money after less than three years on all three lifetime plans.
Plus, with lifetime plans you don't have to worry about recurring payments every month or year. This protects you from accidentally having your account suspended due to lack of payment. Although most cloud storage providers keep a copy of your files to allow you to resubscribe, eventually your data will be deleted.
Now for the cons: nothing lasts forever. Even though these plans are sold as "lifetime access," the unfortunate reality is that companies can go out of business, which means that they won't be able to provide you with online storage.
There's also a chance that the terms of the deal could be altered in the future — as happened with Zoolz Backup's "lifetime" offer. We have no reason to believe that pCloud or Icedrive would go down this road, though Icedrive is still a new service.
Final Thoughts
That concludes our rundown of the best options for lifetime cloud storage. Although there are unfortunately only two real options, you can still store quite a lot of data in the cloud without having to pay, especially if you're willing to spread it across multiple services.
At the end of the day, if you need a lot of storage and don't like the idea of recurring subscription fees, then we think pCloud is the best lifetime choice. However, if you're more concerned with price than you are with advanced features and you don't want to pay extra for zero-knowledge encryption, Icedrive is probably the better option.
What did you think of our list? Do you agree that pCloud is the better of the two lifetime providers, or do you think Icedrive should take its place? Have you tried any of the other services we've recommended? Let us know in the comments below. Thank you for reading.