Best Cloud Storage for Music in 2022: Save Your Songs Online
Before the advent of digital music, if you wanted a large music collection you needed plenty of space to store your vinyl, CDs or tapes. The rise of the MP3 changed all of that: no longer did you need physical space, but instead enough digital storage space to store your music.
Physical space limited the amount of music you could keep, but those limits disappeared with the rise of digital formats. It's now possible to have hundreds of thousands of albums or millions of songs in your collection. They may not take up physical space, but they can certainly start to fill up your hard drive.
That's why cloud storage is the perfect solution for digital music lovers. You can keep all of your music in the cloud, saving your local storage for other content while still giving you instant access to your collection wherever you are. You also don't have to worry about a hard drive failure erasing your music library entirely.
While many of the providers on our best cloud storage comparison list could work, not all providers are suited to store and stream your music. If you don't know where to store music online and you're curious about what the best cloud storage for music is, keep reading for some of the best options.
The Top 5 Best Cloud Storage Options for Music
Pros:
Excellent music player
Zero-knowledge encryption is available
Virtual drive frees up disk space
Cons:
pCloud Crypto has an additional cost
No integrations
pCloud is consistently toward the top of many of our best-of lists, and for good reason. It's an excellent all-round music cloud storage service at a highly affordable price, as our pCloud review explains. There are several reasons why it comes out at the very top of this list, but for music lovers, its built-in media player puts it above the rest.
Many cloud storage services allow you to play your media files within the app or web interface, but few have a dedicated media player that is as good as pCloud's. It allows you to search your music files by song, album, artist and playlist. You can create and edit playlists, and there are even playback options, such as loop and shuffle.
It's simply one of the best ways we've found to play music from directly within your cloud storage without needing to use another app or service. You can play pCloud music using the music player app online or by using the pCloud mobile app for Android and iOS.
As we've touched upon, pCloud is also very well-priced; 2TB of storage will cost you just $7.99 per month if you pay for a full year upfront. You can even opt to pay $350 for a lifetime plan, which will effectively give you free cloud storage beyond the fourth year of use. This could save you a small fortune if you're planning to keep the account for a long time.
pCloud Crypto for Zero-Knowledge Encryption
Another important feature offered by pCloud is pCloud Crypto. This feature will cost you an additional $3.99 per month, but it allows you to place certain files in a special, encrypted area of pCloud storage that uses zero-knowledge encryption for extra protection.
This means that pCloud doesn't have access to the encryption key for these files, so it can't read your data, and neither can anyone else who gets access to your account, whether that's through legal or illegal means. pCloud is one of the few cloud storage providers that lets you decide which files to protect with zero-knowledge encryption.
This might not be necessary for your music, but if you're thinking about cloud storage that can handle all of your data, you might be interested in protecting some of your more sensitive files.
One downside of zero-knowledge encryption is that, since pCloud can't read your data, it also can't access it to allow any useful integrations or collaboration features. You couldn't easily integrate pCloud with another cloud service app, like Dropbox — for instance, to split up your storage collection. You can read more about these collaboration features in our Dropbox review.
If you're worried about filling up your PC with music, don't worry. pCloud works by setting up a virtual drive on your computer, so anything you store in it will take up zero space. This is the perfect way to keep your collection safe using online storage, while freeing up local space for other things.
If you're unsure of what service you need, and you're thinking about cloud storage that can handle your music, documents and other files, then pCloud is the obvious choice. You can even try it out for free with 10GB of storage available before you even need to think about a paid subscription.
Pros:
Zero-knowledge encryption as standard
Excellent value
Clear privacy policy
Cons:
No dedicated music player
Not the fastest for uploads and downloads
Sync.com is typically one of our top choices if you're looking for a great music cloud storage service at an excellent price. It just loses out here to pCloud because it doesn't offer the dedicated music player that pCloud does, making it a slightly poorer option for music fanatics.
Even so, though, Sync.com remains one of the best cloud storage for music lovers. Plus, it has plenty of other things that make it worthy of consideration.
Sync.com tops our list of the most secure cloud storage, largely because it offers zero-knowledge encryption at no extra cost, even for free account holders. It also has one of the clearest privacy policies that we've read, so you can be 100 percent clear about exactly what they will and won't do with your data. You can read our Sync.com review to learn more.
All of this means that if you're storing music and other files that you might have acquired by less-than-reputable means, you can store them on pCloud. You'll feel safe in the knowledge that no one is going to be scanning your collection and passing your details over to the record companies.
Sync.com also provides excellent value for your money. The 2TB plan costs just $8 per month if you pay for a year upfront and, unlike pCloud, you don't need to pay extra for zero-knowledge encryption.
Sync.com's Roll-Back Feature
Sync.com offers plenty of other great features, too. It tops our list of the best cloud storage for versioning, meaning that you can roll back any of your files to previous versions if you're not happy with any changes. You can go as far back as an entire year, depending on your subscription.
This would be especially useful for music producers who might want to tweak and change their music. If you've made a change you don't like, Sync.com gives you the option to switch back with ease. That's why it's one of the best cloud storage for DJs and other music creators.
One downside to the high levels of security is that Sync.com isn't the fastest service we've come across. This is particularly noticeable with large files, which can take longer to encrypt and decrypt.
If you're just uploading small MP3 or other audio files, you shouldn't notice this as much, but you may notice the slowdown if you upload files over a mobile data connection.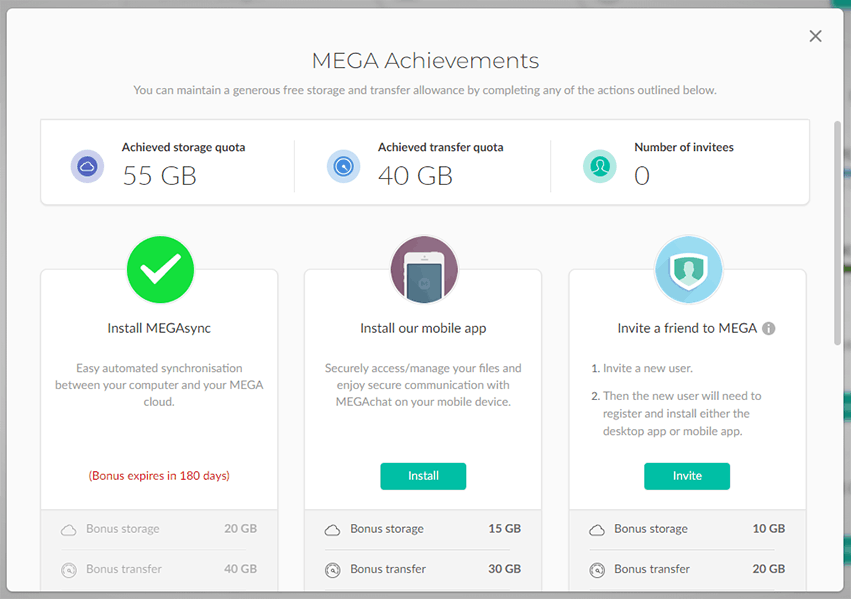 Pros:
Generous free storage
Zero-knowledge encryption
Cons:
Questions over ownership
Time-limited bonuses
Not the fastest service
MEGA is not to be confused with Megaupload, the file-sharing site founded by the colorful Kim Dotcom. Although MEGA is the spiritual successor to Megaupload, it's an entirely separate entity, with Kim Dotcom no longer involved with the business (read more in our guide to what Megaupload is).
MEGA is an excellent choice for online storage if you're looking to store your music files because it offers one of the largest amounts of free storage: 20GB. You can also earn more free space by completing "achievements," such as new user referrals, but these bonuses time out after one year.
The 20GB is more free space than most providers offer. Only Google Drive (with 15GB free) comes close on this list, which is why MEGA features prominently in our list of the best free cloud storage providers. To put it into perspective, you could store more than 5,000 MP3 files using MEGA's free storage, making it a great MP3 cloud storage platform.
If you need more space, 2TB of storage will set you back 9.99 euros, which currently works out to about $10.79 per month.
MEGA's Privacy & Zero-Knowledge Encryption
MEGA prides itself on its privacy, and with its zero-knowledge encryption, you can be fairly sure that no one will be poking their nose into your files. Like with Sync.com, all MEGA users are guaranteed zero-knowledge encryption, so your files will remain protected from prying eyes.
However, there are some privacy concerns, including some allegations that the majority owners of MEGA's stock have ties to the Chinese government, as our earlier MEGA review explains in greater detail. Make of this what you will, but it's something to keep in mind.
MEGA offers some useful additional features, such as an integration with the Mozilla email client that allows you to email large files directly from your cloud storage. However, its zero-knowledge encryption means that MEGA doesn't offer the fastest service.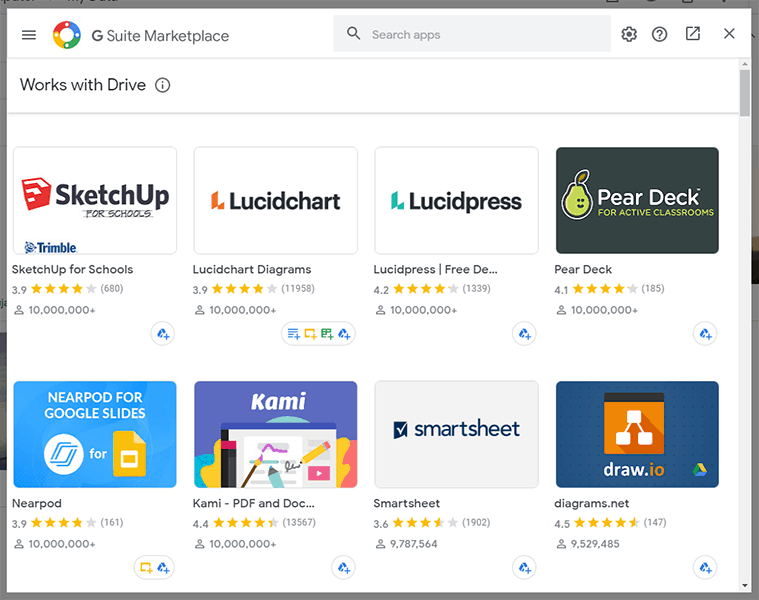 Pros:
Generous free storage
Excellent integrations
Great customer support
Cons:
Privacy concerns
No zero-knowledge encryption
Google has made a successful business model out of offering excellent free products in exchange for users handing over lots of our personal information. Google Drive is no different, as our Google Drive review explains.
It's a decent cloud storage service, though, and comes with a large amount of free storage, offering 15GB. If you need more space, 2TB of storage will set you back $8.33 per month, so long as you're willing to pay for a year upfront.
Google Drive also offers excellent integrations with both its own apps and other third-party apps. If you want a media player for your music, you can download one from the G Suite marketplace that will do the job perfectly. There are many more excellent apps available, too, covering everything from document signing to project tracking.
The most useful integrations, though, are with Google Docs. This allows you to share your files and collaborate on them in real time, helping Google Drive make it to our list of the best cloud storage for collaboration.
If you need a good, all-rounder solution that will let you store your music and your important documents, Google Drive is the kind of provider you need. If you want to see how Google Drive stands up against the other big names when it comes to collaboration, check out our Dropbox vs Google Drive vs OneDrive comparison.
Google Drive Privacy
Google Drive doesn't use zero-knowledge encryption, so you can preview many types of files from within the app itself. That includes playing your music files, although there's no dedicated music player like you get with pCloud, but you can integrate it with other apps and services.
As you'd expect, Google Drive also offers excellent customer support. You can contact them 24/7 by chat, email or phone. Some accounts even get access to experts who can help you with technical issues.
We're talking about Google, though. Ignore the "do no evil" tagline of old — online privacy isn't high on the company agenda. Anything you upload into Google Drive will be scanned and used to target advertising. It's not really any different from what happens with your Gmail account, but if privacy is a major factor for you, then Google Drive isn't the best choice.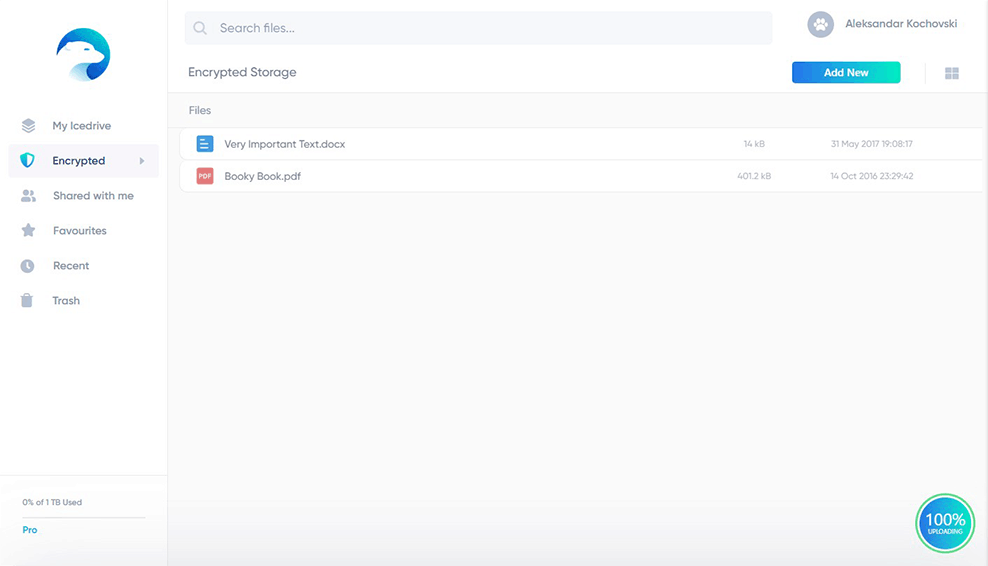 Pros:
Custom media player
Zero-knowledge encryption
Virtual drive
Cons:
No 2TB storage plan
Poor customer support
Lacks collaboration tools
Our final choice may not be one of the biggest names in cloud storage, but Icedrive does offer some very useful features if you're looking to store your music. Check out our Icedrive review to learn more.
Icedrive offers its own media player that allows you to stream your media files directly from the cloud. This is great for playing your music, but it also works for video files, too. It's nowhere near as feature-rich as pCloud's music player, but it's still great for accessing your music without relying on a third-party app.
Icedrive also offers a decent amount of free storage, with 10GB of space included. If you want to take advantage of the zero-knowledge encryption, though, then you'll need to upgrade to a paid account.
The good news is that Icedrive's prices are excellent: 1TB of storage space will cost you just $4.17 per month if you pay for a year upfront. Frustratingly, the next tier up costs nearly three times as much for 5TB of space. Having a reasonably priced offering somewhere in between these two would be better. There are also lifetime plans, with 1TB of storage costing just $229 as a one-off fee.
Icedrive Features
Icedrive doesn't offer a huge number of features, but the ones it does have are great options for your music collection. For example, you can choose which files and folders get zero-knowledge encryption, just like you can with pCloud Crypto.
Also like pCloud, Icedrive works as a virtual drive, meaning your cloud files won't take up any space on your hard drive, but you can still access them directly from your file manager. This is ideal if you're short on hard drive space and have a lot of files to store. Media files are typically bigger than documents, after all.
Privacy is also excellent, with Icedrive not logging any of your data unless you permit it to. It also doesn't use any third-party tracking apps or services.
Customer service isn't Icedrive's strongest feature, though. There's no online chat option, which is the preferred choice for many, and you can't contact the company by phone, either. If you have an urgent query, don't expect to get it answered that quickly.
Other Online Music Storage Options
These five providers are our top choices if you're looking for the right cloud storage for music, but there are plenty of other options out there. We'll take a look at a few providers that might be worth looking at, too, if you're trying to work out what the best music cloud storage provider is for your needs.
If you're an Amazon Prime member, you can upload your own music files through the Amazon Music desktop app, which gives you access to songs from Prime Music as well as your own collection using the Amazon Cloud Player. You can even play these songs through a linked Sonos device.
No service offers unlimited storage for music, but if you want unlimited storage for other types of media (such as your photo collection), then Amazon Drive is definitely worth considering, especially as it's one of the best cloud storage providers for photos.
Apple Music and YouTube Music (previously Google Play Music) also offer similar features that allow you to upload your own songs and add to the stock libraries.
If you like the idea of curating your own version of Spotify or Apple Music, then the Synology Audio Station is worth a look. It allows you to store all of your music files on a Synology NAS (network-attached storage), creating a music storage system that allows you to stream to your devices wherever you are.
There are plenty more options we could talk about, but don't have the space to cover them all in detail. MediaFire, Livedrive, Streamnation and My Music Cloud are all worth looking into if you have the time.
What Makes Cloud Storage the Best for Music?
When considering the best cloud storage for music, we're looking closely at several features the services might offer. First, it's important to see how easy it is to stream your music from the cloud service. This is where pCloud really shines, as its music player makes music playback easy and it offers a lot of control.
Second, we're looking at free music storage. If you just want cloud storage for music files, then you may be able to get by without having to pay a thing. With Google Drive and MEGA both offering 15GB of free online music storage, you can easily stream hundreds of albums at no cost at all.
We've also taken into account cloud security, especially how protected your files are. Regardless of how or where you got your music files, it's never nice to think about your cloud storage provider rooting through your data (we're looking at you, Google).
That's why services with zero-knowledge encryption are some of the top choices on this list, but if this isn't a big concern to you, then feel free to ignore it.
Final Thoughts
If you're just looking for somewhere to store your music files in the cloud, then any good storage provider will do the job. If you're looking for something a little more focused on making your audio experience as good as it can be, then we recommend that you take a look at the suggestions on this list.
pCloud is our number-one choice as the best cloud storage for music, thanks partly to its excellent music player, but also because it offers zero-knowledge encryption to keep your songs and other data safe. It's also one of our favorite providers in general and comes at a very competitive price.
Check out our other guide if you're looking for the best music backup services.
Do you use cloud storage for your music files? If so, which provider do you use, and how do you find it? Let us know in the comments below. As always, thanks for reading.
FAQ
Cloud storage is virtual storage, allowing you to store files on servers over the internet. You upload your files, which protects them from data loss or theft and allows you to access them from anywhere with an internet connection.

If you have a large music collection, it can take up a lot of space on your hard drive. Cloud storage allows you to move those files online, freeing up hard drive space while still allowing you to play them whenever you want. It also protects your files if your local storage fails.