Visit

Box
Third-party integrations
Robust sharing features
Strong security
Box Business Review
Box has many of the features and functionality businesses need from a cloud storage service. However, it can get expensive rather quickly, and Box has some questionable privacy practices. We cover all this and more in our Box review.
Box cloud storage combines strong security with popular third-party integrations, which makes it great for productivity and collaboration. Box gets a lot of things right, helping it compete with the best cloud storage services. However, it isn't a perfect solution, especially if you're budget conscious or looking for private encryption. Keep reading this Box review for all the details.
What Is Box.com: Is it worth it for businesses?
Box has an impressive number of third-party integrations, including Microsoft Office 365 and Google Workspace out of the box.
Getting the most out of Box requires opting for the more expensive plans and paid add-ons.
Box has excellent security but questionable privacy, and Box only has private encryption with the KeySafe paid add-on.
Box isn't the fastest cloud provider around and does not support block-level syncing.
When it comes to the best cloud storage for business, Box is among the options. Offering integrations with platforms such as Office 365 or Google Workspace, it has customization and admin controls, offering plenty of flexibility. However, Box isn't the cheapest option and might be too expensive for smaller businesses. Keep reading this Box cloud storage review for our full evaluation of the service.
05/04/2023 Facts checked

Rewritten for 2023 and includes updated features and prices; since our last Box cloud storage review, the pricing has increased across personal plans but remained the same for business plans.
Box offers a secure cloud storage experience, using AES 256-bit encryption for data at rest and TLS/SSL encryption for data in transit. However, Box isn't the most private cloud storage — it collects data and uses it for many things, including advertising.

Box does many of the same things that Dropbox does, so it really comes down to preference. We compared both services in our Box vs Dropbox article.

The Box free storage plan is called Individual. It comes with 10GB but is mostly stripped of the features needed by businesses. The rest of Box's plans come with a 14-day free trial.

The Business, Business Plus, Enterprise and Enterprise Plus plans come with unlimited storage for an unlimited number of users.
Box Alternatives
Box Review: Pros & Cons
Pros:
Third-party integrations
Robust sharing features
Native apps
Strong security
Unlimited business storage
Unlimited business users
Cons:
Not very fast
No block-level syncing
Questionable privacy
Features
Box isn't short on cloud features, and depending on your business needs (team or individual), you might be able to get by without the paid add-ons. However, the best features centered around privacy and security are either on the more expensive plans or come as separate purchases.
Box Notes
Box's native apps, fortunately, come with every account. One such app is the note-taking app. Similar to Dropbox Paper, Box Notes lets you create, edit and share documents in a web browser. Default templates include support for agendas, calendars, project plans and newsletters.
The project-centric templates must be more robust before they can replace dedicated apps like MS Project. However, the templates function well enough and satisfy a need. You can also create and save custom templates. Our Box Notes review covers this in more detail.
Box Sign
Box Sign accomplishes what other apps like DocuSign or Adobe Sign do: it enables you to send or receive requests for digital document signatures. Ironically, both DocuSign and Adobe Sign are embedded apps upon account creation.
It's worth noting that, although the website indicates that every plan has access to Box Sign, the Business Starter plan doesn't have access to it. However, the free individual plan did.
Any files you send for a requested signature or any signature requests you get all appear in the "sign" tab. It's a simple but effective digital signing app.
Box Drive
Once you download the desktop app, you'll automatically gain access to Box Drive. It functions like an external hard disk, complete with the option to sync (or not sync) folders or take folders and files offline. The desktop app is also how you enable Box sync, or selective sync (covered below).
Box Drive does a good job of freeing up disk space. Additionally, you can work on files within the drive app, and if synced with your cloud account, it will update the changes and versions you make.
Task Manager
While not as prominent on the main page — or even available with the desktop or mobile app — in the upper right of the page is the task icon. Any tasks assigned to you appear here in what looks and functions more like an email inbox than a dedicated task manager, such as Trello.
Creating tasks takes place from a file preview. Once you preview a file, you'll see an option that says "add task." This lets you create general or approval tasks. The task manager only works with other Box accounts.
Once you select the recipient(s), you can add a due date. Tasks appear in the activity feed on the file preview page and look like comments from a Google Doc. Additionally, you can add a comment within the activity feed as well.
File Previews
Box has a robust file preview feature. In some ways, it functions more like a collaboration tool than a file previewer. Box supports multiple file types, including programming files such as HTML. Each file can be shared, downloaded or opened on your computer. As mentioned above, an activity feed on the right side displays tasks and comments.
Depending on the third-party app integrations you choose for your account, you'll see a vertical list of interactions. For example, you can optionally send a file with an email client (like Gmail or Outlook), launch a Zoom meeting or share via Slack. Sharing a file directly through a link or with an email is also an option.
Third-Party Apps
Box truly shines with its third-party app integrations, and it's in this area that many businesses will find the most value. Many popular apps come embedded with an account upon creation. These apps include Office 365, Google Workspace and Apple apps if you're on a Mac.
The dedicated app store boasts over 1,500 options. Category choices include productivity, collaboration or official Box apps. If you have an app integrated with your account, a small green check mark appears in the lower right corner.
File Versioning and Bandwidth
Versioning and bandwidth limits vary depending on which plan you subscribe to. On the free Individual plan, versioning isn't available. With Box's paid plans, there's a max limit to the number of file versions available. However, if you want fewer versions held, you can lower the number in the admin console under enterprise settings.
For example, if you have the Business Plus plan, the maximum number of file versions is 50. If you only want to keep 30 versions, you can make that change. Additionally, there's no time limit on how long Box holds file versions. Once you exceed the allotted number, Box deletes the oldest version.
The most premium plan — Enterprise Plus — has unlimited file versioning, which effectively means you can preserve the entire history of a file forever. Check out the best cloud storage for versioning if you need more customization.
Bandwidth limitations tie directly to your purchased plan, and unlike file versioning, bandwidth limitations are not adjustable. Both uploads and downloads contribute to an account's bandwidth limits.
A free account gets 10GB of downloads from shared links each month, while the paid plans get 2TB. All accounts, regardless of plan, get 1TB of bandwidth for files uploaded or downloaded.
Box Business Features Overview
| | |
| --- | --- |
| Sync Folder | |
| Block-Level Sync | |
| Selective Sync | |
| Bandwidth Throttling | |
| Sync Any Folder | |
| Max File Size | 150 GB |
| Network Drive | |
| File Link Sharing | |
| Link Passwords | |
| Link Expiry Dates | |
| Folder Sharing | |
| Folder Permissions | |
| Link Download Limits | |
| Upload Links | |
| User Groups | |
| Set User Roles | |
| Monitor User Activity | |
| Restrict User Storage | |
| Remote Device Wipe | |
| File Previews | |
| Edit Files | |
| In-App Collaboration | |
| Office Integrations | Office365, Google Workspace |
| Notes App | |
| Media Playback | |
| Mobile Apps | |
| Deleted File Retention | |
| Versioning | |
| WebDAV | |
| At-Rest Encryption | |
| In-Transit Encryption | |
| Two-Factor Authentication | |
| Client-Side Encryption | |
| Data Residency | |
| SSO Integration | |
| Custom Password Requirements | |
| 24/7 Support | |
| Live Chat Support | |
| Telephone Support | |
| Email Support | |
| User Forum | |
| Knowledgebase | |
| Free Plan | |
Pricing
Even on the lower-tiered plans, Box is expensive. Box offers plans for individuals and teams, as well as plans catered toward businesses. With the business plans, you get the most features from a Box subscription but at the highest prices — though you do get unlimited users and unlimited storage, which means this could be a good option for large businesses.
A free Box account, called the Individual plan, comes with 10GB of storage. The Personal Pro plan upgrades the storage to 100GB and costs $10 monthly when paying annually. Otherwise, it's $14 per month.
The first business plan is called the Business Starter, which offers 100GB for at least three users and up to 10 users. It costs $5 per month per user when paid annually, or $7 per month per user.
Box Business Plan Pricing
Box's dedicated business plans have the features and functionality that companies most likely need. All of Box's business plans — minus the Business Starter plan — don't limit the amount of storage or number of users. As a rule, the higher the plan price, the more features you get.
The Business plan costs $15 per user per month when paid annually or $20 monthly. Business Plus increases to $25 per month per user on an annual plan or $33 per month. Box's Enterprise plan runs $35 per user per month, paid annually, or $47 per month. The Enterprise Plus plan requires contacting a sales representative for pricing, as it is customizable.
None of the above prices include paid add-ons, such as Box KeySafe or Box Shield. Adding these options increases the prices. However, you'll need to have a conversation with Box to get the additional costs.
For comparison, both Dropbox and Tresorit have similar plans. Dropbox's business Standard plan costs $15 per month per user annually and comes with 5TB. Tresorit's Business Plus plan costs $19 per month per user for 2TB of storage.
Box does offer a 14-day free trial, so you can also test out a plan with more features than the free version.
Ease of Use
As soon as you add folders and files to your account, the Box web interface home page comes alive with information. At first, it may seem overwhelming, even if you're familiar with the somewhat standard layout of a left side menu bar and your content in the middle.
Box employs a combination of icons and dropdown menus for you to interact with your files. Hovering over a folder or file displays several choices, which include creating a shared link, direct sharing via email, a dropdown menu for more options and a checkbox. Clicking the checkbox pulls up granular information on the right side panel and additional icons along the upper right of the page.
Box lets you create favorites for your data. Any folders or files you designate as a favorite appear in the "my collections" part of the left sidebar. You aren't limited to just a favorites collection either, as Box lets you create custom collections.
This is a handy feature to help keep project documents organized. You can add any folder or file to a collection by clicking the checkbox and selecting "collections" from the dropdown menu.
Box manages to fit a lot of information on your screen without it feeling cluttered. However, until you get acclimated to Box's workflow, it can look very overwhelming (we have a full guide on how to use Box). Compared to Box's applications, using an internet browser provides the most functionality within an account.
Applications
Box supports desktop apps for Mac and Windows but not Linux. Its mobile apps reside in both the iOS and Android app stores. The desktop application consists of a quick-access icon in the toolbar and the Box Drive folder. Right-clicking on folders or files within the drive folder pulls up options such as locking the file or sharing with a link.
Although opening the Box desktop app from the toolbar displays the gear icon commonly associated with settings, you can't change any settings on your account there. For that, you'll need to access your account from an internet browser.
The same can't be said about the mobile app, although the settings are specific to your mobile device and not necessarily your entire Box account. To access the mobile app settings, just click on your initials in the top-left corner.
The mobile app gives you three options for your folders, any collections you create and your inbox centered around tasks. Ironically, you can set up auto-upload for your pictures, but there's no dedicated photos folder. Overall, the mobile app could handle photos better.
Admin Console
All business plans gain access to the admin console, which provides detailed information on how you and your team use and share data. Navigation tabs on the left of the page display information such as insights, content or governance.
The admin console is almost exclusively tied to the plan you choose. The less expensive plans will get minimal access to valuable data, while the top-tier plans gain near-full access.
If you don't mind constant advertising, Box's repeated encouragement to upgrade your plan won't be a problem. For us, it was an annoyance and a borderline fatal distraction to our productivity when all we wanted to do was use the service.
File Sharing & Syncing
Sharing a folder or file with Box is one of the cloud service's strongest elements. With the exception of a free plan, you can protect the data you share with others. Sharing happens either by creating a link or adding email addresses.
The most you can do when sharing a file via email is specify the recipient's access level. However, if you share with someone's email address, that person must be a Box user. Creating a shareable link lets you send a file to anyone and gives you security options found under the link settings. As mentioned, the free plan can't set a password or set up link expiration.
Box lets you set limitations or restrictions on sharing for entire folders. The gear icon within the three dots dropdown menu lets you determine privacy options, shared link access or automated actions.
Your plan level determines the Box file size limit. The higher the plan, the larger the file size you're able to share. The free Box plan limits file sizes to 250MB. The Business Starter plan gets 2GB for a single file while the Business Plus has 15GB.
Box Sync
Anything you upload or download from your account gets synced across your devices. If you or a team member works on a document in real time, Box sync allows you to see the updates and changes as they happen.
Additionally, Box supports selective sync. After selecting the checkbox for a folder, you'll see a slider under the detail section to enable "sync to desktop." Enabling this option will put the designated folder into the Box drive.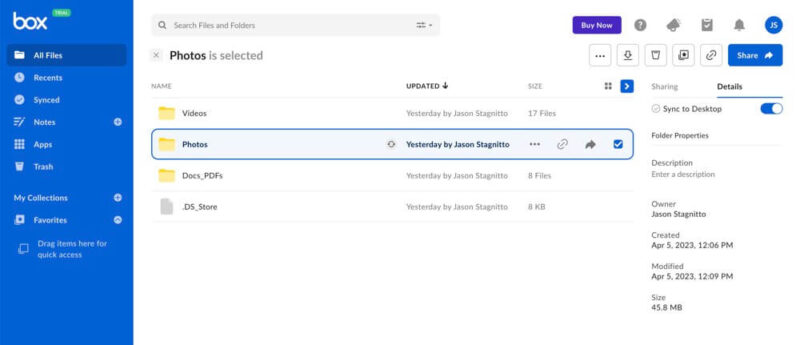 Unfortunately, Box doesn't support block-level syncing. If a project team works with large files, Box uploads and downloads the entire file for every change. Given the bandwidth limitations discussed above in the features section, businesses should monitor usage on projects with large files.
Speed
We conduct all of our cloud storage speed tests from a virtual machine that's hosted in Dublin, Ireland. While it's capable of reaching internet speeds up to 1 Gbps, we cap them at 100 Mbps to ensure a consistent test environment. We run two uploads and downloads using a combination of file types that equals 5GB in total.
Since Box is designed for businesses, we can confidently say that its speeds won't slow your productivity down. During our upload tests, we noticed only a few instances where speeds faltered. Otherwise, they stayed high. We noticed a similar result with our download testing.
| ↕️ | 1st test | 2nd test | Average |
| --- | --- | --- | --- |
| Upload | 0:07:55 | 0:08:12 | 0:08:04 |
| Download | 0:07:54 | 0:08:06 | 0:08:00 |
Although speeds are very good, Box won't set any cloud storage speed records (if you're a speed freak, check out our list of the fastest cloud storage providers). However, it's consistently fast with data transfers and certainly won't stand in the way of productivity.
Security
Box does a good job of maintaining a secure environment within a highly collaborative product. It protects documents and folders at rest on its servers with AES 256-bit encryption. For data transfers, it uses TLS/SSL encryption.
The infrastructure and protocols exist to create a truly secure team environment. However, the most important security features are locked behind the higher-end paid plans. For instance, setting up two-factor authentication for your team (not an individual account) is only available on select business plans; The Business Starter and Business plus plans aren't included.
Box further limits paid add-ons, like Box Shield, to the Enterprise and Enterprise Plus plans. Box Shield lets you classify sensitive data, manage content access and protect against malware.
Overall, Box is a secure cloud storage provider, especially with its higher-priced plans. Otherwise, cloud storage options, like Dropbox Business or Egnyte (check out our Egnyte vs Box article), are more affordable options with comparable security.
Privacy
Box's privacy mirrors its security: Private encryption is offered, but is reserved for the most expensive plans. Despite what Box calls its zero-trust approach to data privacy, most plans do not have zero-knowledge encryption.
Without purchasing the Box KeySafe add-on, Box manages your private encryption keys. With Box KeySafe, you can create encryption keys that Box cannot access. These encryption keys are hosted by Amazon Web Services (AWS), but only you have access to them.
Further compounding Box's privacy stance is the language in its privacy policy that states it collects your usage data. In fairness, Box has an easy-to-read and comprehended privacy policy, which isn't always the case. Read our guide to understanding privacy policies to learn more.
The data Box uses includes your activity and the devices used to access your account. Some data shared is required, such as the third-party connections you enable. However, your data is also used in marketing and promotional materials, with the option to opt out.
Box Zones
Box Zones, another feature reserved for the top-tier plans, lets you dictate the geographical location storing your data. There are several zones around the globe: the U.S., UK, Australia, Canada, France, Japan and Germany. Only the Business Plus and Enterprise plans have access to Box Zones.
Customer Support
Box does a good job of providing several avenues that users can turn to when looking for help or answers. On the homepage, there's a dropdown menu called "resources." From here, you can choose from several options, including support, training or a knowledge center.
If the Box knowledgebase doesn't have the answers you're looking for, Box has a support page. The search bar works best with keywords and will find relevant articles, guides or community posts. At the bottom of the support page, in the footer, is a link called "user guide." It opens a PDF file that provides a general overview of Box.
Other help options include a community forum and a live-ish chat with a chatbot. The community forum is a good place to search for answers, as chances are, some version of your question or issue has already been asked and addressed.
A sales agent from Box sent us an email almost immediately after creating an account. This was a real person and not an automated email. Our questions were responded to the same day. That is, until it was clear there wouldn't be a sale. Then, response times took several days (with one question still outstanding at the time of publication).
The Verdict: Is Box Worth It?
Box works best for companies needing a secure environment for productivity and collaboration. That is, if it's within budget, as Box is one of the most expensive cloud storage options for businesses — though it does offer unlimited users and unlimited data.
However, Box collects and uses your data, and without the purchased add-on of KeySafe, a Box account does not have private encryption.
What do you think of our Box cloud storage review? Are you a Box user? If so, what's your impression of it? If not, are you considering Box? Or do you prefer other cloud storage solutions, like Google Drive or Dropbox? Let us know in the comments section below, and thank you for reading.
Visit

Box