Sync.com Review
Without a doubt Cloudwards.net's favorite storage provider, Sync.com offers ease of use, speed and security at a reasonable price. It also has a nice free plan you can use to test it, and comes out of the box with zero-knowledge encryption included. Read all the details in our full Sync.com review.

Excellent
Starts from
$
4
08
per month
for

500 GB
Welcome to our 2019 updated Sync.com review. Since its founding in 2011, this Toronto-based cloud storage platform has been forging a reputation for strong security and user privacy, earning notice as one of the best cloud storage services available.
Key to this success is Sync.com's zero-knowledge architecture, which prevents anybody but you from decrypting stored content. On top of that, Sync.com's home country of Canada has some of the best privacy laws in the world.
While security and privacy may be Sync.com's hallmark, the provider also has a powerful set of features to drive collaboration and productivity, including file sharing and device syncing. It doesn't hurt, either, that its 2TB storage plan costs $8 a month, one of the best deals in cloud storage.
The net result is that Sync.com now sits at the top of Cloudwards.net cloud comparison chart. Stick with us as we revisit this slick storage service to help you decide if it's the right tool to keep your content secure.
Or, if you've already made up your mind to subscribe, follow this link to Sync.com and get your first 5GB for free.
---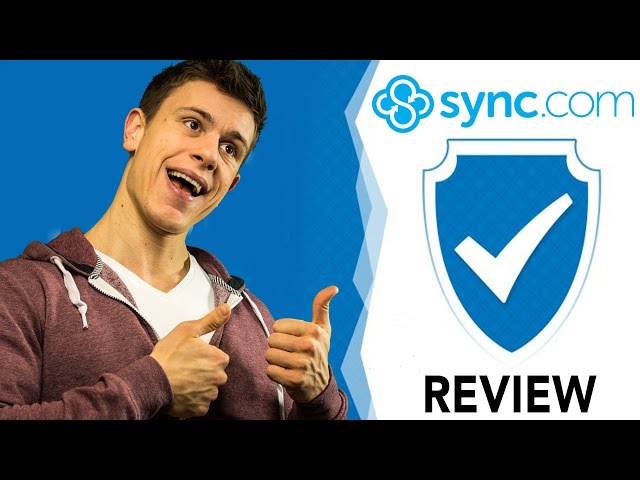 Alternatives for Sync.com
Starts from
$
3
99
per month
for

500 GB
Excellent value

Zero-knowledge encryption

Fast file sync

Free plan

Crypto costs extra

No document editor
Starts from
$
1
99
per month
for

100 GB
Google Docs integration

Many third-party apps

In-app collaborations

Strong customer support

Weak file-sharing security

No private encryption option

No block-level sync

Cheaper options
Pros:
Zero-knowledge security

Fast syncing

Great interface

Secure link sharing

Unlimited versioning (Pro)

Great support

Secure archives

No upload limit (Pro)
Cons:
No third-party tools

No block-level file copying

No monthly plans
Sync.com
certainly has more hits than misses, making it a great all-around pick for those shopping for cloud storage. Two of the weaknesses we noted above, in fact — no third-party integrations and lack of block-level copying — are due to the platform's approach to security. More on that in a bit.
As a cloud storage service, Sync.com lets you upload files of up to 40GB to its data centers and access them through a downloadable desktop client, web browser or mobile device. Doing so protects your content from hard-drive crashes and file corruptions, though not to the degree of any of our best online backup services (see our backup vs. storage article if you're unclear on the difference).
The real goal of an online storage service like Sync.com is to expand your storage capabilities beyond the confines of your hard drive. To that end, Sync.com outperforms most cloud storage services with its 2TB storage plan. See pricing, next, for the details. 
The secondary purpose of cloud storage is to enhance productivity by allowing you to sync content across multiple devices. Doing so means you can make a file edit on one device, then access that same file on another device and see your edits reflected near real-time.
Sync.com lets you invite others to access your stored content with folder and file sharing capabilities. We'll talk more about these particular features in a bit, in the file sharing and sync segment of this review. 
Unlike most cloud storage tools, Sync.com does place emphasis on security over productivity. The centerpiece of this approach is its zero-knowledge encryption, which prevents anyone, even Sync.com employees, from reading your files without you first supplying them with the encryption key.
As a security-first cloud storage platform, Sync.com doesn't have the application integrations of cloud storage heavyweights like Dropbox, Google Drive or OneDrive. This is because tight control over your content means foregoing API access for third-party tools like Microsoft Word, Slack and Trello.
Also of note are Sync.com's versioning capabilities, which let you rollback file changes in case of an accidental file change or a corruption caused by a disk error or even malware (like ransomware).
By default, Sync.com stores all old versions of files for up to 30 days, though you can adjust that term if you'd like. With Sync.com Pro, you can store unlimited versions indefinitely without eating into your cloud storage.
A Pro subscription also lets you use a "vault" feature, letting you backup any folder or file to the cloud without syncing it to your hard drive. Sync.com also has a selective sync feature to turn off syncing for certain content in your sync folder.
Sync.com Features Overview
Starts from
$
4
08
per month
for

500 GB
Two-Factor Authentication
Sync.com has a free Starter plan that nets you a generous 5GB of storage, plus subscription plans for both individual and business users.
---
---
The costs are very competitive. For point of reference, half as much storage with a Dropbox personal plan (1TB) costs $2 more per month. Business plans require at least two users. Regardless of subscription plan, Sync.com gives you a 30-day money back guarantee if you're not happy.
Many of Sync.com's more advanced features, including unlimited versioning, link expiry dates, remote wipes, unlimited data transfers, audit logs and priority email support are only granted to paying customers.
Business plan users also have access to an admin console to provision users.
With Sync.com's referral program, you can earn a gigabyte for every friend you bring on board, and they'll get an extra gigabyte of storage, too. There's a 20GB referral cap that you might eventually run into, but we've been told by Sync.com that they'll remove the cap if ask them to (they'll first check to make sure your referrals are all legitimate, so no gaming the system).
Payment options are limited but do include a Bitcoin option in addition to Visa, Mastercard and Paypal.
As of December 2018, Sync.com has revamped certain parts of how the web panel behaves. We'll update this entire review to incorporate those changes soon, but until now you'll have to make do with this blog post.
There many different ways to access files stored in the Sync.com cloud. You can download a desktop client, access content through a web browser or use a smartphone app.
Desktop clients are available for both Windows and OS X, but not for Linux. We have an article on the best cloud storage for Linux and we recommend that Linux-using fans of zero-knowledge read our SpiderOak review.
Installing the client on your desktop does two things: it creates a desktop folder and gives you access to a taskbar icon.  The desktop folder is what's known as sync folder. Files moved into this folder are get stored on your hard drive and in the cloud.
We'll take a closer look at syncing in the next segment. The taskbar icon lets you quickly access your sync folder or open the web interface. There are also some additional options to pause sync, view recently fetched files, get support and manage preferences.
While accessing content from your desktop sync folder is usually much faster, you can see everything you've got stored in the Sync.com cloud through your browser, too. Not only is this useful for accessing content on a computer that doesn't belong to you, the web interface has some additional functions designed to enhance the overall experience.
The organization is simple, which will make navigation easy for most users from the start. Along the top of the page are links for:
Files: view folders and files stored in the cloud
Vault: view archived, non-synced files stored in the cloud
Links: view link shares connected to files that you've created
Events: view recent activity on your account
Upgrade: increase your storage plan
There's also a drop-down menu where you can jump to your settings and log out, and help button for support.
Drag-and-drop functionality is supported in browser for ease of use. 
There's not much more to the web experience. Compared with other services, including OneDrive, Google Drive and even Dropbox, Sync.com is about as simple as cloud storage can get and that's a good thing.
The smartphone experience is also smooth, with apps for iOS and Android. You can browse, preview files and upload files. With a recent September 2017 update, the mobile app can now share files directly with built-in link creation. 
The mobile app now features the ability to access files when you're not connected to the internet by tagging files for offline use, as well as better support for opening Sync.com files in third-party mobile apps — including Microsoft Office.  
We love the fact that the Sync.com mobile app lets you automatically upload both photos and now videos to the cloud; many cloud storage smartphone apps don't. To restrict data usage, you can also set media to only upload over a WiFi connection.
Cloud storage is about more than moving beyond the limitations of your computer's hard drive space. Good tools let you send content to other devices, whether through sharing or syncing.
Sync.com folder and file shares can be performed from the web browser by clicking the "share" button associated with the object you'd like to share. If the object is a folder, you can either invite specific users or generate a link that anybody can use. If it's a file, you can only generate a link.
Folder shares let you input the email address of the people you'd like to collaborate with, even if they aren't Sync.com users themselves.
Links to content include an option that lets others download your files zipped, a feature added in 2017. Previously, even if an entire folder was shared, files had to be downloaded individually. This is a welcome fix to one of our few service complaints. 
Alternatively, rather than download links, you can share upload links with friends and coworkers that will let them save files to your cloud storage space.
When creating shares, Sync.com lets you add different permission options for invitees, including:
Can view: can only view content; can't edit
Can edit: can view and alter content
Can invite: can invite others to view and edit content
Can see others: can see who else the folder has been shared with
So that you don't lose sight of what folder shares you've set up, you can audit them from the "shared" tab available via the Sync.com browser interface.
While folder shares are generally recommended for teams, as they let you restrict access based on email address, folder and file links are more useful for when you need to create non-specified access.
Sync.com does link sharing right by letting you attach both passwords and expiry dates to them, although expiry dates do require a Pro subscription. We also love the fact that Sync.com Pro lets you set download limits on shares and view download stats, which is rare for a cloud storage service. Pro even lets you remotely wipe data on any share.
Such controls decrease the risk of a folder or file link falling into the wrong hands and jeopardizing your intellectual property or confidential information.
Many other cloud storage tools, including Google Drive and OneDrive, don't actually let you password protect links. Sync.com does, and goes even further by letting you add zero-knowledge protection to link shares by checking the "enhanced privacy" box near the bottom of the link share window.
Link shares aren't the only way to get content from one device to another. Sync.com lets you sync your devices, a capability that hinges in part on the sync folder created on your device. Here's a look at the sync folder on our test computer:
Any content moved into this folder is stored on your hard drive and in the cloud. It's also automatically distributed to any other devices with a Sync.com client installed. This allows for device synchronization, which lets you move from one device to another and work on the same file without having to worry about messing with thumb drives or emailing large files.
While sync benefits work productivity by saving time and reducing errors, if you're working with limited hard drive space, you may not want to store some content on your device, accessing it only through the cloud, instead.
Sync.com has two ways to do this. First, you can click the taskbar icon, then go to "advanced" and turn off syncing for certain files. This feature is known as selective sync.
Sync.com also lets you use a feature called "vault" to send any folder or file directly to the cloud. Just right click on the object and select "copy to Sync vault." That object will be archived to the cloud, but not synced.
While this feature functions something like a backup service, we wouldn't recommend using it as one because Sync.com doesn't give you any sort of backup scheduler to plan recurrent backups.  For that, we'd recommend a dedicated backup program: read about some of these solutions in our Backblaze review or IDrive review.
The only miss with Sync.com is a feature called block-level copying, which is a file transfer algorithm that speeds up syncing by only copying the parts of files that actually changed. However, as a zero-knowledge service, Sync.com isn't actually able to incorporate it, because to do so would require that Sync.com be able to read your file content.
To see how Sync.com fares against the rest of the cloud-storage field, we performed a series of tests uploading and downloading a zipped folder of approximately a gigabyte in size. This folder contained files of different types.  
Tests were performed in over a WiFi network in Mexico. At the time they were conducted, upload speeds were measured at approximately 10Mbps and download speeds were 32Mbps.
---
| | First Attempt: | Second Attempt: | Average: |
| --- | --- | --- | --- |
| Upload time: | 16 minutes, 32 seconds | 14 minutes, 03 seconds | 15 minutes, 29 seconds |
| Download time: | 6 minutes, 56 seconds | 6 minutes, 42 seconds | 6 minutes, 49 seconds |
---
These speeds compare favorably to other cloud storage services for initial uploads and downloads of files.
By default, Sync.com uploads and downloads files without restricting bandwidth. If you happen to have a weak connection and find the sync process interfering with other activity, you can throttle your speeds by right-clicking the Sync.com taskbar icon and selecting "preferences". Select the "network" tab to set upload and download speed limits. 
You can also set monthly upload and download limits if you're working with a data plan that charges you for going over.
Security & Privacy Policy
Sync.com is a cloud storage service that builds its reputation around strong security and privacy, starting with its promise of zero-knowledge encryption. It is our top pick among the best zero-knowledge cloud storage services and has plenty of other options, to boot.
Sync.com uses 256-bit AES and data transmissions are further secured using TLS tunnels to protect against online eavesdropping. Encryption keys are also protected using 2048-bit RSA. Sync.com's data centers are SOC-1 certified and make use of RAID architecture to prevent server failures from leading to data loss.
One caution with zero-knowledge security, however: if you forget your password, Sync.com won't be able to reset it for you. That means you'll lose access to your storage and have to rebuild it. Sync.com does let you turn off zero-knowledge security, but a better option would be to use a password manager like LastPass.
While zero-knowledge encryption and 256-bit AES are vital to building strong cloud security, both can be undone by a weak password with some good-old fashioned brute-force cracking. You want to make sure you've set up as strong password and may also want to take advantage of Sync.com's two-factor authentication capabilities.
With two-factor authentication turned on, you'll have to enter a special security code when logging into Sync.com in addition to your normal credentials. This can either be sent via email or you can setup and use Google Authenticator on your phone.
With such strong security in place, privacy policy becomes somewhat less essential, but it's nice to see that Sync.com still provides a strong one. Based out of Toronto, the Sync.com servers fall under the protection of Canada's consumer-friendly privacy laws, which are governed by the statutes laid out in PIPEDA, short for "Personal Information Protection and Electronic Documents Act."  
Sync.com's privacy policy outlines ten governing principles: accountability, identifying purposes, consent, limiting collection, limiting use, accuracy, safeguards, openness, individual access and challenging compliance. The policy itself is worth a read; we can't think of any other one in the cloud storage field that's as clear and thorough.  
Sync.com has a knowledgebase that you can use to search setup guides and tutorials if you need some help getting started. It gives you access to top questions, question categories and a search box to discover material. Overall, we found the topics discussed sufficiently broad enough to answer most questions we could think of, and nicely written.
We would like to see a user forum and video tutorials, but given that Sync.com doesn't have the userbase of some of the larger cloud storage services, we weren't surprised to not see those options.  
If you can't find the answers to your questions in the support center, you can fill out a webform, which can be directed to technical support, sales or general support. Help desk support hours are Monday through Friday, 8 a.m. to 8 p.m., but Sync.com does offer extended support hours for emergencies. Pro subscribers get priority support over non-paying subscribers.
We fired off a few test questions to see just how quickly we'd get a response and were happy to receive answers back within two hours during business hours, and that was with a trial account. Sync.com doesn't have any means of getting in touch with live support, either over the phone or through live chat, which is a bit of a disappointment.
Our most recent look at Sync.com has done nothing to deter our opinion of the service. It remains at the top of the secure cloud storage service class thanks to its zero-knowledge capabilities and commitment to user privacy. We also applaud its approach to secure file sharing, which with a paid subscription includes password protection, expiry dates, download limits, audits and remote wiping.
Really, the only major gripe we have with Sync.com is its lack of productivity tool integrations. You can gain the benefits of both Sync.com security and a cloud storage platform with excellent productivity tools by taking a two-pronged approach to cloud storage.
For active projects, consider using less secure options like Dropbox, Google Drive or OneDrive, which have great productivity tools. For archived projects or highly confidential files, move everything else to Sync.com.
True, using more than one storage solution can be a pain, but if security is of importance to you, you can't go wrong with this approach. For a more detailed look, check out our comparison article on Sync.com and Google Drive.
If you have experience with Sync.com, we'd love to hear your thoughts on this service in the comments below. Or, if you like what we've written here, feel free to share it with your friends. Don't forget to sign up for your 10GB of free storage, too, and thanks for reading.]
Thanks for reading.
Starts from
$
4
08
per month
for

500 GB
Two-Factor Authentication