Visit

Sync.com
Excellent security
Competitive pricing
Unlimited file sizes
Sync.com Review
Without a doubt Cloudwards.net's favorite cloud storage provider, Sync.com offers lots of features, ease of use and security at a reasonable price. It also has a nice free plan you can use to test it, and comes out of the box with zero-knowledge encryption included. Read all the details in this full Sync.com review.
There are plenty of good cloud storage providers out there, but we're willing to declare only one as the best cloud storage, and that's Sync.com. In an increasingly competitive market, where big names like Google and Apple dominate, Sync.com provides an almost complete experience for cloud storage users.
There are plenty of reasons why, too. Sync.com comes with great security out of the box, with end-to-end encryption across all of its plans. Syncing is a breeze, and you have a great deal of control over any files you share with others. All of this comes with competitive pricing that most other providers struggle to match. However, that doesn't mean Sync.com is perfect — nothing in life is.
It's not the best for collaboration, as you'd expect from a security-focused service, though it does integrate with Office365. Minor quibbles aside, there's plenty to love about this provider that explains why it's a frequent recommendation among our other cloud storage comparisons, as this Sync.com review will explain.
06/27/2021

Added information about Slack and Office365 integration.

11/20/2021

Added results from new speed tests.

06/24/2022

Updated to change the "Mini" plan name to "Personal," increase the Teams Standard price to $6 per user per month and include the new monthly plans.
Sync.com Video Review
Strengths & Weaknesses
Pros:
Excellent security
Competitive pricing
Unlimited file sizes
365-day versioning
Clear privacy policy
Cons:
User interface needs work
Slower sync speeds
Alternatives for Sync.com
Features
Sync.com has an approach to features that balances file and folder security with the desire to offer the features you'd expect from a top-tier provider.
To begin with, Sync.com is a zero-knowledge provider, meaning the control of your data is in your hands. You manage your encryption keys, meaning it doesn't matter if Sync.com, the law or a rogue hacker sees your files — only you can decrypt and access your data.
This limits the kind of third-party integrations you'll see with competitors like Dropbox. You can learn more about this in our Sync.com vs Dropbox comparison review.
It isn't the best cloud storage for collaboration, but if you accept the limitations, Sync.com does have a few built-in features worth talking about for documents. If you have a premium subscription, you can view Office and PDF documents, as well as images. The decryption is on the fly, so it may be a little slow, but that's the price you pay for security.
Sync.com also integrates with Office365. This means that instead of having to download Office files (such as .DOC and .DOCX files), work on them and then upload them again, you can open and edit these documents in Office365 directly from the Sync.com app or web client.
Sync.com Versioning
If you're a project manager or document editor, or if you've been hit by ransomware, you might find comfort in Sync.com's file versioning features. It automatically stores previous versions of any files that you change, as well as any deleted files, and these don't count toward your storage quota.
In fact, Sync.com is our top recommendation as the best cloud storage for versioning, with 30 days of file versioning available for free account holders. Meanwhile, Solo Basic and Teams Standard account holders gain 180 days, while all other accounts can roll back their files for up to a year.
Sync.com offers this on a file-by-file basis, rather than by offering a full account rewind like you'll see offered by providers, such as pCloud, which can restore accounts to a previous stage with its pCloud "rewind" feature. You can read more about this in our pCloud review, or see how these two services compare in our pCloud vs Sync.com matchup.
Although Sync.com doesn't offer a full account rewind, you can restore entire folders at once. If you need to attempt a wider recovery, you can contact Sync.com directly to get help with restoring larger sets of files. It's good that it offers this level of customer support (we'll talk more about this later), but this would be better as a built-in feature.
File Size Limit
If you're worried about file or folder sizes, Sync.com has you covered. It has absolutely no limit on your file sizes — none. Compare that to Google Drive or Microsoft OneDrive, which has 5TB or 100GB file limits, respectively. Unlimited file size for uploads is one of the reasons why Sync.com is our top choice for the best cloud storage for large files, as you might expect.
You can also create a cold storage vault for your folders using a feature called "sync vault." This will lock certain files away, preventing them from syncing across your devices, and it's something we'll talk about later.
Instant Video Streaming
In Sept. 2022, Sync.com announced that its iOS and Android apps support instant video streaming on the Pro plan.
Sync.com Features Overview
| | |
| --- | --- |
| Sync Folder | |
| Block-Level Sync | |
| Selective Sync | |
| Bandwidth management | |
| Sync Any Folder | |
| File Link Sharing | |
| Link Passwords | |
| Link Expiry Dates | |
| Folder Sharing | |
| Folder Permissions | |
| Link Download Limits | |
| Upload Links | |
| File Previews | |
| Edit Files | |
| In-App Collaboration | |
| Office Online | |
| Google Docs | |
| Notes App | |
| Media Playback | |
| Mobile Apps | |
| Deleted File Retention | |
| Versioning | |
| WebDAV | |
| At-Rest Encryption | |
| In-Transit Encryption | |
| Encryption Protocol | AES 256-bit |
| Zero Knowledge | |
| Two-Factor Authentication | |
| Server Location | Canada |
| 24/7 Support | |
| Live Chat Support | |
| Telephone Support | |
| Email Support | |
| User Forum | |
| Knowledgebase | |
| Free Plan | |
Pricing
Sync.com is the provider that sets the bar when it comes to pricing, and few competitors in the market can compete with it, although pCloud is one of the few that does. Like for like, Sync.com is more affordable than most, with plenty of plans for consumers and teams alike.
Sync.com Free Plan
You can start out with a free Sync.com account, which gives you 5GB of space with no strings attached. This isn't as generous as other big providers, like MEGA (read our MEGA review), but with zero-knowledge encryption included, it's still a good option, putting Sync.com on our best free cloud storage short list.
If 5GB isn't enough, you can earn another 1GB of space by sharing files or installing the mobile app. You can take things even further, adding up to 25GB extra by referring new users to the company.
Besides the limited storage, there are a few other limitations to the free plan. You're limited to sharing 5GB of data with other people per month, and versioning is restricted to just 30 days. The document preview feature and Office 365 integration also isn't included here.
There are some other sharing limitations as well, such as no preview mode (by which you can allow other people to view your files but not download them), as well as no granular permissions or the ability to remotely wipe your files from other Sync.com users when you revoke their access. Additionally, you can only create three sharing links at a time, and only three shared folders.
Sync.com Pricing
If 5GB of storage isn't enough, you'll need to subscribe to one of the paid plans. For individuals, this boils down to three choices: Personal, Solo Basic or Solo Professional.
The Personal plan is somewhat hidden away compared to the two others, as it's located on a separate pricing page that isn't linked to elsewhere on the website. Its name is accurate, since it provides only 200GB of storage, so at $5 per month, it's not a very good deal.
The two larger plans, Solo Basic and Solo professional, are a different story. The former gives you 2TB of storage for $8 per month, which is billed annually for $96 per year. Besides the additional storage, the 5GB monthly data transfer limit for file sharing is also removed.
If you need a lot of space, then Solo Professional is the better option. At $20 per month, or $240 per year, it's quite a bit more expensive, but you get a solid 6TB of storage, which is frankly a great deal. Solo Professional is also HIPAA compliant, which Solo Basic isn't. The more expensive plan also upgrades your versioning limit from 180 days on Solo Basic to 365 days.
Sync.com Business Plans
If you're using Sync.com for business purposes, the Professional plan also lets you replace the Sync.com logo with your own custom branding. Most business users will probably prefer one of the two "Teams" plans though, named Teams Standard and Teams Unlimited.
Instead of limiting you to a single user, these plans let you add as many people to your account as you wish, though the price will increase with each additional user you add. Teams Standard will run you $6 per user per, though the minimum number of users is two, meaning that the price you'll actually end up paying is at least $12 per month. Note that this plan does not include HIPAA compliance or 365-day versioning, so you're limited to 180 days.
While Teams Standard is great if you need to collaborate on small files with multiple users, it only comes with 1TB of storage space, which is even less than the individual plans. Teams Unlimited, meanwhile, is (perhaps unsurprisingly) unlimited, meaning you'll never run out of storage space, no matter how much you upload.
At $15 per user per month, though, it's by far the most expensive plan on offer. Like the standard Teams plan, the minimum number of users is two, meaning you have to pay at least $30 per month, or $360 per year.
Both Teams plans also come with a range of administration features such as an admin console and account, centralized billing and the ability to manage user passwords. Teams Unlimited also upgrades your customer support to "VIP," meaning you'll receive assistance faster than users on other plans. For more information about the Teams features, make sure to check out our Sync for Business review.
Ease of Use
If a product isn't easy to use, it isn't likely to be successful. Sync.com is reasonably user-friendly, but there is definitely room for improvement in some areas. This is particularly true when it comes to moving files and folders around, as we'll explain further down.
Getting started with Sync.com is simple enough; signing up requires only an email address and a secure password. You can then install a desktop app, with options for Windows and macOS users, but Linux support is lacking, sadly. Linux support is on the Sync.com roadmap for the future, but for now you'll need to check our best cloud storage for Linux for alternatives.
Once the app is installed, your files are held within a folder called "sync" on your drive. Files saved here are automatically synced to your account, which matches files stored online, unless you're using selective sync to restrict certain files, which is something we'll talk about later.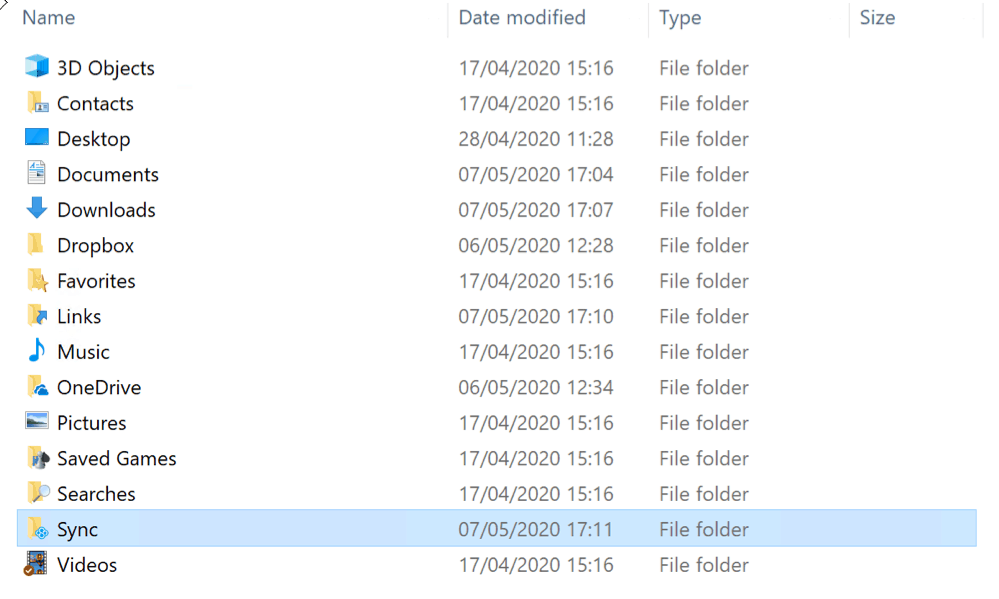 Sync.com treads the familiar path that Dropbox and others created: there's a sync folder, controlled by a system tray icon that allows you to control your storage and settings. Clicking the system tray icon brings up your most recent files, including your "sync vault" cold storage files. From the panel that appears, you can also access your web panel, sync backup folder and settings.
Settings
The settings control panel has five tabs. The "options" tab allows you to change basic settings, such as desktop notifications. The "account" tab lets you change your password. You can view your network settings and current uploads or downloads under the "network" and "progress" tabs, respectively.
The web panel has more menus that allow you to view your files, both private and shared. The "file" view, as the name suggests, gives you a full list of your saved files, while "vault" lets you view and control your "sync vault" cold storage files.
If you're sharing files, you can view and change access to them under the "sharing" tab, which shows a list of team shares and shared-file links. You can also view previous sign-ins and the account history under the "events" tab. Finally, you can add other users to your account (especially for business users) under the "users" tab.
Each file and folder saved in your Sync.com storage can be further modified by pressing the three-dots icon, which gives you controls over file sharing, downloading, deleting and moving your files, as well as accessing the relevant file versioning history for that file or folder. It isn't possible to drag around files or folders, either; you'll need to move them through this menu.
Other providers, such as OneDrive, allow you to move files by dragging and dropping them into folders within the web application, which is arguably much simpler and easier to understand. You can learn more about this in our OneDrive review.
Dragging files into the web panel is similarly frustrating. You can't drag and drop onto subfolders, and you'll need to have the folder visibly open before you drop the file in. You also can't drag a file out of the web panel to download it to your desktop; you'll need to open the menu and choose the download option to do so.
Sync.com Mobile Apps
You can use your Sync.com storage on the go, with mobile apps available on Android and iOS. The apps are similar to the web panel, where you can view your files, access your cold storage vault, manage shared links and see your recent files. There's also the option to turn on automatic uploads of your photos and videos to backup your files on the go.
The apps are fairly user-friendly, but have the same issue as the web panel; you can't drag files and folders around, but instead have to move things using the menus.
Other apps do this much better, such as the Google Drive app, which lets you drag a file into a folder without any issue. It's also why Google's mobile apps make Google Drive one of the best cloud storage for Android.
File Sharing & Syncing
File syncing and sharing are ultimately what any cloud storage solution will be judged on. Sync.com has some good syncing features, but its file-sharing features are where it truly shines, hitting the top of our best cloud storage for sharing shortlist.
You can sync files by adding them to your Sync.com folder, or you can upload them manually using the web panel or mobile app. By default, files in this folder are synced to your account. You can't add additional folders on your PC, like you can with pCloud and other providers. Instead, everything has to be saved in this folder for it to be synced.
If there's a lot of data in your Sync.com account, you might worry about disk space usage. Thankfully, there are a few tricks you can use to reduce the impact on your drive. Selective sync allows you to store online files in certain folders without syncing them to your PC, saving you space in the process.
These preferences are device-specific, so you could keep your photos accessible on your desktop, but stop them from taking up space on your laptop.
If there are files and folders that you don't want to sync to any of your devices, then you can drop them into your "sync vault" folder instead. As we've mentioned, this is a cold-storage vault that stays online; it isn't synced to your devices at all.
The "sync vault" is ideal for backups or freeing up space on your hard drive or your phone. For example, you could move all of your photos and videos from your phone into the vault. You could then delete them from your phone to free up space, but you'll still be able to access them from the mobile app.
It's a nice feature, but as you'll see in our best cloud storage for sync shortlist, it isn't enough to beat similar — and better — features from Dropbox or Egnyte. As we've mentioned, though, sharing is where Sync.com shines, and thankfully it's a simple process.
Sharing on Mobile
In both the mobile and web apps, tap the three-dots icon to create a sharing link. The web app also offers a quick-sharing link in a pop-up, which appears whenever you hover over a file or folder in your drive. Desktop users can instead right-click and press "share sync link" to create a sharing link.
Once a link has been generated, you can send it directly from Sync.com using email, or copy the link to send to friends and family through any other medium. Sync.com gives you a fantastic range of features when it comes to sharing links. You can add a password, disable downloads and set download limits and expiration dates, after which the link is no longer active.
However, the majority of these features are for paid accounts only; with the free account, you can only set a password. Sync.com users who pay can also set up email notifications to alert them whenever a link is downloaded or viewed. This information is also accessible in the "events" menu.
Security is a Sync.com focus, so you can also send links with encryption applied, making it a great option for secure storage that you can share with friends and family.
Enhanced security links don't work in some situations, though, including with older browsers, in Safari on iOS or with files that are more than 500MB. However, enhanced privacy is available for free account holders.
You can also create team folders that allow you to share your files and folders with specific users, granting them access to view, read or edit any files held within. You can manage your team shares from the web panel, with the ability to remove users or remotely wipe the folder from any user accounts that you restrict in the future.
Another way to share files with Sync is through its Slack integration, which lets you share any file stored on the cloud by typing "/sync" into a Slack channel. If your business or team uses both Sync and Slack, this is the quickest and most convenient way to share files, but it probably won't be of much use to personal users.
Speed
Sync.com's transfer speeds are without a doubt its biggest weakness. Compared to services like pCloud, Icedrive or Google Drive, it simply doesn't utilize the same percentage of users' bandwidth for its uploads and downloads.
When testing the speed of cloud storage services, our standard approach is to upload and download a 5GB test folder twice and average out the results. The folder is filled with a range of different file types, and the test is performed from a cloud computer located in Ireland that has a stable 100 Mbps connection both up and down.
What that means is that if a service manages to make use of 100% of the bandwidth allotted to it, then the upload and download should take around six minutes and 40 seconds each.
| | First attempt: | Second attempt: | Average: |
| --- | --- | --- | --- |
| Upload time | 09:48 | 18:30 | 14:09 |
| Download time | 15:11 | 15:03 | 15:07 |
As you can see, Sync.com's performance doesn't even come close to the kind of results we were expecting to see. Not only is it slow, but its upload speed was unreliable, with a large difference between our two attempts. This is all pretty disappointing to say the least, but we don't think mediocre transfer speeds alone are enough to hurt an otherwise excellent service too much.
Its speed is comparable to iCloud's (see our iCloud review for more), which makes it the best iCloud alternative, and there are other services like Internxt and Woelkli (check out our Internxt review and Woelkli review) that are far slower.
Still, we hope the service can make some improvements in this area. If speed is important to you, you can head over to our lists of the fastest cloud storage and online backup to find the speed demon that's right for you.
Security
Sync.com's speed issues, as we've mentioned, are due in part to zero-knowledge encryption. Although this slows things down a little, it also makes Sync.com an incredibly secure service to store files online. In fact, Sync.com comes out at the very top of our rundown of the most secure cloud storage.
With zero-knowledge encryption in place, your data is encrypted and stored on Sync.com's servers, without any other access to it. Sync.com offers zero-knowledge encryption across all of its plans, including its free plan, which helps it to come out at the top of our best zero-knowledge cloud storage shortlist.
Many providers that use zero-knowledge encryption are unable to reset a lost password, so if you lose it, the files are gone forever. Sync.com has a few workarounds to help solve this problem, though.
Password Reset
If you have the Sync.com desktop app installed, you can reset your password directly from the app itself. This changes your password locally, so your encrypted files remain completely secure. There's also an option to enable email-based password recovery, giving you the option to reset your password using your account email.
Sync.com does have access to your password while this feature is enabled, although it states that your encryption keys are available only to Sync.com's automated system.
Although enabling this feature may be convenient, it reduces the strength of the security protecting your files. A better solution is to keep this feature disabled (as it is by default) and make use of a password manager like Dashlane to ensure that your password is saved securely. Check out our best password manager shortlist for alternatives.
In addition to zero-knowledge encryption, Sync.com also offers some other security features. It uses industry-standard AES 256-bit encryption for your data in transit and at rest, and the TLS protocol to protect you from man-in-the-middle attacks.
You can also set up two-factor authentication to secure your account, which would require you to use a code generated by email or an authentication app to sign in. If someone obtains your password, they will be unable to access your account without the additional code, which offers another layer of protection.
Privacy
Few technological advancements are better at keeping your data (and your privacy) safe than zero-knowledge encryption, and it's something that Sync.com uses across all of its plans.
This means that Sync.com — or can anyone else — can't access your files unless they have the decryption key, which you exclusively control; anything you store on its servers is safe, even if the servers become compromised. Sync.com also has one of the clearest privacy policies that we have seen, rivaled only by Tresorit and a few others.
We'll admit that, in many cases, the privacy policies used by online servers are just a wall of heavy text, leaving it difficult to decipher what the company can or cannot do. Sync.com's privacy policy is laid out very clearly and explains its 10 core privacy principles, from accountability and safeguards to disclosure and retention.
The policy states that Sync.com won't disclose your personal information without your consent, except under limited circumstances when the company is forced to comply with a law enforcement request or to protect the personal safety of other people during an emergency. It will log IP addresses and access times, but this data is not specifically linked to you.
Sync.com is based in Ontario. Canada isn't on our best cloud privacy laws shortlist, but it's certainly a lot better than its neighbor to the south. Your data will fall under the Personal Information Protection and Electronic Documents Act (PIPEDA), which is designed to protect your personal information.
If you're based in Europe, Sync.com also complies with the much stricter GDPR regulations.
Customer Service
If you have an issue with your cloud storage service, you'll want to know that you can find a solution to the problem quickly (or at least smoothly). Sync.com has a reasonable level of customer service with good response times, but it does lack some options, such as live chat.
Sync.com has a very useful help center that covers everything from setting up your account to creating shared folders. The information is very well presented, with articles covering specific topics, each broken down into a set of FAQs for you to quickly scan through. These articles are thorough and should cover the most common queries.
If you're unable to find the answer you want, then the only option for contacting support is by using an online form. You can access it through the Sync.com website or by pressing the "help" button in the web panel. In our experience, we received responses in less than an hour and the content of the responses was very helpful, but a live chat would speed things up.
There's no community forum for Sync.com, so you can't gain help from other users, which is something we've seen deployed well by other providers, such as Dropbox. These communities allow you to search for solutions or ask your own questions and make use of the expertise of other users. It's a shame that Sync.com doesn't offer it here.
The Verdict
If you're looking for a cloud storage solution that keeps your data secure and private, then Sync.com won't leave you disappointed. It offers zero-knowledge encryption as standard and, unlike most services that do, you won't be locked out of your account forever if you lose your password.
However, that powerful encryption does come at a cost. The service lacks useful third-party integrations, limiting its potential as a collaborative tool for teams, even with shared and team folders available. It also suffers from somewhat slower upload and download speeds, particularly for large files.
That said, Sync.com is willing to admit many of these points upfront in its FAQs, which is a refreshing dose of transparency. Syncing with the service is simple and effective, and you have powerful control over any shared links you create. It's also one of the best value cloud services we've seen, with prices that rival many of its competitors.
If you want to give it a trial run, there's a fairly generous free plan that includes many of its paid features, including end-to-end encryption. Taking the package as a whole, Sync.com is one of the best cloud storage services available, with only providers like pCloud rivaling it on features, speed or security.
Have you tried Sync.com? What has your experience been like? Let us know in the comments below, and as always, thanks for reading.
FAQ
Sync.com is a super secure cloud storage service that protects your files while in the cloud, leaving your hard drive free of clutter.

Yes, absolutely: even if you look beyond the advertising featuring encryption and the like, never has there been a breach of the Sync.com servers nor have we heard of any other irregularities.

Sync.com's servers are located in Canada, in Toronto and Scarborough, Ontario.

From subscribers signing up to the service. The free plan is more of a taster than anything.
Visit

Sync.com