The Cheapest Cloud Storage Deals in 2022: How to Get More For Less
Storing your files can get pricey, especially if your needs are measured in TBs rather than GBs. In this article, you'll find the best cloud storage deals so you get the best bang for your buck.
While you're more likely to see cloud storage deals around Black Friday, there's nothing stopping you from switching to a new cloud storage provider — right now. That's because the best cloud storage providers in the market today, from Dropbox to Sync.com, regularly offer some of the cheapest cloud storage deals that can get you enormous storage plans for a great price.
The big names will fight over pricing, but you're the one who can take advantage of the spoils. You could pay full price, but when top-tier providers like Sync.com are offering 2TB of storage for $8 a month, there's absolutely nothing stopping you from shopping around to get the most bang for your buck.
To help you navigate the confusing number of deals and plans in the market, we've put together a list of some of the best cloud storage deals currently available. Don't take our word for it — let the features (not to mention cloud storage pricing) speak for themselves.
We think Sync.com offers the best cheap cloud storage: for $8 per month on the Basic annual plan, you can get 2TB of storage space and unlimited transfer limits. However, pCloud and Icedrive also provide excellent cheap cloud storage, and OneDrive and Google Drive aren't far behind.

MEGA offers an impressive free storage deal: 20GB for free. It beats Google Drive and Microsoft OneDrive, which both offer 15GB for free.
06/24/2022

Updated Sync.com's plans and pricing, including month-by-month plans.
Quick Guide: The Cheapest Cloud Storage Deals
What to Look For in the Cheapest Cloud Storage Deals
Reviewing so many different cloud storage plans over the last few years has given us a good overview of the cloud storage space, and it isn't difficult to spot where the competition is. They may offer great features and impressive storage plans, but if the pricing isn't great, then you (and many other customers like you) won't want to pay.
However, we're not interested only in the price tag. We're interested in everything a provider has to offer for the price, so you can get the most out of it.
How Much Free Cloud Storage You Get
The amount of storage that a provider offers for free is often a good indicator of the kind of quality you'll see from its paid plans, as our list will show. This is why we're big fans of large providers like Google Drive, which rates highly as one of the best free cloud storage services in the market, with 15GB of storage for free.
The free space offered by paid storage providers does differ, from a pretty limited 2GB from the well-known Dropbox to an incredibly generous 20GB from MEGA. Our Dropbox vs MEGA comparison will tell you more, as will our earlier Dropbox review.
Largest Storage Options
If you need a large amount of storage, then you're more than covered with the plans on this list. You can take out plans with 2TB or more of storage for less than $10 a month, thanks to Sync.com and pCloud (both offering 2TB for $8 per month).
If you need more, you can grab up to 30TB from Google Drive, but a better and more cost-effective option is to sign up to an unlimited cloud storage provider like Sync.com for Teams. Although it's not meant to be used as a personal cloud storage solution, it's the cheapest unlimited storage option, starting at just $30 per month.
Lifetime Cloud Storage Deals
Some big providers in the cloud storage market offer lifetime deals, but not all (see our best lifetime cloud storage piece for the top deals). In theory, these plans will give you access to your storage for life or for as long as the company stays in business.
For a single up-front fee (usually a couple hundred dollars), you'll have unlimited access to your storage without paying a further monthly or yearly fee. If you compare these to the cost of an external hard drive, a lifetime deal from a provider like pCloud or Icedrive could be cost effective, especially if you grab a discounted deal on top.
Best Bang for Your Buck
There isn't a lot of originality in the cloud storage market when it comes to pricing, so you'll see plenty of similar products at similar prices. However, if you step back, you'll see that the market is filled with deals and features that can make it hard to find the most bang for your buck.
We've compiled a list that contains some of the most affordable plans in the market, but also the plans that offer the best value for your money. We've decided these by looking at features, security concerns, overall storage and more. There's no point paying for cloud storage if it's slow or difficult to use, after all.
1. Sync.com: The Best Cheap Cloud Storage
Pros:
Great pricing plans
Zero-knowledge encryption
Easy to use
Longtime readers will already be aware that we're big fans of Sync.com, which offers an impressive set of features at an affordable price. "Affordable" is the word, too, as Sync.com can be grabbed for a steal of a price at just $8 a month for its Pro Solo Basic plan.
For your $8, you gain 2TB of storage space, making it one of the best cloud storage for documents, especially for families who need the storage capacity to store important documents and cherished digital mementos.
Of course, if 2TB is far too much storage for your needs, you can cut the price tag almost in half and take advantage of Sync.com's 200GB Personal plan for $5 a month.
Sync.com Annual Plans
The downside to such affordable plans from Sync.com is that most of them force you to lock yourself in with an annual subscription. Monthly plans are only available with the Solo Pro and Teams Unlimited plans, so if we talk about the Solo Basic plan for $8 a month, what we really mean is that the annual payment is equivalent to $8 a month (so $96 a year in total).
A Sync.com plan — whether it's free or paid — also comes with zero-knowledge encryption as standard. This means your files are encrypted and only you can access them, making it one of the most secure cloud storage providers available.
You'll also gain access to mobile apps for Android and iPhone devices, as well as a desktop client that's easy to use and navigate. Sure, Sync.com doesn't come with an impressive number of productivity features, but that's largely by design.
After all, linking with Office apps like Dropbox would mean surrendering control of your security keys. Sync.com has features that we think will satisfy most users, and although monthly payment options are scarce, you'll save more through an annual subscription, which offers secure storage at a great price.
Before you jump in, don't forget to try Sync.com's free plan, with 5GB of storage available. If you want to know more, you can check out our earlier Sync.com review for details.
Pros:
Zero-knowledge encryption available
Affordable price plans
Media streaming capabilities
Cons:
Zero-knowledge costs extra
Bandwidth limits
As with most industries, prices in the cloud storage market are determined by market forces. Big names like Sync.com set the benchmark that other providers follow, which is why pCloud follows its competitor closely when it comes down to price.
Just like Sync.com, pCloud offers an $8-per-month storage plan with 2TB of available storage. Unlike Sync.com, though, pCloud offers this on a pay-per-month basis, meaning you don't need to subscribe for a year to try the service out.
This would normally be enough to push pCloud ahead, especially as pCloud and Sync.com offer a similar set of features. Unfortunately, pCloud charges extra for zero-knowledge encryption (which ensures you have control of your decryption keys) with its pCloud Crypto add-on, which costs $3.99 extra.
Don't let the cost of encryption put you off, though, as pCloud still has a lot to offer potential customers.
Unlike Sync.com, though, there are fewer plans for you to try. It offers a business plan if you need multiple accounts. However, the better option for families is pCloud for Family, which offers a shared 2TB of storage for five years for a single, one-off payment.
This one-off payment can cost as much as $1,400 for a lifetime Family plan. Thankfully, pCloud offers large discounts on this price — as much as 65 percent or more.
A lifetime subscription is also available for its 500GB and 2TB plans, if you're keen on savings. Like pCloud for Family, this gives you unlimited and indefinite access to the storage you've purchased.
Cheap File Storage for Music Files
While there are a lot of similarities between pCloud's and Sync.com's offerings, there are some immediate differences. For instance, if you have music files that aren't encrypted in pCloud Crypto, you can stream them directly from your browser or from the pCloud Android and iPhone apps.
Among the best cloud storage for music options, pCloud is one of the few cloud storage services to offer a feature-filled media playback tool directly in its interface, with playlists, filtering and more available for users.
pCloud is cheap cloud storage but it has all the features you'd expect from its position as a top-tier cloud storage service. If you're curious to know more, don't forget to take a look at our pCloud review. Otherwise, give pCloud's free 10GB plan a try, which allows you to easily unlock completely free storage by completing several easy tasks (like verifying your email address).
Pros:
Good free plan
Great prices
Zero-knowledge encryption included
Cons:
Limited productivity features
Limited support availability
Most of the providers we mention at Cloudwards.net have been around for years, but that isn't the case with Icedrive. This newbie to the storage cloud scene has been in operation since 2019, and it's been making waves ever since it arrived, with reasonably competitive pricing and an impressive set of features.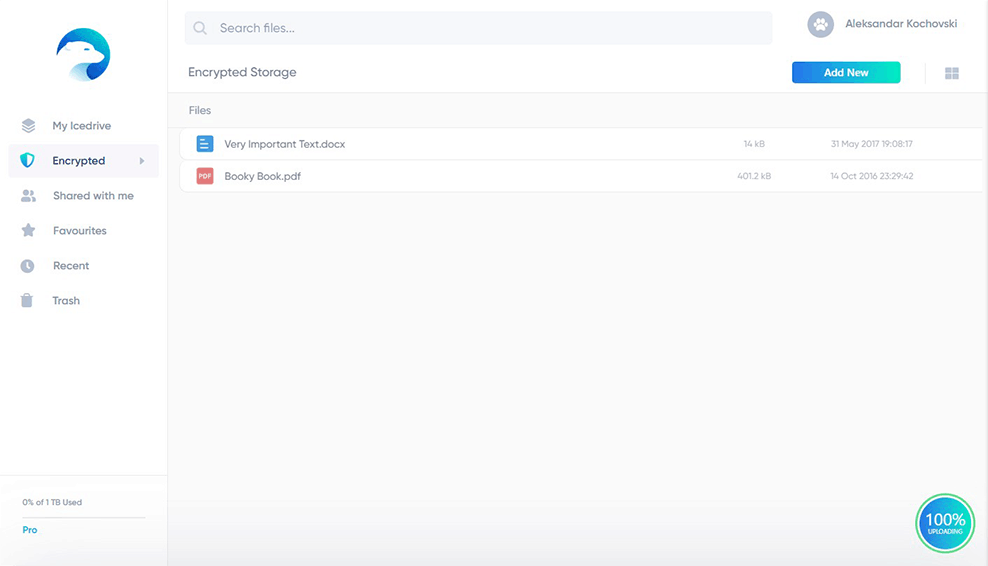 You can trial the service for free with 10GB of space provided, which matches pCloud's free plan, but is just below Google Drive's 15GB.
Bandwidth is limited to a daily 3GB, so the free plan is better suited for testing or for cold storage, although there are better online backups for archiving out there. If you need a basic cloud backup service, you may prefer a Degoo subscription instead, which starts with 100GB of storage (and not much else), as our Degoo review shows.
However, Icedrive's paid plans are where things get a little more interesting. For just $19.99 a year (an equivalent $1.67 a month), you gain 150GB of storage, which is more than enough for files and a modest photo and video collection.
Icedrive Lifetime Cloud Storage Space
Like pCloud, Icedrive offers a series of lifetime plans which, for a one-off fee, gains you access to your storage on an indefinite basis. As Icedrive is only a few years old, this might be a riskier prospect, but if you're inclined to spend the cash, you can grab storage for a one-off cost of between $99 and $599.
Like the free plan, though, Icedrive comes with bandwidth caps, which may make it a less appealing option than some of the other providers on this list. Bandwidth caps range from 250GB a month for the 150GB Lite plan and up to 8TB a month for the 5TB Pro+ plan.
If you're worried about your privacy, then you might be pleased to know that, like Sync.com and pCloud, Icedrive comes with zero-knowledge encryption, which is included with all paid plans (although excluded from the free plan).
Interestingly, Icedrive uses Twofish encryption, which is considered to be more secure than the industry-standard AES 256-bit encryption used elsewhere. If you need to share your files, but you're worried about your privacy and file security, then you can use Icedrive's "share timeout" feature, which can also be password-protected to provide even more limited access.
Because Icedrive is a British company, European GDPR regulations apply, which — coupled with a pretty clear privacy policy — ensures your data is safe and secure on Icedrive servers. You can check out our Icedrive review to find out more.
Overall, Icedrive is a no-frills service that has a lot of potential, putting it in the same league as Koofr for features, although with far better pricing, as our Koofr review will show.
Pros:
Integrated with Google Docs
Great free plan
Impressive collaboration features
Cons:
Awful privacy policy
No zero-knowledge encryption
Hot on the heels of the newest cloud storage provider is one of the most well known and well used of them all: Google Drive. If you have a Google account, then you already have access to 15GB of free Google storage that you can use for whatever you like.
That's not to say that Google Drive is the best cloud storage provider out there, because as this list proves, there are better options. Unlike providers like Icedrive, though, Google Drive comes with built-in productivity tools that make it arguably one of the best cloud storage for collaboration available.
However, it does have downsides. A somewhat eyebrow-raising privacy policy might give you cause to look elsewhere, especially as it could give Google carte blanche to snoop around your files. If privacy is important, there are certainly better options on this list, from Sync.com to our honorable mention further down, MEGA.
Google Drive Pricing
Don't discount Google Drive entirely, though. It has its faults, but it also has a lot to offer, starting off with 15GB of storage and unlimited access to other core Google Workspace products, including Gmail, Google Docs and more.
Using Google's position in the cloud computing market (with significant storage capacity available) means that its price for cloud storage starts low.
There are no bandwidth limitations applied to this storage, so you're free to use it however you like (as long as it doesn't violate Google's privacy policy). If you want to increase the usefulness of your Google Drive storage, you can add one of thousands of third-party Google Drive apps to your account.
These marketplace apps will help you get the most out of a Google Drive subscription. It isn't the best for privacy, and while it isn't the cheapest cloud storage, Google Drive's starter plan at $1.99 a month offers one of the lowest barriers of entry for new cloud storage customers. You can read our full Google Drive review to learn more.
Pros:
Free Office apps
Family storage plans
Good for collaboration
Cons:
No zero-knowledge encryption
Limited per-person storage
Microsoft, like Google, has muscled its way into the cloud storage market with a dominant presence in the cloud computing world. This old dog still has a lot of new tricks to offer, especially to those with digital storage needs, thanks to its OneDrive storage service.
This is all part of Microsoft's recent drive to become a service-based company, where users subscribe and tie themselves into Microsoft products. OneDrive fits neatly into this, offering cloud storage that can be used for the presentations, documents and more that are created with Office products.
This is why OneDrive is a great product for collaboration, with plans that offer shared storage for families and businesses (see our OneDrive for Business review for more information).
OneDrive Pricing Plans
With a reasonable (but limited) 5GB of free storage, OneDrive sits with Sync.com in the middle of the market for free cloud storage deals. Its paid plans are better, though, and offer the most well-rounded set of features you'll see from any paid provider.
OneDrive offers just one subscription plan under its own name, matching Google Drive's own Google One offering. If you need more, you'll need to upgrade to Microsoft 365 (the successor to Office 365). Plus, as the name suggests, Microsoft 365 is the all-inclusive subscription service for Microsoft productivity services.
The downside to using Microsoft products is a lack of zero-knowledge encryption, and because it's a U.S.-based company, you'll need to be wary that your OneDrive usage doesn't fall afoul of its privacy policy or U.S. laws.
You can upgrade to Microsoft 365 Family, which is a plan that made OneDrive our number-one option as the best cloud storage for families. It can be shared with up to five other users, with each user gaining 1TB of their own storage to use, as well as full access to Office apps and features.
OneDrive is a service that is designed with Office in mind, and with Windows integration, it's almost hard to ignore. Like iCloud is for Apple products (see our iCloud Drive review), OneDrive offers users the most integrated cloud storage for Windows, as long as you're happy to spare a few dollars a month.
Honorable Mention: MEGA
Pros:
Strong zero-knowledge encryption
Good free storage plans
It's always difficult to narrow down a big market like cloud storage to just five of the best players (as far as deals go). That's why we couldn't end things without giving honorable mention to one of our other favorites: MEGA.
Yes, MEGA has a confusing history, with concerns about its founder Kim Dotcom putting some users off, not to mention some concerns about potential Chinese government ownership. With zero-knowledge encryption in place, though, you don't need to worry — your data is safe, as our MEGA review explains.
In fact, MEGA is a provider that is built with privacy in mind. You control your encryption keys, and it saves your access times only temporarily. It can't read or hand over your data, and with servers based across Europe, Canada and New Zealand, you can rely on some relatively decent privacy laws.
Keep in mind that MEGA prices its plans in euros, so the dollar prices will depend on the conversion rate.
MEGA Free Storage
Most users will want to try out MEGA's impressive free storage, which offers 20GB for free. This outshines almost anything else in the market, plus you can gain extra storage through "achievements," like installing the desktop and mobile apps and inviting new friends to trial the service. You'll find few cloud storage services offering such generous free storage.
Compared to the big-storage plans offered by Google Drive at a much higher monthly cost, MEGA offers enormous savings for big-storage customers who don't want unlimited storage. While MEGA only offers up to 16TB of space, it's one of the few providers that does offer a lot of storage for such a reasonable price.
Bandwidth limits are the only limits in place, but these match the storage amounts (for instance, an 8TB limit for 8TB of storage). Although MEGA isn't a provider that will suit everyone, the high-storage plans and extreme focus on privacy make it a worthy alternative if the other five providers on this list don't match your needs.
Final Thoughts
We've compiled some of the best cloud storage deals in the market today, but our list isn't exhaustive. After all, fleeting deals to grab your attention around Thanksgiving, Christmas or Easter won't be uncommon, but don't be tempted by no-brand providers that lack the reputation you'd expect to safely hold on to your data.
The storage you decide to invest in will depend on what you're looking for from a cloud storage provider. Our top providers, Sync.com and pCloud, will satisfy most users, so hit up our Sync.com vs pCloud comparison review to help you decide which is best.
Other big names like OneDrive and Google Drive compete well on price, but it's the storage that matters, with 100GB available at $1.99 a month from both providers. If you're still not convinced, then Icedrive or MEGA might be good alternative options, even if they lack the reputation of the bigger providers on our list.
Storing your documents should be simple, but storing photos and videos can be trickier, so don't forget to look at our best online storage for photos run-through, where providers like Amazon Drive are highly recommended. You can take a look at what Amazon Drive has to offer in our Amazon Drive review.
Whichever provider you choose, you'll be guaranteed good storage and quality features at a decent price that won't break the bank. Do you have your own thoughts or an amazing deal you'd love to share with us? Let us know what you think in the comments below, and thanks for reading.