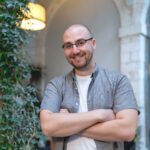 Aleksandar Kochovski
Editor
Location North Macedonia
Joined in April 2020
59 Posts
8 Reviews
16 Comments
Snap Shot
Aleksandar Kochovski is an editor and writer for Cloudwards, where he focuses on cloud storage, online backup and VPNs.
Background & Education
Aleksandar Kochovski obtained his master's degree in architecture from Ss. Cyril and Methodius University in Skopje, North Macedonia. He then began his career as an assistant professor at the European University of North Macedonia. With the onset of the COVID-19 pandemic, he decided to follow his passions for writing and technology and become a full-time writer.
After several months writing for Cloudwards, Aleksandar's leadership and management skills were recognized by Cloudwards and he was made an editor. Editing for Cloudwards allows him to combine his love of research, learning and writing with his interest in technology daily. He is constantly sharpening his knowledge by reading about technology-related topics.
Aleksandar manages and works closely with a team of writers, doing the first edits on articles, giving feedback and ensuring the content is up to scratch. He also trains new writers, writes scripts for Cloudwards' YouTube videos and does some graphic design.
Last articles
Last Reviews