Koofr Review
Koofr is a very secure storage service that seems predominantly aimed at keeping small files and sharing them. It covers this very well, and is fast, to boot, but frills and added functionality seem to have fallen by the wayside. Read our full Koofr review for all the details on this decent service.
Starts from
$
0
54
per month
for

10 GB
Koofr, a simple and lightweight cloud service, offers its users a clean interface and the ability to connect to multiple cloud storage providers. With a good free plan and flexible pricing, Koofr is a great choice for anyone looking for a way to access all their online files in one place. Read on to find out more in our full Koofr review.
Although it doesn't offer too much storage space, Koofr can connect to Google Drive, OneDrive, Dropbox and Amazon Drive, which allows it to function as a hub for all your online files. Koofr integrates with Microsoft Office 365, which means users can create and edit Office documents within Koofr.
Koofr offers decent security for your files, with end-to-end encryption and servers based in the EU, but it doesn't have zero-knowledge encryption, which could leave your files vulnerable. Its free plan is also somewhat limited, and some competitors offer much more storage for free.
If you're looking for a truly secure cloud service, Sync.com is one of the best options out there, with airtight security and safe file sharing options. If an excellent free plan is what you're after, pCloud is the best Koofr alternative and it tops our best cloud storage list. Keep reading our Koofr review to find out more about what Koofr has to offer.
Strengths & Weaknesses
Strengths:
Connects to multiple cloud services
Strong security & privacy
Many file sharing options
Simple user interface
Integration with Microsoft Office 365
Good speed
Weaknesses:
Poor desktop app
Limited customer support
No block level sync
Alternatives for Koofr
Features
Koofr may not be the most feature-rich cloud storage platform, but it does a few things quite well. Among its standout features are its integration with multiple cloud platforms (making it a good alternative cloud management service), its great speed and the ability to set a password and expiration date for shared files, even with its free plan.
Overall, though, the Koofr experience is pretty basic, and it doesn't really offer much beyond the essentials. Sync.com is a more robust alternative, offering plenty of useful features, and it frequently tops our lists, including our best cloud service list.
As we mentioned, Koofr lets you connect your Google Drive, OneDrive, Dropbox or Amazon Drive to your Koofr account, giving you access to all your remote files in one place. You can choose whether to sync all your files or only select folders. You can move, copy and modify files between the different cloud platforms, and you can upload other files there, too.
If you enable Koofr's "network drive" feature, it will create a virtual storage drive on your computer, which connects to Koofr's servers via WebDAV. This drive will let you preview all your Koofr data, including files on any other cloud storage platforms you've connected to Koofr. OneDrive offers similar functionality, though, without having to create virtual drives.
Productivity Features
You can create basic text documents in Koofr's native note taking app, but you can't attach images or videos to your notes. It's not the best note-taking app, and Dropbox Paper puts it to shame. Koofr also has a handy browser extension that allows you to take webpage screenshots and save images to your Koofr account.
Another useful feature Koofr offers is the ability to preview files. You can preview images and videos within a dedicated media player, and you can view photos, Microsoft Office documents and PDF files. Koofr also saves up to five past versions of your files, letting you recover files within 90 days.
Koofr has recently added integration with Microsoft Office 365, but the connection is still pretty basic. You can create Office documents within Koofr (and you can edit them if you're on a paid plan), but you cannot set permissions for people you share the document with. This greatly limits Koofr's potential for collaboration.
Google Drive and OneDrive have much better productivity features, so if you need to edit and collaborate on documents inside your cloud, one of them might be a better option for you.
Koofr Features Overview
Sync

Sync Folder

: No

Block-Level Sync

: No

Selective Sync

Bandwidth management

Sync Any Folder

File Sharing

File Link Sharing

Link Passwords

Link Expiry Dates

Folder Sharing

Folder Permissions

Link Download Limits

: No

Upload Links

Productivity

File Previews

Edit Files

: No

In-App Collaboration

: No

Office Online

Google Docs

: No

Notes App

Media Playback

Mobile Apps

Deleted File Retention

Versioning

WebDAV

Security

At-Rest Encryption

In-Transit Encryption

Encryption Protocol

Zero Knowledge

: No

Two-Factor Authentication

Server Location

: EU

Support

24/7 Support

Live Chat Support

: No

Telephone Support

: No

Email Support

User Forum

: No

Knowledgebase

: No

Misc
Pricing
Koofr's pricing strategy is interesting, to say the least. Its S, M and L plans are very cheap, all costing around $2 or less per month, and they're great value plans if you don't need a lot of storage space. (It's worth noting that Koofr's online pricing is in euros, so the conversion rate to U.S. dollars may fluctuate.)
However, Koofr's more expensive plans — XL, XXL, XXXL and 10XL — don't really offer enough storage to justify their price. It also offers a 2GB free Starter plan, which is expandable to 10GB via referrals.
Free users have some limitations, such as sharing files from other platforms only by email. The paid plans offer only some minor features, such as unlimited transfer between cloud platforms, advanced renaming options, a (not very useful) storage space usage tool, the ability to access and share files from your local network and adding personalized icons to sharing links.
The biggest benefit of a paid plan is that it lets you edit Office documents. Strangely, a free account only lets you create an empty Office document in Koofr, but paid accounts get the option to open the file in Office 365 and edit it.
The S plan, which is the cheapest of the paid plans, costs around 54 cents (50 euro cents) per month and comes with 10GB of storage. The most popular plans — the M and L plans — cost $1.09 (1 euro) per month for 25GB and $2.17 (2 euros) per month for 100GB of cloud storage, respectively, and these are Koofr's best value plans.
Next up is the XL plan, which comes in at $4.35 (4 euros) per month for a paltry 250GB of storage space, and this is where Koofr starts to lose its value.
The XXL plan will cost you $10.85 (10 euros) per month for 1TB of storage, which is far from the best value for that amount of cloud storage. Icedrive is a cloud service that offers much better value, and you can find out more about it in our Icedrive review.
The XXXL plan will get you 2.5TB of storage for a monthly rate of $21.71 (20 euros) and the 10XL plan costs $65.12 (60 euros) per month for 10TB of storage space. If you need that much cloud storage, though, you might want to look into an online backup service instead. Luckily, we have a list of the best online backup services, where you can find the best backup for your needs.
Ease of Use
Koofr has a simple and clean interface that is easy to use and navigate. Its web client is where you'll find most of its functionality, though, as the desktop app leaves a lot to be desired. Koofr also has a mobile app that works on both Android and iOS.
The signup process is a very simple affair. Besides the standard signup by email, you can sign up through your Facebook or Google account, which significantly speeds up the process and doesn't even require a confirmation email.
After logging in for the first time, you are greeted by a quick feature summary that explains how things work and where they are. The web interface is intuitive and straightforward. To the left, you'll find links to your PC and any cloud platforms you've connected, as well as your recent and deleted files. The right side houses your files, and there is a menu bar at the top.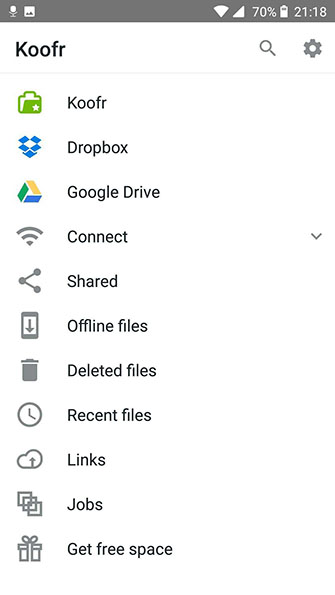 Your files are organized either in a list or a tiled view. In either case, hovering over the file reveals several icons that allow you to rename or share your file or folder. Clicking the file will reveal more options that let you copy, move, delete, download or play the selected file.
Uploading a file is as easy as dragging and dropping it into the main area of the web interface, though you can also do this by clicking the "add" button in the menu bar.
The web interface also supports document previews for Microsoft Office documents and PDFs, as well as media playback for sound and video files.
Koofr also has a fully functional mobile app, and it comes with everything you'd expect. The app has the usual sharing options, plus an option for password-protected sharing, as well. You can also mark files and folders for offline use. The mobile app also features the usual media upload functionality, enabling automatic image and video uploading.
Koofr on Desktop
The desktop app, however, is severely limited in its capabilities. It mostly serves as a way to access other parts of Koofr, such as the network drive, your local network files or the Koofr folder and any other folders you've synced. The app only allows you to upload and open files; you can't share, download, move or otherwise alter them.
You can find a settings menu in the desktop app, with options for language, some startup options, a manual proxy setting and a toggle for the network drive.
Besides the lack of usefulness, the app is also somewhat buggy. In our test, the app's drag-and-drop functionality didn't work at all and only started to function after two system restarts. The app was also unable to fully upload a large file of 200MB. The upload stopped on the first two tries, uploading only a partial file to the cloud, and it only fully uploaded it on the third try.
File Sync & Sharing
Koofr makes file sharing easy and simple. Sharing is fairly secure, with several privacy options, which is useful when linking to sensitive data. You can share a file either through email or through a link, and you can create upload links, too, so people can contribute to your Koofr folders. All these features are easy to find; simply click the "share" button.
Sharing files by email is done using the "add people" option. With "add people," you can't set any privacy measures, such as setting a password. However, if you share a folder using this option, you can set folder permissions for the recipient, such as whether they can upload files to the folder and modify its content or whether they can send upload and download links to the folder.
We'd love to see the ability to set these kinds of permissions for shared Office documents, as this would open up more avenues for collaboration. Alas, sharing permissions are relegated to only folder sharing for now.
Link Sharing Options
You can share download links by clicking "send link." You can adjust the privacy of these links by adding a password or setting them to expire in a certain time, but you can't limit downloads or send view-only links. You can also share these links to Facebook, Twitter, Reddit or Tumblr, but doing so disables password protection.
Creating an upload link for a folder is as easy as any of the other options. You click the "share" button and select the "receive files" option. There, you'll find all the same options as with the download links. You should always use a password with this option, though, because you probably don't want strangers cluttering up your Koofr and taking up valuable space.
Although these options are nice to have, especially considering they're even available for free users, other cloud storage providers, such as Dropbox, offer even more in the way of file sharing. You can find out more about the differences between Dropbox and Koofr in our Dropbox review.
One useful feature that's available only with Koofr's paid plans is sharing local files. What this means is that you can send links to files that are on your computer but aren't uploaded to Koofr. Any file you decide to share this way is not saved to Koofr and will be deleted from its servers as soon as the transaction is finished.
Koofr has several methods of syncing your files. Installing Koofr on your computer will create a Koofr folder, which syncs all the files added to it to the cloud. You can also select any folder on your hard drive to be synced to Koofr, but you can't choose to only sync specific files, which is another area where Dropbox easily beats Koofr.
Speed
| | First attempt: | Second attempt: | Average: |
| --- | --- | --- | --- |
| Upload time | 32:25 | 29:10 | 30:48 |
| Download time: | 5:06 | 5:06 | 5:06 |
In our testing, Koofr proved to be a relatively speedy solution, though this will vary depending on how close you are to its servers, which are based in Germany. The testing was done with a download speed of 32 Mbps and an upload speed of 6 Mbps. Speeds were relatively close to the expected upload and download times, with some lag.
Koofr took around 31 minutes to upload a 1GB file, which is eight minutes more than the expected upload time of 23 minutes. Download speeds were better, with Koofr taking only five minutes to download the same file, with a difference of about 40 seconds from the expected download time.
Although Koofr is relatively fast to sync, it doesn't support block-level sync. This means that whenever you make changes to a file, all of it gets reuploaded to Koofr, instead of only the parts that were changed, resulting in longer sync times. If you need to work on large cloud-based files, pCloud is an alternative that offers block level sync with its generous free plan.
Security & Privacy
Koofr is a very secure cloud storage platform, offering end-to-end encryption and password-protected sharing. Its servers are based in Germany, which means that they are subject to strict EU privacy laws. Two-step verification is also available, making your login secure, as well.
All data that goes through Koofr is encrypted twice. It is first encrypted at the start of any file transfer, using the SSL/TLS protocol, so your files are safe while traveling to Koofr's servers. Once they are on the server, your files get reencrypted using 256-bit AES encryption. This means that your files are secure while on the server and safe from man-in-the-middle attacks.
Koofr doesn't offer client-side encryption, so if you want total security, you may want to use a third-party encryption service. Koofr also lacks zero-knowledge encryption because it still needs to access its users' files to provide previews and other similar services.
Customer Support
Koofr's customer support options are very limited, offering only email support. There is also a help center with a few articles on common issues, though it's pretty poorly structured and difficult to navigate.
Contacting support is done only through the web interface. There are several odd things about Koofr's customer support menu. It is oddly named, being labeled as "I found a bug" in the menu bar. This means it can easily be mistaken for something you're not looking for, and not all users will know where to look for a contact form.
Once you click the "I found a bug" icon, a pop-up appears with a contact form. There are some odd choices here, too, as the form already has a prewritten message in the body, featuring grammatical errors and weird capitalization. This is probably done to appeal to a younger crowd, but it might further confuse someone who's just having trouble sending cat videos to friends.
Thankfully, Koofr's support team responds quickly and is generally helpful, and they'll even redirect you to a programmer if your issue is of a technical nature.
The Verdict
Though it's not without issues, Koofr is a solid choice for anyone looking for a cheap storage solution that's clean and simple to use. Its free plan is solid, especially since it lets you connect other cloud storage platforms to your Koofr account.
Koofr may not be the most polished cloud storage, or the most secure, but it does offer some standout features. Whether you're already using several cloud services and you get overwhelmed trying to organize them all, or if you need a simple cloud storage solution without all the bells and whistles, Koofr just might be the best choice for you. Thank you for reading.