OpenDrive Review
New version is an improvement. Many unhappy customers. There much better alternatives out there.
By Mauricio Prinzlau – Last Updated: 26 Sep'17
Finding the best cloud platform for your personal or business use can take some digging.  
The chore is particularly challenging if you're looking for a single solution for both storage and backup, which usually requires using two different services.
That said, there are some good hybrid options out there, including personal favorites like SpiderOak and IDrive. However, today, we're looking at an unlimited cloud option that also has a dual nature, namely OpenDrive. But, OpenDrive bucks the trend by providing more than just a hybrid approach.
The service offers dizzying granularity in how file transfer rules get set, this difference, among a multitude of others, makes OpenDrive a somewhat polarizing pick among cloud enthusiasts.
While OpenDrive has become the preferred cloud platform for certain SMBs and enterprises, others find its mash up approach and complexity difficult to learn and disruptive, rather than productive.
So, whether or not OpenDrive should earn its place as your cloud platform of choice is an understandably loaded question.  During this review, we'll help nail down the technical details so that you can make that determination for yourself.
OpenDrive Review 2017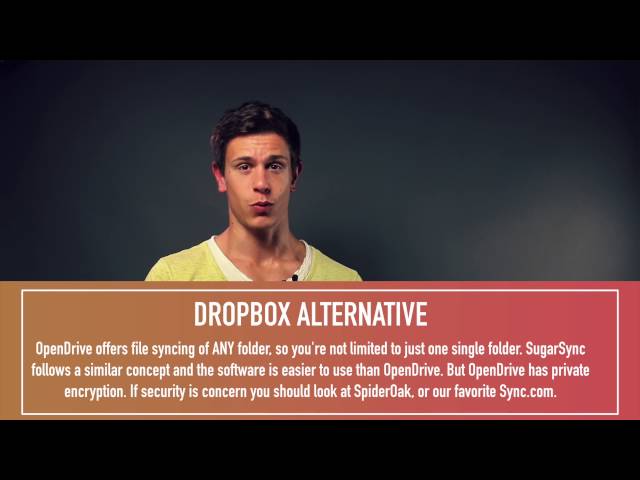 Strengths:
Unlimited cloud space

Backup & storage hybrid

Syncs content across devices

Superior granularity for file transfers

Creates a zero-knowledge folder

Microsoft Office Online integrated
Weaknesses:
Somewhat expensive

Poor user experience

No block-level file transfers 

Limited third-party apps

No two-factor authentication

Poor user support in general
Alternatives for OpenDrive
OpenDrive used to offer a seven-day free trial, now, it offers 5GB of permanently free cloud space instead. 5GB isn't the most generous storage allotment, though, and won't be of much use if you're trying to backup a hard drive.
Also, you're limited to:
100MB max file-size

1GB-per-day bandwidth limit

200KB-per-second transfer speeds
If you end up picking OpenDrive as a cloud data solution, there are two pricing models available: personal and custom. Both offer monthly pricing, and give users a nice discount for signing up annually.
---
| | | | | | | |
| --- | --- | --- | --- | --- | --- | --- |
| Plan | Free | Custom (Personal) | Personal | Custom (Business) | Business | Enterprise |
| Price Plan | | | | | | |
| Storage | 5 | 500 | Unlimited | 500 | Unlimited | Unlimited |
| Details | 100MB file size limit. 200KB/s bandwidth limit. | Unlimited Speed, File Size, and Computer Access, Auto Syncing and Backup, Online Tools, File Versioning, File Encryption, Redundant Backup. | Up to 4 account users can share this account and the owner can manage access of each account user. | Maximum amount of data downloaded per day is 25GB. | Create Notepads, Notes or Notelists, share notes and upload files. | User Admin Console, Access Management, User Statistics and Reporting, Activity Notifications. |
---
OpenDrive's Personal plan gives unlimited storage and backup at $9.95 per month. For most users, this should be the plan of choice. The custom plan starts at 500GB and currently has 14 different pricing options (all the way up to 100TB). We've listed five tiers above.
Maybe the first thing that catches your eye is that after the 1TB stage, custom pricing skyrockets past unlimited. Why pay $17 per month for 2TB when you can pay $9.95 for unlimited? Or $820 for 100TB, for that matter?
Most people won't.
However, if you're running a business, there are good reasons to choose the custom pricing model: account management controls and extensive user management. OpenDrive Personal doesn't have advanced admin controls. But the plan does give you the option of adding up to four users if you're looking for a small business solution.
---
| Total Users: | Monthly Cost: | Annual Cost: |
| --- | --- | --- |
| Two | $19.90 | $199 |
| Three | $29.85 | $298 |
| Four | $39.80 | $398 |
---
Overall, the pricing scheme runs on the expensive side, compared to many other cloud services. IDrive, for example, provides both backup and syncing capabilities at $69.50 a year for 1TB. Backblaze, meanwhile, gives unlimited backup for one computer, at just $5 per month.
Whether OpenDrive makes the most sense financially will likely depend on the kind of cloud solution you need, since it does do some things other services don't. We'll be detailing these unique aspects in future segments, so be sure to stay tuned.
We tested OpenDrive Personal for this review, however, for the most part, OpenDrive Custom offers the same features and user experience. Below, you'll find a table of the prominent features OpenDrive provides.
---
| Feature: | Description: |
| --- | --- |
| 1. Cloud Backup | Backs up folders or files automatically |
| 2. File Syncing | Syncs any folder or file automatically. Works with flash-drives |
| 3. Continuous or Scheduled File Transfers | Set files to transfer to the cloud in real-time, as changes are made, or schedule periodic transfers to reduce bandwidth consumption |
| 4. File Sharing | Share files and folders with without being restricted by email attachment sizes |
| 5. Online Access | Access your content from any supported web browser |
| 6. Desktop Apps | Applications for Windows and Mac are available |
| 7. Mobile Apps | Applications for Android and iPhone are available |
| 8. Task Lists | Integrated task and project management tool (up to 10 task lists) |
| 9. Notes | Creates unlimited notes and note lists |
| 10. Microsoft Office Online Integration | OpenDrive comes with Microsoft Office Online integrated and ready to use |
| 11. Unlimited Speeds | OpenDrive Personal doesn't restrict your data speeds or daily bandwidth. (OpenDrive Custom caps bandwidth, but you can buy more). |
| 12. File Versioning | Store up to 99 versions of any given file |
| 13. AES 256-bit Encryption | Files are scrambled using a 256-bit cipher |
| 14. Zero-Knowledge Folder | Store files in a private end-to-end encrypted folder |
---
In some ways, OpenDrive looks and behaves like:
And pretty much any other cloud storage solution.
There are some key differences, though. After signing up, step one is to download the OpenDrive app on a PC or Mac. Once you've done this, it's time to sign-in on your computer. Afterward, you'll be able to open an OpenDrive folder, which will be accessible from Windows' File Explorer or the MacOS Finder app.
With most cloud syncing folders, content stored inside rests both on your hard drive and in the cloud. Content in the OpenDrive sync folder, however, only lies in the cloud. This approach is pretty confusing if you're used to the Dropbox model, but OpenDrive's intent with this setup is to give users more granularity in defining the relationships between a hard drive and cloud content. 
Specifically, you can right-click on any object to define its device-to-cloud relationship — as "synchronize" or "backup."
Selecting "synchronize or backup" will open a wizard with three initial options:
Backup

Synchronize

Move
---
---
File transfers are a one-way affair: from device to the cloud. Any changes made to a file on your device will get backed up to OpenDrive. Choose synchronization, and the file transfer process becomes a two-way street. Changes made to a file on your computer gets mirrored in the cloud, and changes made in the cloud get mirrored on your computer.
And of course, synchronization has the advantage of supporting mobility. You can work on the same file while hopping from one device to another, so long as all of those devices have OpenDrive installed and are connected to the Internet. The third option, "move," isn't usually recommended, as it only transfers a file or folder from one location to another, with no persistent relationship defined.
Regardless of which selection you make, the next step is to establish a file path relationship. For backups, the first field should be a file path outside of the OpenDrive folder.  For example, select your "Pictures" folder (users/username/pictures). Then, in the second path, choose an OpenDrive folder, like "open drive/pictures."
---
---
With synchronization, it doesn't matter whether you indicate an OpenDrive location or a hard drive location first, since the relationship is a two-way affair anyway. Because the process isn't very intuitive, to help keep things organized, we'd recommend picking your hard drive location first, like we did. Once you get done with this step, now define a schedule for the backup or syncing process, and you're home free.
There are four scheduling options:
Permanently: sync/backup happens every 30 seconds

Hourly: checks to see if any file changes occurred on the hour

Daily: sync/backup runs between scheduled periods

Manual: updates are only made on demand
---
---
The next step, if you choose to take it, is to define some file-type rules for folders. You can choose to either set "exclusions" or "inclusions."
---
---
Exclusions prevent temporary files from getting backed up or synced, plus set customer filters. Inclusions limit what types of files get backed up or synced.
There are also options for ignoring files, based on their age and size. The final step of the OpenDrive wizard is to set notifications. These can be used to alert you when a file transfer process has completed or failed, among other things.
We're not necessarily happy about having to manage backup scheduling individually, for each and every folder (or file). Most cloud storage solutions sync in real-time automatically, and a majority of backup solutions let you define a schedule holistically.
Having to choose either a sync or backup relationship, for each folder, can also be rather overwhelming for someone with a lot of data. If you do so haphazardly, using OpenDrive might do more harm than good, slowing work productivity and breeding uncertainty.
So, here's a solution to the problem: If you want OpenDrive to mirror how a traditional cloud storage and backup app works, we'd recommend the following setup:
---
Create a sync folder:
create one folder for active work products and label it a "synchronization" relationship with OpenDrive
---
Mark everything else for backup:
Define all your other folders (documents, pictures, videos, etc) as backup
---
Try and avoid syncing or backing up individual files. Instead, define relationships at the folder level. Doing so will cut down on work and confusion.
If you're working on a computer that doesn't have OpenDrive installed, it's still possible to access all of your synced content from a browser. You can also access certain OpenDrive features not available in the desktop app, like:
Just like the desktop experience, the browser experience isn't nearly as intuitive as that provided by many other cloud services. However, the difference isn't quite as pronounced. Navigation options along the left side of the browser interface include:
Files: navigate through cloud folders and files
Notes: create and share unlimited notes
Tasks: create and share up to ten project management task lists
Users: create user groups for collaboration and monitor permissions
Further down, there are also the "settings" and "support" buttons. However, most of your work will get done in the files tab.
---
---
You can browse through folders and files in this tab, but there are no search options on hand — a huge miss in our opinion. Like other cloud platforms, users can upload and download files directly from the files tab.
Apps are available for Android and iOS, with both platforms featuring pretty similar interfaces. You can access all of your OpenDrive content from a smartphone. Better yet, OpenDrive's smartphone apps can play music and video files, plus preview documents.
---
---
Files can be set for offline access and are shareable. You can also set a phone up to automatically send valuable content like photos, videos, and notes to OpenDrive, to make sure you've got a copy of them saved. Both the Android and iOS apps also have a password lock feature.
---
---
Overall, the mobile experience is pretty sleek.
However, while testing out the Android app, it did crash on us several times, a fact that doesn't bode well for it. Concerned, we read through some of the app's reviews in the Google Play store and discovered other users were also experiencing crashes.  Random shutdowns can cause problems if you're in the middle of a file transfer or any other task.
You can share any folder or file stored on OpenDrive from its browser or mobile app. In the browser app, just select a folder or file to share and click the "share" icon.
---
---
Doing so creates a URL link pointing to the folder or file. If you pick a folder, individual links for content inside it will also get created (which is a nice touch, that provides added control). You can also right-click on any shared content and choose "send by email."
---
---
Beyond that, you'll have to distribute links manually. There's no option to drop links automatically into social media services like Facebook and Twitter. Though, that's not a big deal.  We're more concerned about the absence of control options that are available on better privacy-oriented cloud solutions like:
These include the inability to:
Set link passwords

Set link expiry dates

Set link permissions

Audit file events
You can set password permissions on individual files, but you have to right-click on a single file and select "properties" to do so. So the problem is that such controls are too divorced from the link-creation process. Again, OpenDrive suffers from a non-intuitive design, that can lead to missteps if you don't know what you're doing.
---
---
Sharing from the mobile app is a pretty simple affair. Just open any document, video, photo or other file, and tap the "share" icon to copy the file's link to your clipboard.
---
---
Alternatively, you can tap the "arrow" icon to the left of the share icon, to distribute a file on YouTube, by email, or other means. There's even a dedicated "share by email" button.
File versioning is a means of protecting data from misguided collaboration edits, disk errors, and even ransomware attacks. With file versioning, after a file gets changed even slightly, you can revert it back to an earlier version.
OpenDrive supports up to 99 file versions, which is many more revisions than most other cloud platforms offer. The service also stores these versions indefinitely, while many competitors limit versioning to 30 days. Be warned, however, that OpenDrive is set to retain only ten versions of a file by default.
---
---
You'll need to increase that limit by logging in through a browser and going to "settings > my profile." Under the option called "max versions," select how many versions you want to keep by default. With versioning switched on, just right-click on a file in your OpenDrive folder and select "versions" from the drop-down menu.
Compared to cloud industry leaders like Dropbox, Google Drive and OneDrive, and business-favorites like Box and Egnyte, OpenDrive offers pretty meager application integrations. A native "notes" tool can create unlimited notes, and you can share them with others. Most users likely won't get much use out of this feature, though, since there are much better cloud-based note-takers (like Evernote and OneNote) out there.
Likewise, OpenDrive's task-tracking capabilities fall short of other cloud-based options, like Todoist, Wunderlist and Any.do. We do like that OpenDrive comes integrated with Microsoft Office Online. To access it, just go to the browser files tab, click the file icon near the top, and choose:
New Document: Create a new Word document

New Spreadsheet: Create a new Excel spreadsheet

New Presentation: Create a new PowerPoint presentation
Of course, you can open or edit Office content stored in OpenDrive's cloud, and collaborators can use those tools to edit content if you've given the file "edit" permissions. Beyond that, plug-and-play third-party application integrations are non-existent.
However, OpenDrive does have an API, so perhaps the lack of third-party support will change for the better, in the future. In the meantime, anyone with the technical resources can use the API to build an app and connect it to OpenDrive's cloud system.
This ability makes it a somewhat decent pick for SMBs and enterprises, though not on the same scale as Egnyte and Box. OpenDrive can also be used with odrive, which lets you nest cloud storage solutions together, and there's also an OpenDrive plugin for WordPress.
To see how well OpenDrive handles file transfers from a desktop to the cloud and vice-versa, we performed a few benchmark tests over a Wi-Fi network. Before starting, we did a quick check on speedtest.net, to confirm the download and upload speeds we were working with:
Download: 40Mbps

Upload: 12Mbps
For both upload and download tests, we used a 500MB compressed folder, comprised of various file types. To test upload speeds, we moved that compressed folder into the OpenDrive folder to see how quickly it showed up online. Then we downloaded it from the cloud, to a new location on our hard drive.
Here's what we got:
---
| | Time: | Megabytes per Second: |
| --- | --- | --- |
| Upload: | 4 minutes, 30 seconds | .95 |
| Download: | 15 seconds | 10 |
---
So, uploads move at around 1MBps, while downloads run at around 10MBps. Of course, your results will vary from ours, based on your proximity to OpenDrive' servers. These transfer times are roughly similar to what other cloud services offer.
What concerns us, though, is that while OpenDrive implements incremental file transfers to limit bandwidth usage, the service doesn't perform block-level incremental file transfers. Block-level transfers only upload the parts of a file that get changed.
That makes block-level architecture critical to speedy backups, near real-time syncs and rapid-fire collaborations. Without this feature, OpenDrive lags behind in the syncing and backup game, when compared to most other cloud solutions.
OpenDrive takes the steps we'd expect when it comes to file protection, while they're in-transit and at-rest — and then goes above and beyond in a big way. In-transit encryption comes courtesy of 128-bit SSL/TLS connections, which prevents eavesdroppers from pilfering through your files. Once your files arrive at the OpenDrive data center, they get encrypted again, this time using 256-bit AES.
Server-side encryption is critical to ensuring content doesn't get compromised during a data breach. What OpenDrive adds to the equation, is an option (for paying users only) to protect content with zero-knowledge encryption, in the "Secure Files Folder" option.
Zero-knowledge encryption is also known as private end-to-end encryption. It means that only you, the user, holds the key required to encrypt or decrypt your content. Not even an OpenDrive employee can decrypt and read your files, making it the most secure way to protect data.
The obvious downside, of course, is that if you forget the encryption key, your files are mostly gone forever (unless the key gets remembered or retrieved). So, if you opt to make use of the OpenDrive Secure Files Folder, consider investing in a cloud password manager, or double up with external storage.
However, password protection is one area where we'd like to see OpenDrive step up its security game. The service doesn't currently offer two-factor authentication, which is now a staple amongst all of its peers.
Two-factor authentication means a user has to enter a security code to access their cloud content from any unknown device, in addition to a username and password. It's a good way of protecting oneself from brute force attacks. So, make that password doubly secure if you're going to go with OpenDrive.
OpenDrive maintains a customer support portal, using the ZenDesk platform. The portal's main page includes a search feature to help find articles more easily, plus categories for:
Announcements: product updates and other news

FAQs: common questions about the service

Knowledge base: how-to guides

Known Issues: reported bugs  
While the layout works, we found these categories to be pretty skimpy regarding content, for example, there are only 17 knowledge base articles. However, there is a page in the knowledge base section dedicated to "user guides," which are downloadable PDFs for:
On the support portal's right side, you'll find links to the OpenDrive community. We liked the inclusion of user forums, since they're often a great resource for trading ideas with other users, mainly when looking for new or unusual solutions.
If you can't find answers in the help portal, try contacting OpenDrive directly.
Unfortunately, live support — either in the form of a telephone number or chat — isn't offered. Those looking for a business cloud storage solution might want to look elsewhere, for this reason alone. Directly contacting OpenDrive gets done via a web form, which eventually leads to an email response.
Contact options include:
Technical support

Sales

Billing

Business solutions

Account closures

Partner inquiries
You can set a priority level to submissions (low, normal, high or urgent), but OpenDrive doesn't indicate what sort of turnaround difference that makes. We submitted a "high" priority request to sales and got a response back in just under 48 hours. That's not responsive enough, without live support offered, too.
To say that OpenDrive marches to the beat of its own drum is something of an understatement.
On the one hand, it's somewhat refreshing, and on the other, it's a bit perplexing. If you can negotiate the learning process and pay close attention to how to set up file transfer rules for various folders, there's no question that OpenDrive can succeed as both a cloud backup and cloud storage tool.
But the lack of a good customer support structure makes this service something of a lonely road, however.  
Unlimited storage, a zero-knowledge folder, MS Office Online, and API support make it a practical choice for those looking for business-oriented solutions, and have some DIY abilities. For ordinary consumers who are looking for something straightforward and low cost, though, might be better off looking elsewhere.
Our biggest concern for all users might be the lack of block-level incremental file transfers, which can throw a serious wrench in your productivity — if it's a time-sensitive issue. Of course, we'd love to hear about your experiences with OpenDrive, so please leave us with a few words in the comments below.
And as always, thanks for reading!
OpenDrive Features
OpenDrive
Free Storage
5 GB
Free Trial
System
Price
Starts from $ 5.00 per month
Mobile Access
Mobile Apps
Syncronisation
Free External HD Backup
Continuous Backup
Incremental Backup
Backup Scheduling
Bare Metal Backup
Exclude File Extensions for Backup
Network Drives
Bandwidth throttling
Web Access
HIPAA Compliant
File Size Limit
Unlimited GB
Included Machines
1
File Sharing
Multiple Accounts
Share Photo Albums
Music Streaming
Folder Collaboration
Outlook Backup
Local Encryption
Server Side Encryption
Keeps deleted files
Unlimited
File Versioning