The Best Online Document Storage Services in 2023: File Collaboration & Sharing
Finding the best online document storage service for your files can feel overwhelming. In this article, we simplify the process by breaking down the best bang-for-your-buck cloud storage providers. From best-in-class privacy and security to the leading services for collaboration, there's something for everyone.
Having the ability to save, sync and share documents online is vital for businesses, professionals and students. All the leading cloud services offer effective and secure online document storage, but some naturally do it better than others. In this article, we look at the best five options when it comes to storing your documents in the cloud.
Key Takeaways:
Sync.com is the best storage option for online documents and should appeal to individuals and businesses.
Egnyte is the business-friendly option that will help companies securely store and share business documents, as well as offering a wide range of add-ons that will help improve workflow.
Google Drive, Microsoft OneDrive and Dropbox all offer a mainstream experience with easy-to-use integrated tools. However, the trade-off is that you give up your privacy and data.
The best online document storage solution you can use right now is Sync.com because of its excellent security features, prioritization of privacy and competitive pricing. It's also packed with a host of useful features for file versioning that ensure you never lose or permanently override an important document.
However, it's not the only option available, and some users may prefer form over function, with more mainstream services. In this article, we've put together a list that targets all types of users, ensuring there's something for everyone and that you can make the best-informed choice as to where to store your documents.
06/29/2021

Cloudwards.net updated this article, reflecting new service suggestions, adding Egnyte and removing iCloud.
The best way to store your documents online is through Sync.com. You get one of the best services in terms of security and can automatically add your documents to the cloud by installing the "sync" folder directly on your computer.

Most leading cloud storage providers offer free storage space when you sign up and create an account. Google Drive wins the prize for being most generous, as new and free users can enjoy 15GB of free storage space when they create an account. That's much better than the 5GB offered by Microsoft OneDrive, and the disappointing 2GB offered by Dropbox. Check out our best free document management guide.

The process of storing business documents online is the same as storing any other type of document in the cloud. However, some services, like Egnyte, cater more toward the business user. The company's EFSS system allows for effective file sharing and collaboration with multiple employees.
Best Online Document Storage Comparison
What Makes the Best Online Document Storage Service?
There are several factors to consider when choosing the best storage option for your documents. Security, ease of use, collaboration features, offline access and storage capacity are all integral parts of the best online document cloud storage services.
If you handle sensitive files, then security has to be at the forefront of your decision. So, cloud storage services that offer end-to-end encryption and are a zero-knowledge provider should certainly catch your attention. It means you, the user, can have peace of mind that your documents remain private and that you have full control of who can see and use your data.
For those of you who are part of a team that collaborates on documents simultaneously, then ease of use is likely what you want. The likes of Google Drive and Dropbox are often the go-to online document storage solutions for collaboration, as they offer features that allow a team to work on a document with little-to-no complication.
However, the tech sphere is still waiting for an online cloud storage service that ticks all the boxes. Some excel in areas where others don't, and vice versa. Yet what is available on the market right now is still high quality. Even if the perfect service is yet to exist, we're confident in recommending all of the below online document storage providers.
These selections cover all the bases you would expect. Plus, we're going to break down each service to help you understand what they do, how they do it and which one is best for you. You can also read our document management best practices guide to learn more.
The Top 5 Online Document Storage Services
Our top picks for the best cloud storage services will appeal to a range of users, including small to large businesses.
Pros:
Automatically saves older versions of edited files
Recovers deleted files easily
Unlimited file sizes
Fantastic privacy & security
Cons:
Collaboration options could be better
Slower sync speeds compared to other services
Free version only offers 5GB of storage
Sync.com may be a polarizing selection for our best option for online document storage, as its limited options for collaboration will surely be a turnoff for some. However, the benefits that the platform offers far outweigh its limitations.
The cloud service offers best-in-class security for your documents. With must-have features like end-to-end encryption (across all plans), users can enjoy peace of mind that their documents are safe from potential cyberattacks.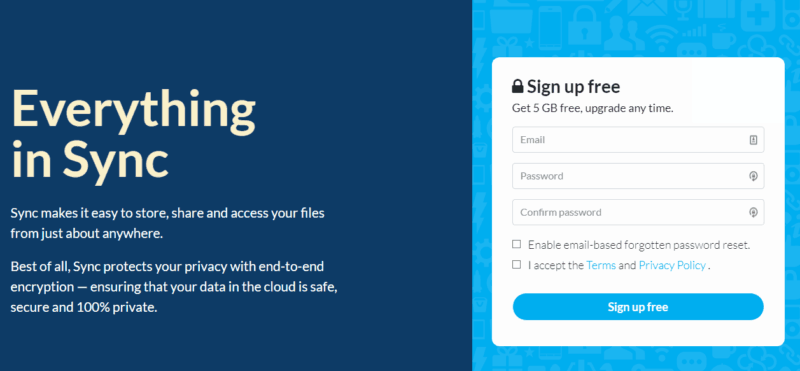 Cloud Versioning & File Recovery
If you're someone who constantly edits your documents, then Sync.com — the best cloud storage for versioning — is likely to be your best friend. The versioning feature allows users to access older versions of files, which is particularly useful if you've made edits you later wish didn't. Plus, if you accidentally delete a file, there's no need to worry. Sync.com offers a deleted file recovery option, which doesn't count toward your selected cloud storage quota.
Like a lot of online document cloud storage services, users are able to download the Sync.com desktop app directly onto their computer. Doing this generates what the company calls a "sync" folder. When users save their documents to the folder, it then automatically syncs them to the cloud. If you want to learn more about our favorite cloud storage service, check out our Sync.com review.
Pros:
Among the best EFSS options for business users
Supports Microsoft Office & Google Workspace
Solid collaboration options
Cons:
Business plan is expensive for 2TB
For businesses, it's hard to recommend any other service than Egnyte. In fact, we ranked it as the best EFSS (enterprise file sync and share) provider. Egnyte's EFSS system allows for fluid and secure file sharing across multiple users in your business — but that's not all.
Egnyte separates its storage space between both private and collaborative folders. This gives you full control over which documents are accessible for multiple employees and which folders remain private to one or more selected users.
The level of third-party integration makes Egnyte an extremely attractive option. It offers native support for both Microsoft Office and Google Workspace, but it doesn't stop there. Egnyte supports an integrated form builder and Adobe Sign, on top of a long list of add-ons that can help you efficiently run your business.
Team vs Business Plans
However, when it comes to the amount of storage space available, Egnyte perplexes us with its offering. For example, the Team plan gives users 1TB of shared storage, while the Business plan also offers the same 1TB of shared storage for twice the cost.
You do get an extra 10GB of storage for each employee that you include in the Business plan. Users on the Business plan all have access to features like local file caching, public cloud file caching (for fast access to files) and mobile PDF annotation, all of which are lacking on the Team plan. We're not sure if this is really enough to warrant an upgrade, but if you need the extra storage space, then the Business plan should be your preferred choice.
We would prefer to see the storage options more competitive when it comes to price. However, when you consider all the other additional features the platform offers, overall, the cost of the service certainly feels worth it. To learn about what Egnyte can do for your business, check out our full Egnyte review.
Pros:
Superb for collaboration
One of the cleanest mobile apps for cloud files
15GB of free storage space
Integrated word processor for document creation
Cons:
No zero-knowledge encryption
Privacy concerns
Google Drive has all the potential to be the best option for online document storage. It's relatively easy to use, plus creating, managing and sharing documents feels like a walk in the park.
Users can create documents directly in the Google Drive desktop app and the mobile app, both of which will automatically save your document to the cloud. Sharing a document is a breeze, too. You can either generate a sharable link (which also allows you to determine user permissions, such as being able to view or edit) or add a user's email address to send the document directly to their account.
Instant Collaboration
The service really comes into its own when it comes to collaborating on a document with others. Google Drive allows multiple users to edit and comment on documents all at the same time. Team members can leave comments or suggested edits in documents, which you can choose to accept with just the click of a button — doing this automatically updates your document to the new, edited version.
Sadly, Google drops the ball when it comes to privacy. While the topic remains a gray area, it's widely believed that Google staff and algorithms can view user data. This should certainly be a concern to business and individual users, respectively. For its full features and services, read our detailed Google Drive review.
Pros:
Complete Office 365 integration
Fast file syncing across desktop & mobile devices
Fantastic collaboration features
Easy to use on mobile devices
Cons:
Limited file versioning
No zero-knowledge encryption
Microsoft OneDrive is the perfect option for those creating documents in Office and using a PC. First of all, OneDrive comes preinstalled in all Windows computers, making it straightforward to get things started.
OneDrive removes the need to create documents locally on your computer and then transfer them to the cloud. Because of the full Office integration, you can create and edit a document directly in the platform. This reduces the risk of file corruption and ensures your important documents remain intact and easily accessible.
File sharing is simple across all Microsoft services, such as Outlook, Skype and OneNote, too. Plus, users can enjoy fluid document collaboration with real-time editing and the ability to add notes on documents.
Customer Support
For business owners whose company revolves around document creation and collaboration will need to consider customer support. Microsoft's OneDrive doesn't offer 24/7 customer service, live chat or telephone support. So, if you have a technical issue with your system, you'll have to wait for an email response before resolving the issue.
Readers will notice the similarities between Microsoft OneDrive and Google Drive. Not much separates the two, and which one is right for you comes down to the productivity tools you enjoy using the most. To learn more about what Microsoft OneDrive has to offer, go check out our full OneDrive review.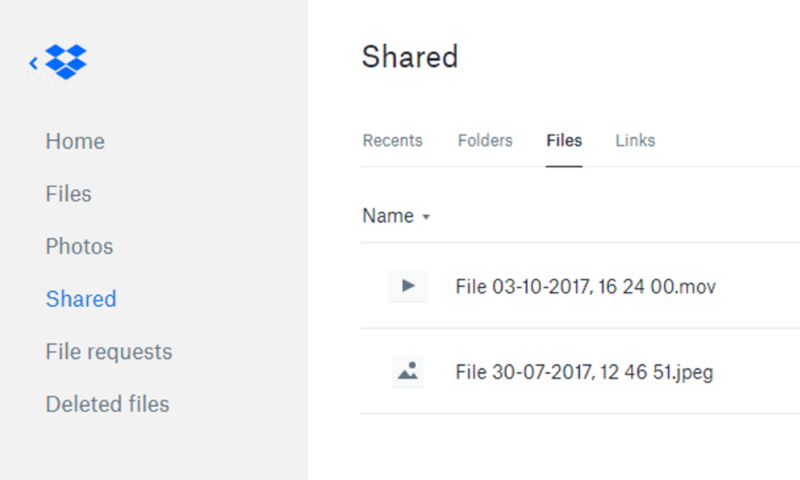 Pros:
Office & Google Docs integration
Easy-to-use collaboration tools
Smart Sync feature helps free up hard disk space
Cons:
Poor privacy
Can only create a Google document in Chrome or Safari
Only 2GB on free version
Dropbox is one of the earliest players in the cloud storage game. Because of that, the company has been able to create a document storage solution that appeals to a range of users.
It hasn't allowed competition with the likes of Microsoft and Google to get in the way of a good product, either. Instead, it has integrated apps like Office, Google Docs, Sheets and Slides, to ensure users can use the tools they enjoy while remaining inside the Dropbox platform. For example, you can add Dropbox to Office 365 to continue editing Office documents from the Dropbox app.
You can create new documents directly inside Dropbox on any browser. However, you can only create a Google Doc through the Chrome and Safari browsers. This will disappoint users who prefer speed demons like Vivaldi (read our Vivaldi review) or some of the other faster browsers available.
Free Version: 2GB
It's clear that Dropbox wants users to pay for additional storage space, too. For those handling big files, the 2GB of free storage capacity given to new users isn't going to be anywhere near enough.
Unfortunately, Dropbox continues an unpopular theme when it comes to the more mainstream online file storage services: poor privacy. The service doesn't offer zero-knowledge encryption (which means only the user can access their files and data), and its privacy policy states openly that the company can freely access your personal information.
Considering other cloud services prioritize consumer security and privacy, it's a shame such an established name won't do that same. To learn if Dropbox is the right online document storage service for you, go check out our Dropbox review.
Final Thoughts: The Best Cloud Storage for Documents
Let's deal with the elephant in the room: all the best cloud storage options are similar in what they offer. While some services excel in privacy and protection, others cater more toward collaboration and ease of use.
In fairness, finding a balance between the two isn't easy. When a service prioritizes privacy, the catch is a lack of collaboration and limited third-party integrated apps in order to ensure your files remain private and secure. However, for an overall user-friendly experience, with peace of mind that your online documents are safe and easily accessible, Sync.com remains our number one choice for most users.
If you're a business owner where a robust, effective system is a must, Egnyte is the way to go. The company's approach to security ensures your business information and files are protected. Plus, its powerful tools allow for mass collaboration and fluid file sharing between the employees of your company, which is why it's our best document management software.
For students, or solo users who like the tools the big tech giants offer, Microsoft OneDrive and Google Drive are perfect options, but you need to be the type of person who doesn't mind if either company is potentially snooping around your business.
What are the key features you look for when choosing a cloud service? Do you prioritize the most robust level of security? Or do you prefer a service that easily allows you to collaborate on a document with others? We'd love you to let us know in the comments below. Thanks for reading.