Online security is always a hot topic here at Cloudwards.net. While we recommend finding a top VPN service to shield your internet shenanigans, when it comes to the cloud, there's nothing quite so comforting as private, end-to-end encryption.
In cloud storage, such encryption is commonly called zero-knowledge encryption, and its a feature you won't find with big name players like Dropbox, Google Drive and OneDrive. We've previously compiled a list of the best zero-knowledge cloud storage picks. During this head-to-head, we're going to directly compare two of our favorites: Sync.com and pCloud.
You can check out our separate Sync.com review or pCloud review if you'd like to learn more about either service or make use of our library of cloud storage reviews to find other options. Also, don't forget to read over our best cloud storage guide, where both Sync.com and pCloud feature prominently. We also have a video recap of this article if that's more your style.
Sync.com vs pCloud Video Review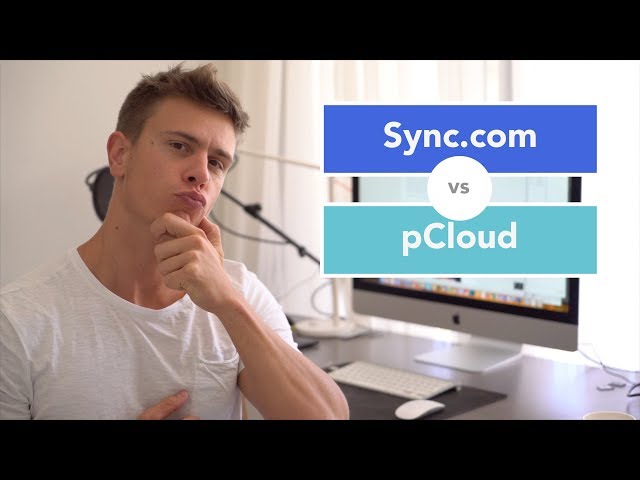 1

Sync.com




★★★ Best Cloud Storage ★★★


www.sync.com

/month

Sync Folder

File Link Sharing

Folder Sharing
2

pCloud




10 GB Free Storage


www.pcloud.com

/month

Sync Folder

File Link Sharing

Folder Sharing
Picking the Best Zero-Knowledge Cloud Storage Provider
Sync.com and pCloud are two cloud storage services which compete within the same niche. Rather than a focus on productivity, like you get with Dropbox and Google Drive, these two services are designed with privacy in mind.
That privacy hinges most on a security feature known as zero-knowledge encryption. This method of encryption means that only you, the account owner, control the encryption key. Neither Sync.com nor pCloud (if you're using the pCloud Crypto add-on) can read your files.
That means that, unlike the previously mentioned Dropbox and Google Drive, neither Sync.com nor pCloud (again, if you're using the pCloud Crypto add-on) could ever participate in sketchy marketing practices or hand your data over to the NSA.
Security, as we'll see, seems a bit more in Sync.com's DNA than pCloud's for a variety of reasons. Both services are great for the privacy-minded user, however, and both do tons of other things well besides.
Over the course of five rounds, we'll compare Sync.com and pCloud head to head to help you figure out which, if either, best fits your needs. After each round, we'll name a winner, then compile our thoughts at the end to name our top pick.
Up first, we'll consider the cost of storage for each service. As it happens, Sync.com and pCloud are two of the best deals in cloud storage today. So this should be fun.  
Sync.com
The main issue with Sync.com subscriptions are that you have to pay for a year up front. There's no month-to-month option like there is with most other cloud storage services. However, if that doesn't turn you off, the cost of service is among the most reasonable in cloud storage, too.
There are two paid plans to choose from. The first gets you 500GB for $49 dollars annually, which works out to a little over $4 per month. We love the option, given that too few competitors offer less than 1TB, often forcing you to buy more storage than you need.
If you do need more, the next tier jumps all the way to 2TB of storage. While that may seem like an extreme increase, the price makes it worthwhile. The $96 annual subscription fee works out to just $8 per month, which is $2 cheaper than 1TB of Dropbox storage (see Sync.com vs Dropbox for more comparisons).  
If your needs are much less, Sync.com also has a basic plan that won't cost you a dime. You get 5GB of storage for free, and can increase that by 1GB for each referral you make — with no limit. Its generous referral program is why we consider Sync.com one of the best free plans in cloud storage.  
pCloud
One of the advantages of going with pCloud over Sync.com is that it does provide a month-to-month payment option. However, paying for a year of service will save you a nice 20 percent. If you're a pCloud superfan, lifetime subscriptions are now offered, too.
pCloud provides two paid storage tiers, just like Sync.com. You can go with 500GB of storage or sign up for a 2TB plan, if you need more space.
The annual pCloud costs are close to identical what Sync.com is offering: around $4 for 500GB and $8 for 2TB. Like with Sync.com, we appreciate the 500GB option and the overall value, which beats out the most bigger names.  
Month-to-month subscriptions cost $4.99 for 500GB and $9.99 for 2TB, which is still highly competitive.
pCloud does offer a free plan, giving you 10GB of storage to work with. pCloud has a referral program, too, but rather than gigabytes you get dollars for convincing others to sign up. Each referral that spends at least a month with pCloud will net you $5, with no limit on how many people you can refer.
Round One Thoughts
For both Sync.com and pCloud, value is a top selling point. There's not much to separate the cost of storage between them, either. It's not surprising that the price tag is nearly identical, given that both services target the same, privacy-oriented crowd.
Many people will find the costs a wash, with other considerations more important to their decision making. However, ties are no fun.
The truth is, the value question actually gets a bit more complicated because pCloud charges extra for zero-knowledge encryption and extended versioning, while Sync.com does not. However, round one is about cost of storage; we'll address those add-on costs in due course.
We're awarding round one to pCloud thanks to the option of month-to-month payments, lifetime subscriptions and more free cloud storage (10GB vs 5GB).
Round: Storage Cost
Point for
pCloud
File synchronization, or sync, is an essential feature of cloud storage that lets you to edit a file on one device and see corresponding edits on identical files stored on other devices. Dropbox is the king of sync for reasons you can read about in our Dropbox review, but Sync.com and pCloud both both surpass most of the rest of the competition.
Which one is better? To find out, we tested file upload and download speeds using a 1GB test folder. Tests were run over a WiFi network with 10 Mbps upload speeds and 22 Mbps download speeds.
Sync.com
You can connect as many devices as you want to Sync.com for file synchronization. Supported platforms include the usual suspects, Windows, OS X, Android and iOS. Linux isn't supported, we have an article on the best cloud storage for Linux article if that's something you need.
Installing the client on your PC or Mac will create a special sync folder in your file system. Move files into that folder, and they'll be stored on both your hard drive and the cloud by default, as well as in sync folders on other computers you've connected to your Sync.com account.
There's nothing novel about the approach among cloud storage services, which was popularized by Dropbox. However, some handle file copying more efficiently than others. Here are the results of our speed tests with Sync.com:
---
| | Test One: | Test Two: | Average: |
| --- | --- | --- | --- |
| Upload: | 16 minutes, 30 seconds | 14 minutes | 15 minutes, 15 seconds |
| Download: | 7 minutes | 7 minutes | 7 minutes |
---
While not the best we've ever seen, the upload and download speed averages are within a few minutes of big-name options like Dropbox and Google Drive, both of which have the advantage of global server networks.
We tested a 1GB file, too. Most files you work with are likely going be substantially smaller, in which case synchronization with Sync.com should approach the ideal mark of near real-time.
Sync.com lets you adjust the amount of bandwidth used for sync, which can help save system resources for other tasks. Make these adjustments via the the network tab of the Sync.com desktop control panel.
By default, Sync.com adjusts sync speeds automatically, slowing down when the client detects an issue. You can switch that to a hard cap of between 50 Kbps and 5 Mbps for both uploads and downloads.
We would like to see an option for "do not limit," which you'll with some other cloud storage services. The client itself needs some work, too, as the text windows in the network tab are too small, cut off text and can't be resized.
In order to take full advantage of the 2TB Sync.com plan, you'll likely want to turn sync off for some files so that you're storing them just in the cloud and not also on your hard drive.
Sync.com lets you do so by turning sync off for sub-folders in your sync folder, a feature called selective sync.
Our only quibble is that, as with bandwidth throttling, the Sync.com control panel has some sizing issues that cut off text and make it harder to use than it should be.
pCloud
pCloud also uses a sync folder model to make device synchronization as simple as possible. Clients are available for Windows, Mac and, unlike Sync.com, Linux. Android and iOS are both supported, too, with mobile apps.
After installing the desktop client, a pCloud folder will be created in your file system.
If you'd like, you can actually define custom sync relationships using pCloud's desktop control panel, where you can link folders in your file system to folder locations in the cloud.
While multiple sync folders might be hard to manage across multiple devices, the option is welcome and not one you'll see with most other cloud storage services, including Sync.com, which only let you have one sync folder.
We tested pCloud file copying speed using our 1GB test folder. Here's what we got:
---
| | Test One: | Test Two: | Average: |
| --- | --- | --- | --- |
| Upload: | 22 minutes | 20 minutes | 21 minutes |
| Download: | 8 minutes | 8 minutes, 30 seconds | 8 minutes, 15 seconds |
---
As you can see, uploading our 1GB folder with pCloud took about six minutes longer than with Sync.com. Downloads took two minutes longer.
Again, you hopefully won't be working with files as large as we did in our testing. However, the difference is fairly large. Moreso, anyway, than the differnece between Sync.com and Dropbox. pCloud lets you adjust sync speeds using the desktop control panel.
Our tests were run using "unlimited" bandwidth, an option pCloud gives you that Sync.com does not. Automatic throttling is also an option, or you can set a hard cap of any speed you want.       
pCloud also lets you set the client to ignore certain file patterns when syncing, in case you'd like to not sync specific files or file types. Sync.com — and most other cloud storage services — doesn't have this capability.
That addition doesn't nearly outweigh the fact that pCloud doesn't have an option for selective sync. pCloud makes use of a network drive called pCloud Drive that gets added to your file system if you'd like to store files only in the cloud and not on your computer.
While the network drive approach works, it's also more work than selective sync, especially if you often change what files you want to sync and what you don't want to sync. It's much easier to simply be able to turn sync on or off in your folder.
Round Two Thoughts
pCloud has some nice sync features like the ability to setup multiple sync folders and exclude file types from sync. It also has more flexible sync throttle options — not to mention a nicer control panel than what you get with Sync.com.
However, file uploads and downloads were slower in our testing of pCloud than with Sync.com and the lack of selective sync diminishes the user experience considerably.
Sync.com doesn't do anything special with regard to file sync, but it performs on a level close enough to major cloud storage services that most people won't notice a performance difference.
The ability to share files with others is a natural extension of storing files in the cloud, letting you work around file size limits on email attachments and other storage issues.
Nearly all cloud storage services today let you share content by creating file links. There are big differences in execution, however, with features designed to control access to links accounting for most of them.
Sync.com
Using Sync.com, you can share stored files directly from your sync folder, or through your browser or mobile app.
Doing so creates a link that you can send via email address or distribute manually.
That's all pretty commonplace. What's not is that Sync.com also provides some additional link settings to help maintain control of your content. Key settings include password protection, expiry dates and configurable download limits.
To help track activity, you can also set notifications for link activity. There's even an option called "enhanced privacy," which extends Sync.com's zero-knowledge encryption to file shares.
When creating a link for a folder, every file inside that folder gets its own separate link with Sync.com. It used to be that those you'd shared the folder with would have to download each file individually; however, Sync.com now includes an option to download the entire folder at once as a .zip file.
There's also an option to create a folder upload link, which lets others upload files to your cloud storage space even if they're not Sync.com account owners themselves.  
Sharing folders rather than files lets you restrict file access to specific people based on email address rather than generating a link. In sharing a folder by email address, you can also add folder permissions like view only and edit.
Finally, you can audit both links and folders you've shared using dedicated browser views for each. These views are good for auditing what content you've shared so that you don't lose track. It might seem like a simple thing, but many cloud storage services overlook this capability.
pCloud
You cannot share individual files through your desktop sync folder with pCloud. There is, however, an option to setup shared folders via the desktop control panel.  
Generally speaking, though, it's best to share with pCloud using the browser interface or a pCloud mobile app, which provides many more options.
Each folder and file lets you create a download link.
You can share the link manually or send it via email address. pCloud even lets you import your Gmail contact list to help.
As with Sync.com, you can also set passwords and expiry dates for links.
You don't get some of the other options, though, like setting download limits and activity notifications. Each link does have a statistics tab, however, if you want to check total downloads.
pCloud has more share options for folders than for files. These include the ability to generate an upload link that others can use to add files to your clouds storage and an option to permit access based on email rather than creating a link. Like with Sync.com, doing so lets you grant others view or edit permissions.
Finally, pCloud does let you audit both folder shares and links with dedicated views so that you don't lose track of what access you've granted.
Round Three Thoughts
Both Sync.com and pCloud handle file sharing very well. In fact, we ranked these two services number one and number two for file sharing in our last best cloud storage guide update. It's the little things that matter: password protection for links, expiry dates, upload links and tools to audit shares make both safer for this task than even the biggest names in the industry.
Ultimately, we gave Sync.com the nudge over pCloud in our buyer's guide, and we'll do the same here.
The big reason for that is that Sync.com lets you protect links with zero-knowledge encryption, while pCloud does not. That means the company could technically see what files you're sharing with pCloud, but not with Sync.com. The ability to set link download limits is another advantage in Sync.com's favor.
We mentioned earlier that cloud security is the bread and butter of both Sync.com and pCloud. While both excel over the competition when it comes to storage cost and file sharing features, their status as zero-knowledge encryption cloud services is what most defines their competitive niche.
Sync.com
Sync.com provides zero-knowledge encryption by default. In fact, there's no way to actually turn it off. In theory, this will slow down sync speeds some because encryption takes longer and Sync.com can't use file metadata for indexing. However, as revealed in round two, Sync.com still moves along at a nice clip.
You can change your password at anytime from the desktop control panel. This password is used to generate your encryption keys.
Because Sync.com doesn't know your password, it can't know your encryption keys. However, that also means if you forget your password, you'll lose access to your cloud storage.
The level of encryption used is AES-256. AES is the encryption protocol that's most common among cloud storage services today, and 256-bit AES can't be cracked (that we know of).
Sync.com also gives you the option of using two-factor authentication, which we suggest activating. Two-factor authentication requires an additional security code to login into your Sync.com account when on a computer the service doesn't recognize. This code can be received via email or Google Authenticator, a mobile app.
The value of two-factor authentication is protection against password theft, which is much easier to pull off than encryption key cracking — especially if you've got a weak password.
If your computer is stolen, Sync.com also lets you remote wipe your sync folder so that whoever has it won't, at least, be able to steal your selfies.  
A final advantage of Sync.com is that it's based in Canada, which has generally stronger information privacy laws than the U.S., where most cloud storage services are based. However, with zero-knowledge encryption, location isn't such a big deal.
pCloud
pCloud provides zero-knowledge encryption, but unlike Sync.com, it doesn't do so by default. You actually have to pay extra to get it, through an add-on called pCloud Crypto.
The cost of pCloud Crypto is $4.99 per month. You can save 20 percent by paying for a year in advance, for a total of $47.88. As with the subscription plans, you can also make a one-time payment to get Crypto for life; the cost is $125.
With Crypto added, you have to make use of a separate secure folder to take advantage of private, end-to-end encryption, so don't make the mistake of thinking files in your regular sync folder are protected, too.
Additionally, as mentioned, shared files can't be protected with zero-knowledge encryption when using pCloud. The service uses AES 256 for maximum protection against brute-force hacks, so that's good to see.
What's not so good is the absence of two-factor authentication. Make absolutely certain you use strong, unique passwords for your pCloud account, since there's nothing to stop anybody who steals yours from accessing your account. Follow our tips for creating strong passwords if you want to follow best practices.
Round Four Thoughts
Despite the miss on two-factor authentication, the fact that you have to pay for zero-knowledge encryption and the fact that file shares can't be secured, pCloud ranks one of the best secure cloud storage tools.
Sync.com is our absolutely favorite cloud storage pick when it comes to privacy, however. The service doesn't really miss a beat when it comes to making sure your files are for your eyes only, from its location in Canada to free zero-knowledge encryption and two-factor authentication.
Storage cost, sync, share and security are the main reasons to consider Sync.com and pCloud. Neither has the integrated productivity apps, for example, that make Google Drive stand out (read how to use Google Drive). That said, the cupboard isn't entirely bare when it comes to additional features.
In our final round, we decided to highlight some of the features that we felt might sway buyers towards one service or the other.
Sync.com
In many ways, Sync.com is about as basic as you get. You can't preview documents from your browser, let alone edit them. There's no option to stream music or movies, either. You can't even look at your photo collection without downloading the files first.
Those misses will keep some away, and rightly so. However, Sync.com has an excuse for not offering a notes app or the ability to watch your favorite films, and that's the zero-knowledge encryption it applies.
Put basically, no access to your encryption keys means that Sync.com can't decrypt your files to preview or play them within the browser app.
Sync.com does have a few added features worth mention, though. For example, Sync.com Vault lets you archive folders and files to clear up space on your hard drive. Vault, however, is of limited use when you can just use selective sync.
Most cloud storage services offer some form of limited deleted file retention and version control, but Sync.com's implementation is more generous: by default, deleted files and previous file versions are only kept for 30 days. However, if you're a subscriber rather than using a free account, you can save deleted files indefinitely and keep as many previous file versions as you want.
That's really all there is for additional Sync.com features. Like we said, the limited extras are a factor of how locked down the service is more than anything. Some users will love it, others won't. Others will get the most out of mixing things up, such as pairing Sync.com with Google Drive.
pCloud
As discussed, pCloud by default doesn't provide zero-knowledge encryption. If you do add Crypto, you'll have options for both managed encryption (your sync folder) and zero-knowledge encryption (your Crypto folder).   
Because the company can read your files in some cases, pCloud can offer more than Sync.com when it comes to features that require file access. While pCloud doesn't go as far as providing, for example, integration with MS Office Online like OpenDrive does (read our OpenDrive review), its got some tricks.
For starters, you can preview files, including documents and photos.
You can also resize photos, although that's about the extent of file editing you can do with pCloud. The pCloud image viewer, however, can be used to create slideshows — and the image quality is excellent.
Music and video can both be streamed directly from pCloud so long as they're not in your Crypto folder. The overall experience for both is very good, making pCloud one of the best cloud storage for media.
Like Sync.com, pCloud lets you clear up space on your hard drive without going the usual selective sync route. This can be done with a pCloud network drive option. pCloud can also be used to backup your social media photos (Facebook, Instagram and Picassa, right now) and can automatically backup WordPress sites.
File versioning and deleted file retention are both somewhat weak with pCloud. Previous file versions are only kept for 15 days if you're a free user and 30 days if you're a subscriber. Same with deleted files.
pCloud does offer an extended file history add-on that increases that number to one year. However, the annual cost for the add-on is another $36.
Round Five Thoughts
If money was no object, this would be pCloud's round pretty easily. However, the $36 annual fee for extended file history capabilities that still don't match what you get for free with Sync.com clouds things a bit.
And yet, ultimately, we really like pCloud's media playing capabilities and slideshow feature. Add to that the fact that the 30 days of file history you do get for free with pCloud will be sufficient for most users, and we're still swayed towards pCloud — just not as strongly as we could be.
Round: Additional Features
Point for
pCloud
pCloud took round one, storage costs, on account of the fact that it offers month-to-month (and lifetime) payment options and Sync.com does not. However, while the annual cost of service may be the same between these two services, the fact that Sync.com includes zero-knowledge encryption and unlimited versioning as part of its service cost probably makes it the better value overall than pCloud.
We also feel that while pCloud does a nice job with both file sharing and security compared with just about all other cloud storage services, Sync.com is simply the best overall when it comes to both. Moreover, synchronization runs a bit slow with pCloud and there doesn't seem to be a selective sync option, forcing you to rely on the pCloud network drive to clear hard drive space.
When it comes down to it, aside from the more flexible payment options, the only thing that should rightfully convince some users to choose pCoud over Sync.com are its media streaming capabilities.
pCloud is a great service. Sync.com is just a little bit better.
Where do you land on the Sync.com vs pCloud question? Leave your thoughts in the comments below and thanks for reading.