Best Cloud Storage for Students 2022: Free & Cheap Storage
Besides going to parties, joining fraternities and playing sorority games, students need to, well, study. A lot of studying happens online now, even if you're not telecommuting, and it can be improved by using services that help you store presentations, research papers and other assignments in the cloud.
Google Drive is in the lead of the best cloud storage for students list.
Hard drives can malfunction, leaving you without your notes for that bothersome exam. You can avoid that by copying your files to the cloud. You'll clear space on your hard drive, too, which will boost its performance.
If your only factor for choosing a cloud storage service is that it's free, read our best free cloud storage list. We chose our picks for students, including our leader Google Drive, from the best cloud storage services, but before we get to them, let's define the criteria we used to rank them.
06/25/2022

Updated Sync.com's plans and pricing information.
Best Cloud Storage for Students 2022
What Makes Cloud Storage the Best for Students
Value is our top concern because most students are strapped for cash. That means getting the most storage for the least cash. The more cheap plans the service offers the better, as odds that one might suit your needs increase with each. For some, signing up for a free plan will do the trick, so we're going to consider the amount of space offered on them, too.
Collaboration features should be available so you can work on files without switching to an offline editor and integration with third-party productivity tools is helpful, as well.
An easy way to share your files is important, since you will probably need to do group work with other students. Having content control — features such as expiry dates, password protection and permissions — to protect your shares is not something to dismiss. A page that tells you what you've shared and with whom is another welcome addition.
How easy it is to use the service affects how much time you spend doing the work. It's best if the service works on desktop, web and mobile and provides a straightforward user experience. Clean and attractive interfaces will help with that.
Finally, strong security will help you keep your files safe once you transfer them to the cloud. Its strength depends on the encryptions it uses at rest and during transfer and whether it offers private encryption which limits the people who can read your files to you. Two-factor authentication will stop hackers who've stolen your password from accessing your account.
Pros:
15GB of free storage
Many third-party apps & Google Docs
Strong customer support
Google Drive is popular with home users and has a global network of data centers. It has 800 million users, thanks, in no small part, to being bundled with Gmail accounts and Android phones.
The service recently lowered the prices on some of its plans, increasing their value. The cheapest paid plan gives you 100GB for $1.99 a month, the next one comes with 200GB for $2.99 a month and the third provides 2TB for $9.99 a month. All three are discounted if you pay for the year. They're not bad deals, but they're no match for offers from Sync.com.
Where Google does better is the free plan, which provides a generous 15GB of storage and access to the Google Docs suite, a set of tools that makes working and collaborating on documents online easy. Google Keep, a free note-taking app, is among the native applications. Plus, the service has an extensive library of third-party integrations.
Sharing files and folders with Google Drive is easy, but the service lacks content control features, such as expiry dates or password protected links. You can generate a shareable link to copy and paste or send by email. People who use it can view, comment or edit your content, depending on how you set your permissions.
You can change permissions in the "advanced" settings in the "share…" window. From there, you can see who has access to your content and share to social networks, such as Google+, Facebook or Twitter.
Similar to every other Google app, the web interface is intuitive and pleasant. It's easy to navigate and you'll probably use it more than the desktop client. There are many features, but they are carefully placed so they don't overwhelm you.
Unsurprisingly, the desktop client follows the sync model. The mobile app comes installed on Android phones and lets you access your files on the move. You can edit them without downloading them first, which is something many other cloud storage apps require.
Other Reasons We Like Google Drive
Google isn't squeaky clean in regards to privacy as it has been connected to the PRISM project and sharing data with the National Security Agency. The company scans your personal files and emails to give you custom search results, personalized ads and more too. You can use Boxcryptor, a private encryption add-on, to avoid that and enhance your privacy.
Security is not as bleak, though, because Google uses AES 128-bit encryption to scramble your files while they're stored on its servers. It's not AES 256-bit, but it does the job. Two-factor authentication is available to protect you if someone steals your password, as well.
Google Drive is easy to use, has a generous free plan, a couple of bargain premium plans, great productivity features and capable sharing options. It lacks private encryption, though. To learn more about the service, read our Google Drive review.
---
Pros:
Great value
Generous free storage
Fast file sync
Cons:
Lack of productivity tools
pCloud is a Switzerland-based company that ranks near the top of our best cloud storage providers list. It offers a free plan with 10GB of storage. You can add 4GB to that by following a multi-step process after registration. Plus, for every friend you refer, you get 1GB of additional space up to 20GB.
There are only two paid personal plans, but that's enough because they offer great value. Premium provides 500GB for $4.99 per month, or equivalent to $3.99 per month if you pay for the year in advance. Premium Plus sets you back $9.99 per month, but offers 2TB of storage. If you pay for the year, you can bring the monthly rate down to $7.99.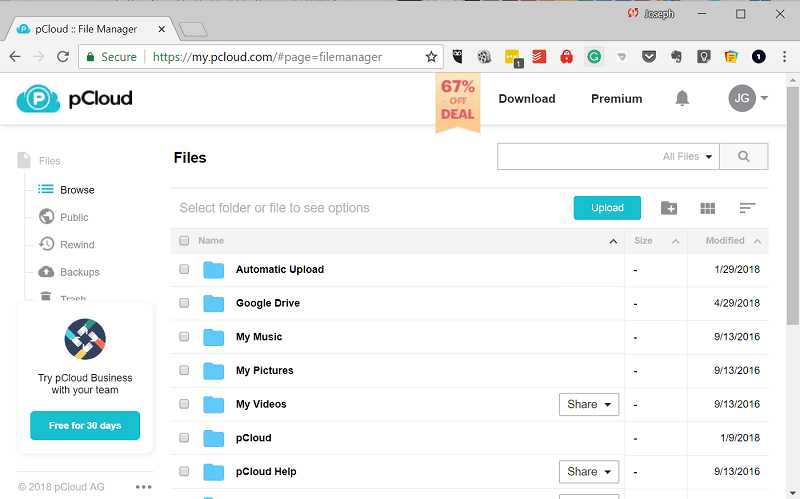 Note that both plans only have file previews, don't let you edit files and don't integrate with Office Online or Google Docs. That said, pCloud's media playback features include built-in players for video, music and photos. You can augment the service with note-taking apps, such as Evernote or OneNote, which is the most popular for students (check out our Evernote vs OneNote piece to see how the two compare).
To share a file or folder with someone, you need to add their name or email. If others want to share content with you, they can do so with upload links. You can set passwords and expiry dates to protect links, but both require subscribing to a premium plan. pCloud provides a helpful table that shows statistics for your shares, too.
You can only share files that aren't encrypted with pCloud's zero-knowledge encryption add-on.
Using the desktop client is enjoyable and easy. You can access it with the system tray icon or the pCloud drive in your system files manager. The interface is somewhat dark, but clear and intuitive.
You won't be disappointed by the web interface, either, because it has more features, offers a streamlined experience and lets you access all of pCloud's tools in one place. It's fast, too. The only downside is that it can't transfer large files well. Stick to the desktop client for that.
The mobile app is good, too, because you can use it to upload new files, share and access them. Plus, it has automatic uploads for photos and videos.
Other Reasons We Like pCloud
pCloud relies on the TLS protocol to protect data in transit against man-in-the-middle attacks and AES 256-bit to encrypt your files. Once your data reaches a pCloud data center, it's replicated across at least five different servers.
Private encryption is available, but only if you buy the Crypto add-on for $3.99 per month. The add-on creates a crypto folder and anything you put in it will be protected by a special password that only you know. Unfortunately, there's no two-factor authentication, so make sure you have a strong password.
Before subscribing to pCloud, you can test it with a Best Cloud Storage for Students 2022: Free & Cheap Storage.
pCloud offers a generous free plan, cheap premium plans, strong security and capable sharing options. The downside is that it doesn't integrate with productivity tools and lacks two-factor authentication. If you want to learn more, read our pCloud review.
---
Pros:
Zero-knowledge encryption
Good security
Competitive pricing
Sync.com is a service that sits near the top of our best cloud storage list. It's based in Canada and benefits from the country's privacy laws, which are among the best in the world.
Before subscribing, you can use the free plan's 5GB of free storage to test the service. It's not much, but you can complete a several-steps-long process to get 1GB of bonus storage. Plus, you get 1GB for every friend you refer up to 20GB.
The company says it will give you more storage for referrals beyond that, but you'll have to email it to remove the cap once you hit it.
Personal users can choose between three paid plans: Personal 200GB, Solo Basic 2TB and Solo Pro 6TB. The former costs $60 a year, which comes to about $5 a month, the mid-range plan costs $96 per year or $8 per month and the latter costs $240 a year or $20 per month. The Solo Pro plan also has a month-by-month plan that costs $24/month.
The web interface doesn't offer native productivity features, nor does it integrate with third-party programs. The smartphone app lets you open files in third-party apps, though, including Microsoft Office.
To share a folder you can invite users to access it or generate a link. With the link, they can download a zipped folder instead of downloading each file. If you're sharing a file, you can only generate a link, which you can send manually or via email. Sync.com lets you share upload links, as well, which enable others to upload content to your storage space.
You can control your shares by setting permissions. You can also attach passwords and expiry dates to links if you have a Personal Pro subscription. On top of that, you can set download limits on shares and see their download stats. A "shares" page tells you which folders you've shared and with whom, too.
The desktop client is simple and easy to use. You can access it with its sync folder or taskbar icon. It's available for Windows and macOS, but not Linux. You get access to the same features the web client has, along with others that enhance the user experience.
The smartphone app, for Android and iOS, lets you access your files while you're offline and automatically upload photos and videos to the cloud.
Other Reasons We Like Sync.com
The service uses AES 256-bit encryption at rest and the TLS protocol, which protects files during transfers to its data centers. It tops our list of the best zero-knowledge services, too. It won't be able to retrieve your password if you lose it, though, because zero-knowledge prevents that.
Sync.com has competitive plans, but most of them have to be paid annually and its free plan is not as good as pCloud's. It only has file preview on mobile and doesn't offer media playback. Still, it has good security and it's easy to use. To learn more about the service, read our Sync.com review.
---
Pros:
Free 20GB storage
Zero-knowledge
Cons:
Slow
Poor customer support
No two-factor authentication
Founded in 2013 by Kim Dotcom, MEGA is one of the most controversial cloud storage companies, but it has a couple of plans that could benefit students. The free plan offers a massive 20GB, and with certain achievements, you can upgrade your space, but that expires after 365 days.
Pro subscriptions are not as good. The first one, Pro Lite, costs $5.79 a month for 200GB of storage. For $11.59 a month you get 1TB of space, and the remaining two plans aren't great deals, either.
Productivity is limited because MEGA only has file previews and media playback. There's no integration with Office Online, Google Docs or other third-party apps.
You can share your files with your MEGA contacts or send a generated link. By sharing via email address, you can grant read, read and write or full access permissions.
Surprisingly, shares you create are zero-knowledge, so MEGA can't see what you're sharing. Others who want to access your content will have to decrypt it with a decryption key first. Paid subscriptions let you add expiry dates and passwords to your links, too.
The browser app is simple and there's practically no learning curve for new users. It's easy to navigate and find its primary and secondary features. The top menu has all the controls you need. It's fast, intuitive and the interface is attractive.
Other Reasons We Like MEGA
MEGA uses AES 128-bit encryption at rest and the TLS protocol during transfer. It doesn't offer two-factor authentication, which leaves your password more vulnerable, so make sure it's strong.
The service uses private encryption, meaning you don't have to worry about prying eyes. To learn more about what it offers, read our MEGA review.
---
Pros:
Strong security
Good collaboration options
10GB free plan
Cons:
5GB max for file uploads
Expensive personal plan
One our best enterprise file sync and share providers, Box has many small businesses and Fortune 500 companies as clients, but it has more than business plans. It also has a couple that could fit the needs of students.
The first is called Individual and offers 10GB of free storage which is more than many other services. Personal Pro costs $10 per month for a mere 100GB of storage. That's not a good deal, so we recommend sticking to the free plan if it provides enough space.
Box helps you increase your productivity with Office Online and Google Docs integrations, as well as DocuSign and the many other offerings in its third-party app library. Its native notes application, Box Notes, is among the best note-taking apps, too.
You can share links with licensed users without limit, but you need to have permission to share outside of your organization. You can send an invitation by email or generate a link and send it. Box has good content control because it lets you set expiry dates and passwords for links.
The web client is straightforward, with an intuitive layout and attractive color scheme. It lets you customize your workspace's URL and add your own logo. If you prefer a desktop client, Box's uses the familiar sync model, as well. The mobile app is easy to use, too, and lets you access your files on the move.
Other Reasons We Like Box
Box uses AES 256-bit to encrypt your files on servers and the TLS protocol to protect them during transfer. The service also wraps your encryption key with the same level of encryption. It doesn't have native private encryption, but you can add it using Boxcryptor.
Two-factor authentication will help if someone steals your password and custom password requirements will make it more difficult for hackers to do so. You can read more about security and other features in our Box review.
---
Final Thoughts
Most students can't afford fancy hotels, lobster or expensive cloud storage. Fortunately, they can get cloud storage cheap, as can be seen in our online storage cost comparison. The first three services on our list have plans that provide a generous amount of space for the money, as well as free plans.
Google Drive is our top choice because it's easy to use, attractive and features many third-party productivity tools along with its native Google Docs. and Best Cloud Storage for Students 2022: Free & Cheap Storage have better deals and stronger security but lack productivity tools.
Do you use another service that's more appropriate for students? What do you think about our list? Leave your response in the comments below. Thank you for reading.