IDrive Review
Incredibly fast transfers, both backup and restore. Solid compression and security, though not the easiest program to use.
Last Updated: 25 Aug'17
LIMITED TIME ONLY *** 75% OFF of 1TB ONLINE BACKUP FOR IDRIVE. CLICK HERE TO CLAIM YOUR OFFER.
IDrive is currently one of the most established and fastest growing cloud storage companies. However, it continues to face stiff competition from companies like Dropbox, Google Drive and OneDrive. It enjoys increasing popularity among cloud-storage users because of the wide range of features it offers, plus compatibility with several devices.
IDrive has just slashed its prices even further, offering 2TB for just under $7 for the first year. To make use of this deal, visit
www.idrive.com
and sign up.
We very much recommend IDrive to anyone that needs a fast, secure cloud backup and storage solution. IDrive, just like most of other popular cloud services, provides not only a PC version, but also mobile applications for a range of smartphone operating systems.
Additionally, it continues to introduce more features to its platform, further improving a system that we thought couldn't be more comprehensive.
Our IDrive Video Review 2017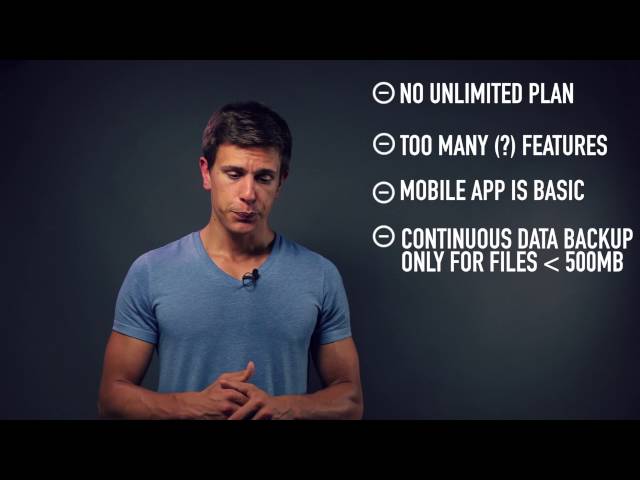 IDrive Promo Code
To test out IDrives features, I took advantage of the IDrive promo code, which earned me a special discount of 75 percent during my first year.  In case you're wondering, it's still available right now.
To define IDrive's target user, let's first look into the mother company, Pro Softnet Corp. In addition to IDrive, they are the founders and owners of IBackup, a cloud backup application. Although IBackup and IDrive are run by the same company,  they are very different services.
While IDrive is designed to comfortably support individual and small-business users, IBackup is built for enterprises with large-scale backup needs. The two services are targeted at groups with different needs, which explains why they are run separately. For this review, we've kept only small players in mind and won't be dealing with IBackup and the large firms it has as its audience.
Like all cloud backup providers, IDrive has a number of pros and cons, which we've listed below for your convenience.
---
Strengths:
Pricing plans do not limit the number of devices you can backup
IDrive offers many scalable storage plans at reasonable prices
Upgrading your plan is easy & can be done anytime
IDrive Express ships up to 3TB of physical storage
Uses 256-bit AES encryption during transfer & storage
Files/folders can be shared via email, Twitter& Facebook
Backs up Facebook/Instagram photos & videos
IDrive comes with a local drive backup option
IDrive supports disk image backups
Supports iOS, Android & Windows Phone
Weaknesses:
Free basic plan (5GB) is quite small
No discount if upgrading from monthly to yearly plans
Can't run a single account on two separate OSes
IDrive only restores up to 10 previous versions of a file
The "Upload Folder" function is only compatible with Google Chrome
Online chat support is not available 24/7
How does IDrive stack up against the competition? Take a look at the chart below for an overview.
---
| | IDrive | Carbonite | CrashPlan | Dropbox |
| --- | --- | --- | --- | --- |
| Keeps deleted files for: | Unlimited | 30 days | Unlimited | 30 days |
| External drive backup? | Yes | Not on basic plan | Yes | No |
| Encryption system | 256-bit AES | 128-bit Blowfish | 448-bit Blowfish | 256-bit AES |
| Storage limit | 10TB | Unlimited | Unlimited | Unlimited |
| Number of devices | Unlimited | 1 | 1 | 1 |
---
IDrive and Synology
IDrive offers the option of safeguarding Synology Network Attached Storage (NAS) as a cost efficient strategy of protecting important business data. Users can take advantage of IDrive's online storage capabilities to backup and further protect their NAS devices. This ensures a comprehensive data protection and disaster recovery framework, comprising of both onsite and offsite data storage. 
To backup, users need to select their device model and subsequently download their respective SPKs from IDrive's main site.
IDrive has made their pricing a lot more simple which is a good thing. You can now choose from sets in the Personal and Business categories. The personal plan starts at 1TB (1000GB) but if you have larger storage needs you can upgrade to the 10TB version which should give you plenty of room for your digital files.
The business plans have a few more perks, such as creating sub-accounts, backing up servers and MySQL databases, though offer less storage space overall.
---
---
IDrive currently still has a special promo code active, so if you like their services and want to use them at a reduced price, you know where to go.
As we've already established, one of the things that stand out about IDrive is the fact that you can comfortably backup an unlimited number of computers, Android devices, iPads, iPhones, and Macs while on a single account. Additionally, you can also backup data from mapped drives.
---
IDrive Features
www.idrive.com
Free Storage
5 GB
Free Trial
System
Price
Starts from $ 4.34 per month
Mobile Access
Mobile Apps
Syncronisation
Free External HD Backup
Continuous Backup
Incremental Backup
Backup Scheduling
Bare Metal Backup
Exclude File Extensions for Backup
Network Drives
Bandwidth throttling
Web Access
HIPAA Compliant
File Size Limit
Unlimited GB
Included Machines
Unlimited
File Sharing
Multiple Accounts
Share Photo Albums
Music Streaming
Folder Collaboration
Outlook Backup
Local Encryption
256-bit
Server Side Encryption
256-bit
Keeps deleted files
Unlimited
File Versioning
30
---
IDrive Express
Cloud backup as a data security and recovery strategy can never be overemphasized.
Unfortunately, data may sometimes be too much that it will take too long, and use too much bandwidth, to upload it to the cloud. To address this, IDrive offers and Express service, which ships up to 3TB of your physical storage drives for backup and retrieval within a week.
IDrive Smart Docs
One of the features that really impressed are IDrive Smart Docs. I could comfortably take snaps of documents, then leave the rest to the application, as it recognized each character and subsequently stored copies of the documents. To retrieve them, all I had to do was search from either the desktop, web or mobile applications.
IDrive for Windows, Mac and Linux
And since I've just mentioned mobile applications, I was pleased to learn that in addition to Windows and Mac, as well as Linux/Unix servers, IDrive is compatible with iOS, Windows, and Android smartphones. This provides real-time syncing across multiple devices connected to a single account.
IDrive prides itself in providing "military grade" data security and to date they have not experienced any significant attacks. So, what is actually "military" about IDrive's security features?  As we've already established, the service provides private encryption, even for basic account users.  
However, since I'm not too good with many passwords, I decided to go with IDrive's default encryption standard, which is also fairly good, considering that it's a 256 bit AES system.
On top of that, IDrive also works with a zero-knowledge security system, which means that they never save your password on their systems, making it impossible for their employees to ever find out. But, are these features good enough? Of course not.
That's why IDrive goes a step further to assure its users of data-center security. Their data centers, which are all hosted in the United States, are specially designed to maintain optimal server temperature plus withstand any seismic activity. Additionally, they are secured with video camera surveillance systems, motion sensors, smoke detection and fire suppression systems, plus security breach alarms. 
And since the service also offers local disk backups, it's commendable that their encryption systems extends to local drives. That way, data security is maintained not only within the cloud, but also on physical local drives. They even advise users to adopt local storage as their primary backup option, before proceeding to use the cloud as a complementary service.
I prefer being hands-on when analyzing cloud speed and performance. For IDrive, I chose to backup 10GB of test files to find out how long it would take to upload, plus monitor the speed of the process.
I have an average download speed of 384.91 Mbps coupled with an upload speed of 260 Mbps, which is very good. I started the backup process at 10.07 in the morning, it ran in the background till 12:18 PM, a process that took 2 hours, and 11 minutes.
Looking at my bandwidth monitor chart, the average upload speed was 11.22 Mbits/s, which is great for a backup service.
The restoration process, on the other hand, took 1 hour 57 minutes, at an average download speed of 11.32 Mb/s, which is even faster.
All in all, IDrive is one of the faster services we've encountered.
| Upload speed | Download speed | File size | Time taken | Average speed |
| --- | --- | --- | --- | --- |
| 260Mbps | 384.91Mbps | 10GB | 2 hours, 11 minutes | 11Mbps |
First off, installing IDrive is as easy as signing up and downloading the installation file from IDrive's main site.
In addition, mobile applications can be downloaded straight from their respective marketplaces before installation and syncing. I loved the fact that I could opt for a private encryption key during the registration process, even on a free basic plan.
If you're not too confident about private encryption key, you could still go with IDrive's default key, which is fairly strong.
How to use IDrive
After the installation process is complete, the application launches and prompts login ID previously created during sign up. Just like:
IDrive comes with a pretty simple and standard interface, which displays your files through a systematically arranged folder tree, with checkboxes next to each folder.
They simplify the entire process of removing or including the folders from a user's backup set. Since IDrive embeds itself in Windows File Explorer, you can add files by simply right-clicking them from any file explorer window.
After selecting all the files you need, backing up is as easy as clicking Start Backup Immediately button.
IDrive is not just an online backup service: through a "disk image backup" option on its main window the service allows you to comprehensively protect a system by backing up the entire hard disk. I guess they borrowed that feature from Acronis True Image Cloud, a service that's predominantly known for disk image backups.
IDrive Wi-Fi
Additionally, just like Acronis, IDrive also provides an option to backup up your data on a local drive, through a network or Wi-Fi connection. With that, you can comfortably restructure a disaster recovery strategy using local drives as primary backups and the cloud as your secondary option.
To save you the trouble of combing through the application to re-download files, IDrive comes with a "restore" tab, from where you can use a wide range of tools to locate and restore any file.
Thankfully, there are several methods of restoring files. The simplest method is simply clicking, dragging and dropping backup files from IDrive to your desktop. Alternatively, by using check boxes you can specify files which you can then restore at once in case of emergency.
IDrive's file restoration is not only limited to current file versions, especially when continuous backup is turned on.
This feature automatically updates backed up files when changes are saved on your computer. To restore any previous version of file, right-click on a file to View Previous Versions, from where you can choose a specific file version to restore. Unfortunately, previous file versions are limited to only 10 copies.
On the bright side, however, IDrive permanently maintains all the files delete from a user account.
I was able to comfortably retrieve files months after I accidentally deleted them. Compare that to Carbonite, where the system automatically permanently deletes archived files after 30 days. The only way to permanently get rid of  files is by directly deleting archived files, which is necessary to free up storage space.
To sync files, I had to activate the correctoption, which can be done through the PC, mobile or web applications. While this may be viewed as inconvenient by some users, it allows you to determine devices you'd like to include or exclude from syncing.
On Android, Windows and iOS smartphones, syncing is as easy as tapping on the button found on the home screen, then selecting "enable sync" to link with other devices connected to the same account. And that's pretty much the same process when it comes to the web version of IDrive. 
When it comes to sharing, IDrive uses the same system as Dropbox, OneDrive and a host of other cloud storage applications. You can share files, including synced ones, by sharing a link, even with unregistered users via email, Facebook and Twitter.
To help you track all shared items, IDrive web provides a "shared by me" tab, where you can view shared files, edit respective access rights and even terminate sharing.
While a bulk of cloud storage applications (like Carbonite, for instance) only support Android and iOS, IDrive extends its support to Windows phones. And since smartphones, on average, do not have as much data as PC drives, the cloud service offers unlimited mobile backup at just $4.99 per year.
I tried it out on my Samsung Note 5, and I was able to backup everything on the list below, easily and quickly.
Contacts

Photos

Calendar

Music

Instagram

Facebook photos
To further assess its capabilities, I switched phones, reinstalled the entire application and logged into my account.
I was able to view photos and play my music and videos from a completely different handset. Therefore, it's possible to sync even music and photos between your mobile phone, tablet and PC.
IDrive's web client is accessible through the IDrive website. After logging in, you'll see a download button that should help get the PC client up and running on your current computer. 
So, now that you have logged into IDrive's web client, how do you navigate through it?
Thankfully, just like the PC and mobile clients, IDrive's web client is pretty simple and straightforward, since all devices associated with your account are displayed on the home page. To find backed up folders, choose a specific computer or device and scroll through its files and folder.
That shouldn't be so hard, since IDrive maintains the same file explorer structure as your local computer.
To restore a file, choose it from the folder tree and use the icon alongside it to specify the version you need. As we've already established, IDrive can only backup a maximum of 10 old file versions.
Now, if you are yet to provide the encryption key for your session, IDrive will prompt you to do so before downloading the file. Fortunately, users don't have to do this for every action, since each session is subject to only one encryption key entry.
If locating a specific file of folder proves to be too cumbersome, especially if you've backed up multiple devices, you can always use the search tool.
Uploading files through the web client is just as easy as the PC client. On the application's dashboard, you'll find "upload files" and "upload folder" icons. Clicking on them opens up a window, from where you can choose either a file or folder to upload.
I managed to upload a couple of files, but I faced a couple of problems when I tried to upload folders. I came to learn later, however, that IDrive's "upload folder" function is only compatible with Google Chrome.
The only way to upload a folder through Mozilla is by dragging and dropping, pretty much like Google Drive.
In addition to the "sync" tab, IDrive's web client also comes with a timeline, which displays uploaded photos in chronological order. The web client also provides a streaming service that allows you to stream videos and music files without actually having to download them to your device.
This service may be redundant to some users, but it has helped me save a lot of hard-disk space, especially on the download partition.
One of IDrive's weakest areas is support. Going on testimonials given by some of our readers in the comment section, IDrive's staff respond quickly to issues raised, but are kind of slow in actually resolving them.
Reading through the comments, I decided to put IDrive's support team to the test. In addition to email, IDrive provides customer support through phone calls and online chat.
After I was unable to get through via Online Chat (since it's not available outside of business hours), I decided to make a call. My call went through in a couple of seconds, and an agent guided me through their plans. I have to admit the experience I had was smooth.
Sadly, just like online chats, calls are not available 24/7. You can only speak to an agent between 6 a.m. and 6 p.m. West Coast time, which I think is not very practical, considering the number of potential users outside the U.S.
IDrive is a good service for people who have multiple computers and machines that require online backup. The service is very fast, especially when restoring files. While it allows unlimited machines, it does not provide accounts with unlimited storage. 
Sometimes it is tough to find the right sub-service within the IDrive world — a good makeover of their product palette would be ideal to avoid frustration. Overall, however, we find that IDrive is a great cloud backup and storage provider that is both cost-effective and efficient.
What do you think of IDrive? Let us know in the comments below!
IDrive Features
www.idrive.com
Free Storage
5 GB
Free Trial
System
Price
Starts from $ 4.34 per month
Mobile Access
Mobile Apps
Syncronisation
Free External HD Backup
Continuous Backup
Incremental Backup
Backup Scheduling
Bare Metal Backup
Exclude File Extensions for Backup
Network Drives
Bandwidth throttling
Web Access
HIPAA Compliant
File Size Limit
Unlimited GB
Included Machines
Unlimited
File Sharing
Multiple Accounts
Share Photo Albums
Music Streaming
Folder Collaboration
Outlook Backup
Local Encryption
256-bit
Server Side Encryption
256-bit
Keeps deleted files
Unlimited
File Versioning
30