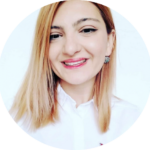 Jasna Mishevska
Fact Checking Editor
Location North Macedonia
Joined in February 2022
Snap Shot
Jasna Mishevka is a fact-checking editor for Cloudwards. She checks articles with a fine-toothed comb before publishing for factual accuracy.
Background & Education
Jasna Mishevka studied at Ss. Cyril and Methodius University in Skopje, where she completed her B.A. in Translation and Interpretation. Her focus languages were Macedonian, English, and French. She then spent several years working in the IT industry as a content analyst before deciding to spread her wings and try something new.
Jasna then embarked on a web development course to sharpen her coding skills and learn about front-end engineering. She is proficient in HTML, CSS, Bootstrap, JS, jQuery, and other coding languages. She also has experience with content development, troubleshooting, and social media marketing.
In addition to technology, Jasna has a passion for writing and editing. It was these interests that led her to Cloudwards in early 2022. Looking to explore another dimension in her career and excited to join a multicultural team, Jasna accepted a position as fact-checking editor.