Best Online Backup for Photos 2023: Snaps Safely Socked Away
Photos are probably the most important thing to backup for most people. In terms of data loss, there's nothing as heartbreaking as losing a whole bunch of treasured memories, which makes handling photos and videos a critical part of online backup. Because of this, we've put together a list of the best online backup for photos and video to help you find the best service for this purpose.
Most of us use our mobile devices to take and store photos, so a service needs mobile backup to rank highly on this list. We also prefer services that can automatically upload your photos on a continuous schedule. Some sort of timeline or gallery feature is also a welcome addition to make managing your photos an easier task.
This prevents some of our top backup picks, such as Backblaze and Carbonite, from ranking too highly on this list, though they may earn themselves a spot near the bottom. This is because, despite being otherwise excellent storage services, they don't support mobile devices at all, which can make uploading your pictures and videos a pain.
Aside from these factors, many of the standard criteria from our online backup reviews also matter here. This includes things like speed, ease of use, storage space and, of course, price (compare online storage prices with our handy chart). Additionally, some cloud storage services specifically provide photo backup (for example, Google Drive, Dropbox and Microsoft OneDrive), so they're also being considered for this list.
If you'd like to know what backup services and cloud storage providers are the best in general, check out our list of the best online backup services and best cloud storage. On the other hand, if you're on the hunt for the best software to add that little special something to your pictures before uploading them, check out our list of the best photo editing software.
08/24/2022

Updated IDrive's pricing information.

05/24/2023

Updated to remove IDrive's discontinued free plan and add its new free 30-day trial.
The Best Backup For Photos and Video
Pros:
Free storage for photos
Automatic photo upload
Galleries
Easy to use
Google Photos is part of the larger Google Drive cloud storage service, which holds a place on our top-10 list of the best cloud storage providers. Although it's not specifically a backup solution, it functions as one for photos and videos. It also made it to the number-two spot on our list of the best online storage for photos, so it's no surprise that it pops up here, as well.
Your photos are automatically uploaded to the cloud almost as soon as they're taken, saving you the hassle of manually selecting which ones you want to upload.
By using an AI algorithm, Google automatically categorizes your photos into several different groups. It recognizes individual faces and creates a "people" folder where you can easily find photos of a specific person. Furthermore, it does the same for places and things, so you can look for a "mountains" or "sunset" to find all your photos that fit a category.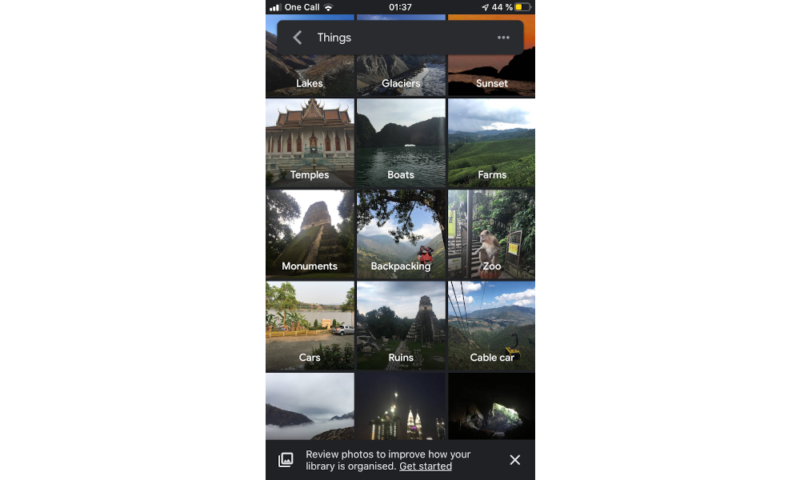 You can also create your own albums that you can share with others (learn more in our Google Photos shared album guide). Anyone you've shared it with can then look at the photos and leave comments on them. You can choose the order of the photos displayed in the album, as well as the cover picture.
The feature that really makes Google Photos stand out is the unlimited free storage it provides for photos and videos. As long as you set the upload size to "high quality," your photos won't take up any of your Google Drive storage space. Although this does drop the photo quality slightly by reducing the file size, we've found the difference to be negligible in most cases.
As you can see above, the two photos look practically the same. Although this could be an issue for professional users, such as photographers and graphic artists, most people probably won't even notice the downgrade. If you're still not comfortable with the compression, you get 15GB of free storage and can pay $1.99 per month for an additional 100GB.
The biggest problem with Google Photos is the inherent privacy concern that comes with any of the company's products. Because Google makes the majority of its money from advertising, it can and will use anything it can get from your photos to tailor ads to you specifically.
Google has also had numerous privacy scandals over the years, such as continuing to access users' location data even when they had turned the setting off.
It's no surprise then that Google Photos does not offer private encryption. This means that the service does not provide zero-knowledge encryption, and it leaves the door open for Google to analyze your photos and even hand them over to the authorities if they're compelled to do so.
That said, Google complies with the GDPR and uses sufficiently strong encryption (AES 128-bit) as well as TLS while your files are in transit. For more information on what this means, be sure to read our description of encryption.
Google also claims that you can delete any data the company has on you, but it's hard to trust it on this. To do so, you can follow our guide on how to erase your Google history.
However, despite these serious privacy concerns, Google Photos is still hands-down the most effective and simplest way to backup your photos. It's easy to use, has great photo-specific features and, above all, it's free, as long as you are fine with a minor image quality downgrade.
If you'd like to see how Google stacks up against the other big names in the cloud storage business, you can check out our Dropbox vs Google Drive vs Microsoft OneDrive comparison.
Pros:
Unlimited devices
Automatic photo upload
Timeline feature
Great security & privacy
Cons:
No monthly plan
No customizable galleries
IDrive is an excellent service that comes full of features and lets you protect an unlimited number of devices. Security and privacy are also good, and speeds have recently improved. Overall, thanks to its well-designed mobile apps and timeline feature, it's a great option for backing up your pictures and videos.
Although IDrive doesn't offer unlimited cloud storage, the cheapest plan will run you only $6.63 per month or $79.50 per year (see our IDrive pricing article for more details) and includes 5TB of space, which is likely to be more than enough for most users. If that's not enough storage space for you, then there's also a 10TB plan for $99.50 per year or $8.29 per month.
The mobile app is available on iOS and Android, and it includes the ability to automatically upload your pictures and videos.
There's no way to create albums like you can with Google Photos, but there is a handy timeline feature that lists your images and videos in the order they were taken.
IDrive also knocks it out of the park when it comes to security and privacy. It offers AES 256-bit encryption for your files on the server, which is pretty much the best you can hope for because there's really no feasible way to crack it. It uses TLS while your files are in transit, which protects them from man-in-the-middle attacks.
Most importantly, IDrive gives you the option of managing your own encryption key. This means that the company won't be able to decrypt your files, even if they wanted to or were forced to. Even if law enforcement served IDrive with a warrant to hand over your pictures and videos, the files would be completely useless to anyone but you.
All in all, IDrive is an excellent piece of software, both for backing up photos specifically and your files in general. It lets you clone your hard drive and upload files from all kinds of devices at a reasonable price and with great security and privacy.
If you'd like to see how it stacks up against some other popular services, you can check out our IDrive vs Backblaze and IDrive vs Carbonite comparisons.
Pros:
Easy to use
Discover feature for pictures & video
Cons:
No automatic photo upload
No customizable galleries
Expensive
Privacy concerns
BigMIND Home is another decent backup service that comes with quite a few features and is easy to use. Unfortunately, it's also fairly expensive and lacks most of the features offered by the previous photo management software on this list. There's also some privacy concerns involved, so users concerned with anonymity might want to look elsewhere.
Like our top pick, BigMIND Home also uses an AI algorithm to identify specific faces and objects in your photos. It doesn't seem to work quite as well as Google's approach, but it's still a handy feature that can help you quickly find a photo of a specific person or object.
Although there's no way to create your own galleries, there is a "discover" menu where you can view and manage the photos and videos you've uploaded to cloud storage. Unfortunately it's pretty hit or miss, as it seems unable to properly display certain pictures. You also need to manually initiate a backup to make sure your photos are uploaded, which is unfortunate.
You can also connect other online services and social media, such as Dropbox and Facebook, to automatically copy anything that you've uploaded to these platforms to your BigMIND account. Although this is a neat feature, it seems somewhat pointless to link separate storage services to BigMIND when that data is already safe on the cloud.
BigMIND Home offers four different plans. The Free plan is the most basic, offering 1GB of free storage for three computers and two mobile devices. Next is the Personal plan, which comes with 100GB of storage for three computers and three tablets and/or smartphones for $2.99 per month.
The Family plan, meanwhile, lets you protect nine computers and six mobile devices with 500GB of space for $6.99 per month. Finally, the most advanced plan is called Family Plus, and it includes 1TB of storage for 15 computers and an unlimited number of mobile devices. This last plan also includes HD streaming of your video files and costs $12.99 per month.
This all adds up to a fairly expensive service, compared to competitors who offer significantly more storage space for a cheaper price. Even though there's a free version available, it only offers a measly 1GB of storage, which is unlikely to be enough for most users.
BigMIND's security is good, as it offers AES 256-bit encryption when files are at rest and TLS while they're in transit. Unfortunately, you can't make the encryption private, which means that, in theory, Genie9 (the company that owns BigMIND, as well as Zoolz) can decrypt your files whenever it feels like it.
All in all, BigMIND isn't a bad choice for backing up your pictures if you don't care about the potential privacy problems or about being able to manage your images directly from storage. That said, the price is bound to be a big turnoff for most people, especially if all you're looking for is a service to protect your pictures.
Pros:
One-time purchase
Good speed
Excellent security & privacy
Cons:
No automatic photo upload
No gallery or timeline
If you don't like the idea of paying for software per month or per year, then Acronis Cyber Protect Home Office might be the perfect choice for you. Rather than paying for a recurring subscription, you purchase your Acronis Cyber Protect Home Office license for a one-time fee of $59.99 and then keep your online storage forever.
However, this plan lets you clone the hard drive of only a single device, so if you want to upload photos from your mobile device to the cloud, you'll need to go for one of the subscription plans. These plans cost either $49.99 or $99.99 per year and come with 250GB or 1TB of storage, respectively (besides the unlimited storage for your hard drive clone).
Besides being an excellent backup service with basically unlimited storage and great speed, Acronis Cyber Protect Home Office is also a pretty good option for photo storage. This is mainly because there's a mobile app you can use to directly upload your pictures and videos.
Unfortunately, even though there is a "continuous upload" option in the settings, the mobile app does not seem to automatically upload pictures unless you manually open it. There's also no gallery or timeline feature, which makes it pretty much impossible to manage your pictures without doing a full recovery first.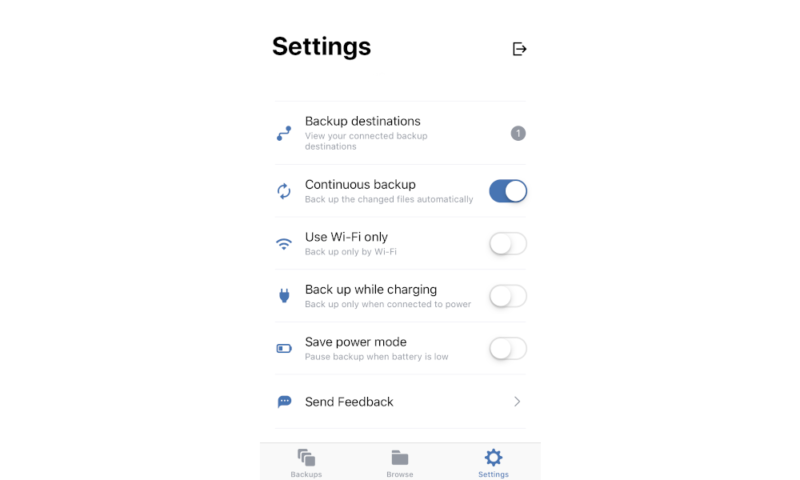 In terms of encryption, Acronis uses TLS to protect your files while in transit and AES 256-bit while they're sitting on the server. You can also set the encryption to be private, which means that only you can decrypt the files. This makes them useless to anyone else who manages to get their hands on them.
Ultimately, the only thing that keeps Acronis from being higher up on this list is the complete lack of any photo management while they're stored on the cloud. Other than this, it's a superb option for keeping your pictures safe from data loss.
Pros:
Unlimited storage
Simple pricing structure
Easy to use
Cons:
No support for mobile devices
Mediocre upload speed
No private encryption
Rounding out our list of services to store your pictures with is Backblaze. As we mentioned at the beginning of this article, Backblaze can't make it too far up on this list due to its complete lack of mobile backups. This means that if you take pictures using your phone or tablet, you need to first transfer them to your desktop machine before backing them up.
However, Backblaze is still an excellent service that ranks highly on several of our other lists, including the ones for best cloud backup for Mac and best online backup for Windows. The fact that it offers unlimited cloud storage for a relatively small amount of money is a huge plus, as is its ease of use and uncomplicated setup.
Backblaze offers a simple pricing structure, providing unlimited storage for a price tag of $6 per month or $60 per year. Its cloud storage service — Backblaze B2 — is a bit more complicated in this regard, so check out our Backblaze pricing breakdown for more information.
Besides not supporting mobile devices, Backblaze's biggest weakness is the lack of private encryption. The only way to restore your data is to upload your encryption key via the web dashboard, so Backblaze could in theory decrypt all of your files and hand them over to a separate entity once you've performed a restore.
That said, its security is great. Backblaze protects your data using both TLS and AES 256-bit encryption, which is more than enough to ensure that cybercriminals can't get unauthorized access to your files.
Despite the flaw with its privacy, Backblaze is still a superb service for backing up your files, in general. Provided you don't mind manually transferring your pictures and videos from your mobile device (or if you use an actual camera to take them), then it's not a bad option for photo storage either.
Final Thoughts
That concludes our list of the best backup solutions for pictures and video. Despite its serious privacy concerns, Google Photos is a clear winner for its simplicity, wealth of photo-specific features and unlimited storage for images and video. That said, IDrive and BigMIND Home are also excellent options, with both making it easy to secure and manage your photos.
Bringing up the rear we have Acronis Cyber Protect Home Office and Backblaze. These are still decent options for storing your pictures and videos, but the former lacks any sort of photo management or automatic uploads, while the latter doesn't offer a way to upload files from your mobile devices at all.
What did you think of our list? Did we miss your favorite service? Do you think we're overestimating one of the entries on the list? Let us know in the comments below. Thank you for reading.