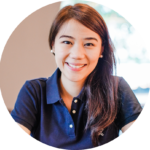 Eugenie Tiu
Editorial Assistant
Location North Macedonia
Joined in October 2021
1 Post
Snap Shot
Eugenie Tiu is an editorial assistant who splits her time between fact-checking and marketing outreach for Cloudwards.
Background & Education
Eugenie graduated with a bachelor's in secondary education with a major in English from De La Salle University before going on to complete her master's degree in human science at Osaka University. While completing her graduate studies, she taught English in several language institutions and international schools in Japan.
In 2017, she worked as a sales representative for a Japanese company, providing translation and sales support to distributors, partners and existing clients. She also performed other sales-related duties, such as contract reviews and sales visits.

A year later, Eugenie went into digital marketing. In this role, she conducted keyword research, managed PPC campaigns and created content for social media. In 2020, she worked as a link builder and a PR outreach specialist for a digital marketing agency. Her main responsibility was to ideate and execute strategies that could secure editorial mentions for clients from different verticals.
Eugenie currently works as an editorial assistant for Cloudwards. She splits her time doing fact-checking and link building.
Media Inquiries
You can contact Eugenie at eugenie[at]cloudwards.com.