Proton VPN vs Surfshark in 2023: Cheap vs Free VPN Servers
Proton VPN and Surfshark are well-known VPN services, but which is best for your needs? Our goal in this Surfshark vs Proton VPN comparison is to help you pick the one that's worth your money.
Key Takeaways: Surfshark and Proton VPN
The main differences between Proton VPN and Surfshark are that Surfshark is faster, has a larger server network and is more reliable at unblocking while Proton offers a free plan.
Proton VPN's biggest draw is that it has the only VPN free plan with no data limits.
Surfshark allows you to connect to as many devices as you want, and offers discounts on long-term plans.
If Proton VPN and Surfshark VPN are on your VPN shortlist, you're not too far from making a good choice. From our years of reviewing and testing VPNs, Proton VPN is the best free VPN, while Surfshark is one of the best cheap VPNs. In this Proton VPN vs Surfshark matchup, we'll help you decide which VPN suits your specific needs.
Primarily, a good VPN should be able to change your IP address location, encrypt and anonymize your traffic, protect your privacy and unblock websites. We'll help you see how Proton VPN and Surfshark fare in those respects and more. By the end of this article, you'll also know which is the overall best VPN provider of the two.
10/29/2023 Facts checked

We've rewritten the article to focus on what each VPN does best and update it with accurate information.
protonvpn.com

: PayPal, Credit card, Bitcoin, cash
: 10
:
:
:
:

surfshark.com

: PayPal, Credit card, Google Pay, Amazon Pay
: Unlimited
:
:
:
:
How Did We Rate Proton VPN vs Surfshark?
First, we'll examine the similarities between Proton VPN and Surfshark. If your priority in choosing a VPN fits within the "pros" section, either of the two VPNs would be a good fit. Afterward, we'll help you choose between Surfshark and Proton VPN by highlighting their differences.
Surfshark vs Proton VPN: Similarities & Differences
$4.99

/ month

(All Plans)

30-days

money-back

guarantee

$2.49

/ month

(All Plans)

30-days

money-back

guarantee

Review
Review

Payment methods

PayPal, Credit card, Bitcoin, cash
PayPal, Credit card, Google Pay, Amazon Pay

Accepts cryptocurrency

Simultaneous connections

10
Unlimited

Supports split tunneling

Windows & Android

Unlimited bandwidth

Free trial available

Refund period

Worldwide server amount

1700+
3,200 in 95 countries

Desktop OSes

Windows, MacOS, Linux
Windows, MacOS, Linux

Mobile OSes

Android, iOS
Android, iOS

Browser extensions

Chrome, Firefox, Edge
Chrome, Firefox, Edge

Can be installed on routers

Can access Netflix US

Can access BBC iPlayer

Can access Hulu

Can access Amazon Prime Video

Encryption types

256-AES, RSA-4096, ChaCha20, HMAC-SHA384
256-AES, ChaCha20

VPN protocols available

OpenVPN, IKEv2, WireGuard
OpenVPN, IKEv2, WireGuard

Enabled at device startup

Allows torrenting

No-logging policy

Passed DNS leak test

Killswitch available

Malware/ad blocker included

Live Chat

24/7

Email support

24/7
24/7

Phone support

User forum

Knowledgebase
Similarities
Let's begin with the features Proton VPN and Surfshark have in common, including apps, ease of use, security features, privacy and money-back guarantee.
Apps and Ease of Use
Whether you're using a desktop or mobile device, there's a Surfshark or Proton VPN app for you. Both are beginner-friendly VPNs with apps for Windows, macOS, Linux, Android and iOS. They also have extensions for the most popular browsers, including Chrome and Firefox.
If you intend to set up a VPN on a router, Proton VPN and Surfshark are good picks. They support many router types, including Asus, DD-WRT and Tomato. Both VPN services have clean, well-organized and easy-to-use interfaces.
Security Features
Proton VPN and Surfshark come with the critical security features every VPN should have. They encrypt your traffic using AES-256 or ChaCha20 (on the super-fast WireGuard protocol). The other VPN protocols available on both are the secure OpenVPN and the mobile-friendly IKEv2.
Both Proton VPN and Surfshark offer a kill switch, which cuts off your internet traffic when your VPN connection drops. You can also browse anonymously thanks to their DNS leak protection.
Both providers also have built-in blockers for ads, trackers and malware-associated sites. Surfshark calls its blocker Cleanweb, while Proton VPN's is called NetShield. Both services also support split tunneling.
Privacy
If you're concerned about your privacy while browsing, either Proton VPN or Surfshark should suffice. We dug through their privacy policies and operating histories, and we're satisfied that they don't save logs of personally identifiable information.
Proton VPN is based in privacy-friendly Switzerland, which has data protection laws in its constitution. Surfshark's headquarters is in the Netherlands, which is part of the Nine Eyes alliance — an intelligence-sharing arrangement among certain countries. However, this doesn't matter since Surfshark doesn't save data on its servers.
Money-Back Guarantee
Proton VPN and Surfshark both offer a 30-day money-back guarantee on all plans. This is the standard refund period in the VPN industry, although CyberGhost's longer plans offer 45 days (see our CyberGhost review). We recommend using the 30-day money-back guarantee offer to check out a VPN risk-free.
During our Proton VPN and Surfshark reviews, we subscribed to both and asked their customer service agents for a refund by the third week. We got our money back within a week without any back and forth.
Differences
In this section, we'll look at the differences between Proton VPN and Surfshark, including pricing, streaming access, server locations, speeds, simultaneous connections and customer support.
Prices and Free Plans
Unlike Surfshark, Proton VPN offers a free version. Without paying a dime, you can connect to over 100 servers in three countries (the U.S., the Netherlands and Japan) and enjoy unlimited data. Proton VPN's monthly plan is also cheaper, but Surfshark offers better long-term discounts.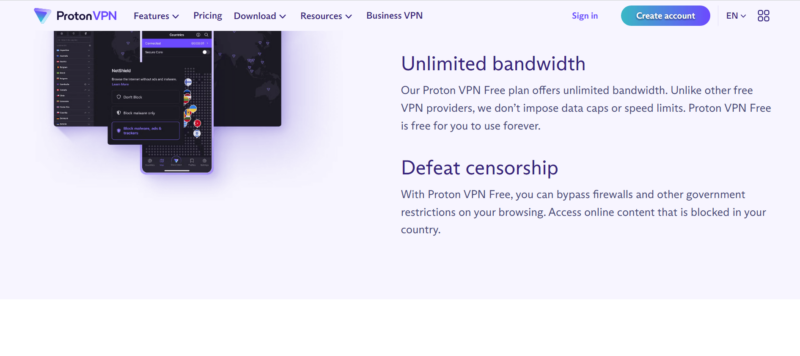 At $9.99, one month of ProtonVPN is more affordable than Surfshark's monthly rate of $15.45. However, Surfshark offers better discounts when you subscribe for a longer period. Surfshark's annual plan costs $3.99 monthly, while Proton VPN's offer is $5.99 monthly.
Surfshark's two-year plan is also cheaper, at $2.49 monthly. Comparatively, you'll have to pay more than double to get Proton VPN for a year — $4.99. What's more, Surfshark adds one free month to the two-year plan.
If you want more security features besides a VPN, Surfshark offers Surfshark One and Surfshark One+ plans. Surfshark One starts from $3.19 monthly and includes 24/7 antivirus protection, webcam protection, anti-spyware and malware protection. Surfshark One+ adds a Surfshark Incogni, a data removal tool.
Speed
If you examine our best fast VPN list, you'll notice that Proton VPN isn't part of our automated tests because of programming issues. Surfshark is one of the fastest VPNs, along with NordVPN and ExpressVPN (see our comparison on Surfshark vs NordVPN, for example). For this comparison, we ran speed tests for Proton VPN and Surfshark across a variety of countries.
Surfshark
Location
Ping
ms
Download
Mbps
Upload
Mbps
Unprotected

32.2

5.23

North Macedonia (closest server)

10

31.9

4.56

United States

142

28.3

5.26

Brazil

239

29.2

4.46

Nigeria

156

31.8

5.02

Ireland

58

29.3

4.76

Australia

297

30.5

5.15

India

195

31.9

5.08

Average

157

30.41

4.9
Surfshark posted the best download speeds, keeping at least 90% of our initial speeds in all the locations we tested, including South Africa, the U.S., the U.K., Brazil and Australia. Because of Surfshark's better download speeds, we recommend it for download-related activities like watching Netflix movies and streaming live sports.
Proton VPN
Location
Ping
ms
Download
Mbps
Upload
Mbps
Unprotected

19

19.96

5.94

United States

26

19.43

5.55

United Kingdom

299

18.46

5.45

Brazil

392

15.77

4.82

Singapore

540

14.47

3.40

South Africa

604

13.27

5.40

Australia

523

17.53

5.09

Average

397

16.49

4.95
Meanwhile, Proton VPN delivered an inconsistent performance. Nearby servers, such as the South African server, held around 85% of our original speeds, but faraway locations like Brazil suffered a massive dip, retaining around 70%. Proton's VPN accelerator technology definitely provides some speed boosts, but it's hard to say when it'll be effective.
Our upload speed tests also showed that Surfshark is the more reliable choice. We enjoyed at least 90% of our initial upload speeds on all servers. Proton VPN performed even better than Surfshark in some locations like the U.K. but was woeful in Brazil and Japan. We recommend Surfshark for content creators and business executives who upload or transfer large files regularly.
As expected, Surfshark offers better latency scores than Proton VPN across the board. This makes Surfshark the better choice for latency-dependent activities like gaming. You can play popular online games like Minecraft and Netflix games without lags.
Although Proton VPN states on its website that it won't limit the speed of its free VPN servers, you won't get the highest speeds (up to 10Gbps) on them. The free servers offer "medium" speeds, since far more people connect to them simultaneously. That said, we used the free servers and can confirm that they are fast enough for most purposes, including streaming videos and chatting.
Streaming Services
From our tests, we found Surfshark to be a more reliable choice for streaming compared to Proton VPN. It easily unblocked all the main streaming providers, including Netflix, BBC iPlayer, Amazon Prime Video, Disney+ and Hulu. Surfshark doesn't make our best VPN for streaming list, but it's much better than Proton VPN for streaming, whether in HD or 4K.
Proton VPN can also unblock streaming services, but not as consistently as Surfshark. We needed multiple server attempts to access Netflix U.S. Also, as we've already demonstrated in the "speed" section, Proton VPN is slower than Surfshark. You might experience lag if you stream in HD and 4K.
Server Locations
Surfshark has over 3,200 servers in 100 countries compared to ProtonVPN's over 3,000 servers in 69 countries. With a larger server network, you're less likely to experience server congestion and slow speeds. It also offers more IP address location choices.
Proton VPN offers secure core servers along with its regular locations. These servers route your VPN traffic through privacy-friendly countries — such as Switzerland, Sweden and Iceland — before sending it to its final destination. Surfshark is more innovative with its double VPN feature, allowing you to select your own double VPN server combinations.
Most of ProtonVPN's Plus servers are in the US (over 1,000 servers). The rest are spread across Europe and Asia. These servers are optimized for streaming, torrenting and super-fast 10 Gbps connectivity speeds.
Similarly, Surfshark has a massive VPN server network in the US: over 600 servers. It also has over 1,500 servers in 58 European countries. Surfshark has more server locations in Asia, the Americas and Africa compared to Proton VPN.
Another aspect worth considering is whether the network uses virtual servers. Surfshark has virtual servers marked with a "V" in the apps. These servers are useful for countries where VPNs are restricted, such as India, but can have performance issues. Proton VPN operates only physical servers, so its overall network is smaller, but more reliable.
Simultaneous Connections
Proton VPN allows you to connect to one device on the free plan, and up to 10 devices when you subscribe. Surfshark allows unlimited simultaneous connections, which means you can use a subscription on as many devices as you like.
If you intend to use a VPN provider on a few personal devices like a laptop, phone, or tablet, Proton VPN's ten simultaneous connections are good enough. However, if you use many devices or want to share your VPN with friends or family, you need Surfshark's unlimited simultaneous connections.
Customer Support
Surfshark provides the best customer support for users who encounter issues with its service. It has a more extensive knowledgebase full of FAQs, setup guides and troubleshooting guides. Proton VPN's help center has only a handful of articles.
Both VPN services offer email support through a ticketing system. In our tests, we received a response from each VPN within the same day. Unfortunately, Proton VPN doesn't offer live chat support, while Surfshark has live chat support with agents who respond in a timely fashion.
Which Is Better: Proton VPN vs Surfshark?
Proton VPN's biggest perk is its free version, which is more generous than most free VPNs. That aside, Surfshark fares better in most respects. It has a larger server network, with over 3,200 servers in 100 countries.
Furthermore, Surfshark is faster than Proton VPN and is more reliable at unblocking streaming services and playing online games. Surfshark is cheaper than Proton VPN if you want a VPN for a year or two. Plus, unlike Proton VPN, you can use Surfshark on as many devices as you want.
We Recommend Proton VPN If You Want…
A free VPN: Proton VPN's free plan gives users access to servers in the U.S., the Netherlands and Japan, and it doesn't cap your speeds.
A privacy-friendly VPN: Proton VPN is based in Switzerland, which has some of the best privacy laws in the world.
A VPN for a month: Proton VPN offers one of the cheapest monthly VPN rates.
We Recommend Surfshark If You Want…
A VPN for unblocking and streaming: Surfshark's servers can unblock virtually any website or streaming service.
A fast VPN service: Surfshark boasts some of the fastest download and upload speeds in the VPN industry, but does have higher latency.
A cheap VPN: Surfshark offers cheaper long-term deals and unlimited simultaneous connections.
If You Want to Consider Other Services, Check Out…
If you still want to explore other VPN providers, check out the other VPN alternatives below.
The Verdict: Why We Think Surfshark Wins Overall
From our tests, Surfshark is a better VPN than Proton VPN. It's cheaper on the long-term plans, faster and better at unblocking streaming platforms. You should only choose Proton VPN over Surfshark if you want a free VPN. 
If you've been a long-time user of Surfshark but are convinced you no longer need its range of features, we have a guide on how to cancel Surfshark subscription.
What did you think of our comparison? Do you agree that Surfshark is the better pick overall, unless you're looking for a free VPN? Have you used either of the services? If so, which was your favorite? Let us know in the comments below. Thank you for reading.
FAQ Surfshark vs Proton VPN
Surfshark is faster and more reliable at unblocking websites compared to Proton VPN.

In our testing, Surfshark is able to maintain at least 90% of download and upload speeds, while Proton VPN is more inconsistent, dropping as low as 70% in some locations.

ExpressVPN is faster and more reliable than Surfshark. It is also more consistent at unblocking websites, especially streaming platforms and it implements obfuscation on all its servers.

Proton VPN is a trustworthy VPN since it adheres to a strict no-logs policy and is based in Switzerland, a privacy-friendly jurisdiction.