Comparing online backup services is never an easy task, as each provider serves different purposes for different needs. Here at Cloudwards, we know that a comparison between Carbonite and CrashPlan is a very popular topic of discussion on and off Google. While both services offer unlimited online backup, they certainly differ in the audiences they target.
We know it can be terribly confusing which service to choose. There are so many features, plans, and things to consider, such as security and speed. Nobody should have to spend hours investigating the pros and cons of any one service. 
We did our homework, and even for us, it was agonizing. Although we're pitting two well-known cloud providers against each other, we're not big fans of either of them, so remember that this is a comparison based purely on what we've observed of their services.
We have used both services, and they're all right. They have cheap plans for consumers and more-expensive plans for businesses. While you may already know which is right for you, you can always ask us in the comment section or shoot us an email, and we'll get back with help and guidance. 
So without further ado, let's dive right into the battle. 
Online Cloud Backup Is a No-Brainer
We just love the way the Internet has developed. Now it is possible to backup your data offsite without having to spend hundreds or thousands of dollars. Online backup starts from as low as $5 per month, and it's all set-it-and-forget-it. 
Automation is key. The easier your backup, the more likely you are to stick with it and be prepared in case of disaster. 
And disaster will eventually happen. Hard drives fail. Accidents happen. There are bad people out there who might steal your laptop at the airport. Or your grandma is just a bit tipsy today and spills her coffee over your machine. There are countless scenarios why we think backing up your data online is indispensable.
Carbonite is one of the first online backup services to offer unlimited backup and storage to their customers. Carbonite started back in 2005, when online backup was still a very small niche. Today, they've grown into one of the biggest players in the cloud backup market. Whether this is due to a good product or to good marketing remains to be seen. 
We have an exclusive Carbonite offer code waiting for you
CrashPlan, too, has a couple of years on its back. Founded in 2007, CrashPlan already has a very solid user base. What makes CrashPlan compelling is that they never delete any data that you upload to their servers, even if you delete those files from your machine. Also, their client software is available on a variety of operating systems, so even Linux and Solaris users are able to use CrashPlan.
CrashPlan vs. Carbonite: The Battle Rounds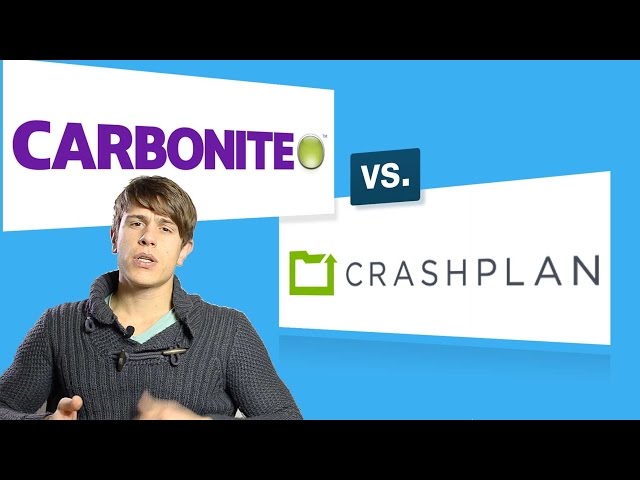 ---
Starts from
$ 5.00 per month
Visit Carbonite
Carbonite

Review
Unlimited backup
Easy to use
Inexpensive
Slow backup speed
No monthly subscriptions
Limited mobile backup
Especially for users who are new to online backup and cloud storage, ease of use is tremendously important because they should get to their first backup as fast and frictionless as possible. 
Carbonite online backup guides new users through an easy-to-understand wizard that allows them to select the most important files right away. If a user doesn't select a file, then Carbonite automatically backs up the My Documents folder.
If you are a Carbonite Home user, be advised that Carbonite does not automatically backup video files. So make sure you select them to put them into your backup stack.
CrashPlan also uses a setup wizard to guide you through your first backup. However, it is a little harder to understand as CrashPlan has several methods to backup your data: you can backup to CrashPlan Central, use peer-to-peer backup, or use the CrashPlan software to manage your local backups.
As CrashPlan offers unlimited online backup, we recommend just selecting all your files and backing them up to the cloud.
Do not worry about excluding files from your backup stack. Also, to use the full potential of CrashPlan, you really have to dig deeper into the menus and invest a little bit of time in understanding the software.
---
| | |
| --- | --- |
| CrashPlan for Business | |
| Carbonite | |
Online backup reliability is one of the most important things to consider when deciding on a provider. What we mean with reliability is how the service provider manages your files uploading to (backing up) and downloading from (restoring) its servers.
A well-known saying among data backup specialists, which we quote all the time here at Cloudwards.net, is your backup is only as good as your restore. So reliability has to work in both ways — in backing up and in restoring your files.
Carbonite took a long time in backing up all of our test files, 10GB in total. Once your data is uploaded, incremental backups are slightly faster. Looking at our files online, we find that everything seems to be fine. We can search for any file that we backed up. However, finding files is not the same as restoring them.
So we did the following: First, we randomly selected files from our backup stack and restored them to our hard drive. Then we emulated a full computer crash, performed a full restore of our files, and then randomly checked if all of the files were intact.
Carbonite performed well on the individual file restore. However, we had some issues with our full restore: First, it took a very long time to get our files back. Then, we couldn't open the archive with restored files. Only after downloading our restore for the second time were we able to get to all of our files. When you're in a hurry, this can be very frustrating. 
Backing up your files with CrashPlan is a joy. Your files are uploaded flawlessly, and you can access them anytime from the browser or the mobile app.
While browsing our files online, we couldn't find any differences from the original files that we had uploaded. Partial and full restore were accurate and worked as expected.
---
| | |
| --- | --- |
| CrashPlan for Business | • |
| Carbonite | |
As with all other online backup services we test here at Cloudwards.net, we performed an extensive speed test, measuring upload and download speeds as well as looking at the network graph. We used our 10GB test folder with a variety of files, such as photos, movies, text documents, and presentations.
We thought that would resemble a realistic backup scenario.
Carbonite used to be severely flawed because they considerably limited the upload speed after around 25GB of uploaded files. Fortunately, Carbonite has removed this limitation. Now you don't have to worry about your online backup taking months to finish.
Our initial test folder of 10GB took quite long to upload (over 10 hours). So we can't really say if there is no bandwidth throttle in place. Restoration was pretty fast and was completed as expected. 
CrashPlan holds true to its promise of unlimited online backup because it does not limit storage, bandwidth, or file size. So it is a truly unlimited online backup service. Our test folder of 10GB was uploaded in no time (below 3 hours).
This is a good and solid result. As restoring is more important than backup, we also measured the restoring speed. CrashPlan is among the fastest when it comes to restoring your files: we performed a full restore in only 2 hours. 
---
| | |
| --- | --- |
| CrashPlan for Business | •• |
| Carbonite | |
Features are difficult to rate because they depend too much on user preference and needs. Also, you cannot say that just because one provider has an X number of features, it is better than another. This is simply not true.
However, we can evaluate how well those features that are offered blend in. Backblaze, for example, has a very limited feature set but does one thing very well: backup. While there are not a lot of features, you cannot say that Backblaze is worse than online backup services that offer more.
Carbonite has quite a limited feature set. You can backup your files and access them in the cloud from any device. Carbonite gives you the features you expect from a good online backup service: you can either schedule your backup or select automatic backups to never forget about backing up again.
Also, you can backup external hard drives for free. If you're going for a Home Premier Plan, you can even have Carbonite send you a thumb drive with your files on it in case you need to restore quickly. However, Home users have to pay for that feature.
With CrashPlan, it's features galore! There are a lot of backup features that geeks will love. You can adjust network settings in a very fine-grained level and fiddle around with CPU power. You can either backup continuously or choose a schedule that fits your needs best.
A very nice feature that we haven't seen in other online backup services is peer-to-peer backup. If one of your friends has CrashPlan installed, she can allocate storage on her hard drive for you to use for free.
Your files are sent to her computer in an encrypted way so that you have additional offsite backup for free. Of course, you can also backup external hard drives for free. However, beginners will have difficulty learning about all the features and might be overwhelmed.
---
| | |
| --- | --- |
| CrashPlan for Business | ••• |
| Carbonite | |
Online backup security is of utmost importance when sending your files over the Internet. It is non-negotiable that backup services encrypt your files locally and on their servers.
Carbonite's security is very solid. You can select a personal and private security key that encrypts your files locally with a 128-bit Blowfish key. That gives you a great deal of security for your files.
Of course, your files are sent via a Secure Socket Layer (SSL) connection, which is also used by banks and other institutions. The data centers are guarded 24 hours a day, and server exes are controlled through electronic key cards and PIN codes. Your files are also backed up, and if there is an electricity outage, backup generators switch on.
If you are a CrashPlan Pro user, then you get a 448-bit Blowfish key and can search for your files after choosing your personal passphrase. You have to be careful, though, because if you lose the passphrase, nobody will be able to restore your files, not even CrashPlan.
Also, CrashPlan has data centers around the US and the rest of the world, guaranteeing redundant backups of your files. Plus, CrashPlan has video surveillance, power, and cooling redundancy, which also protect CrashPlan's own server infrastructure from physical harm.
---
| | |
| --- | --- |
| CrashPlan for Business | •••• |
| Carbonite | • |
With three runaway wins CrashPlan is the clear victor of this competition. However, while CrashPlan is the winner in this article, it still might not be the perfect solution for your needs.
Nevertheless, we think that CrashPlan will satisfy the needs of more people than Carbonite. What do you think of the face off? Tell us in the comments section below.
---
Audio Version