Best VPN Services for China in 2023: Avoiding Censorship and Surveillance in The Middle Kingdom
China's internet landscape is so restricted that expats and business travelers might lose touch with the online world they know. Luckily, with the best VPN for China, you can access the free internet and bypass the Great Firewall.
Life in China can feel boring and fragmented for foreigners used to popular social media, streaming, international news media and productivity apps. With Facebook, Twitter, Netflix, Spotify, Google and Gmail blocked, you could easily be cut off from family, friends and colleagues back home unless you have the best VPN for China.
Key Takeaways:
ExpressVPN is the best China VPN because it works most of the time, regardless of the region in China.
Windscribe doesn't offer the reliability of ExpressVPN, but if you want a free China VPN, it's a great option.
China's internet restrictions are constantly shifting, and the VPN you're using today might not guarantee the same performance tomorrow.
A virtual private network helps you circumvent the Great Firewall of China. In this article, we'll highlight the strengths and weaknesses of the top seven VPNs for China to make it easier for you to pick the right one. We'll also give you tips to use a VPN in China without falling into a collision course with the authorities. Read on.
11/19/2021 Facts checked

Cloudwards has updated the post to include Surfshark — a relatively new yet reliable VPN for China — and VyprVPN, which used to be an honorable mention.
No, VPNs aren't technically illegal in China. Although many VPN providers are banned in China, no law officially bans using VPN technology in China.

Not many VPN services work in China. However, secure VPNs like ExpressVPN, VyprVPN and NordVPN can bypass China's Great Firewall.

It's simple. To connect to China via VPN, you need a service that offers a server in China. The VPN will assign you a unique Chinese IP address, despite being outside the country.

Windscribe is one of the few, if not the only, free VPNs that work in China.
Top VPNs for China
What Makes the Best VPN for China
China's Great Firewall is getting less permeable by the day, making it impossible for most VPN services to circumvent the system. It's so sophisticated that even among VPNs that work in China, not all can guarantee they'll work all the time in all locations. The safest bet is to pick a VPN that has the best anti-censorship and surveillance tools.
We'll discuss the VPN features to watch for, but before that, here's a sneak peek at the best China VPN list:
Robust encryption and VPN protocols are essential to encrypt your traffic, hiding it from government censors, hackers and snoopers. A kill switch is a good standby security tool that cuts your internet when the VPN connection drops, preventing leaks that could blow your cover. In addition, DNS and IP leak protection add a critical security layer, keeping your digital footprints private.
You also need a VPN with servers outside China to unblock censored websites and platforms. It should have servers in countries neighboring the Middle Kingdom. Generally, connecting to closer VPN servers will give you better performance, but if you need to access services only available back home, consider a VPN with servers in your home country.
A multi-hop server is a nice addition as that routes your internet traffic via multiple servers, making it difficult for the surveillance system or hackers to monitor or decrypt.
Obfuscated servers are welcome, as well. While no foreigner has been prosecuted for VPN use in China, you should conceal the fact that you're using one, and obfuscation helps you achieve that.
The Top 7 China VPN Services
While the best VPN services tick the boxes mentioned above, not all can consistently find a way through the Great Firewall of China. We separated the wheat from the chaff to make it easier to pick the best China VPN. We'll discuss the strengths and weaknesses of these VPNs, starting with our top choice: ExpressVPN.
More details about ExpressVPN:
Pricing: $6.67 per month on the yearly plan
Provider website: expressvpn.com
Pros:
Top-notch security & privacy
Works in nearly all regions in China
Lightning-fast speed
RAM-only servers
ExpressVPN is the best VPN for China, full stop. To begin with, it has more than 3,000 servers in 94 countries, including some that border China proper, such as Hong Kong, India and Myanmar. You can find a server that's close to China to unblock social sites, VoIP platforms, streaming services and productivity apps, and thanks to its lightning-fast speeds, you can enjoy excellent performance.
Anonymize Your Traffic With ExpressVPN
What sets ExpressVPN apart is its ability to deliver great performance most of the time. Its servers support obfuscation technology to ensure your VPN traffic is undetectable as such (though Lightway doesn't support it). It also uses secure protocols and encryption, and it has DNS and IP leak protection to prevent leaks that could help the Chinese government monitor your online activity.
That's not all. If the worst happens and Chinese authorities subpoena ExpressVPN to provide details about your online activity, there would be little to no data to share. This is because the VPN service has RAM-only servers that are wiped clean of data with every reboot.
ExpressVPN is pricey, but that's not necessarily a drawback. There's no doubt its pricing is much higher than many competitors. However, its reliability in China, comprehensive feature set and excellent performance justify the hefty price tag (read our ExpressVPN review to learn more). You can take ExpressVPN for a spin, risk-free, thanks to its 30-day money-back guarantee.
More details about NordVPN:
Pricing: $3.30 per month, on the two-year plan
Provider website: nordvpn.com
Pros:
Provides obfuscated servers
Double VPN
Affordable
Easy to use
Cons:
Doesn't work everywhere in China
NordVPN is a privacy juggernaut suitable for expats, activists, journalists, tourists and business travelers in China. Like ExpressVPN, it offers servers in countries surrounding China to bypass censorship and uses secure protocols and encryption to keep your internet activity out of the reach of Chinese authorities.
Use a Speciality VPN Server With NordVPN
NordVPN offers specialty servers that are adept at accessing services blocked in China. For example, if you want to make VoIP calls or connect with remote staff on productivity apps, the obfuscated servers have you covered. The server makes your VPN connection appear unprotected, preventing Chinese government censors and internet service providers (ISPs) from blocking you.
The double VPN servers are ideal for journalists and activists who need to send sensitive information via the internet. As the name suggests, the servers route your traffic through two VPN servers, giving it a double encryption layer. This makes it difficult for surveillance agencies in China to intercept the traffic or eavesdrop on your emails, chats or messages.
On a monthly rate, NordVPN is in the same echelon as ExpressVPN (read our NordVPN review to learn more). Thankfully, its one-year plan is nearly half ExpressVPN's price, and the two-year plan is even cheaper. There's no guarantee NordVPN will work in the area you're visiting, but with the 30-day money-back guarantee, you have ample time to weigh the options.
More details about VyprVPN:
Pricing:

$5 per month (one-year plan)

Provider website: vyprvpn.com
Pros:
Chameleon protocol gives excellent obfuscation
VyprDNS to defeat DNS censorship
More than 300,000 IP addresses
VyprVPN isn't a household name, but it is one of the best VPNs for China. Though it doesn't guarantee the reliability of ExpressVPN or the privacy of NordVPN, it gets you into services blocked in China, thanks to its Chameleon protocol. Besides encrypting your internet traffic, the proprietary VPN protocol jumbles OpenVPN packet metadata, making it difficult to decipher, even by deep packet inspection (DPI).
Secure Your VPN Connection With VyprDNS
The Chinese government has censored more than 24,000 domains, including popular platforms. In most cases, the authorities use DNS "lying" — where the system redirects DNS requests to a different site — to prevent internet users from accessing banned domains. VyprDNS sends all your DNS requests via an encrypted tunnel, preventing the government and ISPs from redirecting them.
However, to open the banned domains, you have to connect to a server outside China, and you have plenty of options to do so with VyprVPN. There are more than 300,000 IP addresses in over 70 server locations. You can connect to a server in the U.S. to access social media to chat with friends or open banned news media, such as CNN or The New York Times, to keep up with events.
When you look at VyprVPN's capability vis-a-vis the price, it offers a lot for your money — as you can read in our VyprVPN review — but it doesn't quite match the likes of ExpressVPN. You pay $5 per month on the annual plan, and there's a 30-day money-back guarantee in case you change your mind.
More details about Surfshark:
Pricing: $2.21 per month on the two-year plan
Provider website: surfshark.com
Pros:
NoBorders mode
Camouflage mode
CyberSec to block malware-infected sites
Unlimited simultaneous connections
Cons:
Doesn't work in all regions of China
Surfshark is a relatively new yet reliable VPN provider for China that cements its spot on our list with its NoBorders and Camouflage modes. When you activate the NoBorders mode in China, Surfshark will provide a list of the best VPN servers for getting around the Great Firewall.
NoBorders Servers & Camouflage Mode
The NoBorders servers work fine in most regions of China, unblocking services from search engines like Google and DuckDuckGo to social media platforms. For even better performance, we recommend combining the servers with Camouflage mode. This tool makes your VPN traffic appear like a regular internet connection to avoid detection when bypassing content filtering.
Lastly, if you're going to use Chinese apps like TikTok and WeChat, beware of malware and spyware injection. There have been claims of China spying on ethnic minorities worldwide using Android malware. If you're going to use a mobile phone in China, be sure to activate Surfshark's malware-blocking CyberSec tool or use one of the best antivirus software.
Surfshark is an affordable VPN for China (read our Surfshark review). Its two-year plan sets you back $2.49 a month, which is almost a dollar cheaper than NordVPN. For the price, you get all the anti-censorship tools and unlimited simultaneous connections. You can get a first-hand feel for the service, worry-free, thanks to its 30-day money-back guarantee.
More details about Windscribe:
Pricing: Free plan, plus build-a-plan option at $1 per server location
Provider website: windscribe.com
Pros:
10 free server locations
10GB data for free
Unlimited simultaneous connections
Double-hop feature
Cons:
3-day money-back guarantee
Most free VPNs don't cut it for use in China because they're untrustworthy. However, Windscribe — our best free VPN — defies the odds, providing the security and VPN servers you need to bypass the Great Firewall. If you're going to be in China for just a few days, Windscribe might be the service you need.
Windscribes' Free VPN Server Locations
You get 10 free server locations, including Hong Kong, the U.S. and U.K., to access the blocked websites in China. You also get 10GB of free data every month, which is enough to chat with friends on social media or watch an episode or two of your favorite movie. The free plan also makes it an excellent backup VPN, since it costs nothing to have as an emergency account.
Moreover, there are multiple protocols. The Stealth VPN protocol is handy in China as it obfuscates your data packets, making them unrecognizable even by deep packet inspection. You can also create a double-hop connection to give your traffic an extra layer of protection by choosing two different server locations: one on the desktop app and the other on the Browser extension.
Windscribe is free (read our Windscribe review to learn more). It does offer paid plans, though, if you want to connect to more servers or use more than 10GB of data. There's an option to build a custom plan for as little as $1 per location, and you can pay another $1 for unlimited data. Unlike other VPN providers on our list, Windscribe only offers a three-day money-back guarantee.
Free
Up to 15 GB free with email confirmation and Tweet
15GB
Unlimited
More details about TorGuard:
Pricing: $3.88 per month on the three-year plan
Provider website: torguard.net
Pros:
2-day free trial
Robust stealth system
Stealth proxy via Shadowsocks
Bypasses Great Firewall in most places in China
Cons:
Inconsistent connection speeds
Confusing pricing model
Another VPN that works in China is TorGuard. It consistently circumvents the Great Firewall, thanks to its robust stealth system consisting of the Stunnel and stealth proxy. Beyond encapsulating your traffic in an encrypted tunnel, the Stunnel uses obfuscation technology to make it look like regular HTTPS traffic so it bypasses DPI firewalls undetected.
TorGuard Stealth Proxy
The stealth proxy, which is powered by Shadowsocks — a fast-tunneling proxy — adds an extra anonymization layer to help you bypass China's DPI firewalls. This enables you to access websites blocked in China with minimal chances of VPN blocking.
Besides removing VPN handshakes from your connection, TorGuard prevents DNS, WebRTC and IPv6 leaks that could leave you exposed. Moreover, there's a kill switch that ensures your traffic passes through the VPN's tunnel. Plus, with servers in countries like Hong Kong, Japan and Indonesia, it's easy to find one that can break through the Great Firewall of China and other geoblocking.
TorGuard isn't the cheapest VPN for China, setting you back $3.88 per month on the three-year plan. Still, it's reliable and delivers fast performance, especially when connecting to VPN servers in countries neighboring China (read our TorGuard review). When you buy TorGuard, you'll have a seven-day money-back guarantee, just in case you change your mind.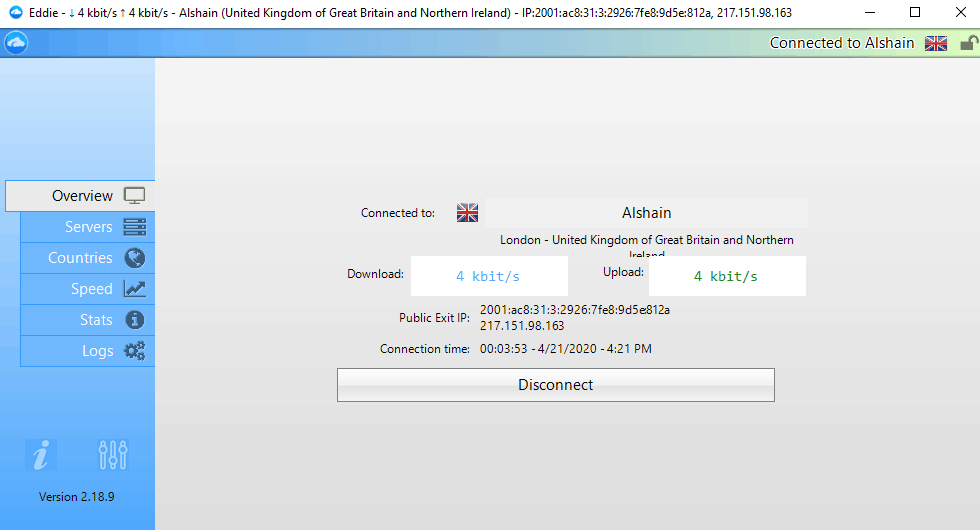 More details about AirVPN:
Pricing: $3.18 per month on a three-year plan
Provider website: airvpn.org
Pros:
Free trial available
Perfect forward secrecy
Offers 4096 bit DH keys for encryption
Affordable
Last but not least, we have AirVPN, one of the best VPNs for China and designed with seasoned VPN users in mind. Even though it has the least VPN servers and worst server spread of the VPNs on our list, it offers enough options to circumvent the Great Firewall of China.
Multi-Hop VPN Servers
Its VPN clients are old-fashioned and may not be ideal for beginners, but when you look beyond the clunky VPN apps, there are things to like. AirVPN allows you to send traffic through a maze of five VPN servers (five hops), making it difficult for Chinese government sensors to pick your destination server.
Moreover, it uses OpenVPN and AES 256-bit with perfect forward secrecy (PFS) to encrypt your internet traffic. PFS changes the encryption keys every 60 minutes, meaning if the Chinese authorities were to intercept your traffic, which is rare, they would have a 60-minute window to decrypt using the existing key. Once that time elapses, the keys change, making any attempt to interpret your data virtually impossible.
AirVPN is another budget-friendly VPN for China. It has one of the most diverse pricing models, with plans ranging from three days to three years. It's an open-source VPN — its source code is available on GitHub and GitLab — meaning seasoned coders can tweak its code to achieve the desired online security settings for China. Read our AirVPN review to learn more.
VPN Providers that Don't Work in China
Enough of the wheat, let's turn our attention to the chaff you should avoid. Keep in mind some VPN services are great in their own right (and some claim to work in China), but we found issues that make them unsuitable for use in China.
CyberGhost has all the hallmarks of the best VPN for China. It has robust online security, an extensive network of VPN servers, excellent anti-censorship tools and it's affordable. However, the fact that it offers a VPN server location in China is a real red flag.
If a VPN provider has a server in the Middle Kingdom, it needs to comply with China's rules. This means the service must log and store user data and share it when coerced or subpoenaed by the authorities. Did CyberGhost bend its no-logs policy to get permission to operate a server in China? Food for thought. Check out our CyberGhost review for more details.
Hotspot Shield is an iffy VPN service that appears in most Google searches for the best VPN for China. The VPN isn't secure enough to claim a spot in our ultimate China VPN list, though. It also has a server in China that throws a cloud of doubt into its commitment to online security and privacy.
What's more, its mobile apps don't encrypt your traffic, which leaves it vulnerable and guarantees that you won't be able to bypass the Great Firewall. Head over to our Hotspot Shield review for all the information you need.
3. Most Free VPNs
Besides CyberGhost and Hotspot Shield, steer clear of most free VPNs. As you can read in our worst free VPNs guide, a lot of these services aren't built with your security and privacy in mind. If any of them claim to work in China, it's a blatant lie. Windscribe is the exception to this rule, as it is a trustworthy free China VPN — it's also a great VPN for India.
Are VPNs Legal in China?
The legality of VPN services in China is a gray area. As of October 2021, there is no law officially banning VPN technology in China. However, most top-shelf VPN providers are either banned or blocked in China, so many people assume VPNs are illegal in China.
Why Does China Ban VPNs?
Instead of forbidding VPNs, the government has strict rules that most providers aren't willing to abide by. For example, it requires all virtual private networks to log, store and share user data with authorities. This goes against most VPN providers' no-logs policy, so VPNs that care about user privacy choose not to comply.
As a result, the government makes VPN websites inaccessible in mainland China. Even worse, the VPN providers have to remove their mobile VPN apps from China's Google Play Store and Apple Store.
Why You Need a China VPN if You're an Expat
If you're moving to China as an expatriate, China's internet restrictions will affect your work and social life in one way or another. A VPN may help you:
1. Unblock Productivity Apps
Some productivity and project management tools, including Slack, are blocked in China. A VPN helps you circumvent geo-restrictions and connect with teammates as if you were in the same country.
2. Bypass Streaming and Gaming Geo-Restrictions
If you want to watch a movie on streaming services like Netflix or listen to songs on Spotify or YouTube, the platforms are inaccessible in China. A VPN assigns you a unique IP address outside of China, enabling you to open Netflix, Spotify, YouTube and other blocked streaming sites from China.
3. Keep Your Data From Hackers and Scammers
Keep in mind, China is a hotbed for hackers, and using public WiFi may put your email, bank details and credit card credentials at risk. To be on the safe side, you should use a VPN to keep personal information and online activities away from hackers, scammers and government surveillance tools.
China's New Data Security Law
The Personal Information Protection Law (PIPL) went into effect Nov. 1, 2021. It's modeled after the EU's General Data Protection Regulation (GDPR), and shares various elements, such as the extra-territorial application.
That means PIPL doesn't only apply to China-based companies that process personal information within China. It may apply to foreign companies processing personal information belonging to Chinese residents, if the processing:
Facilitates provision of products or services to Chinese residents
Analyzes or assesses the behavior of Chinese residents
Conforms to other circumstances outlined by laws and regulations
While PIPL and GDPR rely on consent to collect and process data, PIPL requires consent for many more things, including to transfer data outside China.
For example, if a company wants to process Chinese resident's personal information, it needs to inform the individuals and ask for consent.
Moreover, companies transferring large amounts of personal information across the Chinese borders must subject that data to the prescribed Cyberspace Administration of China (CAC) security assessments if it exceeds the stipulated threshold.
That could be the gist of PIPL. Perhaps China wants to prevent certain data from leaving its borders to keep its dirty linen in private and change the West's perception of particular aspects, like its demographics.
3 Tips for Using VPN Services in China
Buying a VPN in China isn't straightforward, let alone using one. Before you hop on the plane to China, here are some tips to prepare you for what's to come.
1. Subscribe to Multiple VPN Services
No VPN service can guarantee it'll work all the time in all regions in China. Since you don't know which VPN service will work in the region you're visiting, it's prudent to arm yourself with multiple options. While ExpressVPN offers excellent reliability, it's best to have Windscribe or NordVPN as a backup, just in case.
2. Download the VPN Beforehand
Most importantly, download and install the latest version of the VPN app before you leave for China. Otherwise, you'll be up a creek without a paddle. Major VPN websites are blocked in China, and mobile apps are unavailable on Android and iPhone app stores.
3. Make the Most of Available Security Tools
Be sure to make the most of every security tool to increase your chances of bypassing China's internet restrictions. Some advanced security features like obfuscated servers and multihop tools might be critical to the VPN working in your region.
Final Thoughts
That's it for our comprehensive China VPN guide. We have discussed the features to look out for and shared crucial information about VPN pricing. ExpressVPN is an excellent service to get started with, and you can take it for a spin with the 30-day money-back guarantee.
Remember, though, you also need a backup. We recommend trying — the best free VPN for China. If you want to access China-specific platforms, read our guide on how to get a Chinese IP address.
Which VPN did you use the last time you visited China? Is that service among our picks? Have you faced any issues using a VPN in China? Let us know in the comment section. As always, thanks for reading.