Best VPN For China in 2023: Scaling the Great Firewall
To get past the Great Firewall of China, you need a powerful VPN that disguises your connection. The best candidates are ExpressVPN, NordVPN, Surfshark, VyprVPN and Windscribe.
Key Takeaways: Best China VPN
You need a VPN to access blocked websites in China, with ExpressVPN, NordVPN, Surfshark, VyprVPN and Windscribe being the best picks.
The best China VPNs come with obfuscation that prevents firewalls from automatically blocking VPN traffic.
A VPN helps unblock sites in different regions, gets around censorship and reduces the risk of getting infected by malware.
If you plan to visit China, download at least three VPNs before arriving in the country. China blocks many VPN homepages, so if you wait to download a service, it may be too late.
China is home to expats and is a frequent tourist destination, but don't expect to log in to Facebook, YouTube or other Western websites while there. They're all banned by the Chinese government, making a virtual private network (VPN) a necessity to bypass these restrictions. Only the best VPN for China, or the runners-up below, can get around the blocks.
China is constantly updating the Great Firewall, and many virtual private networks don't work in the country. What's worse is that some VPNs offer servers in China. If those servers are real and not virtual, the service may be in compliance with China's VPN rules, which require VPNs to log user information.
The VPNs on this list have what you need to get past China's surveillance network, known as the Great Firewall. Despite the name, it's more of an unpredictable net than a wall. Sometimes, a VPN will get past the restrictions, but the Great Firewall might block it at other times. Read on for the complete details.
11/19/2021 Facts checked

Cloudwards has updated the post to include Surfshark — a relatively new yet reliable VPN for China — and VyprVPN, which used to be an honorable mention.

09/24/2023 Facts checked

We've reduced the list of VPNs to five candidates, added two honorable mentions and provided reasons to use a China VPN for expats.
What Makes the Best VPN for China?
The Great Firewall of China can block VPN connections, but it's imperfect. The best VPN services bypass it by using obfuscation, sometimes called stealth VPN. With disguised VPN traffic, users can safely browse the internet without triggering China's restrictions.
Top Suggestions: Best VPN for China
The Great Firewall is China's digital censorship apparatus. It prevents people in China from accessing information the government deems harmful and shuts down sites that go against the country's values. Naturally, it also blocks VPNs. VPN providers try to circumvent the restrictions, but even the best China VPNs don't work everywhere in the country.
The 5 Best VPNs for China
Though the list of VPNs that work in China isn't extensive, it's still important to pick the right one. Some factors we look for are obfuscation capabilities, robust security features and a zero-logs policy. Here are our top recommendations.
More details about ExpressVPN:
Pricing:

$6.66 per month (15-months plan)

Free plan: No, but 30-day money-back guarantee available
Provider website: expressvpn.com
Pros:
Every server has obfuscation
Proprietary Lightway protocol
Excellent connection speeds
ExpressVPN has everything we look for in a China VPN, starting with universal obfuscation. It also offers many of the most common VPN features, like a kill switch, multiple VPN protocols, a large server network and VPN apps for various platforms. The kill switch prevents IP leaks, while split tunneling lets you select which apps to tunnel and which to leave unprotected.
Though not the fastest, ExpressVPN does have top-tier speeds, perfect for unblocking websites in countries outside China. It's the best VPN for China by a pretty wide margin. Our ExpressVPN review covers the service in greater detail.
Universal Obfuscation
At first glance, you may not see the option to obfuscate your connection, but that's because this feature is activated by default on all of ExpressVPN's servers. When combined with some of the best encryption protocols in the industry, bypassing China's online restrictions becomes much more manageable.
You can choose from plans lasting a month, half a year or a whole year, with the latter offering the best value for your money. All three options are covered by a 30-day money-back guarantee, meaning you can use it to test the VPN and get your money back by requesting a refund in time.
More details about NordVPN:
Pricing:

$4.99 per month (one-year plan)

Free plan: No, but 30-day money-back guarantee available
Provider website: nordvpn.com
Pros:
Fast global speeds
Obfuscated locations
Double VPN servers
Cons:
Not every server is obfuscated
NordVPN is the second-best VPN for China thanks to its good record in the country. Besides the standard VPN arsenal of features like a kill switch and multiple secure protocols, NordVPN has obfuscated servers to foil Chinese censorship. However, what we like most about NordVPN is how fast the connection is — according to our speed tests, it's the fastest on the market.
NordVPN doesn't have obfuscation on every VPN server, so you'll have to select from a smaller range of VPN server locations if you're in China. If one doesn't work, try another or change protocols until you find one that does. Learn more about this provider by checking out our full NordVPN review.
Threat Protection
Cybercrime is prevalent in China, and it's not just the famous scams, as Chinese websites can be hotbeds of malware. NordVPN's threat protection can destroy malware before it infects your computer and save you from entering infected websites. Threat protection can also block ads, a common sight on Chinese websites.
NordVPN has three pricing tiers: Standard, Plus and Complete, with Standard including access to the full VPN service only. Plans last for a month, one year or two years. All subscriptions have a 30-day money-back guarantee.
More details about Surfshark:
Pricing:

$3.99 per month (one-year plan)

Free plan: No, but 30-day money-back guarantee available
Provider website: surfshark.com
Pros:
Powerful security
Affordable plans
NoBorders Mode
Surfshark includes some extra functions that might be useful if you're visiting China. The dynamic multihop feature lets you send VPN traffic through two servers of your choice, increasing security in case the authorities catch on to one server. Surfshark also changes your IP address multiple times per session, so you're even harder to catch.
Each Surfshark account supports unlimited devices connecting to the provider's servers without limits. Therefore, a single subscription can help many people who need to bypass the Great Firewall in China. Read our Surfshark review for more information.
NoBorders Mode
NoBorders mode is Surfshark's take on obfuscation and network restriction bypassing, and it's toggled on by default. If it detects any network restrictions, including the Great Firewall, the VPN app will automatically select locations designed to get past the blocks.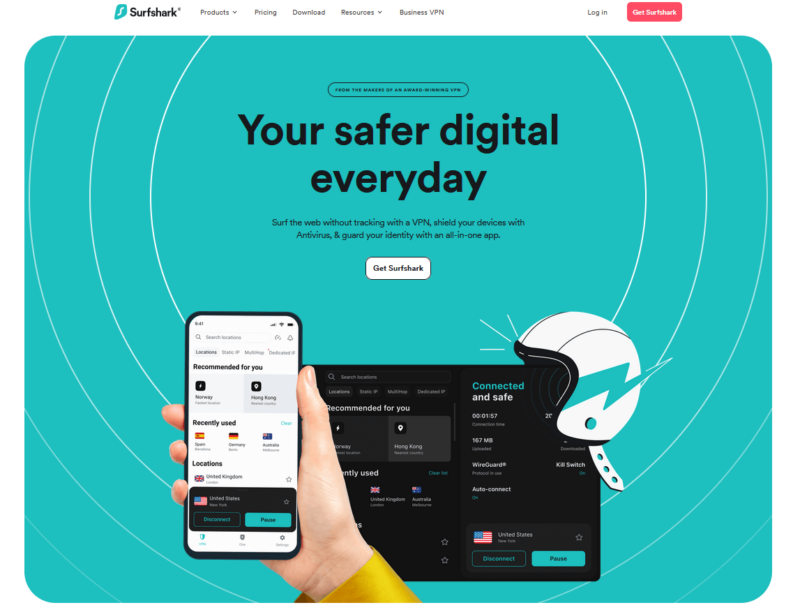 Surfshark recently updated its pricing plans to include three tiers: Surfshark Starter, Surfshark One and Surfshark One+, with the Starter plan including the core VPN experience and ad blocker. You can subscribe for a month, a year or two years, with the latter only costing $2.49 a month. There's a 30-day money-back guarantee on all plans.
Surfshark Starter
Unlimited GB bandwidth, Unlimited devices, Secure VPN, Ad blocker, Cookie pop-up blocker.
Unlimited GB
Unlimited
Yes
More details about VyprVPN:
Pricing:

$5 per month (one-year plan)

Free plan: No, but 30-day money-back guarantee available
Provider website: vyprvpn.com
Pros:
Chameleon protocol
Good security rating
10 device connections
Cons:
No split tunneling on Windows & iOS
Slower speeds
VyprVPN may not be the fastest VPN, but its focus on security and privacy makes it a viable VPN for China. It recently made its desktop interface more user-friendly while adding WireGuard support. The company developed its Chameleon VPN protocol to let users in countries like China get past internet censorship.
Speed remains VyprVPN's primary weakness. Even on a decent internet connection, our testers recorded some consistently lackluster results. The VPN does unblock many streaming sites, but we don't recommend using it if speed is a necessity. We cover the VPN's other aspects in our VyprVPN review.
Chameleon Protocol
VyprVPN's Chameleon protocol builds upon OpenVPN's firm foundation to help users evade deep packet inspection (DPI). This method is how many VPNs are blocked in China, making VyprVPN a solid choice.
VyprVPN has two paid plans: a monthly and an annual plan, though there are also two business plans. The first standard subscription is expensive, so we recommend the one-year plan. Both have a 30-day money-back guarantee.
More details about Windscribe:
Pricing:

$5.75 per month (one-year plan)

Free plan: Yes
Provider website: windscribe.com
Pros:
Many advanced features
2 obfuscation protocols
Flexible paid plans
Cons:
Poor user interface
Data limits on free plan
Windscribe is the best of the free China VPNs and was previously the best free VPN, coming with two ways to obfuscate your connection. Our tests revealed that Windscribe has watertight security, and when the Ukrainian government seized two of its servers, they didn't uncover any user data. When you're in China, you can surf the internet without worrying about government spies.
Part of Windscribe's security is perfect forward secrecy, employing new keys for every data transaction. Even if someone manages to get one key, they can't decrypt your entire web-browsing session. Plus, like many of the best VPN providers, Windscribe uses AES-256 encryption, which is unbreakable by current technology.
Stealth and WStunnel Protocols
To get past the Great Firewall, Windscribe offers the Stealth and WStunnel protocols, both of which create an OpenVPN tunnel that looks like standard HTTPS traffic. The provider recommends using WStunnel on the macOS and Windows clients and Stealth on Android. As of now, both protocols aren't available on iOS due to Apple's restrictions.
The Windscribe free plan is enough to get past censorship, but if you want more data, you can pay for the monthly, yearly or flexible plan. Unfortunately, unlike the other VPN providers on this list, there's only a three-day money-back guarantee.
Free
Up to 15 GB free with email confirmation and Tweet
15GB
Unlimited
Honorable Mentions
Other VPNs can also get through China's strict censorship, but they didn't make the list due to some glaring weaknesses. Regardless, they're still worth a brief mention.
The problem with TorGuard isn't security or speed, as it excels in both areas. It's also affordable compared to some of the premium VPNs and comes with stealth capabilities that let it connect to VPN servers in China.
The problem is that TorGuard has a somewhat dated user interface. It isn't the most beginner-friendly service either, with some settings that must be adjusted manually and others that require some specialized knowledge. Our TorGuard review has more information.
Chances are you've heard of Astrill VPN when people talk about staying in touch while in China. Some servers are optimized for those connecting from China, providing decent speeds. It also unblocks a variety of popular streaming services.
Astrill VPN collects device information and your phone number when you register, though it doesn't keep logs. Its plans are also expensive. There are real servers in China, too, which may be a liability if the government decides to seize them. This Astrill review has a deeper look at its features and more.
Are VPNs Legal In China?
Though China highly discourages using VPNs, the country has no law directly prohibiting their use. However, VPN companies must keep logs to operate legally in China. Many providers don't comply with this rule, resulting in China banning them.
Some universities have free VPNs (like FortiClient) approved by the government that allow access to normally blocked websites like YouTube and Facebook. You may also have noticed media companies like iQIYI and HunanTV maintaining official YouTube channels. You can legally use a VPN in China, but unless you use an approved one, the service may not work.
Why Does China Ban VPNs?
Officially, China blocks VPNs to protect its citizens from what it deems "harmful information," but it's clear that the Chinese government doesn't want the people going against it. As VPNs preserve internet privacy and anonymity, they make it harder to track people speaking out against the government.
Since most of the population is deprived of an encrypted connection to the internet, China can control information — but VPNs can grant foreign IP addresses that show users censored info. For example, the massacre at Tiananmen Square is forbidden information in China, but VPN users can look it up.
China's New Data Security Law
China passed the Data Security Law (DSL) on June 10, 2021, along with the Personal Information Protection Law (PIPL) exactly a month later. The DSL states that any Chinese-generated "national core data" and "important data" must be protected at all costs. National core data is defined as information concerning national security, public interest and the nation's economic efforts.
On the other hand, the DSL hasn't given guidelines for classifying "important data." The DSL makes accessing Chinese data difficult for other nations, and Chinese entities are fined heavily. Chinese organizations and individuals must receive governmental approval to share any data stored in China.
You can understand the PIPL as China's equivalent of the European Union's General Data Protection Regulation (GDPR). The PIPL penalizes companies that violate individuals' privacy, but similar to the DSL, plenty of undefined territory allows the Chinese government to apply the law flexibly.
Why You Need a China VPN if You're an Expat
Expats in China may feel that they're safe, but no one can escape Chinese governmental surveillance or internet censorship without a good VPN. A VPN tunnel can grant access to many websites and services you usually can't reach. Here are some reasons why one is a necessity.
1. Unblock Google and More
Many services like Google, Facebook and WhatsApp don't work in China, and the only way to access them is through a VPN. It's the only safe way to stay in touch with family and friends without compromising your privacy.
2. Access Streaming Services
Some streaming services like BBC iPlayer, Amazon Prime Video, Netflix and Peacock won't work if you have a Chinese IP address. However, with IP addresses from the U.S., U.K. or another eligible country, you can watch your favorite shows from China. All the VPNs we recommend boast excellent streaming performance, but the distance between you and the server affects the speed.
3. Avoiding Cybercrime
With most of Mainland China being online, there's no shortage of cybercrime, especially online fraud. There are also cases of selling personal information. While a VPN won't guarantee absolute protection, it does make it more difficult for cybercriminals to track you.
Tips for Using VPN Services in China
It's not easy to bypass the Great Firewall, but with the help of a secure VPN and the proper choices, you can maximize the chances of your VPN working. Here's how.
1. Change the VPN Protocol if One Doesn't Work
The Great Firewall adapts constantly, but so does VPN software, so settings that fail one day may work the next. For example, if the OpenVPN protocol is blocked, consider using WireGuard or Stealth VPN. If a certain server doesn't work, try another one. If one VPN doesn't work, try a backup. Keep trying until a protocol unblocks a website unavailable in China.
2. Connect to Obfuscated Servers
Some VPNs don't have universal obfuscation, like NordVPN, meaning you have to select specific server locations to bypass the Great Firewall. Obfuscated servers disguise your internet traffic so the Chinese counter-VPN systems can't tell you're using one.
3. Subscribe to and Install the VPN Before Entering China
China not only blocks VPN services, but it also prevents people within its borders from visiting official VPN websites. Therefore, it's best to purchase a subscription from your preferred VPN provider before visiting the country. We also recommend picking at least three services, so you can switch between them in case one doesn't work in a certain region.
Final Thoughts: Best China VPN
If you're looking for a VPN in China, we highly recommend ExpressVPN, NordVPN, Surfshark, VyprVPN or Windscribe. These five can get past the web restrictions put in place by the Chinese authorities. Two honorable mentions are TorGuard and Astrill VPN.
Even though you can legally use a VPN in China, we highly recommend keeping a low profile and saying nothing against the government. Avoiding unwanted attention is the best policy.
How was your experience using a VPN in China? Are there any VPNs we missed? Did you encounter anything unusual while using one? Let us know in the comments section, and thank you for reading.
FAQ: Best VPN Services For China
ExpressVPN fulfills every condition for working in China, with obfuscation, reliable security features and no logs. NordVPN is a close second, and all the others on our list should work in China.

Not usually, but if you speak out against the government or break the law, authorities may take action.

Yes, but you can still use it if you install it before entering China and connect to servers with obfuscation.

ExpressVPN tends to work in China, but its website is blocked in the country. You'll have to install the apps on your devices before entering China.

The best free VPN for China is Windscribe, as it has obfuscation on its entire server network through Stealth VPN and WStunnel VPN.