Private Internet Access Review
If you're looking for a fast, no-frills VPN service, Private Internet Access deserves your attention. It does what it needs to, no questions asked, though we do wish PIA had a little less trouble getting into Netflix and other streaming services. Read our full review to know more.
During the past few years, Private Internet Access has changed a lot, but despite that, it's always hung around on our best VPN guide. Though never reaching the heights of an ExpressVPN or CyberGhost, PIA has always coasted on our list of recommendations as a powerful and easy-to-use VPN at a decent price. 
Its most recent version, version 1.5.1, may be its best yet, though, with a list of new features and an overhauled interface, to boot. In this Private Internet Access review, we're going to look at those new features, as well as check up on speed, security, privacy, streaming performance and customer service. 
Thankfully, all of the changes have only made PIA stronger. We'll get into the specifics of what the new features are and why we like them in the next few thousand words, but if you want to skip the hoopla, you can always shoot over to PIA and try it out risk free with a seven-day money-back guarantee.
PIA Video Review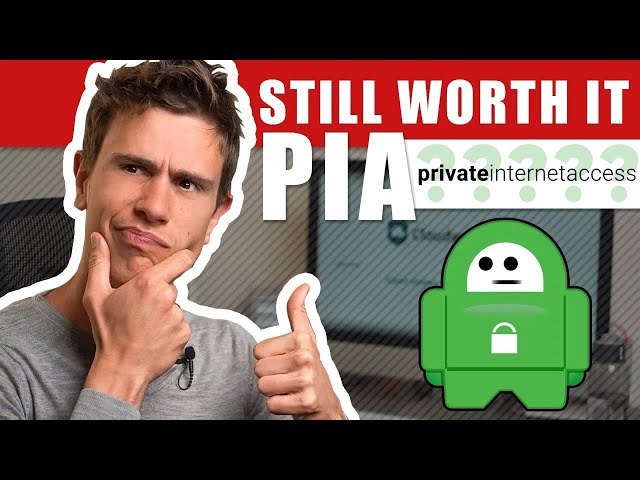 Strengths:
Inexpensive
Supports split tunneling
No-logs policy
Included malware blocker
Night mode
Included SOCKS5 proxy
Fast
Weaknesses:
Struggles with streaming platforms
No live chat support
Limited server locations
Alternatives for Private Internet Access
1

Private Internet Access


www.privateinternetaccess.com

/month

PayPal, Credit card

10 Simultaneous connections

Unlimited bandwidth

Can access Netflix US

Allows torrenting

No-logging policy
2

ExpressVPN




★★★ Best VPN 2020 ★★★


30-day money-back guarantee
www.expressvpn.com

/month

PayPal, Credit card, Bitcoin

5 Simultaneous connections

Unlimited bandwidth

Can access Netflix US

Allows torrenting

No-logging policy
3

NordVPN




$$ Best Budget VPN 2020 $$


30-day money-back guarantee
www.nordvpn.com

/month

Credit card

6 Simultaneous connections

Unlimited bandwidth

Can access Netflix US

Allows torrenting

No-logging policy
4

CyberGhost


www.cyberghostvpn.com

/month

PayPal, Credit card

7 Simultaneous connections

Unlimited bandwidth

Can access Netflix US

Allows torrenting

No-logging policy
5

AirVPN


www.airvpn.org

/month

PayPal, Credit card

5 Simultaneous connections

Unlimited bandwidth

Can access Netflix US

Allows torrenting

No-logging policy
PIA, in its previous iterations, was light on features. Although MACE was always a key selling point — more on that in the "security" section below — many of the advanced options seen in the application today were not present. During the past few years, though, PIA has built its application into one of the most robust options on the market.
The most recent addition is split tunneling, or as PIA calls it, "app exclusions." Split tunneling allows you to send some traffic through the VPN tunnel while other traffic stays on your normal connection.
Although you can manually initiate split tunneling with nearly any VPN, it's tough to do, and very few services allow you to set it up in-application (read our PureVPN review for a service that does). 
Alongside split tunneling, PIA has a kill switch — which can be set to block your internet connection when the VPN drops or when the VPN is disabled — and encryption settings (read our description of encryption). MACE is also a key feature, but we'll talk more about that when we look at security. 
PIA Port Forwarding 
Some PIA locations support port forwarding. Although it doesn't indicate which locations support it, you can tick the "request port forwarding" switch in the settings so that it always checks. 
Port forwarding can be used on standard connections for a variety of purposes, including connecting directly to a game server or gaining direct access to a VoIP server, but for VPNs, it's mostly used for torrenting. 
In short, your router works like a middleman between you and the internet, forwarding your requests to the server and then sending that data back to you through a port. These communications pass through a NAT firewall, which can cause some issues with torrenting.
With port forwarding, you can reroute your connection to become an active node in a peer-to-peer connection, allowing you to communicate directly with more peers. You can learn more about that in our what is torrenting guide. 
PIA Proxy
PIA includes a SOCKS5 proxy with your VPN subscription that requires a separate username and password, which you can generate in your control panel. Although it's not a great idea to use the proxy alone — read our VPN vs. proxy vs. Tor guide for more on that — it can be used in conjunction with the VPN. 
One of the most recent additions to PIA is the ability to use the SOCKS5 proxy to connect to the VPN. Doing so adds another hop to your connection without significantly increasing load times. In short, you're getting the benefit of a double-hop connection while still only going through a single VPN tunnel. 
Private Internet Access Features Overview
Starts from
$
3
33
per month
Can be installed on routers
Can access Amazon Prime Video
Encryption types
128-AES, 256-AES, RSA-1024, RSA-4096
VPN protocols available
OpenVPN, PPTP, L2TP, IKEv2
Enabled at device startup
Malware/ad blocker included
PIA keeps its pricing simple, offering only one plan across multiple durations, unlike VyprVPN (read our VyprVPN review). Service is offered in one-month, six-month and one-year durations, though PIA makes reference to a two-year plan in its terms of service. We couldn't find the two-year option on its website, though. 
The only way to subscribe for two years is to upgrade in your control panel on PIA's website. If you purchase less than a year, you'll have the option to upgrade your subscription to a year or two years at a prorated price.
All three durations are based on a monthly rate of $9.95, but you'll never actually pay that. Each tier offers some sort of discount, starting with 30 percent off the monthly plan and moving to 67 percent off the yearly one. 
Unless PIA changes its pricing, you'll pay the same rate as you did when you signed up, unlike HideMyAss, which hikes the price upon renewal (read our HideMyAss review for more on that). 
Knowing that, the price is excellent. It's rare to find a VPN that offers a monthly service that comes with all the bells and whistles for less than $7. 
You can get a subscription cheaper with a service like Windscribe, but without all the features PIA includes (read our Windscribe review). The price gets more impressive the longer your duration gets, too, putting overpriced services like Astrill to shame (read our Astrill review). 
No matter what duration you choose, you have access to 10 simultaneous connections and all of PIA's features, including the SOCKS5 proxy and MACE. Furthermore, you can pay with PayPal, a credit card or Amazon Pay, as well as through anonymous payment methods, including bitcoin and gift card transfers. 
PIA Free Trial
PIA's excellent pricing is taken down a peg by its lack of a free trial. Although PIA isn't alone in not offering a free trial, its refund period is mediocre. You're only allowed a week to change your mind, no matter what duration you purchase. That said, at least PIA doesn't lie about the refund period, like TorGuard does (read our TorGuard review). 
Compared to other leading services, PIA's refund period falls flat. Most services offer a 30-day money-back guarantee — read our NordVPN review for one example — while some, such as CyberGhost, offer a full 45 days (read our CyberGhost review). That said, the price is low enough that PIA is still worth a shot.
PIA makes it easy for you to set up an account. On the website's homepage, you can download the application by clicking the "download" button, as well as choose a subscription to pay for your service. 
Unlike most other VPNs, PIA doesn't make you go through a specific setup process (read our IPVanish review for an example of that). Rather, you can either download the application first or sign up first. 
For most people, clicking the "join now" button is the quickest way to get started. PIA will display its available durations, and clicking on one will open a payment window. All of this happens on the product page, making the checkout process seamless. 
PIA Download
Downloading PIA is simple. After you sign up, you'll be brought straight to the download page, without any need to create an account or confirm your email. PIA will automatically detect your operating system and show all of the installers for the various platforms it supports. We were especially happy to see a separate APK file for non-traditional Android installations. 
Additionally, PIA shows its SHA-256 checksums for its latest Windows, macOS and Linux versions so you can troubleshoot any issues that may come up during installation. There's also some privacy tools recommended at the bottom, including GlassWire and Blur (read our Blur review). 
The Windows installer handles everything for you. After downloading the file, all you need to do is open it. PIA will begin installing right away without any input from the user. Once the process is finished, you'll be given a quick tour and the option to log in. 
PIA Login
Although you're sent directly to the download page after confirming payment, you can't close your browser. PIA sends a username and password to the email you're signed up with, which you'll need to log in. It's not backbreaking, but we much prefer the token-based authentication method of ExpressVPN (read our ExpressVPN review). 
The username and password you're sent is a bundle of letters and numbers, so we recommend storing it with one of our best password managers, such as 1Password (read our 1Password review). This is even more important if you're using a burner email, which is possible with PIA since the only personal information required is your payment method and email address.
PIA will launch in your system tray, and you can enter the emailed login credentials to gain access to the service. Although there are a lot of bells and whistles under the hood, you can use PIA without touching any of them. 
PIA Windows Application
If all you want to do is connect, PIA makes it easy. The application opens with a large "on" button and a recommended location, nothing else. All you need to do is click the button to get connected, with PIA linking you to the location with the lowest ping. That's important to note, as that location may not be the one closest to you. 
For instance, testing out of St. Louis, PIA recommended the location in Texas, despite the fact that a location in Chicago was available. On the server list, which you can find by clicking on the currently selected location, you can see where the data center is located, as well as the ping time measured by PIA. 
It seems the ping testing is ongoing, too. When using the application, the measured ping time would change by a few milliseconds across locations. 
Back on the main application screen, there are a few settings you can access by clicking the down arrow at the bottom. Doing so will expand the window, allowing you to view a speed test, some quick settings, your subscription information and more. 
Any of these sections can be flagged or moved to either be higher in the list or displayed on the main screen of the application. 
PIA Settings
Although you can adjust a few settings from the expanded view — for example, turning on light mode or turning off MACE — the meat and potatoes are in the settings screen. 
You can open the settings by clicking the three dots at the top right of application. Thankfully, the settings window is separate from the tray application, so you can move and adjust it as you need. 
There aren't too many settings, overall, but the basics are covered. You can turn on and off MACE, adjust the kill switch and change your encryption, but PIA doesn't go too far down the rabbit hole, unlike AirVPN (read our AirVPN review). Outside of the encryption settings, which we'll talk more about in the "security" section, you'll mainly pay attention to appearance settings. 
PIA Chrome Extension
In addition to the local application, PIA has an extension available for Chrome, Opera and Firefox. We tested on Opera (read our Opera review), which should function similarly to the Chrome extension, as both browsers are based on Chromium.  
You can use one or the other, or both the desktop application and extension. For the most part, the extension serves as just another way to control the VPN, but there some privacy features packed in, as well. 
By default, the extension blocks access to your microphone, webcam and location. You can find these protections elsewhere, but having them bundled in with the VPN doesn't hurt. 
Additionally, you can set up a bypass list in the extension like you can in the local application. It's not as useful of a setting for websites as it is for applications, but you can still add exceptions to the VPN tunnel from the extension. 
PIA is by far one of the fastest VPNs we've tested. It not only stayed fast close to home, but also when jumping over the pond, which is quite a feat. Furthermore, our ping stayed below 250ms, no matter where we were tunneling, earning PIA a seat in our best VPN for gaming guide.
| Location: | Ping (ms) | Download (Mbps) | Upload (Mbps) |
| --- | --- | --- | --- |
| Unprotected (St. Louis) | 9 | 94.54 | 21.57 |
| Chicago (recommended) | 16 | 91.25 | 19.79 |
| New York City | 37 | 85.98 | 17.99 |
| Southampton, UK | 101 | 88.71 | 18.31 |
| Tokyo, Japan | 182 | 51.96 | 12.91 |
| Sydney, Australia | 246 | 82.18 | 15.31 |
As we'll get into in the next section, PIA starts with AES-128-GCM encryption, which should be faster than most VPNs that use AES-256-GCM. To keep our testing fair, we used OpenVPN with UDP as the transport protocol and AES-256-GCM as the cipher. Even when jumping the key size, though, PIA stayed quick. 
Looking at the results above, the most shocking speed came from the UK, where our download rate was actually faster than our testing in New York City. Japan was slower, though not by much. Even when tunneling to the other side of the world, PIA held on to more than half of our unprotected download speed while keeping latency low. 
The speeds seen here are only matched by ExpressVPN, which is, on average, faster, although PIA is very close. Meanwhile, it makes impressively quick services, such as TorGuard, AirVPN and Astrill, look like subpar options in comparison. 
PIA loads with OpenVPN as the default protocol using UDP packets. That's the standard for VPN security, as you can see in our VPN protocol breakdown. However, the cipher that's paired with the protocol isn't. Out of the box, PIA loads with AES-128-GCM, which uses a smaller key size than the industry-standard AES-256-GCM. 
For most applications, the difference in key size shouldn't matter. Thankfully, PIA allows you to change between AES-GCM and AES-CBC, as well as change your key size between 128 bits and 256 bits. Additionally, you can select your handshake method, which, by default, is set to RSA-2048. Of course, upping your encryption will increase load times. 
Though it may not be apparent in the application, PIA supports more than OpenVPN. You can set up a PPTP and L2TP username and password in your account control panel, if you want to use those protocols, though be warned that you'll have to manually configure them. Additionally, iOS users also have access to IKEv2.
PIA DNS Leak Test
To ensure the security measures in place were effective, we ran a DNS leak test on PIA, as well as IP and WebRTC leak tests. Unsurprisingly, the results were clean. Not only were our DNS requests and IP address properly concealed, but PIA managed to do so with minimal redirects, showing the benefits of bare-metal servers. 
PIA MACE
Although encryption and leaks are the most important areas in this section, PIA presents another talking point. Included with your subscription is MACE, which should help you stay safe online. It's not a full-fledged antivirus — read our best antivirus software guide for that — but it makes the possibility of landing on an infected website less likely.
MACE functions similarly to an ad-blocker (read our best pop-up blockers guide for more on that). When loading a website, your browser sends a handful of requests pertaining to the IP address of the web server you're trying to access. MACE scans through those requests and checks the IP addresses against a blacklist that is updated regularly. 
If MACE finds a match, the site won't load, protecting you from a malicious payload. Additionally, PIA has MACE configured to use a public ad-block list, so it functions as an ad-blocker, too. 
Poking around, we found MACE effective. That said, new malicious websites are launching daily, so we wouldn't recommend MACE in place of, say, Bitdefender (read our Bitdefender Antivirus review).
PIA is a rarity in the VPN space. Like most services, it stands behind a no-logging policy, meaning that no information that has passed through the VPN is kept on record or monitored for any time. However, more than that, PIA is transparent. It's one of the few VPNs to directly state its parent company and clearly explain its privacy practices. 
Let's get the easy stuff out of the way first. The only information PIA requires when you sign up is an email address and payment method. You can anonymize your payment in a variety of ways, as PIA accepts cryptocurrency and gift card transfers. If using a credit card, PIA only asks for basic billing details, which, in the U.S., means the country and zip code. 
A username and password is generated for your account based on your email, which can be stored in the application for an easier login. 
Although there's no way to know for sure, it seems the email and username are not directly linked. Even if they are, PIA doesn't stop you from using a burner email. The only information you need from PIA is your generated username and password. 
As for the no-logs claim, PIA has proven in court that it doesn't keep logs, a feat made all the more impressive considering its parent company, London Trust Media, is based in the U.S. In 2016, a man in Florida was brought into court for threatening to use a bomb, and when the FBI investigated, they found that the suspect was likely using PIA. 
Under subpoena, PIA was required to hand over any traffic logs it had on the suspect, but there was nothing to hand over. Let us be clear: London Trust Media would be breaking U.S. law if it had logs and didn't hand them over, so either it was risking its neck for the privacy of one of its users or there aren't any logs. 
All of this information is outlined in official court documents. Furthermore, there are records of London Trust Media responding to subpoenas in the past. 
We mention all of this because there seems to be a lot of misinformed discussion on PIA's privacy on the internet. Although it's true there's no definitive way to prove a VPN doesn't keep logs, PIA has presented much more evidence than most, which is impressive, considering it's based in the States.
Despite the speeds and features going for it, PIA won't be making our best VPN for streaming list. We tested it across four major streaming sites, two of which PIA accessed. Hulu was fine, with PIA breaking through on multiple U.S. servers. Amazon Prime Video and BBC iPlayer had problems, though. 
We tested those platforms across multiple servers, and they were both able to detect that we were using a VPN each time. If you're interested in streaming BBC iPlayer or Prime Video, we recommend reading our best VPN for BBC iPlayer and best VPN for Amazon Prime Video guides. 
PIA Netflix
We were able to access Netflix with PIA, though not consistently. At multiple points during testing, Netflix would refuse to load, which we've never encountered. We found a workaround by loading Netflix on a standard connection, then connecting to PIA afterward. When doing that, it worked fine. 
What's strange is that Netflix, if it's going to block a VPN, will do so with a proxy error once you try to stream content. On some PIA servers, we were blocked from even loading the service. 
PIA has more than 3,335 servers in 30 countries at the time of writing. Although the server count is high, the spread is unimpressive (more on that in a minute). That said, the limited availability in countries makes sense. PIA only uses bare-metal servers, meaning there aren't any locations virtualized in harder-to-reach areas.  
PIA Servers
The server network is split into 50 locations, the majority of which are focused in the U.S. Only a handful of other countries have multiple locations, including Canada, Germany, the UK and Australia. Outside of those, each country has a single location. That said, each location has multiple servers; you just can't select between them. 
As for the spread, PIA is unimpressive. The basics are accounted for, including locations in Hong Kong, Japan and most of Europe, but some of the exotic locations seen with HideMyAss or NordVPN aren't present. 
The majority of support from PIA comes from its extensive knowledgebase. At the time of writing, there are more than 100 articles to pursue, each filled to the brim with detail. 
The majority of the pieces are, rightfully so, focused on technical issues with the application, but there are some general knowledge articles, too, such as where PIA is located and if it keeps logs. 
Rounding out the self-help options, PIA also includes a list of guides that can walk you through the various functions of the application. Everything from downloading the installer to configuring DNS settings is covered across every OS that PIA supports. There are also guides for installing the platform on routers. 
If you want to get in contact with the support team, you'll have to send an email. PIA offers email support through a contact form, and that's it. Live chat is essential for VPNs these days, so it's disappointing to see PIA's limited contact options. 
That said, PIA makes its PGP key available if you want to contact the team through an encrypted connection (read our guide to email security for more on that). 
You can also leave feedback, either in the form of a server request or of a feature suggestion, but you probably won't hear back for a while. Looking at the closed suggestions, the latest one is from December 2018, despite the fact that there are two pages of requests from 2019. 
However, most of the requests require development time, so even though PIA takes a while to implement the features its community wants, the development team is clearly listening.
PIA has grown into quite the impressive service through its last few iterations. What used to be a barebones VPN has grown into something greater, with an abundance of unique features that are accessible to even the most fargone technophiles. The price is right, too, making PIA an easy recommendation. 
What do you think of PIA? Are you going to try it out for the free week? Let us know in the comments below and, as always, thanks for reading. 
Private Internet Access FAQ
What Is PIA?
PIA is a VPN service based out of the U.S. It has more than 3,000 servers in 50 locations across 30 countries, offering subscriptions at only a few dollars per month. 
What Does PIA Mean?
"PIA" stands for Private Internet Access. 
How to Uninstall PIA
You can uninstall PIA on Windows by going to your control panel, finding the application in the installed applications list and clicking on "uninstall." 
How Many Devices Does PIA Support?
PIA supports 10 devices, as of 2019. For many years, the service only supported five devices, but it upped the count in March 2019.