Carbonite Review 2017
Great overall cloud backup solution for people with one PC or Mac to backup.
Last Updated: 23 Jun'17
22/06/2016
We've added our Carbonite video review.
19/02/2017
Our category winner for Macintosh cloud backup Carbonite has just updated their Mac line up. Now there are no disadvantages to the Windows version and Mac users can benefit from unlimited external hard drive backup and system image backups.
Watch our Carbonite Cloud Backup Video Review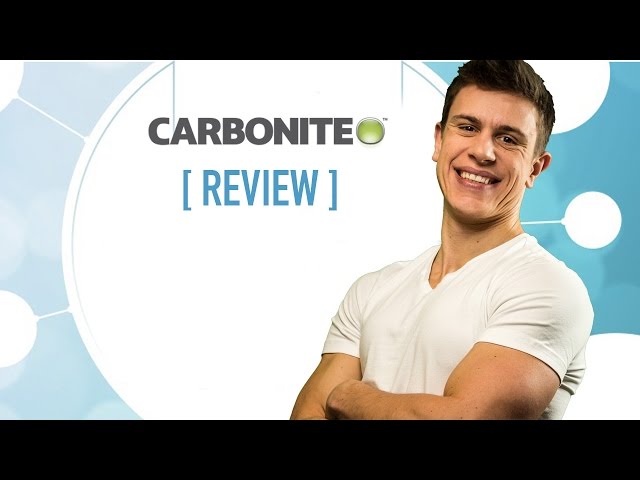 Carbonite is, without a doubt, one of the most popular brands when it comes to cloud backup.
Unlike services such as:
Carbonite is a backup solution rather than a cloud storage application. One of its high points is the fact that it provides unlimited cloud backup. Unfortunately, that perk only applies to a single device per user, unlike IDrive, which offers limited storage for an unlimited number of devices per user.
But it wasn't always so; Carbonite provided and supported syncing and sharing until early 2016, when, to the surprise of many loyal users, they discontinued their file sharing service. That decision alone cost Carbonite brownie points when compared to competitors that do offer file sharing.
But even after stopping the service, Carbonite is still a favorite of many, particularly with users seeking to adopt robust data recovery strategies.
What Is Carbonite Online Backup?
As a powerhouse that provides unlimited backup, Carbonite is comparable to the likes of CrashPlan and Backblaze, all of which offer pretty much the same packages. Your choice comes down to the specific features needed for an individual or business.
To help make sense of it all, I've analyzed Carbonite from multiple angles, testing its strongest and weakest features.
1. Who is Carbonite For?
Carbonite is a cloud-based solution optimized for individuals and small businesses seeking secure offsite system backups, which will protect them in the case of a disaster. Large corporations can pretty much afford private cloud systems for backup and subsequent disaster recovery efforts.
That leaves out individuals and small businesses, who still need an affordable, reliable system that will restore their PC and portable files in case of data loss, or system failure.
2. Carbonite Business
The average cost implications of a data disaster for small businesses is $8,000 per hour, with medium-sized companies incurring losses of $74,000 an hour, while large corporations fall within the $700,000 per hour loss range. Despite the fact that 95% of businesses in 2015 experienced downtime related to data disasters, 75% of them are yet to implement a comprehensive disaster management system. 
Reason being? Well, 36% of them claim that disaster recovery measures are too expensive. They cannot afford them.
Strengths and Weaknesses:
Strengths:
Carbonite supports Android, iOS, Windows and Mac
The service offers a 15-day free trial
It offers a Courier Recovery Service, which retrieves backed up data
Physical security measures like 24-hour server room surveillance
Data is protected through 128-bit Blowfish encryption
There are several ways to restore files
Weaknesses:
Unlimited storage space isn't really unlimited
Carbonite's speed is capped after a plan's storage threshold
Carbonite does not support Windows phones
All plans are priced on an annual basis
Only the $59.99 per year basic plan supports Mac and Windows
The Plus and Prime plans are only available for Windows users
Users cannot create public links to share and distribute files
Carbonite was the first cloud service to offer unlimited backup at a fixed price, circa 2006. This feature was quite revolutionary since none of its competitors could match the offer. They all rated their services according to the number of gigabytes available.
It grew relatively quickly that year, partly because it offered a free six-month subscription. Later down the line, Microsoft came on board and extended the free subscription to people who bought Microsoft Money.
After being named the Top Private Company by AlwaysOn in 2007, Carbonite engaged in other partnerships with industry giants, like Lenovo and Acer. Now that we've gone through Carbonite's remarkable journey over the last ten years, how attractive is it to users? In other words, is it affordable?
Let's see how they price their products.
1. Carbonite Pricing
Carbonite targets individuals and businesses seeking to backup their entire system.
The company offers unlimited backup, with a 15-day free trial for home users, making it less than ideal if you're looking for a service that offers free storage for a limited amount of data. If you like it and decide to upgrade, Carbonite comes in two plans for home and office.
For home users, the most basic plan goes for $59.99 per year and provides:
Unlimited backup for one computer

Remote file access

Free U.S.-based customer support

Automated backups for both Windows and Mac
2. Carbonite Mirror Image
The Plus package, designed for the home office, offers all these features alongside mirror image backup and external hard-drive backups at $99.99 per year, but only on Windows. If you still need courier recovery services and automatic video backups,
The Prime plan will suit you better; it costs $149.99 per year and is also only available on Windows.
---
| | | | |
| --- | --- | --- | --- |
| Plan | Basic | Plus | Prime |
| Price Plan | $ 59 99yearly | $ 99 99yearly | $ 149 99yearly |
| Storage | Unlimited | Unlimited | Unlimited |
| Details | Price is per year per computer. No monthly billing available. Doesn't include external hard drives. | Includes external hard drive backup. Mirror image backup. | Includes automatic video backup. Courier service. |
---
On the business front, Carbonite offers three plans:
All of which support an unlimited number of computers. Core provides 250GB of storage space, per computer, at $269 per year, while Power provides the same but also supports backup for one server at $599 per year.
If you're a large business with many servers, the Ultimate plan is ideal, offering 500GB of storage space per computer and backups for an unlimited number of servers at $999 per year. I find all plans to be fairly priced, and you can always purchase additional storage space at $99 per 100GB, without being forced to upgrade your plan.
On Carbonite, you can backup virtually anything, such as photos, documents and system settings. On the personal Plus and Prime plans, users can also backup mirror images of their systems and external hard drives.
Carbonite's interface is very simple to use and prompts you to backup your system as soon as it gets installed and launched.
You first enter a name for each device, which is pretty important, as it helps keep track of them. After that, you choose what to backup, and here is where things get interesting; unlike most other cloud services, Carbonite comes with two options.
Either choose what to backup, or, Carbonite's app will do the searching, starting with the local disk's system files. This feature was most likely borrowed from Windows' backup and restore service.
If you're keen about security, then you'll be pleased to learn that Carbonite also comes with private key encryption, just like IDrive. After setting up Carbonite on my machine, I decided to manage my encryption key. Which is an option that permanently removed it from their servers.
Using a key offers excellent security, but users run the risk of losing all their data if they lose it. Unfortunately, apart from the fact that key loss results in the loss of backed up data, anytime, anywhere access is not possible for users who manage their encryption keys.
To facilitate smooth and efficient remote data access, Carbonite advises users to upload encryption keys through their accounts. That way, the company can manage the key and provide remote data access. If you've read through the pricing plans and their respective features, you may have noticed what Carbonite refers to as a "courier recovery service".
This service allows you to get in touch with their support team, which will help physically retrieve backups and subsequently restore your data. Note that this option is not available to users who choose to retain their encryption keys. Therefore, since everything seems to get directly or indirectly connected with a user's encryption key, it makes sense to upload it.
From our early reviews here on Cloudwards.net, it was evident that Carbonite was throttling upload speeds at:
2mbps before 35GB of data

512 kbps between 35GB and 200GB of data

100 kbps for additional data
However, going by the info on their website and my tests, they've dropped this limitation, probably due to increased customer complaints, and consequently increased speeds to up to 10Mbps. Let's see how true this is, to be fair to Carbonite. The first step, of course, was testing my Internet speeds.
Thankfully, my upload and download speeds were stable enough to conduct a fair test. So I went ahead and initiated the backup of Cloudward.net's 10GB test folder.
Interestingly, and rather amazingly, the full system backup took 1 and 18 minutes, marking an average upload speed of 16.33 Mbit/s. Undoubtedly one of the fastest speeds we've ever recorded.
1. Unlimited Online Backup
So, how accurate is Carbonite's promise of "unlimited online backup"? Sadly, it's more of a marketing strategy to attract users. Obviously, limitless backup is a very attractive claim, but not a sustainable business model.
Carbonite has based its business on the assumption that most users only backup a couple of gigabytes of data. I think they are right in this assumption because I have never come across someone with terabytes of data on his or her computer — unless they're a movie and gaming enthusiast.
But then again, everything is pretty much streamed nowadays. Saving such files in your hard disk seems like a waste of space.
2. Common Carbonite Backup Problems:
Occasional

slow restore speeds

Occasional "carbonite not working" issues

Waiting to connect to backup server, probably due to slow Internet speeds

Failing to backup, probably due to slow Internet speeds
So far, I'm yet to learn about any security infiltrations of Carbonite. That said, it's worth noting the cloud service has been targeted by attackers on many occasions, most notably in early 2016, when a group of attackers attempted to gain access to various user accounts.
1. Carbonite Hacked
Strangely, in this particular case, the hackers were just trying their luck, after stealing usernames and passwords from other sites and attempting to use them on Carbonite.
Since many people use the same password across different websites, hackers will often just copy one set of login credentials to another site, hoping that it works (and it usually does).
Fortunately, Carbonite got wind of the plan before the hackers were able to infiltrate the company's systems successfully. Even after stopping the attack before it could even begin, Carbonite still made all users reset their login information, just to make sure everything was safe.
So, how has Carbonite managed to stay penetration free, while other cloud services, like Dropbox, have been infiltrated? If there's one technology that has proven to be effective against cyber attacks, it's got to be encryption.
Carbonite uses advanced 128-bit Blowfish encryption, which would probably take attackers years to decipher. The service also uses a combination of local and server-side encryption to make sure your data is safe before it gets sent over the Internet.
In addition to system security, Carbonite also offers physical server security through:
24-hour security server surveillance

Server room access control

On-site emergency backup generators

Uninterpretable power supplies

Temperature control systems
Servers are not only protected from unauthorized third-party access but also maintained in optimal conditions to facilitate constant online connectivity and availability.
There are three primary means of restoring a file using Carbonite:
Web app

PC client

Backup drive
To use the desktop client method, download and install the PC application on your computer. Using your Carbonite Login ID, sign into the system and go straight to the Status Page. There, you'll find the "get my files back" button. Clicking on it, and selecting "choose files" should direct you straight to the Carbonite Account, where you'll be able to view and identify folders and files to restore.
It's also possible to restore files from the Carbonite folder embedded in your PC. Double clicking on the folder will open a window with various options for backing up and restoring data.  Double-click the Backup files icon to view all your backed up files and folders. 
To restore, right-click on any of the files and choose "restore" to download and place the file back in its original location.If you prefer otherwise, click on "restore to," to specify a separate location for data restoration. Going with any of these options launches a restore manager window, which tracks progress and oversees the restoration process.
For users recovering from a loss of data, Carbonite's Anytime Anywhere Access is the most convenient option, since downloading the PC client is not necessary. Of course, this option allows users to restore the same files on certain computers simultaneously.
To use this method, go to account.carbonite.com and sign in to gain access to your account. Click "view files" to display and browse through various PC usernames and hard drives connected to the account. To restore a single file, click on its folder to view its contents, then click on a particular file to launch a download window.
You can also select multiple files and download them as a compressed folder. Unfortunately, there are various limits on multiple file downloads. For instance, it's not possible to select files in separate windows.
Even when file syncing and sharing seems like a pretty standard feature among cloud backup services, Carbonite is among the few exceptions that don't provide it. Before January 2016, Carbonite supported a separate syncing and sharing service. However, through a press release, the company announced they were discontinuing the service to focus more on what they do best — providing data protection.
After stopping the service, Carbonite went ahead and offered a free monthly subscription to customers subscribed to various yearly plans. I have to commend them for that step, but we still need some file sharing and syncing options.
I hope that they'll restore the service in the future, and embed it into their core architecture.
Just like the PC version, Carbonite's mobile apps are designed to protect device data via frequent backups. On their mobile applications' web page, Carbonite encourages users to protect themselves from unnecessary stress in case their phone is lost or stolen.
It's worth noting that Carbonite's mobile version is only compatible with iOS and Android devices. If you're on a Windows phone, you'll have to wait until Carbonite recognizes potential in that particular market.
I liked the fact that in addition to backing up data, Carbonite comes with phone recovery features, collectively organized into a package called "Device Protect". With this feature, users can remotely destroy all traces of private data and restore a phone's factory settings in case of any loss. 
If a phone gets stolen, you can still use Carbonite to activate the phone's camera, take photos of the thief, and have them sent to you.
For users who don't use a password to protect their phones, Carbonite provides a feature that allows users to access it, in the case of any loss, remotely.  You'll be able to locate it and trigger an alarm, even if the mobile device is set to silent mode.
In many cases, retrieving a lost phone can prove to be a difficult task, even with such security precautions. That's why Carbonite allows users to backup photos and videos, and subsequently restore them on other devices.
One thing I find great about Carbonite's web interface is its simplicity and clarity. I've praised many cloud services for being designed simply, but Carbonite deserves an unusually thick feather in its cap. All the tabs are very straightforward and clear; you don't have to search through Carbonite's help pages to figure your way around.
Unlike the PC client, which contains backup, restore, settings, account and help tabs, the web center contains:
Computers:

Manage backed up devices plus explore files and folders

Credit Cards:

View and manage credit cards connected to the account

Payment History:

Track all the payments made on your subscriptions

Subscription Information: View subscription status and plans
Personal Info:

View and edit personal information

Support:

Get help in case of any problems or queries about an account
The downside of simplicity, unfortunately, are its limitations. Carbonite's web interface has very limited features. Downloading a file is as simple as clicking on a folder and choosing a particular file, but sadly, there's no file versioning.
You only get to download what was backed up during the previous schedule. Another thing you may not like, of course, is the fact that there are no sharing options.
While Carbonite provides a simple and straightforward download process, it doesn't support online media streaming. All photo, music and video files are treated just like regular data. You have to download music and videos, then open them using an app like VLC.
Since I find Carbonite to be very simple and straightforward to use, I assume that many users have figured their way around it without any major problems.
However, in case users experience difficulties, Carbonite has invested in a multi-layered customer support system. The first line of defense is, of course, their knowledge-base, which gets systematically organized into topics.
I find this structure to be very refreshing since I don't have to scroll through tons of irrelevant information just to get a simple clarification. The knowledge-base is indexed and cataloged, so getting through it is fast and easy.
Still, if reading isn't your thing, Carbonite has pre-recorded videos of Cara, a virtual personal assistant, on various technical issues. I liked this personal touch. In addition to Cara, Carbonite also offers support over the phone, email, and online chat. These last three are only available between 8.30 a.m. and 9:00 p.m. EST.
Bottom Line
While Carbonite may not be the most comprehensive cloud backup tool out there, it has a very simple and straightforward user interface, making it ideal for beginners and home users.
To focus entirely on security and data protection, they have eliminated sharing and syncing tools, which are available on other cloud platforms, and created a system that does what we need.
Perhaps they'll be kind enough to expand their system to include these features in the future. Finally, as you use Carbonite as part of your data loss management and recovery strategy, remember to first backup data within local drives.
The cloud is useful as a secondary backup system, not a primary one.  Also, feel free to share your opinions and experiences with Carbonite, in the comments section below.
Thanks for reading!
Carbonite Comparison Tables
| | Carbonite | CrashPlan |
| --- | --- | --- |
| Deleted File Protection Period: | 30 days | Unlimited |
| External Drive Backup: | Not on basic plan | Yes |
| Encryption System: | 128-bit Blowfish | 448-bit Blowfish |
| Storage Limit: | Unlimited | Unlimited |
| Number of Devices Supported: | 1 Computer | 1 Computer |
| Cost: | $60/year | $60/year |
---
| | IDrive: | Carbonite |
| --- | --- | --- |
| Deleted File Protection Period: | Unlimited | 30 days |
| External Drive Backup: | Yes | Not on basic plan |
| Encryption System: | 256-bit AES | 128-bit Blowfish |
| Storage Limit: | 10TB | Unlimited |
| Number of Devices Supported: | Unlimited | 1 Computer |
| Cost: | First year $11.90 | $60/year |
---
| | Backblaze | Carbonite |
| --- | --- | --- |
| Deleted File Protection Period: | 30 days | 30 days |
| External Drive Backup: | Yes | Yes |
| Encryption System: | 256-bit AES | 128-bit Blowfish |
| Storage Limit: | Unlimited | Unlimited |
| Number of Devices Supported: | 1 Computer | 1 Computer |
| Cost: | $50/year | $60/year |
Carbonite Features
www.carbonite.com
Free Storage
Free Trial
15 Days
System
Price
Starts from $ 5.00 per month
Mobile Access
Mobile Apps
Syncronisation
Free External HD Backup
Continuous Backup
Incremental Backup
Backup Scheduling
Bare Metal Backup
Exclude File Extensions for Backup
Network Drives
Bandwidth throttling
Web Access
HIPAA Compliant
File Size Limit
Unlimited GB
Included Machines
1
File Sharing
Multiple Accounts
Share Photo Albums
Music Streaming
Folder Collaboration
Outlook Backup
Local Encryption
256-bit
Server Side Encryption
256-bit
Keeps deleted files
30
File Versioning
90