Carbonite Review
Offering ease of use, good speeds and unlimited backup for one device, Carbonite is without a doubt Cloudwards.net's favorite online backup provider.

Good
Starts from
$
6
00
per month
for

Unlimited GB
Here at Cloudwards.net, we've been reviewing online backup solutions for several years now. Now that CrashPlan has unexpectedly bowed out of the home backup race to focus on SMB users, there are three services in our opinion that really stand out at the moment as CrashPlan alternatives and home-based backup solutions: Backblaze, IDrive and Carbonite.
During this Carbonite review, we'll run down the essentials of this unlimited backup provider to help you decide if it's the best online backup service for you. We'll be touching a range of features including the service's simple set-and-forget approach backup, disaster recovery options, external drive backup and U.S.-based customer service.
We'll also cover where Carbonite falls short, including backup and recovery speeds that will leave some users in the lurch. If you're ready to give Carbonite a test run of your own, you can subscribe or sign up for a 15-day free trial by visiting Carbonite.  If you'd like to know more about the service first, keep reading.
Also, to find out how Carbonite stands up to the competition,  take advantage of our best cloud storage providers comparison tool. That will help you narrow down our full selection of online backup reviews to spare you some reading. Or, if you really, really hate reading, we also have a Carbonite video review, below.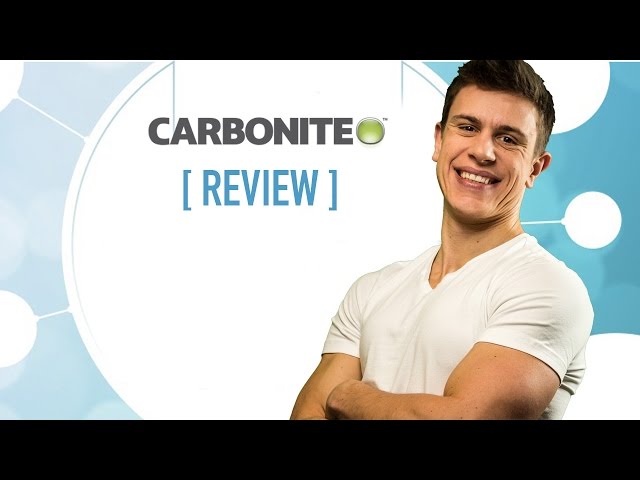 Strengths:
Unlimited backup
Backup by file type
External HD backup
Automatic photo backup
Courier recovery service
Weaknesses:
Very slow
A little expensive
No family plan
No monthly subscriptions
Limited mobile backup
No versioning for Macs
Caps upload/download speeds
Carbonite is an online backup service, meaning it's designed to provide disaster recovery for your computer. It's not meant to reduce the amount of space taken up on your hard drive or provide device synchronization. For those features, you'll want to consider one of our best cloud storage services like Sync.com or Dropbox.
Alternatively, you could go with a backup service like IDrive, which provides both backup and storage capabilities. If you'd like to learn more about the differences between online backup and cloud storage, we have an article on that subject that happens to feature Carbonite.
Carbonite provides true unlimited storage, meaning there are no secret data caps and it doesn't throttle data speeds. However, you can only backup one device or computer with a personal plan. Carbonite also lets you backup photos taken with your smartphone.
Carbonite includes most of the basic features we look for in a backup service, including:
Backup scheduling
Versioning (not for Macs)
At-rest encryption
Private encryption
Remote file access
In terms of file types, Carbonite can handle all common extensions that we could think of. We love that fact that the developers took advantage of its unlimited backup to offer automatic backup of all your files, which means all you really need to do is install the desktop client and let it run.
Take note, however, that automatic video backup is only available for Carbonite Plus and Prime subscribers. Carbonite Basic users will need to manually upload videos.
Carbonite also offers courier service to recover files, which is something most other backup services don't give you.
A notable miss with Carbonite is that while it lets you backup your external hard drives, it doesn't support backup to external hard drives. We didn't ding the service too much for this, however, because unlimited backup doesn't work well with capped external drives.
We were disappointed to learn (after being clued in by a reader in our comments section, below) that Carbonite has recently decided to discontinue its mirror-image backup feature, which was available for Plus and Premium subscribers. Carbonite claims that decision hinged on the fact that mirror-image backup doesn't protect users from ransomware as well as file-based backup (due to versioning limitations). While that may be true, the value of mirror-image backup was never really about ransomware so much as quickly and completely recovering crashed hard drives. 
Given that mirror-image backup was one of the few reasons to recommend the pricey Carbonite Plus and Premium plans over Backblaze's much cheaper services, the decision is a head-scratcher. If mirror-image backup is a feature you want, IDrive has you covered (although IDrive only offers 2TB and 5TB plans; there's no unlimited option). 
We'll talk more extensively about some of the features we've mentioned above throughout the remainder of this review and what they might mean for you, so be sure to keep on reading.
Most consumer backup services, especially those offering unlimited storage, only have one plan to choose from; Carbonite has three: Basic, Plus and Prime.
---
---
Carbonite Plus ranks as Carbonite's most popular plan because it supports external hard drive and automatic video backup, which Basic doesn't.
The monthly cost for Carbonite Plus is a bit expensive, however, when compared to Backblaze, which has an annual subscription cost of only $50. Carbonite is offering a multi-year discount, however, making it a bit more palatable.
Carbonite Prime customers get free courier recovery service, which costs $99 for Basic and Plus users (not including shipping). Unless you plan to perform regular full backups for some reason, it's probably not worth the extra money.
With all three plans, you need to sign up for at least one year. If you sign up for two years, you can save an additional five percent. Three years will save you 10.
Of course, committing to a new backup service can be a daunting leap of faith, especially if your last backup provider (**cough** CrashPlan **cough**) dumped you unexpectedly. To help decide if it is the right service for your data, Carbonite lets you try the service out for 15 days with no commitment or credit card digits.  
Carbonite has desktop clients for Windows and macOS, which you can download from the Carbonite website. Installation took us less than a minute.
Once installed, the client will walk you through the backup steps. "Step" is probably a more appropriate word, since unlike IDrive (or the now defunct CrashPlan), most of the process automated. That means you don't have to spend inordinate amounts of time combing through system folders and files, tagging everything you want to save.  
We'll walk you through the backup and restore process in more detail in the next segment. For now, we'll just say that when it comes to ease of use, the only backup service that's a match for Carbonite is Backblaze.
As files are backed up, Carbonite color codes them in your file system to let you know their status if you have the "show colored dots" option selected.
A green dot on a file means it's been backed up, while a yellow dot means it's scheduled for backup. A green dot on a folder means all files in that folder are backed up, while a half-green dot means only some are backed up.
There's also a Carbonite taskbar icon that lets you check backup status, launch the client or open a handy file search and restore utility.
In addition to the desktop client, Carbonite also has a nicely designed web interface that lets you check your backup status, manage your account and get at your files from any browser.
Carbonite Mobile lets you do the same from your Android or iOS smartphone. The mobile interface is minimalistic in a good way. Meaning, you won't spend 15 minutes trying to figure out how to locate computer files that you want access to.
Also, in addition to accessing stored files, you can use Carbonite Mobile to automatically backup any photos stored on your phone.
We would like for Carbonite Mobile to be able to backup any mobile file type rather than just photos. However, having unlimited storage space for your selfies isn't a bad thing.
File Backup & Restoration
Once you've installed the Carbonite client and clicked the button to begin initial backup, the software will start locating and uploading your files. While that's happening, a status bar will keep you informed of the progress made.  
We mentioned earlier that Carbonite doesn't make you manage your backup plan at the most basic level. Instead, Carbonite intelligently backs up all files of certain types. This includes documents, pictures, music, email, financial data files, browser bookmarks and the file types created by commonly used programs.
Certain operating system files and temporary files aren't backed up automatically. Carbonite maintains a list of file types not backed up on its website.
The first backup process can take some time. Once done, however, things will run much more smoothly going forward, even if you opt for continuous backup. That's because Carbonite uses a method of file copying called "block level" or "delta" backup.
When changes occur to files, only the part of the file that changed actually gets copied rather than retransmitting the entire file. While continuous backup is recommended and seems to work without impacting system resources, if you prefer to schedule backups for when you're not actively working, that's an option, too.
You can either choose a time when backup starts or pick hours between which it doesn't run.
Your files are backed up to data facilities that operate based on RAID 6 technology. This means that files are kept on multiple servers for redundancy so that if one server fails, there are still copies of your data elsewhere. Carbonite's approach includes at least three copies of your backup set spread across 15 disk drives.
File restoration with Carbonite is pretty straightforward. Using the desktop application, you can choose to restore all or individual files.
If you choose to restore all files, Carbonite will open a restore manager which will ask if you'd like to restore them to their original locations or download everything to a single folder on your desktop.
Restoring specific files is advantageous if you need a file quickly and can't wait for a full restore to complete. By clicking on this option, you'll be redirected to the Carbonite website to locate the content your need.
Content is stored based on your device's file system, so finding it should be a pretty quick process. If you're having trouble, though, you can search based on filename, too. Once you've found what you want, click the checkmark beside the folder or file name and then click "download."
Like many online backup and cloud storage services today, Carbonite supports file versioning, although not for Mac. Using versioning, you can restore past versions of files from before changes were made. This protects you against unwanted or accidental changes. Versioning also protects you against ransomware, which works by corrupting files.
Carbonite always keeps at least three versions of files regardless of age. Beyond that, versions are kept for up to three months. That includes one version for each of the previous seven days, one version for each of the previous three weeks and one version for each of the previous two months.
Deleted files are also kept for 30 days.
If you're a Carbonite Prime customer living in the U.S., you also have the option of using a free (not including shipping) courier service to restore deleted files. If you're a Basic or Plus subscriber, you can use the service but it will cost $99, which includes standard shipping.
Carbonite will send you an external device with your data on it, which you need to return within 30 days to avoid a $130 charge. Courier recovery is a nice add-on, but it's free with IDrive through its IDrive Express service, which all subscribers get. IDrive Express is also available for initial backups, which the Carbonite courier service is not.  
The initial backup process can be lengthy, taking hours, days or even weeks depending on how much data you have to backup. Some backup services run more quickly than others, however. Based our experience testing Carbonite, isn't one of the fast ones.  
We performed upload and download tests using a 1GB zipped test folder. Tests were performed over a home WiFi network just outside of Boston, Massachusetts with Internet speeds of around 180 Mbps down and 10 Mbps up.
Here are our results:
---
| | File Copy Time |
| --- | --- |
| Upload: | 03:05:00 |
| Download: | 00:22:00 |
---
Many of the more value-based online backup services tend to perform more slowly than more expensive options like, for example, CloudBerry Backup paired with Amazon S3. Still, Carbonite's upload times are disappointing, far behind equally inexpensive backup solutions like Backblaze and IDrive. 
Though your initial upload will be slow, going forward files will backup much more quickly as Carbonite uses block-level copying. Getting over that initial hump can be a pain, though, which is why you'll want to make absolutely certain you've picked the right backup service before committing.
Download times were less excruciating, but with180 Mbps download connect, we'd have expected.  
Security & Privacy Policy
Given that Carbonite backs up essentially everything of importance on your hard drive with its file selection process, including financial files, understanding the features that the company has in place to protect your data is critically important.
For starters, Carbonite encrypts all data stored on its servers using the AES protocol, which is the encryption methodology recommend by the U.S. National Institute of Standards and Technology. Carbonite uses 128-bit AES encryption, which is has never been cracked as far as anyone knows.
Usually, Carbonite holds onto the encryption key for you. That lets the company reset your password in case you ever forget it. However, if you prefer, you can enable private encryption.
With private encryption on, Carbonite switches to 256-bit AES. The company will have no idea what you encryption key is, which means it can never decrypt your files, even under court order.
Private encryption also means that that Carbonite can never reset your password, so if you forget or lose it, you'll be locked out of your data. If you do opt into private encryption, consider using a password manager to keep track of your login credentials.
While encryption keys may not be practically susceptible to brute-force cracking, weak passwords are. Carbonite has somewhat strong password requirements, but we recommend taking advantage of its two-factor authentication setting.
With two-factor authentication turned on, you'll be asked to enter a unique security code when logging into your backup from an unfamiliar machine. This security code can be sent via text or received via phone call. The idea is that even if someone guesses or steals your password, they still won't be able to login into your account.
While in transit, your files are further protected using transport-layer security (TLS), which should be a basic expectation for any cloud service.
Carbonite stores your files on servers secured in hardened data centers. Hardened data centers are server facilities designed to withstand disasters like earthquakes and fires, as well as physical and virtual attacks.
With Carbonite, that includes redundant power distribution unit (PDU) diversity, battery backup, on-site generators, climate control systems, 24/7 guard patrols, biometric scanners, electronic key cards and CCTV surveillance.
As far as privacy policies go, Carbonite's is pretty straightforward, free from much of the suspicious caveats that plague many competitors'. In fact, we were so impressed with Carbonite's privacy policy that we used it as example of what to look for in a privacy policy.
Carbonite's privacy policy clearly indicates what types of information get collected, which includes account information for billing and some file metadata like file names, sizes and extensions.
Carbonite states that it uses this information to provide support and perform diagnostics.
It also states that it may use your information for marketing, but gives you a clear means of opting out of that possibility by emailing the company. Carbonite does on occasion share information with third parties, but only to support internal operations. It does not sell your information so that others may use it for their own marketing purposes.
Among the top consumer backup services, Carbonite seems to have the strongest approach to user privacy. This is backed by its voluntary adherence to two transatlantic data transfer frameworks, the U.S.-EU Privacy Shield Framework and the Swiss-U.S. Safe Harbor Framework.
Overall, your data should be in good hands with Carbonite, even without private encryption turned on.
Unlike Backblaze, Carbonite takes the rare step of providing telephone support to all customers, both personal and business. Telephone support isn't offered 24 hours a day, but is available seven days a week from 8:30 a.m. to 9:20 p.m. EST.
Carbonite claims to have over 200 agents, all of whom are located in Lewiston, Maine, meaning you won't be dealing with offshore support. Business and escalation agents all hold Microsoft Technology Associate (MTA) Certifications, too.
Email support is available, too, and Carbonite states response times generally come within 24 hours. To test that statement, we fired off some test questions to Carbonite. Responses came with within six hours, which is good. Even better, they were well written and thorough.
Carbonite's support network has actually won 48 awards over the past four years at the time of this writing. These include several Stevie Awards:
2016/2017 Gold for Contact Center of the Year
2017 Gold for Customer Service Complaints Team of the Year
2016 Gold for Customer Service Department
2016 Gold for Best Use of Technology in Customer Service
2016 Gold for Front-Line Customer Service Professional
2016 Gold for Contact Center Professional
2016 Gold for Back-Office Contact Center Professional
While we're not quite sure what all of these awards mean, the list is pretty impressive.
If you prefer to figure things out on your own, Carbonite also provides a searchable knowledgebase. You'll find articles on getting started, troubleshooting and FAQs. Carbonite also has a video library for visual learners. Overall, we were pretty pleased with the depth of content and quality of the articles.
Carbonite Home excels in many ways that we would want a home backup service to excel. It requires little setup, backs up most file types, backs up external drives, keeps previous file versions and lets you backup as much data as you want.
However, upload times are so slow that, depending on how much data you have to backup, you could be looking at months for your initial backup to complete. While its low cost might lead users to signup anyway,  Backblaze ($50 a year) or IDrive ($52 a year) are both cheaper and faster. 
We would also love to see Carbonite offer a family plan that with discounted pricing on backup for multiple computers, and we'd like to see smartphone backup that covers more than just photos. However, if you're looking for a simple solution for your home computer and you either have little data to backup or a lot of patience, "Carbonite" will get the job done.
Of course, we're always open to differing opinions. If you'd like to chime in on Carbonite or have any questions about the service you didn't find covered above, feel free to hit us up in the comments below. Thank you for reading and feel free to browse any of our other online backup reviews if Carbonite isn't quite what you're looking for.   
Starts from
$
6
00
per month
for

Unlimited GB
Two-Factor Authentication