VyprVPN Review
VyprVPN has been around for a long time and been through several massive changes. The latest round has brought an improved app and less rude customer service, though speed issues remain. Read our fully updated VyprVPN review for the details.
Last time we took a look at VyprVPN, it had some standout strengths and glaring weaknesses. We were impressed by the top-notch security and VyprVPN's proprietary protocol, Chameleon, among other things.
That said, it wasn't ready for our best VPN ranking yet, due to mediocre speeds and woefully bad customer support. However, the introduction of a new user interface, among other changes going on around VyprVPN, incited us to take another look and write an updated VyprVPN review.
While several things, namely customer service, have improved, there are other areas where less-than-ideal changes are happening. Let's look at how VyprVPN plans to aim for the top and talk about what changes we do and don't like.
VyprVPN Video Review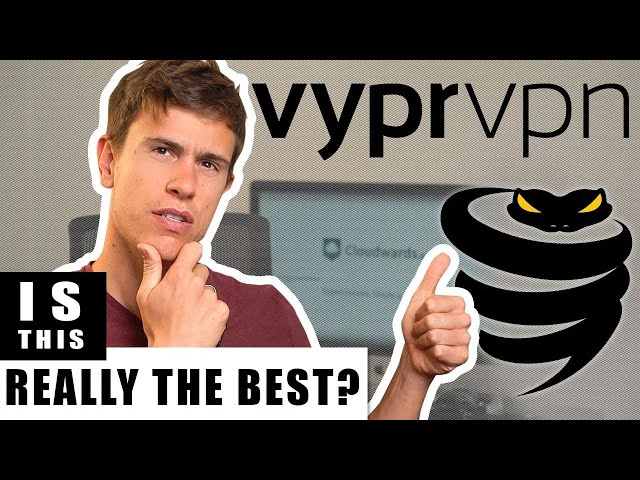 Strengths:
Improved customer service
Solid user interface
Several protocol options
Proprietary Chameleon protocol
Good streaming performance
Selection of advanced features & settings
Weaknesses:
Mediocre speeds
No more free plan
Not a ton of server locations
1

VyprVPN


www.vyprvpn.com

/month

PayPal, Credit card, UnionPay

5 Simultaneous connections

Unlimited bandwidth

Can access Netflix US

Allows torrenting

No-logging policy
2

ExpressVPN




★★★ Best VPN 2020 ★★★


30-day money-back guarantee
www.expressvpn.com

/month

PayPal, Credit card, Bitcoin

5 Simultaneous connections

Unlimited bandwidth

Can access Netflix US

Allows torrenting

No-logging policy
3

NordVPN




$$ Best Budget VPN 2020 $$


30-day money-back guarantee
www.nordvpn.com

/month

Credit card

6 Simultaneous connections

Unlimited bandwidth

Can access Netflix US

Allows torrenting

No-logging policy
4

CyberGhost


www.cyberghostvpn.com

/month

PayPal, Credit card

7 Simultaneous connections

Unlimited bandwidth

Can access Netflix US

Allows torrenting

No-logging policy
5

TorGuard


www.torguard.net

/month

PayPal, Credit card

5 Simultaneous connections

Unlimited bandwidth

Can access Netflix US

Allows torrenting

No-logging policy
VyprVPN offers features that run the gamut from simple things almost anyone should be at least loosely familiar with, to features that VyprVPN warns you not to change unless you really know what you're doing.
Starting on the more straightforward side of things, VyprVPN offers a kill switch and a few options of how the client behaves when you start up your computer. You can have it run the application on startup, and either wait for your command or connect automatically.
Interestingly enough, these two options — running on startup and connecting on startup — are found in different pages of the menu. This is a bit confusing and makes it unclear what happens if you have the VPN set to connect on startup but not run. In our testing, though, we weren't able to induce any kind of conflict or crashes by messing with these, though. 
Additionally, you can configure the VPN to connect automatically on WiFi networks that you don't trust, which is a great way to avoid the dangers of public WiFi. VyprVPN also offers its own proprietary protocol and DNS servers, both of which we'll look at in more detail in the "security" section. 
VyprVPN covers all major devices, including Windows, macOS, Android and iPhone. The mobile apps are currently some of the best out there, with the option to connect on startup, as well as a kill switch and automatic reconnect features that works reliably, making it one of the best VPN for Android picks. 
Finally, in the desktop client's options menu, there is a tab that reads "advanced" and issues a warning recommending that you do not to change anything unless VyprVPN support has instructed you to do so. This is a great place for tinkerers and tech whizzes alike, though, and lets you dig into the nitty-gritty of some of the protocol options.
Overall, although VyprVPN isn't the most feature-rich VPN we've seen, it manages to cover the basic features of critical importance, like a kill switch, while still offering something for those who want to go deeper with their VPN configuration.
It's still missing things like split-tunneling support though. Split-tunneling, in particular, is a hard-to-find feature that lets users define a list of programs that will or will not use the VPN's connection. 
This allows things like software updates to download at full speed, while more private traffic is sent through the VPN. You can read about an excellent implementation of this feature in our ExpressVPN review. 
It's also worth a brief note that Golden Frog, the company that operates VyprVPN, also offers some additional online privacy services that are not directly tied to the VPN. One of these tools that is particularly interesting is Cyphr, an encrypted messaging app for mobile devices. You can learn more about this and other programs in our 99 tools to protect your privacy roundup.
VyprVPN Features Overview
Starts from
$
2
50
per month
Payment methods
PayPal, Credit card, UnionPay
Can be installed on routers
Can access Amazon Prime Video
VPN protocols available
OpenVPN, PPTP, L2TP, Chameleon
Enabled at device startup
Malware/ad blocker included
VyprVPN offers a single plan, which is a change of pace from the dual-plan lineup it offered before. Instead of sticking with a lower and higher tier options, VyprVPN now offers a two-year plan. 
One Month

Unlimited GB Bandwidth

5 Included Devices

One Year

Unlimited GB Bandwidth

5 Included Devices

Two Years

Unlimited GB Bandwidth

5 Included Devices
The single plan is now VyprVPN's Premium offering, which includes the proprietary Chameleon protocol and VyprVPN cloud. The VyprVPN cloud is an integration of VyprVPN with your choice of three cloud storage providers.
Although most personal users won't have a use for this, small businesses might see the appeal to easily protect their team's information. You can read more about the storage options and VyprVPN's cloud service here.
While the monthly price is fairly run-of-the-mill for a big-name VPN like VyprVPN, the yearly prices drop a shocking amount and make VyprVPN one of the more compelling options for affordability. 
That said, there is one major aspect of VyprVPN's pricing that is undergoing some major changes. VyprVPN used to offer a three-day free trial period, and, at the time of writing, it seems it still does on the mobile application.
As we noted in our previous review of VyprVPN, this is not a totally risk-free trial, as you still have to enter payment information and cancel the plan before the three days are up or be charged. However, VyprVPN will soon remove this free trial option.
Instead, it offers a 30-day money-back guarantee. This could be seen as a controversial move, or an extension of the way the original trial worked, depending on how you look at it. If you want to try out a VPN without paying a thing, be sure to check out our free VPN services article.
VyprVPN's protocol takes some of the best features from the cookie-cutter design that most VPN clients use now, and it adds a level of information density that is pleasing to see from a technical perspective, while still being presented in a way that is not an eyesore. 
In an easy-to-absorb way, the main window of the desktop client shows your current public IP address, your connection time — which will read "not connected," if that is the case — the protocol and the encryption. There is also a scrolling graph that shows your download and upload traffic during the past few minutes. 
At the very top of all this is a large, blue button that will connect you by default to the fastest server. If you don't want that, you can click the location icon to the right of the connect button to be taken to the server list. This is one place that could use a little refining.
Small things could be improved, like the fact that the default window size for the server list is very short and makes scrolling difficult. The server list can be expanded with the mouse like a normal window, but defaulting to a tall vertical window, rather than a short stubby one, would be nice.
Also, the search function needs an exact match. So, instead of scrolling all the way down to "u" to find the United Kingdom, if you simply typed in "UK," "England," "Britain" or any other variation, it would not show up. Granted, this is also an issue with almost all other top-shelf VPNs, but it's a small detail that, if improved, could greatly aid its usability.
At the end of the day, the complaints we have are minor usability issues. Despite tiny refinements that could be made here and there, VyprVPN offers a streamlined user experience that still packs in vastly more relevant information than the standard layout of most VPNs. 
Last time we checked in on VyprVPN, speed was one of its weakest links, and that still seems to be that case. The speeds we saw in our testing are simply not very competitive with some of the other top contenders in the market.
| Location: | Ping (ms) | Download (Mbps) | Upload (Mbps) |
| --- | --- | --- | --- |
| Unprotected (Virginia) | 5 | 294.66 | 319.24 |
| U.S. | 8 | 94.93 | 63.24 |
| UK | 86 | 59.21 | 27.91 |
| Brazil | 140 | 26.29 | 13.74 |
| Japan | 169 | 66.98 | 29.50 |
| Germany | 97 | 6.65 | 19.12 |
Ping times are unimpressive, taking VyprVPN out of contention for the best VPN for gaming, and the sustained download speeds are too low to make it onto our fastest VPN list. However, despite the on-paper performance looking lackluster, we were pleasantly surprised with the real-world performance.
When we hit the web and started browsing, we found no starkly noticeable difference with any of the servers. Web pages loaded quickly and everything felt responsive, as long as there were no unusually large elements, like embedded videos. 
Even on the Brazil and Japan servers, we were able to get HD video streaming with only some slight buffering required at first. As long as you're just browsing or streaming, VyprVPN will do the job, but transferring larger files could prove troublesome. 
For those looking for a VPN with the bandwidth for moving large chunks of data around securely, we suggest checking out our CyberGhost review.
When it comes to security, VyprVPN offers a lot of solid options. For starters, it provides a number of standard protocols, including L2TP, PPTP and, most importantly, OpenVPN. For those interested in learning more about what all these acronyms mean, you can check our VPN protocol breakdown for more information.
Encryption is locked in for you, depending on what protocol you use, with most protocols using 256-bit encryption. However, PPTP uses 128-bit and OpenVPN has the option to use 256- or 160-bit encryption. 
By default, the client uses OpenVPN with AES-256 encryption, which is the golden standard for VPN security. Aside from the standard protocols, VyprVPN also offers a proprietary protocol called Chameleon.
Fundamentally, Chameleon is a modified version of OpenVPN. The modifications made to OpenVPN that make Chameleon special are geared toward masking the VPN traffic in such a way that servers and websites cannot tell that it is VPN traffic.
This can be useful for getting around geoblocking or accessing sites that otherwise don't allow the use of a VPN. This protocol helped earn VyprVPN a place in the honorable mentions of our best VPN services for China article, although other issues held it back from making the top spots. 
That said, we never actually had to use this, as we were able to get all kinds of geoblocked content working using regular OpenVPN without changing a single setting, as we'll discuss in the "streaming performance" section. 
Golden Frog touts on its website that it has a long history of advocating for online privacy. One would hope that a company with such a background would have a solid privacy policy and, in some ways, VyprVPN actually sets the bar for this. 
Although its privacy policy may not be as concise or neatly structured as NordVPN's, which you can read more about in our NordVPN review, it does a good job of clearly outlining the scope of the data collected and what it is used for.
VyprVPN follows a no-log policy, but, if you've been around VPNs for long, then you already know this can mean a lot of different things. In this case, though, it means pretty much what it should.
VyprVPN does not make any logs of DNS requests, and the VPN itself does not record traffic, IP addresses, or any other kind of identifying information. What's more, though, is that VyprVPN is independently audited to ensure that these standards are upheld, adding a great deal of legitimacy to its privacy and zero-log claims.
VyprVPN was able to gracefully bypass every streaming service we tested without us having to change a single setting. Although there is the proprietary Chameleon protocol that is designed in part with these kinds of tasks in mind, we never actually needed to use it. 
This performance is what earned VyprVPN a spot on our best VPN for Netflix roundup. Additionally, although many of the speeds on the servers we tested were lackluster on paper, everything seemed to go off without a hitch when it came to streaming.
Nearby servers, such as the one in the U.S., performed very similarly to when we didn't have a VPN connected at all, with videos loading in without any noticeable delay and defaulting right to 1080p. 
Some of the more distant servers had only about a quarter to a half second of perceptible delay before the video would start. At times the video would look a bit grainy and was likely buffering in at 720p, but in almost all cases, it would clear up to a nice 1080p in fewer than 15 seconds. 
VyprVPN has a respectable network with upwards of 70 locations. Several of these locations are spread throughout the U.S., while many more are scattered across Europe. There are a handful of other North American servers that aren't in the U.S., as well, namely in Canada.
There are four locations in South America available, and a respectable choice of locations throughout Asia, as well. Africa is a bit left out with only two server locations, one in Egypt and the other in Algeria.
Finally, for Oceania, Australia has several locations to offer, as well as New Zealand getting its own servers. Although this network is sufficient for most users' needs, it pales in comparison to some competitors' networks, one of which you can read about in our HideMyAss review. HideMyAss' network has more than 280 locations in 190 countries.
Last time we checked in on VyprVPN, we found the customer service to be woefully inadequate. Thankfully, it seems that things have changed significantly for the better.
Much like last time, VyperVPN offers live chat and email support. If you open up the live chat window on the website, you're initially greeted with a bot that asks you what you need. 
When you reply, it gives you a few links to VyprVPN's expansive knowledgebase that it thinks are relevant to your needs. Along with these links, it also offers a button that lets you connect to a real person.
If you choose to do this and begin the actual live chat, you are given a queue position. Most of the time, we were immediately in spot number one and were helped within about five minutes. 
During one of the three interactions we had, however, the live chat support seemed to be unmanned, as the only option we had was to leave a message. We then sent an email to support, which we still have not heard back from. Several hours later, we tried the live chat again. 
This time we were in position number three, and it took about 20 minutes to get to the front of the line. Once we were there, the live support was very helpful, but this was a clear indicator that, although things have improved, there are some kinks in the system that might still need some ironing out. 
What hasn't changed is that the massive knowledgebase is still shared among VyprVPN and several other Golden Frog services, like Cyphr, which can make it a bit harder than it needs to be to find what you need at times.
Although VyprVPN has improved in some areas, we're sad to see the free trial go. The customer service has taken massive strides in the right direction, but the speeds are still a weak point that could use some work. 
Our findings will definitely improve VyprVPN's standings in our overall VPN rankings, but it still isn't fast enough to be at the top of the food chain.
If you've had your own experience with VyprVPN we'd love to hear about how it went in the comments below. As always, thanks for reading.