VyprVPN Review
VyprVPN is a good service that would be great if it'd only update the desktop client, fix its speed issues and teach its reps some manners. If you can live with that, though, you get great security and Netflix access. Read the details in our full VyprVPN review.
VyprVPN could be a great VPN service, but in its current state, which doesn't appear to be changing, it's just okay. Between the dated interface, a few issues with customer service and subpar speed results, VyprVPN has a lot going against it. That said, deep customizability and excellent security may be its saving grace.
In this VyprVPN review, we're going to get into the details about what we like and dislike about the service. We'll talk features, pricing, user-friendliness, speed, security, privacy, streaming performance, server locations and customer service before giving our verdict.
Though it's not in the running for our best VPN guide, VyprVPN isn't a bad service. In fact, it's good. The features and flexibility are the stars of the show, though, so if you're more concerned with speed and a modern user experience, you're better off looking elsewhere.
VyprVPN Video Review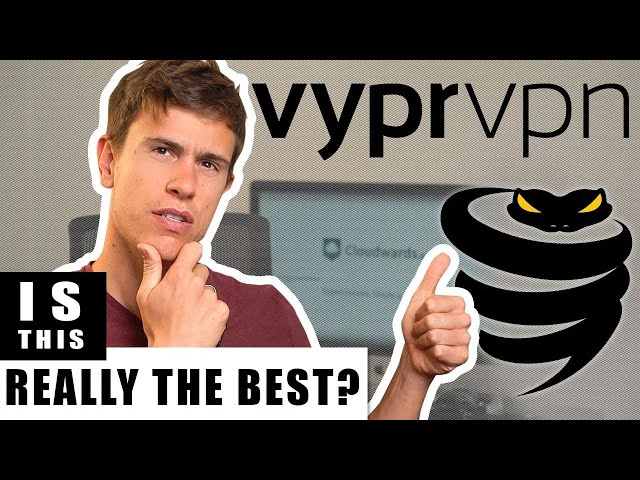 Strengths:
Highly configurable
Gets into Netflix
Chameleon protocol
No logs policy
Feature-rich
Inexpensive
Weaknesses:
Subpar speeds
Small server network
Dated interface
VyprVPN has a lot of features, though that may not be immediately apparent. As we'll talk about in the "user-friendliness" section, it's a highly configurable service that rewards tinkerers without sacrificing usability for newbies. You don't have to use all of its features, but those who know what buttons do what will be glad they're there.
We'll start with the notable features. As long as you're subscribed to the premium service, you'll get the Chameleon and VyprVPN Cloud. Chameleon is a proprietary protocol that's based around OpenVPN. We'll talk more about it in the "security" section, but, in short, it's the best choice for bypassing censorship.
VyprVPN Cloud is unique. With the premium subscription, you have access to your own dedicated, cloud VPN server. For personal users, that doesn't make much difference, but for business implementations, it's a cost-effective solution that makes sense for small teams.
Both versions of VyprVPN have a killswitch. It cuts your internet connection if the VPN ever fails. Though most are universal, there are a few providers that allow you to set the killswitch to only trigger on certain applications.
Read our Astrill review for an example.
VyprVPN is one such provider. You can set the killswitch to trigger universally or on certain applications. You could, for example, set the killswitch up on your torrenting client while leaving your browser unaffected.
That said, VyprVPN shines in its level of customizability. We won't cover every setting it has — that would take a few thousand words alone — but we'll go over the highlights.
You can program some level of automation into VyprVPN. By adding trusted WiFi networks, you can tell VyprVPN to automatically start when you connect to an untrusted network. It's a great feature for people trying to bypass the dangers of public WiFi while they're on the go.
In the "advanced" tab of the settings, you'll find, well, the advanced settings. VyprVPN recommends, and we do, too, that  you don't change anything there unless directed to by support or you know what you're doing. For a sampling, you can change things such as what TAP adapter you're using and the TLS timeout time.
VyprVPN Features Overview
Starts from
$
5
00
per month
Worldwide server amount
69 locations in 35 countries
Can be installed on routers
Can access Amazon Prime Video
VPN protocols available
OpenVPN, PPTP, L2TP, Chameleon
Enabled at device startup
Malware/ad blocker included
VyprVPN is one of the few providers to offer multiple products. Read our TorGuard review to see another. Instead of just varying in duration, there are two versions of the subscription: VyprVPN and VyprVPN Premium. Though we can appreciate a cheaper option for those pinching pennies, you'll need to upgrade to the highest tier for the full experience.
The Standard plan is basic. You get access to VyprVPN's full network and unlimited bandwidth on up to three devices. When purchasing a year, the price is only $5 per month, which is good but not great. CyberGhost gives you four more devices for a year for around the same price (read our CyberGhost review).
That said, the connection limit isn't the issue. VyprVPN plays well with routers, so giving up a couple of simultaneous connections to save $20 a year isn't backbreaking. What's annoying about the scheme is that Standard users don't get VyprVPN's best features.
It seems VyprVPN has taken a page out of the book of the best antivirus software. Instead of just offering the same product in different durations, there are multiple tiers, and the lack of features at the low end incentivizes you to upgrade. On paper, options are good, but in practice, you'll need to purchase the highest tier to fully use VyprVPN.
That said, the Premium subscription isn't too expensive. For $20 more per year, or $2 more month-to-month, you'll get VyprVPN on up to five devices with the Chameleon protocol and VyprVPN Cloud. Though not as inexpensive as, say, Private Internet Access (read our PIA review), VyprVPN is competitively priced, even on the Premium subscription.
Both plans are offered monthly or annually, and, unfortunately, that's it. Though it's not uncommon for VPNs to top out at a year, we like to see multi-year subscriptions that reward patrons with a steep discount. There aren't many options, but if you're looking for a provider you can stick with for a long time, check out our NordVPN review.
As for a refund policy, don't hold your breath. We found a few posts online where people requested refunds and support reps asked that they contact them to receive one. VyprVPN's terms of service makes its policy clear, though, saying "no refunds will be considered."
Instead, VyprVPN offers a three-day trial. It isn't a risk-free trial, though. You'll have to put your payment information on record, so you'll be charged if you miss the mark. Without a money-back guarantee to back it up, the free trial doesn't look great, especially when you can try a service like Windscribe for free (read our Windscribe review).
When signing up, you can put a credit card, PayPal account or Alipay account on file. Unfortunately, VyprVPN doesn't accept bitcoin or any other cryptocurrency. If you want to use an anonymous payment method, read our Mullvad review.
After going to VyprVPN's website, click the "try for free" button to sign up. VyprVPN requires you select a plan and enter a payment method, but you won't be charged until after the three-day trial. Though most VPNs require your email, VyprVPN oddly requires your first and last name, too.
That information is important if you're paying with a credit card, but considering VyprVPN also accepts PayPal and Alipay, it's strange to require it. Even so, you'll need to enter that information, along with a password, and click "checkout." Make sure to generate a secure password using one of our best password managers.
Make sure you sign up with an email you have access to, as well. Unlike services with which you can use a burner email, VyprVPN requires you to verify your account.
Once you've done so, you can download the application and log in. The app is unimpressive, though. It doesn't do anything wrong in the way of user-friendliness, but the smartphone-sized window looks more than a few years out of date.
On the main screen, you can see your public IP address, the protocol you're using, the time you've been connected and a speed chart that oddly displays data in bars instead of a line.
Simply click the blue "connect" button at the top to connect. VyprVPN will connect you to the fastest server for your location, which, based on our testing, is accurate. It's not the smoothest process to do so, though. Connection takes around 30 seconds.
When it's done, the speed chart will change from red to blue, verifying that you are secure. You can't do much while connected, though. Outside of detaching the speed graph into a separate window and opening the settings menu, you can't modify or browse anything.
If you'd rather find a server on your own, click the location marker button next to the "connect" button. VyprVPN opens a separate, resizable window that shows its locations, as well as a relative latency time. Scrolling through the list is responsive, and you can favorite locations for fast access, but, once again, the system feels outdated.
Instead of a search bar, there's a search tab, and instead of providing filters from the main selection page, you'll need to navigate to another area. It's not hard to do, and we don't think anyone will have problems, but it doesn't feel polished. The application looks and feels like it would've been impressive in the Vista days, but just seems like it's trying too hard now.
Some of the usability issues are worth it, though. VyprVPN is highly configurable. In the settings, which are accessed by clicking the gear icon in the top right corner, you can change your encryption, protocol, DNS and more.
VyprVPN includes a lot of advanced settings, too, including route delay time for stabilizing your connection with the virtual network card and verbosity, which can lessen the CPU load of the application.
Taken together, VyprVPN has a dated design, but it's not doing anything that negatively affects ease of use. In fact, it has an impressive balance of user-friendliness and advanced configuration. Tinkerers will adore the settings VyprVPN has, and newbies will still be able to use it without digging into the details.
VyprVPN earned a dishonorable mention in our fastest VPN guide. Despite claiming to have "blazing speed," the VPN was never able to return even half of our unprotected download speed during separate testing sessions for our roundup and this review.
| Location: | Ping (ms) | Download (Mbps) | Upload (Mbps) |
| --- | --- | --- | --- |
| Unprotected (St. Louis) | 9 | 178.04 | 10.41 |
| Chicago (recommended) | 19 | 82.65 | 8.42 |
| United Kingdom | 115 | 48.43 | 4.25 |
| Israel | 164 | 66.95 | 3.41 |
| Japan | 162 | 45.6 | 3.61 |
| Australia | 233 | 14.01 | 2.79 |
As you can see in the chart above, any reasonable distance imposes a hefty tax on your connection. Even the recommended server, which was only a few hundred miles from us, took about half of our unprotected download speed. It doesn't look that bad considering how fast our unprotected connection is, but if yours is slower, you could get a sluggish browsing experience.
One positive is VyprVPN's latency. Though it's not low enough to make it into our best VPN for gaming guide, VyprVPN is better than most when it comes to ping. If you're looking to keep your latency low and are okay with tunneling close to home, VyprVPN is a fine choice.
VyprVPN comes stock with the gold standard in VPN security: AES 256-bit with OpenVPN. Though that should be enough for most, VyprVPN doesn't stop there. In addition to supporting VPN protocols such as L2TP and PPTP, its Premium service offers its proprietary Chameleon protocol.
"Proprietary" is the word VyprVPN uses, anyway. In reality, Chameleon is a modified version of OpenVPN that obfuscates your packets as they're being sent. That feature is great for bypassing censorship, which is why VyprVPN shows up in the best VPN services for China.
By default, you're set to use VyprVPN's DNS servers, which are owned and operated by Golden Frog, VyprVPN's parent company. Many VPNs use third-party DNS services, making it impossible to say if your information is being logged or monitored at any point in the network chain.
A NAT firewall is also included as part of the security package. Like any firewall, VyprVPN's will block incoming requests that it doesn't recognize. Unlike the firewall on your desktop, though, VyprVPN's is further in the network chain. Instead of a request reaching your machine, the NAT firewall will block it before it even touches your router.
That's huge for security. Hackers can exploit vulnerabilities in the rules of your desktop firewall, effectively bypassing it. By capping it at the source, VyprVPN provides an additional layer of security that makes it exponentially harder for a network-based attack to succeed.
We ran DNS leak tests and VyprVPN came back clean. Along with that, we tested leaks for IP and WebRTC, which it passed, as well. An interesting note is that our DNS request was redirected to Amazon's web servers, so that's something to consider.
On VyprVPN's checkout page, it claims, like many VPNs, to not keep logs. It backs that up by saying it has been "independently audited," though, and, thankfully, that checks out. In its privacy policy, which it keeps brief, it simply says it's a "zero log VPN service."
It goes on to list some of the things it doesn't log, including your source IP address, the IP address given to you when using the service, the connection time, DNS requests and traffic information. Many VPNs that claim not to log actually keep functional information on record, such as your connection start and stop times. Read our Buffered VPN review for an example.
Though that'd normally raise questions, VyprVPN puts our worries to rest. It commissioned Leviathan Security to run an independent security audit in September 2018. Not only did the auditors look for VyprVPN logging information, they also tried to expose vulnerabilities it may have against sophisticated attacks.
You can read the full report here, but the short version is that VyprVPN had a few problems. In particular, there were issues with exposing the user's IP when the killswitch was triggered, as well as logs buried in diagnostics records deep within the service.
VyprVPN fixed the issues immediately after the report, and Leviathan retested them to confirm that no logs are kept on record.
To be clear: Cloudwards.net is not a vulnerability testing company. Though we're a bunch of tech nerds who do our best to dig into the details, we simply can't operate with the sophistication of a security company. Because of that, reference evidence outside of just "we don't keep logs" speaks volumes.
VyprVPN performed well when streaming. Though not a pick in our best VPN for streaming guide because of its subpar speeds, it was able to access Netflix, Hulu, BBC iPlayer and Amazon Prime Video without issues. It did so on multiple servers without having to reconnect, too.
Though unable to make our overall streaming guide, it earned spots in our best VPN for Netflix and best VPN for BBC iPlayer guides. Despite its low ranking on those lists because of its slow speed, the fact that it could access all the streaming platforms we tested is a testament to the service.
VyprVPN has over 700 servers in its network, with more than 20,000 IP addresses. As with most VPN services, you can't select individual servers. Instead, you can choose from 69 locations in 35 countries. That isn't explicitly stated on the website — we just counted the locations VyprVPN lists — so the exact number may fluctuate.
Compared to HideMyAss, which has a massive network, VyprVPN isn't impressive (read our HideMyAss review). That said, VyprVPN falls in line with most VPNs. Most locations are in the U.S. and Europe, but we're glad to see three locations in South America, as well as some in the Middle East.
VyprVPN offers live chat and email support, as well as a knowledgebase, though we're using "offers" loosely here. We contacted live chat about the VyprVPN Cloud service — a routine question, considering it's an odd feature for a VPN — but never heard back. Despite receiving "sorry for the delay" messages, 30 minutes of waiting assured us that no help was coming.
One positive of this otherwise terrible con is that VyprVPN automatically generated a support ticket when we disconnected from live chat. As was the case the last time we reviewed the service, ticket-based support works, and works swiftly, but the responses lean towards brief.
In the end, your best bet is self-help. Unfortunately, it's not good, either. There are a lot of support articles, many of which can help solve errors you may encounter, but the explanations are limited and there are no visual representations to latch on to.
Plus, articles aren't easy to find. Golden Frog throws all its products into one area, meaning VyprVPN users will have to dig through Cyphr support articles to find what they need.
Though it could be a great service, VyprVPN simply isn't there. The dated interface, bad customer service and lackluster speed combine to create an experience that feels just decent. If you're only looking for a VPN to use, there are other options that do it better.
That said, VyprVPN has a significant upside when it comes to customization. The service is highly configurable, giving you options that would otherwise only be found by digging through a configuration file. If that sounds appealing to you, you could do worse than VyprVPN.
If you're like most VPN users, though, and just want a fast, modern connection, you should read our other VPN reviews.
What do you think of VyprVPN? Let us know in the comments below and, as always, thanks for reading.