The Fastest VPN in 2023: The Best, Fast VPNs for Speed
Are you looking for the best, fast VPN for streaming, torrenting, gaming and security? We put 11 services through the wringer and can confidently recommend seven that are the fastest VPN services.
It's not uncommon for VPNs to tank internet traffic speeds while protecting your connection — but what if you could use a secure VPN and hardly even notice it's on? Our list of the fastest VPN providers reveals the top-performing VPNs on the market today. We tested dozens of the most popular VPNs using their fastest protocols to bring you the results.
Key Takeaways:
NordVPN and ExpressVPN are the fastest performers across the board, plus provide excellent security, privacy and other important VPN features.
Other VPNs have decent performance but are inconsistent in their speeds and latency, including Surfshark and CyberGhost.
Some VPNs perform excellently in the U.S. but fall short when connecting to servers further away.
Of these, we chose the best performers with a good reputation and strong security to run a series of automated speed tests. We test these services daily to bring you only the most up-to-date results.
However, our speed tests merely reflect a VPN's impact on your connection speed, and not its overall quality. The fastest VPN isn't always the best (or even good, in some cases). That's because some of the fastest services include dodgy VPNs like StrongVPN. That's why we'll rank the VPNs on this list according to their overall performance, not just speed.
If you're interested in the raw data, you can see our full speed test results in our VPN speed comparison, which includes interactive charts and graphs that you can use to compare VPNs.
06/17/2022 Facts checked

Since our last update, we've started running automated speed tests for our top-performing VPNs. We revised our VPN suggestions based on this data.

11/24/2022

We removed Speedify from our automated testing due to its poor security.
Without a doubt, Windscribe is the fastest free VPN. Its free version only comes with 10GB of data traffic, so upgrading to the full version might not be the worst idea if you're planning to do things that eat up a lot of data.

Yes, in fact, our top performers are all among the most secure VPNs. This includes ExpressVPN and NordVPN, which are absolutely dedicated to upholding their users' privacy. However, some of the faster VPNs achieve their speeds by using poor encryption methods, and are not trustworthy, as is the case with Hotspot Shield.

No, a VPN will not make your internet connection faster. Quite the opposite: It will slow it down. However, as you can see in our speed test results, many VPNs only lower your speed by a percentage point or two. The only time a VPN could improve speeds is if your ISP is throttling your internet connection on certain activities, like streaming.
The Fastest VPN Providers
Without further ado, here are the results of our VPN speed tests. The data below represents the impact of the VPN service on your internet connection, presented as a value in megabits per second (Mbps) for downloads and uploads and milliseconds (ms) for latency.
Keep in mind that a VPN will decrease your download and upload speeds, but increase your latency. Let's look at why it's important to perform well in all three metrics with the example of a video call.
If you have poor upload speed, then your image and sound will appear choppy, since your output signal will be slow. If you have slow downloads, then you'll see and hear everyone else on the call as choppy. Finally, if your latency is high, you'll see everyone's image and sound with a delay, and your signal will likewise appear delayed to others on your call.
Our testing uses an internet connection capped at 100 Mbps for downloads and 10 Mbps for uploads, so numbers closer to those values are better, whereas latency should be as close to zero as possible.
Consistency over time is also important, which is why you'll see some fast VPN services ranked lower (Surfshark and CyberGhost being the least consistent in our testing).
The results below represent raw speed data and are not fully indicative of a VPN's quality. The line graphs represent the daily performance of a VPN over time, while the bar charts represent a 30-day average, reflecting the service's monthly performance. You can change the location to see how the VPN performed in other locations.
Fastest VPN Provider: Download Speed Tests
Fastest VPN Service: Upload Speed Tests
Fastest VPN Services: Latency (Ping) Speed Tests
The Fastest VPNs vs the Best Fast VPNs
As you can see from the charts above, the results of our speed testing indicate that most services performed about the same in the U.S., with some exceptions.
If you look at the U.S. graphs, you'll see Surfshark head and shoulders above the rest for downloads, with the other services taking turns in slot number two. The upload tests show everyone on about equal footing, though the latency race shows only Surfshark and CyberGhost performing poorly.
However, the results change when looking at worldwide performance. The worldwide speed graphs show NordVPN, ExpressVPN and Surfshark clearly dominating the download speed race, while the rest of the field struggles to provide over 50% of unprotected speeds. Uploads are again a dead race, and in a surprise twist, we see Surfshark leading the latency matchup.
There are also services that have performed well in our manual testing in the past that we couldn't test using our automated setup. You can find those near the bottom of this article. Some insecure VPNs might provide even faster speeds than the providers we've included, but we cannot recommend using a VPN that fails in its primary purpose of protecting your data.
The 6 Best Fast VPNs
Judging from the results of our testing, as well as the VPNs' overall performance, we picked the six best fast VPNs. These are the fastest VPNs we've tested: NordVPN, ExpressVPN and Surfshark (compared below), though Windscribe and PIA were no slouches, either.
More details about NordVPN:
Pros:
Excellent global speeds
Specialty servers
Affordable 2-year plan
Cons:
Some advanced features are complicated to use
NordVPN often trails behind ExpressVPN as our second choice for most purposes, but that's not the case when it comes to VPN speeds. It posted consistently high speeds in our U.S. tests and was one of the top performers for downloads in our worldwide testing, alongside Surfshark.
NordVPN uses a custom protocol — called NordLynx — which is built on a lightweight WireGuard base, while resolving issues the issues of stock WireGuard regarding dynamic IP addresses. Although we used OpenVPN for our testing, we expect NordLynx to perform just as well, if not better. NordVPN also has a slew of security features, including an ad and malware blocker.
A Slew of Specialty Servers
NordVPN's servers come in several "flavors." There are so-called Onion over VPN servers that route your connection through the Tor network for extra anonymity, as well as dedicated P2P servers for any copyright corsairs out there. It also features obfuscated servers (over the OpenVPN protocol), which hide the fact that you're using a VPN.
The good news is that NordVPN is a pretty affordable VPN, at least on one of the long-term plans. Our NordVPN review reveals more details on the service, or you can use its 30-day money-back guarantee to try it out before you buy.
NordVPN Speed Test Results by Location
Download Speed
(Higher is better)
Upload Speed
(Higher is better)
Latency
(Lower is better)
More details about ExpressVPN:
Pros:
Great downloads, uploads & latency
Excellent security & privacy
Accesses most streaming apps
Besides having one of the most impressive showings in VPN speeds, ExpressVPN is also our choice for the best VPN overall. It's incredibly simple to use across all platforms: You pretty much just push a button and it works, which is why it's the best VPN for beginners. It is also one of the most secure VPNs, with server obfuscation built in to help thwart detection.
In the U.S., ExpressVPN performed about as well as any of the other VPNs. It had some of the best download speeds in our international tests, though it didn't reach the highs of Surfshark and NordVPN.
ExpressVPN's Lightway Protocol
ExpressVPN uses a custom open source protocol called Lightway that is both secure and light on your connection. We believe it was the main actor behind ExpressVPN's excellent VPN speed performance, reaching better results than even IKEv2 — typically considered the fastest VPN protocol.
Unfortunately, ExpressVPN is one of the most expensive VPNs, and for some that might be a deal-breaker. You could opt for a longer-term plan to get a better deal, but we still wouldn't consider it one of the best cheap VPNs. See our ExpressVPN review for more details, or try ExpressVPN out using its 30-day money-back guarantee.
ExpressVPN Speed Test Results by Location
Download Speed
(Higher is better)
Upload Speed
(Higher is better)
Latency
(Lower is better)
More details about Surfshark:
Pricing: $2.49 per month for the two-year plan
Provider website: surfshark.com
Pros:
Fast downloads
Low latency worldwide
Unlimited simultaneous connections
Affordable
Cons:
Inconsistent U.S. performance
Higher latency in the U.S.
Surfshark showed some of the fastest speeds in our U.S. tests. and some of the slowest. Although its performance in uploads and downloads had some high peaks, it also had inexcusably bad latency in our near-distance tests. Its U.S. latency results make Surfshark a poor VPN for gaming.
However, the opposite was true for our international tests, where Surfshark had the lowest latency, as well as the fastest downloads and was about as consistent as the rest of the field in all categories.
Surfshark is also very secure, with a double VPN feature that routes your traffic through two separate servers, and a "NoBorders" mode that lets you browse the web in countries where VPNs are banned.
Unlimited Simultaneous Connections
One of the biggest perks of using Surfshark is that it puts no limit on how many devices you can protect with it. Not only does this mean you can protect all of your computers, laptops and mobile devices at once, you can cover your entire family's devices as well.
Surfshark Starter
Unlimited GB bandwidth, Unlimited devices, Secure VPN, Ad blocker, Cookie pop-up blocker.
Unlimited GB
Unlimited
Yes
Surfshark One
Everything in Starter, plus Antivirus protection, Identity protection, Email Breach and Credit Card Alerts, Online Alias
Unlimited GB
Unlimited
Surfshark One+
Everything in One, plus Data removal
Unlimited GB
Unlimited
Surfshark is the most pocket-friendly VPN on our list so far if you subscribe to its two-year plan. Even so, you can always share your Surfshark subscription with household members and split the bill, thanks to the unlimited simultaneous connections. Learn more about the VPN in our Surfshark review or take advantage of its month-long money-back guarantee.
Surfshark Speed Test Results by Location
Download Speed
(Higher is better)
Upload Speed
(Higher is better)
Latency
(Lower is better)
More details about Windscribe:
Pricing: Free; build-a-plan option at $1 per VPN location
Provider website: windscribe.com
Pros:
10GB free data
Unlimited simultaneous connections
Fast uploads in the U.S.
Cons:
Slow worldwide download speeds
If you don't feel like spending a dime on a VPN, you really can't go wrong with Windscribe. It's the only truly free fast VPN on our list, and it's also one of the best performers. In our U.S. tests, Windscribe had lower latency than most, and showed good performance for uploads and downloads. However, its performance in the worldwide download speed tests was disappointing.
Like a lot of VPNs on this list, Windscribe has an ad and malware blocker, affectionately dubbed R.O.B.E.R.T. Besides this, it offers some standard features, like split tunneling and a kill switch. We have to give special praise to its kill switch for completely blocking access to the internet outside the VPN tunnel, which no other VPN does.
Completely Free Fast VPN
Windscribe is free to use for up to 10GB of traffic per month, but doesn't put any limits on speed (unlike ProtonVPN, as you'll see in a bit). The free plan also limits you to 10 locations worldwide, although they cover popular spots like the U.S. and U.K., and it even has a free server location in Hong Kong.
Free
Up to 15 GB free with email confirmation and Tweet
15GB
Unlimited
If 10GB of data isn't enough to last you a month, fear not. Windscribe is a fairly affordable VPN. Though its yearly plan won't turn any heads, it has a build-a-plan option that allows you to unlock a single server location for just $1 a month and get unlimited data for another $1. Our Windscribe review has more details on its pricing, or you can give its free plan a try.
Windscribe Speed Test Results by Location
Download Speed
(Higher is better)
Upload Speed
(Higher is better)
Latency
(Lower is better)
More details about Private Internet Access:
Pros:
Very affordable
Unlimited simultaneous connections
Fast uploads in the U.S.
Cons:
Slower global download speeds
Like Windscribe, Private Internet Access (PIA) hung around the top in our U.S. upload speed tests and floundered in the worldwide download speed test. However, its performance across the board is admirable, especially if you only need to connect locally.
While it might never reach the top of our best VPN chart, PIA is a decent VPN service with a built-in ad and malware blocker. Its streaming performance can be hit or miss, and it might fail to unblock some streaming platforms. However, it also comes at an unbeatable price, which we'll talk about later.
Feature-Rich VPN With an Easy-to-Use Interface
PIA has one of the simplest UIs, despite having so many features. Besides the ad blocker we mentioned, its kill switch blocks all traffic that doesn't go through the VPN tunnel. You also get a metric ton of customization options (likely more than you need) for how the VPN connects you to the internet. The best part is that despite all this, the UI is clean, clear and uncluttered.
PIA has the cheapest three-year plan on this list, which makes it the most affordable good VPN on the market. That's an attractive offer when you consider you're getting a secure and fast VPN, as long as you can look past its poor unblocking performance. PIA comes with a 30-day money-back guarantee if you want to test it out before buying.
PIA Speed Test Results by Location
Download Speed
(Higher is better)
Upload Speed
(Higher is better)
Latency
(Lower is better)
More details about Mullvad:
Pros:
Fast download speeds
Low latency
Strong focus on privacy
Cons:
Slow global download speeds
Mullvad is a fast VPN service that focuses on user privacy, proving that you don't have to compromise speed for security. The VPN guarantees absolute privacy, as it doesn't even ask for an email address (it uses a login code instead).
Its speeds were fast across the board, with its U.S. download speeds and low latency being its strengths, although that didn't hold up in the worldwide tests. However, despite these speeds, Mullvad isn't always able to unblock streaming platforms because of its network of VPN servers, and consequently small pool of IP addresses.
Total Anonymity Online
Mullvad doesn't gather any data about you, not even your email address. If you want to keep completely anonymous, you can pay with crypto, or even cash (via snail mail). We gave Mullvad a rare 100% privacy score in our Mullvad review.
If you're used to only paying on a monthly basis, you'll be happy to know that Mullvad's monthly fee is relatively cheap compared to other VPNs. However, don't expect a discount for a longer subscription. If you're unhappy with Mullvad, you can get your money refunded within 30 days, unless you've paid with cash or crypto.
Mullvad Speed Test Results by Location
Download Speed
(Higher is better)
Upload Speed
(Higher is better)
Latency
(Lower is better)
VPN Services That Didn't Make the Speed Cut
Alas, there are only so many spots on our list, though there are a few VPNs we think warrant a mention. Here are a few fast VPNs that we couldn't test automatically, as well as some popular VPNs that just didn't cut it in our testing.
We've never known CyberGhost to be a speed demon, and our testing certainly proved that to be the case. It had the least consistent speed, at times dipping down below 20% of our unprotected internet speed. Its U.S. upload speeds were consistently the slowest, though not by a huge margin. Its worldwide download speeds were some of the slowest we tested, too.
However, it's one of the better VPNs out there, and we still recommend it if you don't mind the lackluster speeds. Read our full CyberGhost review for more details.
ProtonVPN was the surprise winner of our previous download speed showdown, but we couldn't set up automated tests for it due to programming issues. We still think it deserves a mention for being one of the rare trustworthy, free, fast VPN services.
Unfortunately, the free plan soft-caps your speed by placing you on the busiest servers, so you'll have to pay for those blazing-fast downloads. Read our full ProtonVPN review for more details.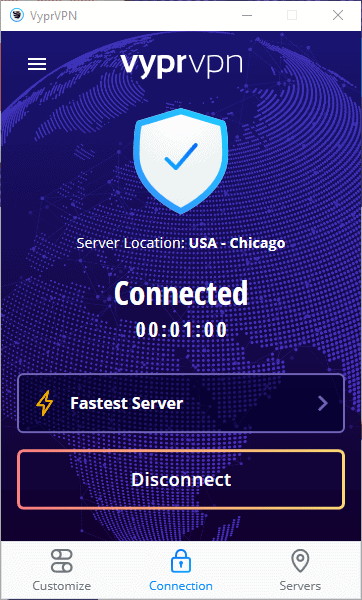 VyprVPN isn't normally praised for its speed, but rather for its mission to provide a secure and truly private VPN. However, VyprVPN still managed to snag the third spot on our previous list. Unfortunately, we weren't able to set up our automated speed tests for VyprVPN either.
VyprVPN has also fallen a bit in our rankings due to a recent price increase, which put it squarely in the premium VPN price range. Read our VyprVPN review for more.
StrongVPN had some of the fastest download speeds in our previous testing, but we couldn't run our automated tests on it. However, it's not exactly what we'd call a good VPN anyway, so it's not a big loss. Thankfully, it's at least better than Speedify in that it keeps no logs of your activity, but we wouldn't recommend it over any of the top performers.
Our StrongVPN review paints it as a fairly middle-of-the-road VPN that doesn't really excel at anything, and it's not even cheap enough to make up for it.
How We Ran These Speed Tests
We run our automated speed tests every day on a remote virtual machine based in the United States. We cap our connection speeds at 100 Mbps for downloads and 10 Mbps for uploads, which we found to be representative of the average U.S. connection speed. Each VPN is using the fastest protocol available.
We chose VPNs that performed well in our previous manual speed tests, as well as VPNs that frequently find themselves on our best VPN lists. Unfortunately, due to the way our testing software is programmed, we're not currently able to test all the VPNs we would want. However, we're currently working on expanding our testing to include other services.
How to Speed Up Your VPN
Here are a few tips on how to get a faster VPN speed.
Use the Fastest Protocol Available
One of the most impactful things on your VPN connection speeds is the VPN protocol you're using. For example, ExpressVPN chooses between several VPN security protocols automatically, but you can manually set your protocol to Lightway to get a faster speed.

Connect to a Server Near You
How far you are from a VPN's server location is the most important factor for a fast VPN connection. To reach the fastest VPN speeds you can get, connect to a server that's close to where you are. It's also better if that server is physical, as opposed to virtual. A virtual server location might appear close, but it could be hosted on a physical server farther away.

Disable Heavy-Duty Security Features
The primary purpose of a VPN is security, but you don't need every security measure active at all times (unless you're in, say, China). Features like double VPN and obfuscation are useful in some cases, but they slow down your connection more than usual, and the speed lost might not be worth the trade-off.
Bear in mind that features like DNS leak protection and kill switches are essential and do not impact your speed. See more in our VPN features guide.
Final Thoughts: Fastest VPN Speeds
That's it for our VPN speed test guide. The results were a bit unexpected, but we're pleased that we have objective speed data on all of these VPNs. NordVPN posted excellent performance and consistency, and is a top-quality VPN regardless.
ExpressVPN is another of our favorites, which has consistent and strong speeds. Surfshark proved to be one of the fastest VPNs, though it couldn't maintain that speed over time, and Windscribe was the fastest free VPN provider we tested.
Do you agree with our speed test results? What has been your experience with the VPNs we chose? What is the fastest VPN you've used? Let us know in the comments below, and as always, thank you for reading.