Backblaze Review
Easiest online backup service I've used. Very limited features. Good as a secondary backup solution. Unlimited backup storage.
Last Updated: 24 Jan'17
Our Backblaze Review 2017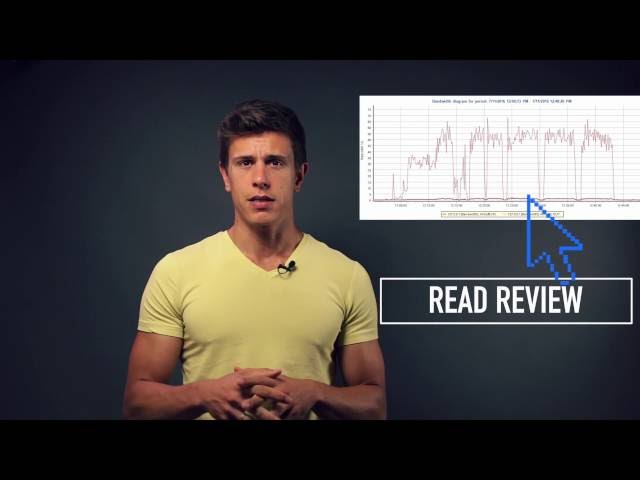 Over the years, only a handful of online backup services have enjoyed the limelight as much as Backblaze does. Which begs the question, what's so good about Backblaze?
According to me, two of Backblaze's biggest high points are its simplicity and the fact that it offers real unlimited online backup.
The bulk of companies claiming to offer unlimited storage come with reduced speeds, fewer functionalities, and other caveats. With a single plan that costs $5 per month for individual users, Backblaze is giving the competition a run for their money.
It distributes backup services through three primary plans, catering to:
Individuals

Businesses

Large enterprises
To understand what exactly Backblaze is about, I took the time to test out their service carefully, and subsequently, have prepared a full report.
Disclaimer: Cloudwards.net receives a small monetary compensation if you sign up through one of our links (at no additional cost to you). In doing so, you're helping us create more awesome content for the future and help keep this website alive.
Thank you!
Alternatives for Backblaze
Backblaze's interface is very simple and straightforward. The only place professionals will need to step in, is to leverage the service's B2 Cloud storage plan.
Backblaze may not have the fancy features we've seen on IDrive and CrashPlan, but that's because it's perfectly optimized strictly for online backup.
Unfortunately, since it doesn't come with a web app, and also lacks file syncing and sharing, the service is not ideal for collaboration — or anything that doesn't involve strictly backing up data.
However, the good news is that you can combine Backblaze with other applications for a full cloud environment.
Strengths:
Provides unlimited cloud backup
Great Personal, Business and B2 Cloud plans
Backblaze is cheaper compared to its closest competitors
Pricing plans are simple, straightforward and cheap
Backblaze also backs up attached USB drives at no extra cost
Provides storage pods, so that users can build high capacity servers
Backblaze supports Android and iOS devices
Backblaze completely eliminated Java from its applications (to reduce security attacks)
Weaknesses:
Backblaze doesn't confirm email accounts during registration

Backblaze is not compatible with Linux

Backblaze does not offer bootable image backups

Backblaze lacks a few functions, like a folder tree to view and file editing

At just 1.08 Mbit/s, data upload speeds are slow

Mobile apps are not compatible with Windows phones

Encryption only applies to data stored within Backblaze's servers

Data in a PC remains decrypted and vulnerable

Backblaze does not provide file syncing and sharing functionalities
Owned and managed by Backblaze Inc, the service is an online backup company based in San Mateo California.
According to information on their website, the company was founded in 2007, when someone's computer crashed and subsequently sought help from Brian, the current Backblaze Chief Technology Officer.
The company's primary goal was to create and distribute an elegant and complete backup software, that was very easy-to-use and cheaply priced.
At that time, fewer than 10% of users had backed up their data online, and Brian's friend, unfortunately, was among them. Consequently, despite Brian's efforts to recover his friend's data, all files were lost.
But since every cloud has a silver lining, the experience made Brian and his team of five friends realize just how valuable online backup solutions are.
So, they quit their jobs and started a service, which has seen 917% revenue growth in the last five years. Currently, it's ranked 128th on the list of the fastest growing technology companies in the US.
To cater to all market segments, Backblaze offers three primary services:
At the cost of $5 per month, this plan provides unlimited backup, supported by equally unlimited bandwidth. It's intended to cater towards individuals.
At the cost of $50 per year per computer, this plan provides unlimited backup to businesses and enterprises. Its features are optimized for business data needs.
This plan is ideal for large enterprises with IT staff and developers who can leverage Backblaze's storage pods to build in-house backup servers, host content, and develop applications.
The standard cost is $0.005 per GB per month.
Backblaze Storage Pod
Backblaze sent ripples through the entire cloud industry back in the year 2009, when they started tutoring users on how storage pods work.
These are self-contained data storage servers lined up in rows.
The main goal of creating and providing storage pods has always been facilitating cheap and secure data storage, especially to corporations with extensive IT needs.
Currently, a single storage pod consists of hard drives arranged in a 4U sized server — a model that is gradually being improved to better serve growing system, storage, and security needs.
Backblaze's recent exponential growth is mainly attributed to its pocket-friendly pricing, especially when compared to the competition.
While it will cost you $50 per year to backup an entire computer on Backblaze, both CrashPlan and Carbonite offer the same package at $59.99.
If you prefer going with a monthly plan, a single computer will cost only $5 to backup. As a result, the monthly plan is $10 more expensive compared to the yearly plan.
Users who'd like to save more can go for the 2-year program, which at the cost of $95, translates to $25 in savings. If you're still not sure about it all, a free trial of 15-days should be enough to try out Backblaze's features before making a decision.
For business users, Backblaze for Business costs only $50 per computer per year, which is still cheaper than either CrashPlan or Carbonite. It provides unlimited data backups on Windows and Mac OS, with both, continuous and automatic backup frequencies.
For users with servers to backup, Backblaze's B2 Cloud Storage is an ideal option.  It works very similarly to Microsoft Azure or Amazon S3, and at about a quarter of the cost.
After exhausting 10GB of storage space, which comes completely free of charge, users are expected to pay $0.005 per GB per month. With the service, users can store corporate data, develop applications, and build cloud environments, in line with their specific needs.
Compared to other cloud backup services I've sampled, Backblaze comes with one of the simplest interfaces you'll find. It's a plain and simple cloud backup service; there are no additional fancy functionalities that might confuse users or present a learning curve.
The development team wants to focus only on providing backup solutions.
While cloud storage applications offer collaboration, media, and file sharing features, online backup solutions pretty much strictly concentrate on providing data backup, as a disaster management strategy.
Unfortunately, in some cases, as we've established before, unlimited backup comes with slower speeds and reduced functionality, as data uploads increase.
Backblaze however, offers truly unlimited data backup with:
Unlimited speeds

Unlimited external drive backups

Unlimited file types backups

No file size restrictions
To simplify the process of backing up a lot of data, Backblaze provides automatic backups, so that users don't have to click "backup" to initiate the process.
A process that begins immediately after the app gets installed, and continuously proceeds in the background, as long as you're on the default schedule setting.  Of course, that translates to massive bandwidth usage when downloading and uploading files.
But, interestingly, users don't necessarily have to download their files, you can have a hard-drive shipped to your door, backup on it quickly, and send it back to Backblaze for safe keeping.
You can then access its contents online or have it returned.
The program is known as "Restore Return Refund," and it's particularly useful for users with large amounts of data to backup and relatively slow Internet speeds.
Although Backblaze prides itself in optimizing Internet connections to offer the best bandwidths available, I found it to be rather slow overall.
On the bright side, however, going by the fact that it's written in native code, as opposed to the resource-hungry Java, Backblaze handled very well on my computer.
There were no system lags, even when running other applications.
For users who are always on the go, Backblaze would be an ideal backup solution because it not only facilitates access via PCs, but also via the web and mobile phone (Android and iOS only) apps.
You can view, download and share files from any of these platforms. And if you lost a computer, Backblaze automatically detects its IP address and maps the location to help recover it.
Additionally, the application offers real-time updates on files being remotely edited and saved, consequently allowing users to track activities by computer thieves.
To critically examine Backblaze's performance, I had to first lock-down my Internet speeds.
Not bad at all.  My Internet speeds have been better, but this was still stable enough for a good speed and performance test .
The backup process began as soon as the PC application got launched.
And strangely, it did not prompt me to specify which files to backup, their priority, or sequence. It just went ahead and started backing up all 69GB worth of data, without giving me the option to choose my 10GB test folder.
The process began at exactly 12:51 pm, and completed at 6.09 am the following day- approximately 17 hours and 42 minutes. That translates to an average upload speed of 8.08 Mbit/s.
Getting started on Backblaze is as easy as registering an account with your email and password. The system then generates a custom installer within your account, for the subsequent installation of the PC application.
I was surprised to find that Backblaze does not even require an email confirmation. While some may argue that this is one of its user-friendly features, I think Backblaze's simplicity is a bit over the top in this respect.
If your computer doesn't run on either Windows (from XP and later versions), or Mac OS (10.6 and later), I'm sorry to say; Backblaze is not compatible.
Immediately after installation, Backblaze scans through the system to identify user files that may need to be backed up.
Sadly, it doesn't pick up application data, like IDrive and Carbonite do. It's therefore not an ideal system recovery tool, particularly in the case of data loss.
On the bright side, however, Backblaze also backs up all attached USB drives at no extra cost, unlike Carbonite, which offers this feature at an additional price.
As the backup process was going on, I noticed that Backblaze had embedded itself in the Windows notification tray, to facilitate convenient and quick access to its interface and settings.
And speaking of the interface, Backblaze's is simple, compact and well-organized. It almost feels too simple for a comprehensive online backup application.
I was able to quickly locate the settings tab, from where I could edit the following preferences:
Scheduling

Security

File exclusions

Report analysis

Performance issues
However, Backblaze lacks certain functions, like a folder tree, with which to view and edit files. At least it comes with critical functions like scheduling, which allows you to specify the frequency of backups.
By default, Backblaze comes with continuous backup, which translates into immediate changes in files stored on their cloud server, with every edit made to a respective file.
While users widely prefer continuous backup, I was worried that it could take up a significant chunk of my processor power and computing memory.
To my amazement, it was running silently on just 1.5 to 1.8 percent of CPU power; I barely even noticed it was operating in the background.
While data encryption is pretty standard across all cloud storage and online backup providers, the level of applicability is different and dependent on a service's security framework, and policies.
Backblaze's architecture attempts to ensure maximum security both in-transit and at-rest, by encrypting data at rest, and subsequently protecting it with SSL as it leaves the client's computer.
After a successful transfer of data to Backblaze's servers, it's protected by military grade 128-bit AES encryption.
Although it also provides private key encryption, Backblaze encourages users to stick to the default option. Otherwise, forgetting the key will result in the loss of all your data. There is simply no way to decrypt and recover data in such a case.
Interestingly, private keys are not exactly "private" on Backblaze, as they are on CrashPlan, for instance.
As we've seen with the latter, users keep and control their private keys. On Backblaze however, private keys are held by the company.
Additionally, since encryption only applies to data stored on their servers, computer data remains decrypted and vulnerable.
Which, of course, beats the whole purpose of having a private encryption key, because Backblaze still maintains access to your decrypted data. Apart from the risk of losing or forgetting, managing private keys on Backblaze is simple and straightforward.
Changing a key, for instance, is as easy as entering the original passphrase, you don't actually need to re-encrypt all your data.
According to Cisco, Java is responsible for over 91% of security attacks. So, to reduce possible vulnerabilities, Backblaze eliminated Java from all its applications.
Additionally, users are protected by two-factor authentication, just in case, someone tries to gain access to your account.
And since software security is not enough to comprehensively protect data, Backblaze also employs physical data security measures within its centers in the US.
In addition to the consistent power supply and biometric security, servers are manned and surveyed by security personnel all day, and all night.
The bulk of Backblaze's operations, including file restoration, can only be conducted via the web app.
Although the PC application comes with a "restore options" button, it's impossible to restore files directly from the application. Clicking on the button just displays a range of choices.
The only free file restoration option is downloading a Zip folder from the web. Backblaze can also mail USB flash drives loaded with backed up data, at the cost of $99 per drive (up to 128GB).
For businesses with extensive amounts of data backed up, a USB hard drive delivery could be an ideal option, especially during disaster recovery.
Each shipment costs $189 per USB hard drive, which can hold up to 4TB of data. If you choose to proceed with the default and free web restoration option, click "view/restore files" tab, and select "download zip."
You can select which files to restore from the file tree, or use the search box to locate specific ones.
Clicking "continue with restore" will initiate information gathering, and subsequently display folders under the "my restores" section. Users also receive email alerts, when their files are processed and ready to download.
Downloads come in zipped files, in the original file and folder structure, complete with parent folders as they were previously arranged.
At least this eliminates having to search through folders, just to locate a single file.
As we've already established, Backblaze is a strict cloud backup solution optimized for just that one task.
Unlike regular cloud storage applications such as:
Backblaze does not provide file syncing and sharing functionalities.
The only way to share a file is by downloading it to your PC or mobile phone and using the device's native features to share and distribute.
Backblaze only supports mobile devices to facilitate remote access and the download of backed up files. It, therefore, cannot be leveraged in collaborative environments.
If you'd like to share and sync files, I'd advise combining Backblaze with a cloud storage application.
Backblaze is only compatible with Android and iOS smartphones. Despite steady growth in the Windows Mobile space, Backblaze is yet to come up with a Windows Phone app.
The first thing you notice after downloading and installing the mobile versions is that Backblaze is very consistent with interface cleanliness and simplicity.
The iOS and Android versions are pretty similar, with home pages displaying backed up computers, from where users are able to access individual files to download.
The web interface forms the backbone of the service's functionality. Everything is pretty much controlled from the Internet app. Strangely, Backblaze does not backup mobile phone data.
There's no functionality for backing up:
Contacts

Photos

Videos

Other files
The only way to backup files on your smartphone is by copying them to a PC, before transferring them to Backblaze's cloud servers.
We can only hope that Backblaze takes this problem very seriously, and includes the feature in future versions, plus also facilitate mobile phone tracking.  
On the upside, however, users can play multimedia files directly from their phones.  
Despite carrying the bulk of Backblaze's interactive features, the web app is also very simple and straightforward. All the tabs and options are self-explanatory. You don't need extra documentation to find your way around.
Tabs include:
Overview

View/Restore Files

My restores

Locate My Computer

Preferences

Account

My Settings
"Overview" displays general account information, backed up computers and provides file restore points.
"View/Restore" files is the main tab for viewing all backed up files, and your restoration options.

"My Restores" displays all the files that got processed and are ready to get downloaded (as ZIP files).

"Locate My Computer" is very helpful when a PC is stolen or lost. It tracks any file changes made to backed-up files, plus maps and finds the PC.

"Preferences" let's a user choose their preferred package, manage email preferences, and delete backed up computers.

"My Settings" contains profile settings like name, email, password and general email settings.

"Billing" allows you to specify a preferred payment method, and track past transactions related to the account.
Apart from welcoming me to the service, the only other email I received was a file processing alert about a prompted restoration. No spam emails were sent, warning me about a subscription ending or subsequent pitches on buying new packages.
When it comes to customer help and support, Backblaze not only provides a comprehensive knowledge-base coupled with a search tool, it also allows users to raise tickets and contact the support team for chats.  
It took just 33 minutes for the support team to get back to me, on a payment issue I had raised.
However, I was surprised that Backblaze does not offer direct calls to the technical team. Personally, I prefer calls over online chatting, because they are more comprehensive.
With such limited contact options, I expected Backblaze to provide 24/7 online chats. Unfortunately, they are only available from 9 am to 12 pm and 1 pm to 5 pm PST. I find it strange for contact centers to have such lunch breaks.
Going by current trends in disaster management, online backup is pretty standard across businesses and individual users.
And since Backblaze is as straightforward and cheap as they come, I recommend it over a bulk of other backup applications. However, since it does not offer full system image backups, it may not be particularly ideal for system critical processes.
I would advise users with similar needs to consider a cloud backup solution that offers such functionality.
Finally, remember that cloud backup is only a secondary solution. You should implement a comprehensive backup framework using local HDDs as primary backups.
We're interested in learning about your experiences and opinions with Backblaze, so go ahead and drop us a comment or two, and thanks for reading!
Listen to Our Founder interview
Gleb Budman CEO of Backblaze answer all of my questions in this interview. 
Alternatives for Backblaze
Backblaze Features
www.backblaze.com
Free Storage
Free Trial
15 Days
System
Price
Starts from $ Array per month
Mobile Access
Mobile Apps
Syncronisation
Free External HD Backup
Continuous Backup
Incremental Backup
Backup Scheduling
Bare Metal Backup
Exclude File Extensions for Backup
Network Drives
Bandwidth throttling
Web Access
HIPAA Compliant
File Size Limit
Unlimited GB
Included Machines
1
File Sharing
Multiple Accounts
Share Photo Albums
Music Streaming
Folder Collaboration
Outlook Backup
Local Encryption
128-bit
Server Side Encryption
256-bit
Keeps deleted files
30
File Versioning
30