Who doesn't dream about the perfect cloud backup solution: no file size restrictions with unlimited bandwidth – those are features we as geeks look for when deciding where to house our files. Luckily, pricing of storage has decreased dramatically in the last couple of years – prompting vendors who claim to give us all the features mentioned above to spread their wings. 
The strongest contenders in the field of truly unlimited cloud backup are Crashplan vs Backblaze. Both companies have a history of friendly rivalry – competing for customers for more than 5 years. Backblaze with its ever competitive pricing of only 5$ per month, per machine, for unlimited backup and Crashplan with their abundant feature set and cross platform compatibility. 
So which one to choose? In this article I'll cover the pros and cons of Crashplan vs Backblaze, and ease your decision making process hopefully to a point where you can confidently say which of the services is the best for your needs. 
Table of contents 
---
Check Out Other Popular Comparisons


Crashplan vs Backblaze (you're reading this)

Crashplan vs Dropbox (coming soon)
Update 12/03/14: We added a quick comparison table due to high demand and comments via email.
Update 12/12/2014 : We've added a comparison video for those who like to enjoy this type of information in a different format.
Update 12/19/2014: Added a transcript for the video.
Crashplan vs Backblaze: Which Is the Best for You?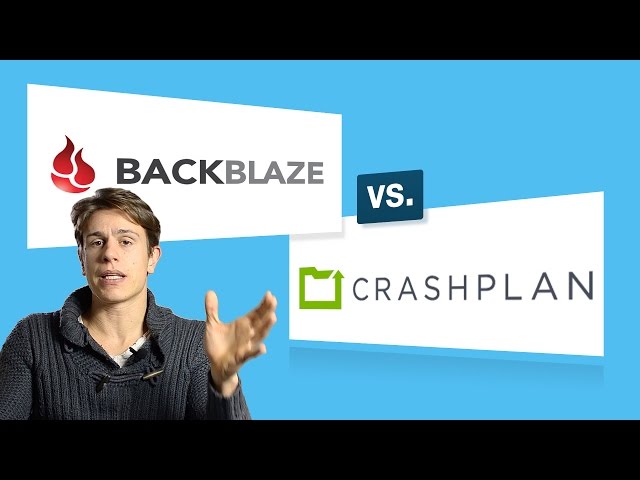 ---
Crashplan vs Backblaze – Quick Comparison
The Quick Fix
If you don't have time to read and just want the gist of the article, here it is: if thinking about backing up files makes you feel bored, overwhelmed or just outright scared — then Backblaze is a very good choice. They truly offer unlimited backup, even for external hard drives and setting it up is a breeze. No need to think about what to backup, no hours spent in the settings menu – it just works and doesn't drain the CPU too much. Also, Backblaze is a very good solution for family members because of its ease-of-use.
Go for Crashplan if you like more control over backups. Crashplan allows users to set their bandwidth throttle and CPU power and configure proxies. The added control doesn't make Crashplan  anymore complex than Backblaze — there are just a few more steps needed to get going.
Both services are very secure. You can choose your own private encryption keys to protect data before it is sent to the cloud. 
A bit of disclosure before moving on. We don't have any brand loyalty when it comes to  Crashplan vs Backblaze. However, we do receive a commission if you choose to sign up through one of our links (at no additional cost to you). That being said, let's get on with the comparison. 
How We Compare
 We like to structure our battle rounds into five subsections for provider comparison articles, and the five categories are:


Ease-of-use
Reliability
Speed
Feature set
Security

We believe that those items are a good way to measure the performance of each service against one another. Some of the categories are soft facts which depend on our personal opinion and experience with cloud services, others such as speed or security are hard facts that are measurable. 
In order to provide the most transparent results we upload a set a files to the services. That way we can gauge speed, reliability and overall look and feel, or usability. If you'd like to see more categories in the future we'd be more than happy to receive your suggestions. 
Crashplan
Crashplan is run by Code42. Which has been providing online cloud backup for more than 5 years for consumers, businesses and enterprises. Their recent focus seems to be on the enterprise market, with their launch of a secure business file sharing and syncing solution named Shareplan. 
Crashplan offers very affordable plans for individuals, starting from a little over $5 for a month-to-month plan. Here is an overview: 
| | |
| --- | --- |
| Plan | CrashPlan for Business |
| Price Plan | $ 10 00monthly |
| Storage | Unlimited |
| Details | Price is per computer you're backing up. |
Crashplan has always been providing unlimited online backup with no restrictions, and unlike Mozy, they seem to really mean it. They have never limited the storage capacity one can use. However, they've gotten more expensive over the years. While the month-to-month plan used to cost $5– we're now closer to 6$. You can, however, commit to a longer period of time which will bring down the cost considerably. 
Backblaze 
Backblaze has been preaching unlimited online backup at $5 per month for years now. While they have not always been truly unlimited (there have been file size restrictions, up to 5GB then later up to 9GB) they avoid doing anything that would lead to an unsatisfied customer. So, they got rid of the file size limit and now are truly unlimited – albeit a few restrictions do exist (which we'll review in the Features section). 
Plan
Unlimited Personal
Price Plan

$ 5 00monthly

$ 50 00yearly

$ 95 002 years

Storage
Unlimited
Details

Plan is for one computer.
I really can't complain about the pricing. Anyone who doesn't backup their files for less than a caffè latte (per month) is outright crazy. It gets even cheaper with a longer term contract. I've been a Backblaze customer for three straight years and spent very little money for utmost data security. You can't compare the pricing to Amazon Glacier, where I'd probably spend more than $100 per month to store my files. 
---
Ease-of-use
Both services are very easy to use. If you're capable of downloading and installing software, you won't have any difficulty getting either Backblaze or Crashplan to work. After installing, you first need to create an account with your email address that will verify your computer with their system. 
Then, the software scans automatically for files. Crashplan's standard setting is to only backup your Users folder (on Mac). If you want to backup other folders or external hard drives– they'll have to be selected. Backblaze on the other hand just backs up everything (yet does exclude external hard drives as well, you need to select those separately in the settings menu). If you don't want some file types to be backed up, you can specify which in Backblaze's settings menu. Same goes for Crashplan. 
The real beauty of Backblaze is that it is as simple as possible. Crashplan on the other hand is still easy to use, but digging through advanced settings can be overwhelming if you just want to exclude certain files. 
The restore process works differently on both services. Backblaze only lets you restore from the web. You can browse through your files or versions of files and you'll get a download link to a .Zip file delivered to your inbox. Depending on how much data you have, this process can take several minutes up to several hours. For 10GB, expect to wait at least an hour until you can download the archive. 
You can restore files directly from within Crashplan, which feels more "native" and secure than from a web client. 
Overall, Backblaze is easier to use. If you're looking for a simple backup solution for yourself or a non-technical family member–Backblaze is for you. 
---
Winner: Backblaze
---
Reliability
Software just needs to work. I don't have time to fiddle with the details, reboot my computer to make it work or call the support hotline. So reliability is critical. Both backup and restore need to work hand-in-hand to provide help in case of disaster. 
Over the last three years, I've been using Crashplan and Backblaze. Both services work very well, though I find Crashplan to be a bit more "clunky". It is not as seamless as Backblaze and I had a lot of issues with upload and download speeds at the beginning, which has improved considerably as of July 2014. This might have been due to my location, which is Berlin and Crashplan's servers are somewhere in the US. But then I didn't experience similar issues with Backblaze. 
Over the years, I've performed several test restores and both services retrieved my files without any issues and I could open them without failure. There were no crashes or any other hiccups worth mentioning. 
---
Winner: Tie

---
Speed
Upload speed performance is a metric that is very difficult to track. People have different Internet connections, live on different parts of the planet and use a variety of computers. My experience can only be a ballpark benchmark for you to look at. 
When I first signed up for Crashplan (back in 2011) I had tremendous upload speed problems. My upload Internet connection was at 10mbit/s at that time and downspeed at 100mbit/s. However, Crashplan only used a fraction of that. In fact, uploading 10GB took several days and downloading my files took longer than necessary, too. So I was very unhappy, to say the least. 
Fast forward almost 3 years and Crashplan seems to have ironed out their speed issues. My bandwidth is pretty much maxed out both ways. However, online backup takes patience. A lot of it. I have more than a terabyte of important files to backup and at that speed it would take Crashplan 6 months to back it all up. 
You can choose a seeded backup where they would send you a hard drive but that would cost 130$. Bypassing the upload process might be the way to go if you're impatient and don't have an additional storage medium to backup
Backblaze's performance has always been top-notch. For this review, I will only compare Crashplan and Backblaze on their current performance, so we'll ignore Crashplan's hiccups from the past. 
---
Winner: Tie
---
Further reading: we have a Carbonite offer code waiting for readers of Cloudwards.net. 
Feature Set
Both services offer similar features. This section would be easier if I were to compare Backblaze vs Dropbox, which have clearly distinctive features. With Backblaze vs Crashplan, it's a different story altogether. Unlimited backup and storage has been something that both companies have marketed heavily in the past. So we need to look a little closer: 
Unlimited Backup
Backblaze check. Crashplan check. No restriction as to how many files can be uploaded. No official NAS support though. You can trick Crashplan into backing up your NAS, but this is not an officially supported task. So use with care. 
Unlimited File Size
Backblaze check. Crashplan check. Doesn't matter if you want to backup your movies or a 200GB Outlook .pst email file. Everything is supported. 
Unlimited File Retention
Backblaze miss. Crashplan check. Aha! This is interesting. With Crashplan you can keep all file versions forever. Backblaze has a set limit of 30 days. Also, you need to connect your external hard drives once every 30 days for them to still be backed up. 
Backing Up NAS Drives
Backblaze miss. Crashplan check. Well sort of. It is not officially supported and you cannot expect it to work properly. But I have used this method in the past (it didn't work out so well). It was slow and unresponsive so I decided to backup my NAS using Amazon Glacier. 
Let's look at a couple more features:
Backblaze


No speed restrictions (you can set a bandwidth limit, though)
Connect unlimited external hard drives
No limit to the types of files you can backup
Anywhere restore through the web interface, iPhone and Android app
Personal file encryption with a private encryption key (NSA safe)
Continuous backup whenever a file changes
Crashplan


Triple destination backup (external hard drive, Crashplan cloud or your friends' computer)
448-bit blowfish encryption
Unlimited backup, no restrictions in file retention, file size or types. 
Mobile app included with access to your files
Continuous data backup in the background
Backup of unlimited external hard drives
Backup structuring in different backup sets
Seed backup and restore-to-door service (extra fee)
Overall, both service boast an incredible backup feature set. In my opinion, it's just a matter of taste which service you choose. Do you like spending a little more time with configuration and setup or have specific requirements in terms of where your files are stored and organized? Then Crashplan is your go-to-backup service. If you just care about secure, easy backup — pick Backblaze. 
---
Winner: Crashplan (barely)
---
Security
With all the recent espionage scandals and the NSA spying all over the place, you should pay close attention to security and encryption. What exactly happens to your files when they are transferred (or even before that) is of crucial importance especially if you plan to backup sensitive files such as client data, contracts, invoices or banking details. I certainly hope you're not using Dropbox for such tasks, because it lacks local encryption, which both Backblaze and Crashplan have. 
Now, these providers are not alone when it comes to local encryption. Carbonite and SpiderOak are also two examples of alternatives that encrypt files before they leave the computer. Carbonite "only" uses a 128-bit Blowfish algorithm, while Crashplan boasts a 448-bit encryption technology. Backblaze generates a 2048-bit pub/priv key pair on your laptop or computer before files are sent to their servers. 
I leave it to you whether you feel safer with a 448-bit encryption or with Backblaze's 2048-bit – there may be a mathematical difference but I honestly don't think that it matters. 
What matters is that your backup provider has this double layer of security where your files are encrypted first with a key of your choosing and then sent to the respective clouds. 
---
Winner: Tie
---
So Which One Should You Choose – Crashplan vs Backblaze?
Both services have grown into fully fledged online backup services for both personal and business files. While there were some teething problems with Crashplan's upload speed and Backblaze's file size limits – those issues have now been ironed out as of October 2014. 
Both are excellent services if you want to backup data in the cloud. You can have them as a primary or secondary backup layer – with Crashplan there are more options. You decide how far you'd like to take redundancy. Single, double or triple backup layers? All possible. 
Backblaze comes with less features. It is very easy to use. Heck, I installed it on my grandmother's computer and it's been running ever since without any issues. So it's a perfect solution for friends and family, too. 
Drawbacks?
I know this comparison is quite positive towards the two providers. It is because I'm a long term customer and I know they do things right. But you  might be wondering, are there any major drawbacks? Well, since both companies are backup services, one cannot sync files across multiple devices like Dropbox or Bitcasa can. 
I believe it won't be long until Crashplan comes up with a consumer syncing plan, too. They have just launched SharePlan, an enterprise sharing and syncing solution. 
I feel Backblaze will stay true to backup only for $5 per month. And I much rather have a service with a limited feature set than a bloated do-it-all software that slows down my system or offers some half-assed features. 
I would love to know what you think about each service. Are you using Backblaze or Crashplan? What is your experience been with the two providers? Let me know in the comments below. 
Listen to the audio version of this article: