Trello Review
Trello is a solid project management tool that's used by companies big and small the world over, including Cloudwards. We like it a lot, but as you can read in this full Trello review, there are some serious limits to its usefulness, despite the recent update.
Starts from
$
3
75
per month
Trello is probably one of the most well-known project management apps out there. It's both free and easy to use, which explains much of its popularity. In this full Trello review, we're going to go over its pros and cons to see whether or not it deserves its spot among the best project management software.
Key Takeaways:
Trello is a solid kanban board, but its more advanced features fall a bit short.
To access Trello's full functionality, you need to use power-ups; the free plan offers only one, while upgrading gives you access to an unlimited amount.
A recent update has made the Business Class plan a little more interesting than it was, but some of the features seem to still be in development.
Freelancers have access to Trello Gold, an interesting middle-of-the-road option.
The short answer is that, yes, Trello is very good at getting the job done. In fact, at Cloudwards.net, we use Trello ourselves for keeping track of our editorial calendar, with little to no trouble. How it works is easy to grasp (read our Trello tutorial to see how easy), and training others on it is a piece of cake.
However, it's not without its flaws, and Trello's recent update remedies only some of them. While Trello is by far the best kanban app out there, if you need more complete project management software that can keep track of multiple projects and set dependencies, you're much better off checking out our monday.com review.
That said, if you just want to keep an eye on tasks, Trello may very well be the ticket for you. It's free as long as you don't need more than one power-up per board — more on that in the "pricing" section below — so there's nothing stopping you from trying it out. If you're not too sure yet, stick around as we sort out Trello's nuts and bolts.
Trello Video Review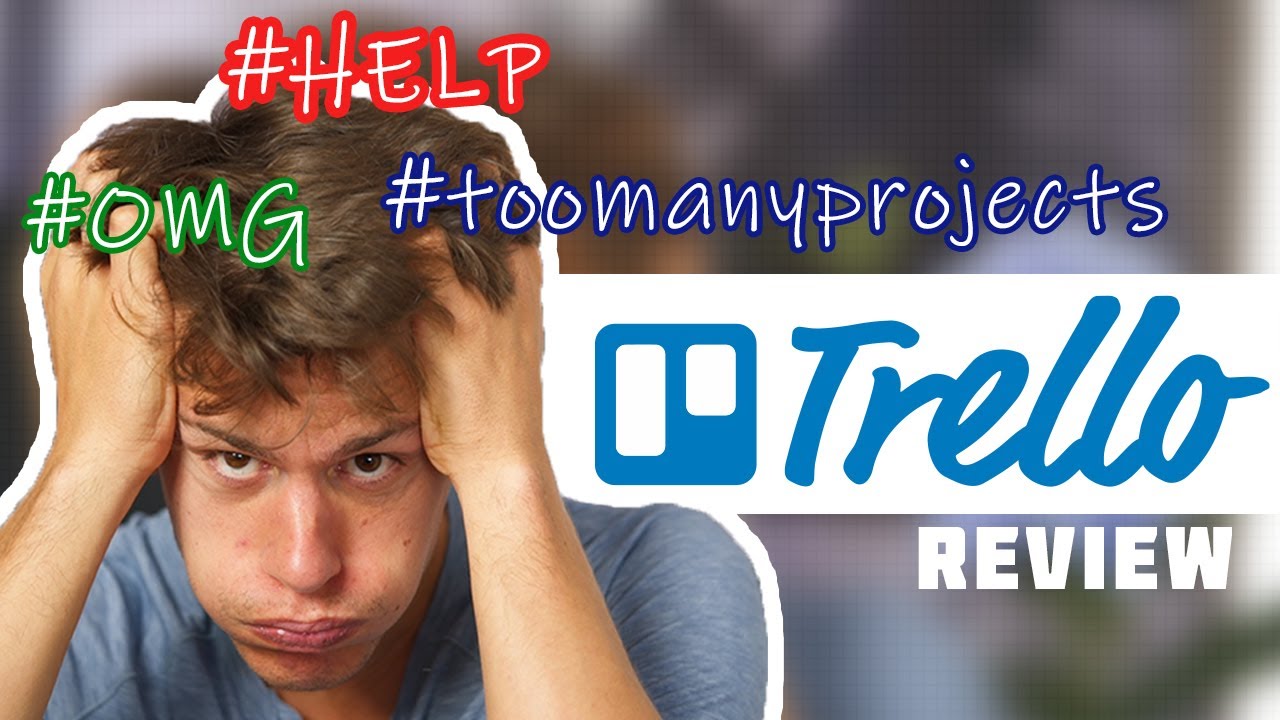 Trello is a task management tool that uses a kanban board to track tasks. It's a great way to have an overview of a project's progress, though keeping track of subtasks and dependencies is tricky.

Yes, Trello is pretty good at what it does. Though do keep in mind that its scope is a bit limited, so it may not be the perfect fit for what you're trying to do. However, if you're running a simple startup or something similar, you can't beat Trello.

Yes, Trello is free. We've been using it for years with just the one power-up per board and have never been asked to pay for it. However, the free trial plan is rather restrictive if you want all the bells and whistles.

For keeping track of the progress of a larger project. You can't really see how different tasks are interconnected, but it's perfect for giving an overview.

It depends on what you need it for. If you just need an overview, we like Trello more, while Asana is better if you need to dip into the details.
Top Alternatives for Trello
Strengths & Weaknesses
Pros:
Great kanban tool
Very easy to use
Excellent free plan
New & updated features are interesting
Cons:
Relies heavily on integrations
Paid plan isn't the best value
Features
Until recently, Trello's only real features were its kanban board and some ancillaries, like the Butler, which helped you figure out your automations. It was all pretty solid, and we gave it decent marks, but it didn't blow our socks off, either. However, its most recent update has added some interesting new views to the paid plan, giving Trello some extra oomph in this section.
Free Features
Before we get to any of that, let's first look at what we're sure is Trello's most important offering, the free version. Though we've no hard figures, we're pretty sure a large majority of users don't pay Trello a penny, and there's no real need to, either. The free plan plays to Trello's strengths exceptionally well by focusing on the kanban board.
In fact, Trello is so good with kanban boards, we use it as the main example in our article on how kanban boards work. Though plenty of other project management software uses kanban boards, Trello's has better reactivity, more colorful labels and just all-around better usability. While you wouldn't think drag-and-drop functionality could be judged, Trello does better here than anybody else.
Besides the Trello board, the free plan doesn't offer much else: there's the aforementioned Butler, which is cool but doesn't always work as advertised. It's supposed to figure out the best automations for you, but we're told that we need to use Trello more before it can do so — and we've been using Trello for more than four years.
There's also two-factor authentication, which adds some security, as well as the ability to add due dates to cards. However, as the free plan doesn't have a calendar, this feature is a bit useless. You also get the ability to create special cards for videos and Google Docs, which seem to be mostly a cosmetic improvement.
Power-Ups for Fun and Profit
If you feel any features are missing from Trello, you can add them using so-called power-ups, or integrations. The list of available power-ups is massive and includes anything from adding some extra fields to Trello cards, to calendars, time-tracking apps, Gantt charts, Google Drive integrations and everything in between.
While power-ups add a lot of functionality to Trello, there are a few issues: first and foremost, the free plan only gives you one. If you need more, you're going to have to upgrade for an unlimited amount. We talk about this more in the "pricing" section below but we reckon most free users will tack on a calendar and be pretty much done.
Another issue is that not all power-ups are created equal. Most of the ones made by Atlassian work fine, but the third-party ones can be hit and miss. On top of that, you'll likely have to sign up for the service in question, and maybe even need to pay for it.
Though you can still do some pretty cool stuff this way, there are plenty of project management alternatives that offer more functionality in the same package, like Asana and monday.com.
Business Class Features Update: New Views & More
If you want more out of Trello than a kanban board, you're going to need to upgrade. While we have our reservations about the value of the paid plan — called Business Class — since the recent upgrade, we're a bit more positive about it than in previous Trello reviews. It adds a number of interesting new views on top of its existing perks.
Calendar View
Our favorite view is probably the calendar view. We've never missed the opportunity to complain that Trello didn't offer one, so we feel vindicated now that we finally got one.
We're still a bit miffed that you need to upgrade for the calendar, though, as most services offer it for free (read our nTask review for one example). It's also a bit odd that we got a built-in version when the power-up calendar was pretty decent.
Timeline Feature
Similar to the calendar is the new timeline feature, which lets you plan tasks out over a period of time. You do this by either moving them in the timeline or setting a start date on cards. It's cool, but this functionality could easily be included in the calendar, removing the need for two different views.
Table View
Another newly added feature is the table view, which is like the list from Asana (read our Asana review) met up with the tables from Wrike (read our Wrike review). We honestly really like it: it's colorful and useful and probably the best thing to come out of the update.
Dashboard
Last but not least of the updates is the dashboard, which is pretty much just a set of graphs you can choose from to visually display how things are going.
While it looks neat, we honestly doubt it adds much to the utility of Trello: kanban boards are pretty graphical already. We guess you could use it to keep track of specific goals, but the range of options you're given when creating graphs is pretty limited.
Overall, we're not blown away by Trello's update. Though it's new features are nifty, we're not sure about their value. We discuss this further in our next section.
Features Trello Overview
| | |
| --- | --- |
| Kanban board | |
| List | |
| Calendar | |
| Timeline | |
| Spreadsheet view | |
| Gantt charts | |
| Workload planning | |
| Long-term planning | |
| Multiple project management | |
| Dependency management | |
| Native scrum management | |
| Set user permissions | |
| File storage | |
| Time-tracking | |
| Built-in integrations | |
| Reporting features | |
| Free plan | |
| Free Trial | 14 days |
| Web app | |
| Windows | |
| MacOS | |
| Android | |
| iOS | |
| Ticket-based support | |
| Tutorials | |
| Knowledgebase | |
| Forum | |
| Live chat | |
| Phone support | |
Pricing
When it comes to pricing, Trello is pretty middle of the road. As we mentioned in the features section, it's a top contender when it comes to the best free project management software, but we're not blown away by the paid offering as it's a bit pricey. Before we give you our opinion on the paid plan, let's first look at the numbers.
Please note that we discuss the Enterprise plan at length in our article on Trello pricing. All plans include unlimited file attachments, though file size is capped at 10MB on the free plan and 250MB on the Gold and Business Class plans.
Is Trello Business Class Worth It?
As we discussed in the "features" section, the best parts of the Trello paid plan are the table view and unlimited power-ups. Anything beyond that is just cherry. At $10 per user per month, we're not entirely sure if Trello merits the expenditure. For example, monday.com pricing is also $10 per user per month but offers a lot more in the way of functionality.
Much the same goes for Asana pricing, which is a bit more expensive but still gets you more bang for your buck. Trello's Atlassian sibling, Jira, is even cheaper, though you could argue its usefulness in comparison, as we do in our Trello vs Jira article. In most cases, we recommend you find a way to integrate Trello with other options rather than pay the premium.
With all that said, if you want to find out for yourself if it's worth it, there's a free Business Class trial of 14 days available; all you need to do is enter a company email address and you're off to the races.
All That Glitters …
There is an exception for freelancers, called Trello Gold. This plan is only for one-man bands, and it's the only other way to get more than a single Trello power-up. The Gold plan costs $5 per month (or $45 for an entire year) and nets you three power-ups. Also, you can get a month of Gold for every person you invite to Trello, which can rack up quickly.
User-Friendliness
Trello is an absolute pleasure to use. From moving cards around to setting up new boards, you'll need to use little beyond common sense. The experience is much the same whether you're using the Trello desktop app, the web app or the mobile one. All in all, when it comes to ease of use, Trello is one of the best out there.
Signing up is as easy as going to the Trello website, then either signing up using the bar in the center of the screen or hitting the "sign up" button in the top right. Just enter your email and you're all set.
Using the Web Client
The web-based and desktop client are likely the place where you'll do the most organizing, as it offers you a larger screen, perfect for putting up boards, lists and cards for overview purposes. Overall, we really like this view, with the board taking up roughly 80 percent of the main user interface.
Moving cards and lists around is all done through drag and drop, and you can scroll through lists with your mousewheel. Left-to-right navigation can only be done using the slider bar at the bottom, which can get a bit annoying. We recommend you don't make your board go too far in width to avoid this problem.
Lists are fairly simple: click on "add another list" in the top part of the screen and one will pop out. Name it and it's ready to use. Cards are equally simple: click "add a card," name it and you're ready to roll.
However, the fun really starts when you click on the card to reveal the back of it. A pop-up will fill your screen with all kinds of options. You can add a label (handy when sorting through cards later), a description and a due date. Also, you can assign tasks to team members, so both you and they can keep track of what they're doing.
There are some basic task-management options built in, like a place to attach files and add a checklist, which will come in handy when dealing with larger projects. On the whole, though, we'd recommend dealing with subtasks by making separate lists and cards because Trello won't let you easily track what's on the back of cards.
Trello Mobile App
This experience is much the same with the Trello mobile app. It's available for Android and iOS and can be downloaded via their respective stores. Once it's downloaded, and you're past the Trello login screen, you're presented with much the same view as the web app, though scaled-down and a bit more basic.
There's not much difference here, with even the menu on the right under the three dots, but we'll admit that we felt the whole process of using Trello on mobile was a bit more finicky than we'd like. This is likely due to boards being overviews that don't translate well to a small smartphone screen.
Security & Privacy
Trello doesn't disappoint when it comes to security, offering good, all-round protection of small businesses' data. However, it does store your data using Amazon Web Services, which doesn't have a flawless record. On the privacy end, though, there are some issues, as you can read in the relevant subsection.
How Safe Is Trello?
Trello is owned by Atlassian (read our Jira review for another), giving it access to several advanced security features, including 128-bit AES TLS protocol while in transit and 256-bit AES encryption while at rest. It also undergoes regular audits by both Atlassian on the client side and Amazon on the server side. Leaky buckets aside, you should be all right.
However, the biggest security risk when using Trello is, well, you. Apparently, many people foolishly make their boards public when creating them, meaning that anybody can access them, on top of them also being available to Google's crawlers (so they pop up in searches). If you manage to avoid this pitfall, Trello is safe to use.
Trello Privacy
As for privacy — which, in short, is how safe your data is from Trello itself — well, the news isn't too good. The Atlassian privacy policy makes it clear that it logs what we do and the information we enter. It also shares all this data with third parties who may or may not use it to target ads our way.
At Cloudwards, we've been using Trello for around four years and have yet to be inundated by a flood of Trello-related spam. Atlassian seems to be pretty respectful about it, but clearly, your data isn't entirely private with Trello.
Service & Support
Much like its ease of use, Trello excels when it comes to helping you along. It has plenty of guides for both beginners and more experienced users, plus offers webinars for specific issues. It falls a little short in interactive support, but you likely won't even need it.
If your main concern is learning how to use Trello, it has you covered. Through the support portal, you can access a massive number of tutorials that will get you kanbaning like you've been doing it all your life within a few hours.
Should you have a specific issue you need help with, it seems Atlassian would prefer you go to the forum — called the Trello Community — rather than use support. It seems pretty active, with both users and Trello team members pitching in, and its search function works well, so you'll probably get whatever answer you need pretty quickly.
If all of the above fails, you can also contact support directly through a contact form on the support page, though it seems more geared toward people wanting to report bugs or subscribe to a specialist plan. Asking help questions will mainly see you redirected toward the relevant guide or forum page, though the answers come pretty quickly, considering we're using a free plan.
The Verdict
Overall, there's a lot to like about Trello. If you're looking for a basic kanban board that you don't have to pay for, we recommend Trello above all other options. However, getting the most out of this project management tool comes with a hefty price tag, and we see better options offering more for the same amount, or even less.
For example, Cloudwards' favorite project management tool, monday.com, is pricier but gives you all kinds of goodies and layered views, while Asana offers more high-end options. Still, give Trello a whirl if a card-based solution sounds right for you and if you like the flexibility of the power-ups.
Have you used Trello? What did you think of it? Let us know in the comments below and, as always, thank you for reading.