Visit

1Password
Wide range of features
Inexpensive
Unlimited passwords
1Password Review
With a wide range of features, unique security model and a selection of inexpensive subscription plans, 1Password has almost everything you need for password security. We'll explore all it has to offer in this 1Password review.
1Password holds the top spot on our list of the best password managers. It covers all the bases for secure password storage and creation, and comes with plenty of additional features — without charging an arm and a leg. We'll cover all that and more in our 1Password review.
Key Takeaways:
There is no free version of 1Password, although you can try it free for 14 days.
The 1Password password manager apps are not expensive, but pricing plans are better suited for multiple users than individuals.
Business subscribers can set up two-factor authentication for all accounts under their plan.
1Password's security model relies on a 128-bit secret key and a secure remote password in addition to the master password.
For this review, we'll explore what 1Password has to offer regarding features, ease of use, security and pricing. It scores well in each of these categories and offers more than just core password management features.
1Password provides a generous range of pricing plans for single and multiple users, with the biggest savings on its multiple user plans. No matter which plan you choose, 1Password will provide mobile apps, desktop apps and browser extensions to protect your login credentials on all your devices.
1Password Video Review
05/20/2022 Facts checked

Cloudwards rewrote the review with updated features.
Yes. There is no way 1Password can steal your passwords because it doesn't store them on its servers. Even if hackers invaded the company's servers, there would be nothing for them to steal.

Any company can potentially fall victim to a cyberattack. So far, 1Password has never suffered a cyberattack or data leak.

Families and business subscribers will get the biggest value for the price. Although the individual plan isn't expensive, individuals can get better value with other password managers.
1Password Review: Alternatives
1Password: Strengths & Weaknesses
Pros:
Inexpensive
Good for families & businesses
Wide range of features
Mobile & desktop apps
Browser extensions
Unlimited passwords
Cons:
No free version
Not the best deal for individual users
Features
1Password includes core password manager functions like secure storage, password creation and a password health meter. It can be difficult to create a unique and resilient password for a single account, let alone hundreds, which is where the password generator feature comes in handy.
1Password will automatically generate a strong password and keep it secure on your device and the cloud. As long as you can create and remember a good master password, you won't have to remember every password you create by heart.
To sweeten the deal, 1Password will also automatically fill in the relevant password when you're logging in to a website or service — no more manually typing complicated strings of numbers and letters.
Multiple Vaults
All your passwords are stored in a password vault with 256-bit AES encryption. The vault comes with plenty of features to make organization simple, like the ability to create multiple password vaults sorted by purpose.
For example, if you have several email accounts, you can store them in their own folder separate from your banking credentials. The notepad feature helps you stay even more organized in case you need to write down other private data relevant to your password, such as your account's corresponding security question.
Travel Mode
We're particularly fond of 1Passwords's travel mode. It's designed to keep your passwords safe in the event your device gets lost, stolen or confiscated during travel.
Activating travel mode will delete your passwords from your device — while retaining them in the cloud — so no one with your device can find your passwords. You can reconnect to the internet and download them from the cloud later.
1Password X Browser Extension
Another of 1Password's standout features is its browser extension, formerly called 1Password X. You can use all the features of the 1Password application in a browser extension for Google Chrome and Mozilla Firefox.
This means you can use 1Password from any device running Windows, iOS, Android or macOS. It's even possible to use the 1Password extension on Linux and Chrome OS, though 1Password doesn't advertise compatibility with those operating systems.
The 1Password browser extension doesn't leave out anything included in the desktop app. You can create strong passwords, store and organize your login details in encrypted storage, and use Watchtower — the whole application is there.
Watchtower
Watchtower is 1Password's security dashboard, which assesses the strength of your passwords and alerts you of weak ones. Without this tool, it can be difficult to evaluate the security of your passwords. It will also catch reused passwords.
One of Watchtower's biggest assets is its data breach monitoring service. Watchtower is integrated with haveibeenpwned.com, a website that lets you know if any of your passwords have been publicly leaked to the internet through a data breach. No matter how strong your passwords are, they won't keep cybercriminals away if they're in the open.
Watchtower throws in alerts for website security. It will notify you if you're accessing a website over an insecure HTTP connection instead of HTTPS. Cybercriminals commonly use unencrypted connections to steal passwords with man-in-the-middle attacks. It's not the most important feature since browsers usually offer insecure connection alerts, but it's a nice bonus.
1Password Features Overview
| | |
| --- | --- |
| 2FA | |
| Encryption | AES-256 |
| Zero-knowledge | |
| 2FA keys | |
| Security analysis | |
| Multi-device sync | |
| Backup and recovery | |
| Mobile apps | |
| Password changer | |
| Password generator | |
| Browser extension | |
| Autofill | |
| Form auto-fill | |
| Browser UI | |
| Desktop UI | |
| Email | |
| Live chat | |
| Phone | |
| Help center | |
| Forums | |
| 24/7 support | |
| Free plan | |
Pricing
1Password offers several affordable pricing plans: one for individual users and three for multiple users. The good news is 1Password is an inexpensive password manager (unlike Dashlane). The bad news is there is no free version. Fortunately, you can try it out for free for 14 days before deciding to commit.
Individual users get to use 1Password for the low price of $2.99 per month, which includes 1GB of document storage, travel mode, item recovery and multi-device sync. However, families and businesses get bigger savings with the multi-user plans.
Families, Teams and Business
1Password Families supports five users for $4.99 per month, or $1 per individual user. Additional users can be added for $1 each. Users on a 1Password family plan can share passwords with each other and recover accounts in the event of a forgotten password. The Families plan also comes with five passes to share limited accounts with guests.
The other multi-user plans are 1Password Teams and 1Password Business. Teams costs a flat monthly fee of $19.95 and includes 1GB of document storage per user and five limited guest accounts. It's not much different than the individual plan, but it does support two-factor authentication and custom security controls for account permission management.
The Business plan is by far the most complete plan 1Password has to offer. For $7.99 per month, subscribers get 5GB of document storage per user, 20 limited guest-sharing accounts, two-factor authentication, a broad range of security controls, usage statistics and a lot more.
To round it off, Business subscribers can give free Family accounts to all of their members. 1Password leaves nothing wanting for multiple-user password security plans.
Ease of Use
Getting started with 1Password is easy. First, you'll select your preferred plan and enter your email account. A six-digit verification code will be emailed to you.
Once you've verified your email, you will enter your credit card details to subscribe. You don't have to enter your card information if you're just using the free trial, but then your 1Password account will be locked after 14 days.
1Password automatically creates your emergency kit, which is a PDF document containing the information you'll need to get back into your account if you forget your master password. The document contains your email address, a 128-bit secret key and master password. It's best to store the emergency kit with encryption software as well as print a hard copy.
You can start using the app right away once your 1Password account is set up. It provides links to download the desktop application and a starter kit containing your master password, secure notes for getting started, and an identity card with the information you provided when you signed up.
Mobile Apps
The 1Password app is available for iOS and Android. Ranked number one in our list of the best password managers for iOS, the full spectrum of 1Password features can be used on the mobile apps. The mobile version is particularly helpful for autofill to avoid manually typing passwords on a phone.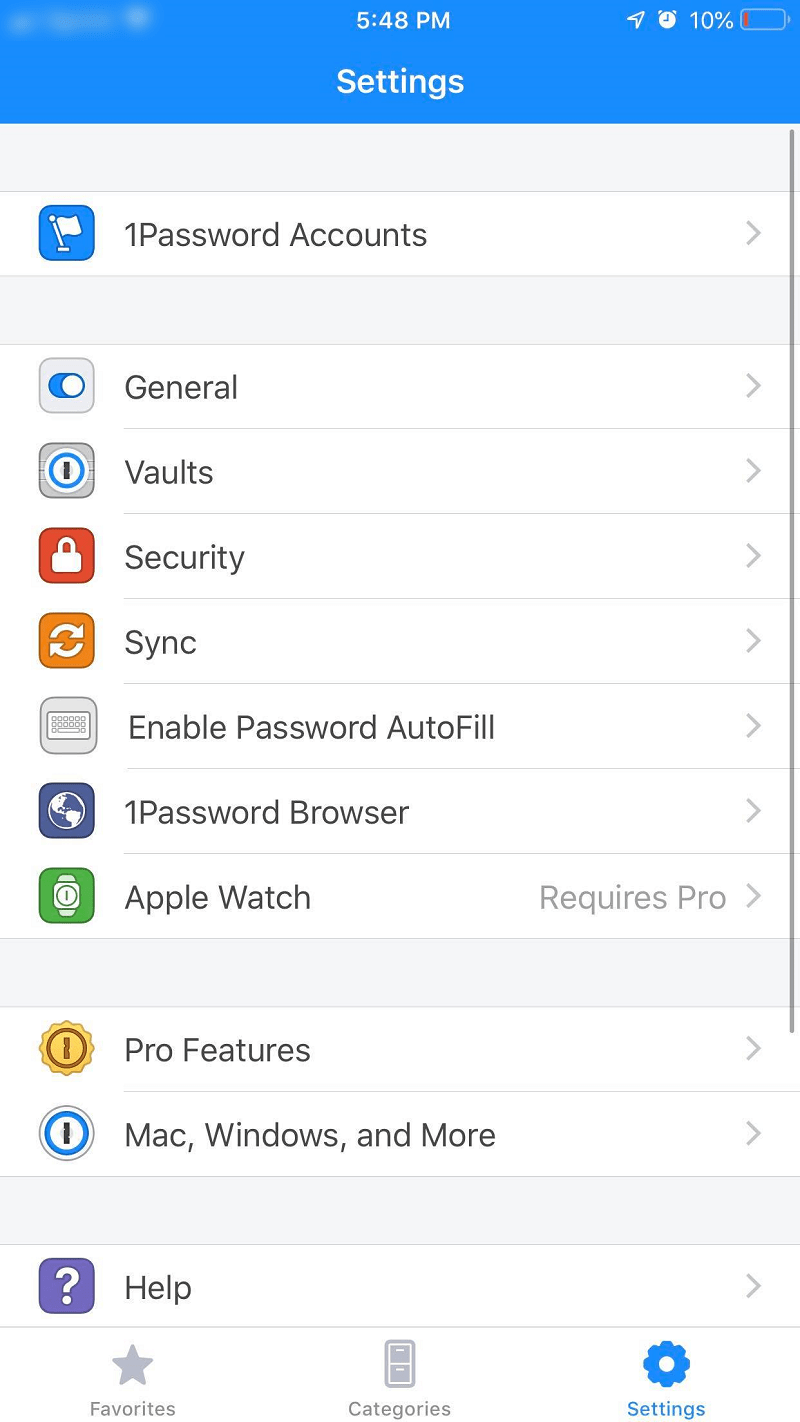 The current version of the iOS 1Password app was created from scratch for iOS 12. The user interface couldn't be easier to use on iPhones and Apple tablets. If you have an Apple Watch, you can connect it to the 1Password app and access your passwords at a glance.
Security
Your master password is the one password to rule them all. Every password you have will fall into the wrong hands if this master password gets compromised. 1Password created a unique solution for this problem.
1Password's Three-Part Security Model
Unlike with most password managers, three things are needed to unlock your 1Password account — the master password, a secure remote password (SRP) and its corresponding 128-bit secret key.
1Password follows a zero-knowledge policy, which means your master password is never sent to 1Password's servers. There is no way the company can see it or leak it if the company gets hacked. The application generates the SRP before transit as you log in, which is what gets checked against the 1Password server.
1Password generates a 128-bit secret key when you download the app and stores it locally on your device. Every time you sign in to your account, this key is sent through a derivation function alongside your master password and a salt (i.e. characters added by a hashing algorithm to prevent hackers from guessing the password).
For more information about encryption and how it works, read our description of encryption.
No Data Breaches
1Password has not experienced a data breach. LastPass fell victim to hackers in 2015 and 2019, and it lost a lot of customer trust as a result, but 1Password has been safe so far. Even if cybercriminals tried to leak the company's data, there are no passwords stored on the company's servers, thanks to the zero-trust security model described above.
Customer Support
There is no shortage of support resources in case you need help with 1Password. You should find all you need in its extensive list of articles and videos in the 1Password knowledgebase, but the 1Password team is responsive on social media, too. The company interacts with its users on the 1Password forums, where it claims to have answered more than 250,000 questions.
1Password's customer support page gives you a few methods to contact the 1Password team. It also provides a list of common problems and different contact methods for each one.
Most of the topics will lead you to one of three options: the community forums, 1Password's Twitter account or email support. Some inquiries have more customer support resources.
The support topic labeled "I want to start using 1Password at work" will lead you to a webpage with a more detailed contact support form and a phone number for the company's sales team. Others will lead you to request submission forms where you can describe your issue in detail.
The Verdict
1Password is a solid all-around password manager. Its core password management features are as good as it gets, but it goes further by offering a wider suite of features. Families and businesses will get the most out of 1Password thanks to its generous pricing plans.
Its individual user plan is inexpensive at $2.99 per month, but it's beat by good free password managers like Bitwarden and applications with limited free options, like Dashlane. The absence of a free plan is 1Password's biggest drawback, despite the 14-day trial period, which keeps out those who might otherwise benefit from what 1Password has to offer.
What do you think of 1Password? Do you think it's the best overall password manager, or is there a better service? Let us know your thoughts in the comments section below. As always, thank you for reading.
Visit

1Password