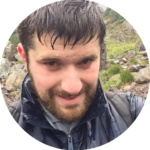 Samuel Chapman
Editor
Snap Shot
Samuel Chapman is a writer and editor for Cloudwards. His writing and research focus on VPNs, anonymity and online privacy.
Background & Education
Samuel graduated from Whitman College in 2015 with a bachelor's in environmental studies. After finishing his degree, he completed a number of internships where writing was a big part of his role, working on promotional material, news reports, blog posts, communication and more.
Samuel worked in the environmental conservation field for several years before becoming a freelance writer in 2018. He started writing for Cloudwards in 2020. Later, his experience managing teams and working remotely with writers and researchers around the globe made him a perfect fit for the editorial team. He was promoted to assistant editor in September 2021 and was promoted to editor in December 2021.
In his articles, Samuel focuses on VPNs and other tools for living a more private and secure life online. He's passionate about helping regular people understand important concepts like encryption, so we can all build the free and prosperous internet of our dreams.
Last articles
Last Reviews