Best Password Manager for iOS 2023: Security on the Go
Although Apple includes its own iCloud Keychain password management tool with iOS devices, there are a lot of benefits to upgrading to a third-party service. In addition to gaining expanded features and better security, dedicated password managers come with great customizability, allowing you to choose how and where you store your passwords.
Pulling from our best password managers guide, we've compiled a list of the five best password managers for iOS. We'll talk a bit about each and why it's a great choice for iOS, as well as why it's a great choice in general.
However, the quickest way to secure your iOS passwords is with 1Password. Although we have other options that rival it in one way or another, 1Password consistently comes out on top in terms of features, price, security and user-friendliness. You can get a 14-day trial to see how you like it, though there are options like Dashlane that offer a limited free plan, as well.
The Best Password Manager for iOS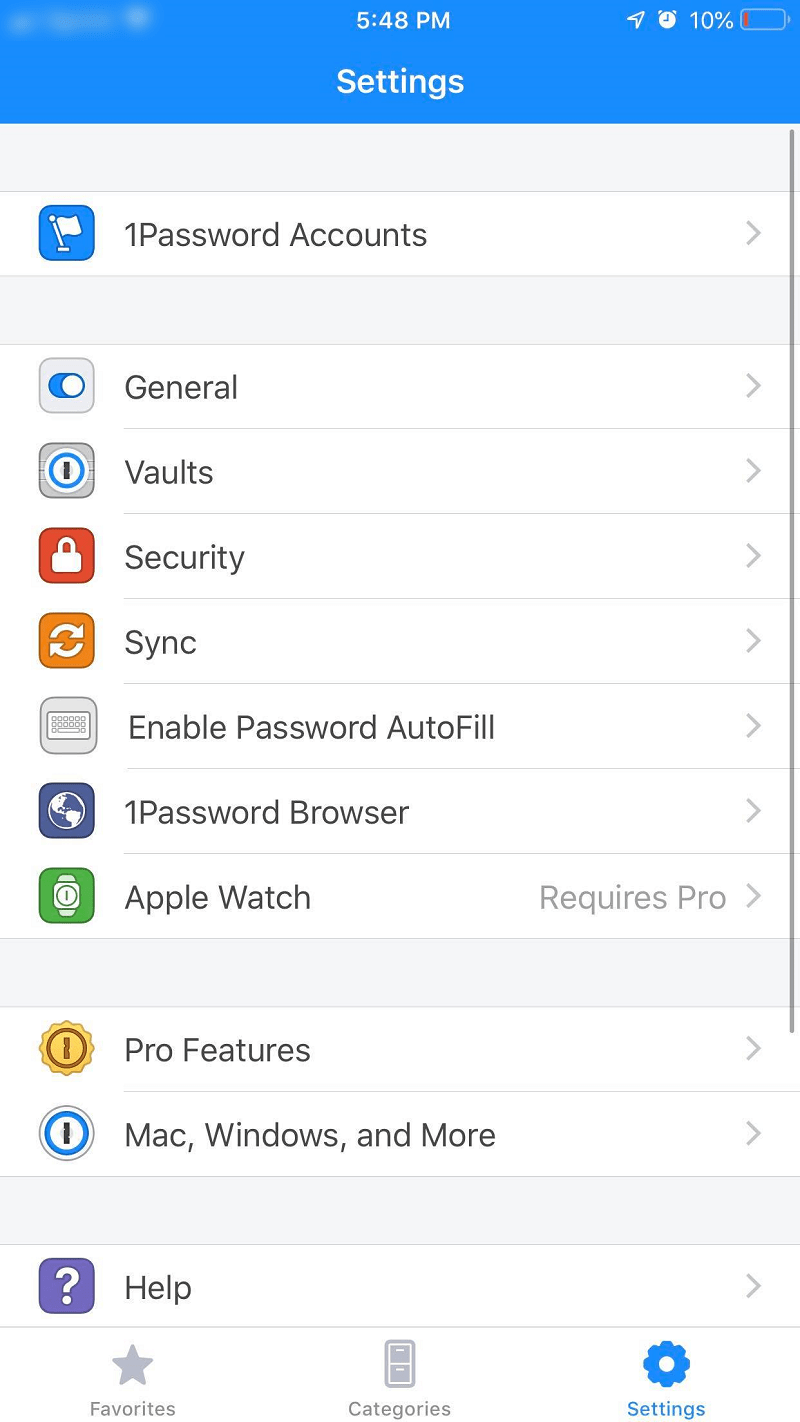 1Password is our go-to recommendation when anyone asks about the best password manager money can buy. It's perfectly suited for iOS, as well, with a no-nonsense interface, excellent autofill and a long list of features. The price is pretty cheap, too, though 1Password doesn't offer a free version.
A personal account runs around $3 per month and comes with unlimited storage and multi-device sync. On iOS, personal users have access to other 1Password features, as well, including 1Password Watchtower. This feature allows you to quickly see old, reused and weak passwords across your accounts.
1Password also integrates with the Apple Watch, so you can quickly see information from your vaults. That includes one-time passwords for two-factor authentication, credit card numbers, bank account details and WiFi credentials. As long as you have an Apple Watch, you can pull up this information without needing to pull out your phone.
When you have your iPhone or iPad out, the experience is excellent. 1Password's latest version was built from the ground up for iOS 12, offering full support for biometric authentication through Face ID and fingerprint scanning, as well as seamless autofill on entries. If you're looking for a feature-rich, secure password manager on iOS, it doesn't get much better than 1Password.
Other Reasons We Like 1Password
1Password's iOS experience may be excellent, but it doesn't make the top of this list if it weren't for its excellent security. Like other password managers, 1Password requires a master password that it has zero knowledge of. However, it also requires a secret key based on your device.
This two-secret-key model means that even if someone has your master password, they also need access to one of your authorized devices you use to unlock your account. The device key is generated backed on hardware and software specifications and is stored in an encrypted format locally on your device.
Outside of security, 1Password has a long list of unique features. Our favorite is travel mode, which allows you to remove all the data from your mobile device while you're traveling and store it in your vault. If you, say, lose your phone, your personal data isn't at risk. Of course, once you arrive at your destination, your data is only a tap away.
With your subscription, you also have access to 1Password X, the browser-exclusive version of 1Password. If you're interested, 1Password offers a free 14-day trial for new users. You can always read our 1Password review to learn more, as well.
Pros:
Browser version
Travel mode
Unique security model
Dashlane constantly trades blows with 1Password when it comes to the best password manager around (you can see how closely matched the two are in our Dashlane vs 1Password comparison). Regardless of which takes the first spot, one thing is clear: Dashlane might be the best password manager for iOS.
We're only ranking it second because of its price. Dashlane is $2 more expensive per month than 1Password. However, it justifies the higher cost with an expanded list of features, including a virtual private network and dark web monitoring, two features that 1Password doesn't offer (also see our guide to the best VPN for the dark web).
For the price, the extra goodies are excellent, especially considering that you can access them on your iOS device. Dashlane displays dark web reports through the identity dashboard, which also shows recent data breaches and your overall password health. If you subscribe to the $10-per-month Premium Plus subscription, you can also monitor your credit on this page.
In many ways, Dashlane is like an identity theft protection/password manager combo, and for that, the extra cost is more than justified. With excellent ease of use, extensive features and seamless autofill on iOS, Dashlane is a great choice. That said, you can save a few bones with 1Password.
Other Reasons We Like Dashlane
Like 1Password, Dashlane uses a unique security model, one that actually requires its own U.S. patent. In a 2016 study of the model by MIT, it concluded that Dashlane is nearly uncrackable, utilizing a two-secret-key model in the same vein as 1Password. Again, a device key and your password are needed to unlock your account.
The security is excellent, but Dashlane's list of goodies is what sells the sizzle. You can protect yourself online in multiple ways with a single subscription, with Dashlane offering password management, identity theft protection and a VPN. The last two aren't as good as our best identity theft protection and best VPN picks, but as bundled extras, they are nice to see.
That's not to mention Dashlane's quality-of-life improvements. For instance, it includes an automatic password changer, which will update your logins across websites with a single click. Although there are some critical sites missing from the supported list, Dashlane supports a good chunk of services you'll encounter, including Reddit.
Overall, Dashlane focuses more on features and comes with a price to match. If you're looking for a basic password manager, Dashlane is a solid tool, though it really comes into its own when you utilize the extras. You can learn more about those in our Dashlane review or sign up for a free account to see how you like it.
Pros:
Limited free plan
Dark web monitoring
Bitwarden is a free, open-source password manager that has no business being as good as it is. Although it's not the only free option on iOS, Bitwarden isn't cut from the same cloth as other open-source tools (read our KeePass review to see what we mean). Despite being offered free of charge, Bitwarden feels like a fully realized commercial product.
The iOS application is clean and easy to get around, and it comes with all of the features of the desktop version. Furthermore, Bitwarden includes unlimited storage and multi-device sync, meaning you can import your passwords with the desktop version and access them from your mobile device.
Like 1Password and Dashlane, autofill is a breeze with Bitwarden, so long as your device supports iOS 12. Out of the box, Bitwarden already works with Safari and Chrome, no matter what website you're on. For local apps, Bitwarden's autofill also works with hundreds of supported services.
You get a lot for free, but there are still some limitations that Bitwarden imposes. For example, free users can only share passwords with up to two other users. That said, Bitwarden offers a premium subscription for only $10 per user, which includes encrypted file storage, additional 2FA options and priority customer service.
Other Reasons We Like Bitwarden
Bitwarden's open-source nature comes with a list of benefits, the most interesting of which is self-hosting. Although multi-device sync through Bitwarden's cloud is included for free, you can use your own password server, too. Bitwarden's server infrastructure stack is publically available for use with Docker.
Using your own server, you can sync your passwords across devices without worrying about any security issues that may come up when syncing with a third party. You'll need some basic networking know-how, but as long as you're comfortable pasting a few command line prompts in, it's not hard to do.
Just because Bitwarden is free doesn't mean it's a slouch in terms of security, either. With publicly audited code and a bug bounty program, Bitwarden is one of the most secure password managers around. Like our first two picks, it utilizes end-to-end AES-256 encryption, which you learn about in our description of encryption.
Bitwarden may not have the bells and whistles of 1Password and Dashlane, but for the low cost of free, it's hard to complain. You can learn more in our Bitwarden review or sign up for an account to see how you take to it.
Pros:
Open source
Free
Inexpensive premium option
LastPass topped Bitwarden in our best free password manager guide, mostly on the back of its features. It's an excellent free password manager, and that experience translates well to iOS. LastPass is all about ease of use, seamlessly mirroring the browser experience on your mobile device.
Through the iOS app, you can view, edit and add entries. The list of supported entries is lengthy, too. LastPass supports basics like your passwords and credit cards, as well as passport information, bank information and more. Each of these entries supports notes and file attachments, which you can create or upload through the iOS app.
Its iOS 12 integration is excellent, too. LastPass supports Touch ID and Face ID for authentication, and even integrates with the Apple Watch. Although the integration isn't as expansive as 1Password, you can use LastPass Authenticator with your Apple Watch, which made our list of the best 2FA apps. Read our 1Password vs LastPass piece.
Still, we rate LastPass fourth because of the data breach it suffered in 2015. Although no user accounts were compromised as a result, the attackers still made off with a database full of encrypted data. The breach shouldn't scare you off — if anything, it shows how secure LastPass is — but it's still something to consider.
Other Reasons We Like LastPass
LastPass nails the user experience much more than other password managers. It's a browser-based tool, meaning there's no local application to fuss around with on desktop. That comes with some benefits, the most important of which is access across platforms. No matter what OS your computer is running, you can access your logins as long as a browser is available.
LastPass is also free, making it an easy sell for those who are on the fence about a password manager. The free plan is excellent, packed with multi-device sync and unlimited password storage. Many password managers skip multi-device sync on their free plans (read our RememBear review for an example of that), making LastPass all the more attractive (read our KeePass vs LastPass comparison).
As a consequence, a premium subscription doesn't seem worth it. Paying gets you a few extra features, but most of the core functionality is included with the free plan. LastPass does, however, offer excellent business subscriptions, which is why it earned a nod in our best password manager for small business guide.
LastPass is a solid password manager with a surprisingly generous personal plan. That said, it doesn't feel as robust as 1Password or Dashlane on the paid end of things. You can read more about it in our LastPass review or create your own account to take it for a spin.
Pros:
Free plan available
Easy to use
Browser based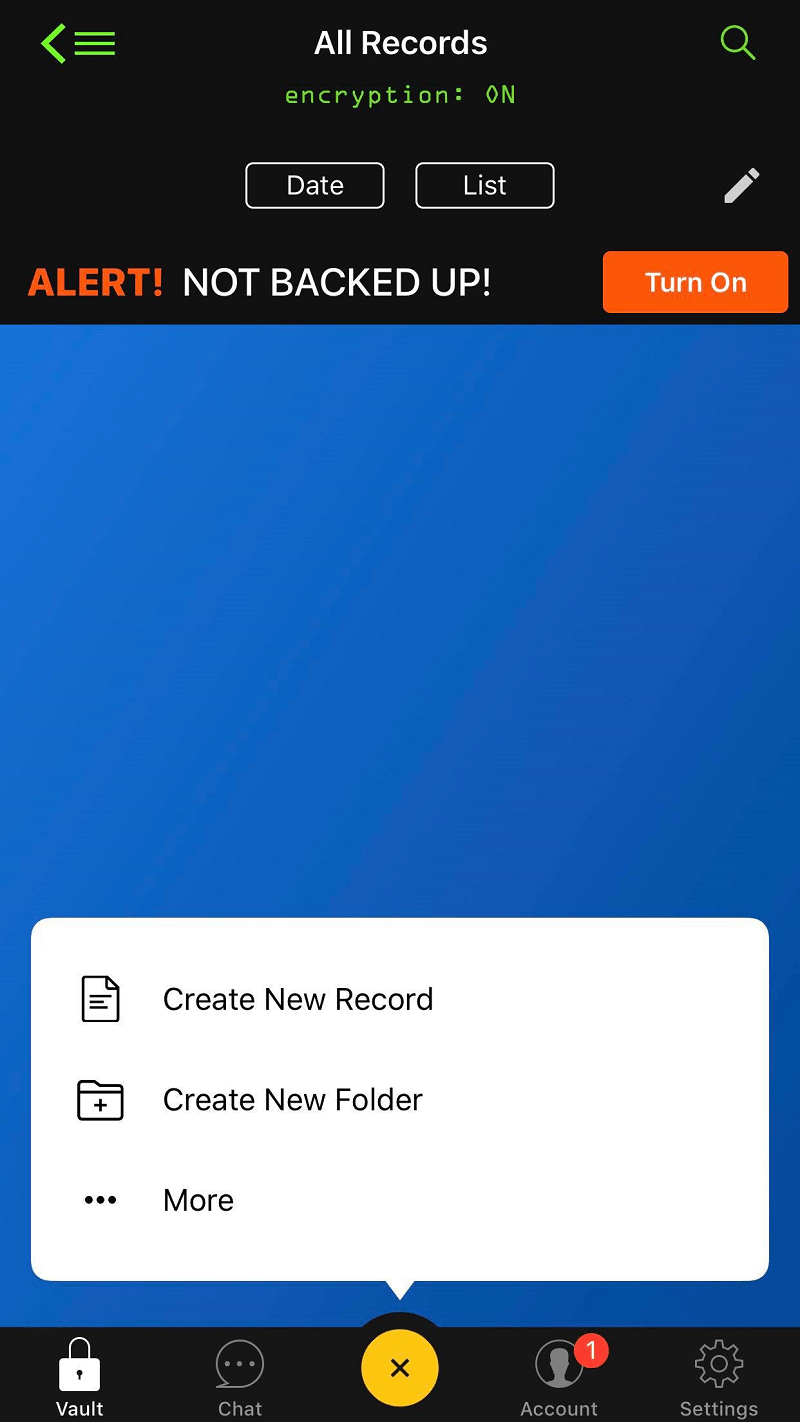 Rounding out our list is Keeper, which ranks fifth mainly because of its price. Although it's expensive at around $5 per month for the full package, Keeper includes a lot of functionality and a beautiful interface on iOS. It's also highly customizable, allowing you to store just about any entry type you want.
Out of the box, Keeper supports passwords, credit cards and identities, though you can expand that list with custom fields. Although Keeper doesn't have custom entry types in the same way as 1Password, you can build out the templates provided through custom fields. In addition to those, you can attach files and add notes to your entries.
Like our other entries, Keeper supports 2FA with the Apple Watch, but you can authenticate in other ways, too. Through Keeper DNA, you can utilize your internet-of-things (IoT) devices, like Amazon's Alexa, to verify your identity. With that, you don't need to enter a second factor each time you log in, all while receiving the security benefits of 2FA.
Although Keeper is expensive if you purchase all of its add-ons, the password manager itself is cheap at $30 per year. However, we still recommend going with the Max Bundle. For the same price as Dashlane per month, it includes dark web monitoring, unlimited password storage and the KeeperChat application (read our Dashlane vs Keeper comparison).
Other Reasons We Like Keeper
Speaking of which, KeeperChat is a major reason to have Keeper as your password manager. It's an end-to-end encrypted messaging app, ensuring your messages stay between you and whoever you're sending them to. It comes with a slew of features that your normal texting app doesn't have, too.
Those include message retraction, message self-destruct, a private media gallery and 20GB of encrypted file storage. As is the case with any encrypted messaging app, both you and the recipient will need KeeperChat for it to work.
Although it can be a hassle for personal users, KeeperChat works well with families, which is why Keeper earned a spot in our best password manager for families guide.
Outside of the iOS experience, Keeper has a great browser experience, too (it made our list of the best password manager extensions, in fact). With it, you can automatically fill password fields, autocapture new logins and manage your current entries. Of course, the extension syncs with your mobile devices so you can have your logins on the go.
From its excellent user interface to its breadth of features, Keeper does a lot right, especially if you can flip the bill for its Max Bundle. You can learn more about it in our Keeper review or sign up for a 30-day trial to see how you like it.
Pros:
Excellent features
KeeperChat
Highly secure
Choosing the Best Password Manager for iOS
Although there are plenty of iOS password managers available, it's not as simple as picking one at random and calling it a day. Despite being around for quite a few years, Apple only officially started supporting third-party password managers in 2018 with the release of iOS 12. With the new software update, iOS supports autofill from non-Apple password managers.
That's where we started when creating our best password manager for iOS list. Of course, any quality password manager should be good no matter what platform you're on.
However, we paid close attention to password managers that integrate with Apple's ecosystem, including support for autofill with iOS 12 and 13, as well as integration with other Apple products, such as the Apple Watch.
We also paid attention to the general mobile experience. For instance, KeePass is a solid password manager on desktop, despite being a bit clunky to use. It's available on iOS, but only as an unofficial port. Considering how focused iOS is on ease of use, clunky mobile experiences don't exactly fit the platform.
The mobile experience includes the password manager app itself, but also how the tool functions when you're using your iPhone or iPad. For this, we considered biometric authentication with Face ID and Touch ID, as well as support for application autofill outside of your browser.
Breaking Down Security
Password managers are no good if they can't, well, keep your passwords secure. When creating our best password manager for iOS list, we vetted every option for AES-256 encryption and zero-knowledge model. With these two in tow, your logins won't be at risk, even if the password manager suffers a data breach.
Like Apple, we're going to let the security work its magic in the background. All of the options below will keep your logins secure, so you shouldn't worry about that. However, we focus more on the user experience, price and features in this guide. If you're interested in security, be sure to read our corresponding review for each entry.
Is Apple's Password Manager Safe?
Apple's own iCloud Keychain is a solid password manager, much better than Chrome's built-in option. Built around Apple's secure iCloud service — which you can learn about in our iCloud Drive review — Keychain offers a convenient and free way to store passwords on the go. However, it only works well if you're a part of the Apple ecosystem.
Like other Apple products, Keychain doesn't play nicely with other pieces of software. It works with iOS devices and Safari, but that's about it. There aren't browser extensions for Chrome, Firefox or Microsoft Edge. You can't use Keychain on Windows, either, leaving those who like multiple operating systems in the dust.
Still, Keychain is secure, much more so than other bundled password managers. As long as you're content using exclusively Apple software, it's a fine solution when it comes to keeping your logins safe. However, it's missing a handful of features that other options include.
For example, there isn't a password generator, though Keychain will suggest strong passwords when signing up for an account (you can also read our guide on how to set up a strong password). Similarly, Keychain lacks any sort of sharing functionality and doesn't allow you to extensively edit entries.
In practice, Keychain works like a browser password manager. Although more secure than its counterparts, it lacks the functionality to go toe-to-toe with tools like 1Password and Dashlane. If you're looking for a few extra goodies, the cost associated with a third-party password manager is worth it.
Final Thoughts
1Password is the best password manager for iOS, though it's followed closely by Dashlane. If you're in the market for a paid password manager, it's hard to go wrong with either. That said, 1Password is the cheaper option, which is why it takes the cake when it comes to iOS password management.
Bitwarden is a solid alternative for budget-focused customers, as is LastPass. That said, neither of those options hit the mark in terms of features or security, like 1Password or Dashlane do. Keeper gets close, and at a slightly cheaper price, to boot.
What password manager are you using on your iOS device? Why did you pick it? Let us know in the comments below. Thanks for reading our guide on the best password manager for iOS.