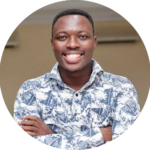 Wisdom Sablah
Writer
Snap Shot
Wisdom Sablah is a writer for Cloudwards. His writing and research focuses largely on VPN reviews and the best VPNs for various needs.
Background & Education
Wisdom Sablah obtained his Bachelor of Science Degree in Mathematics and Data Science from Kwame Nkrumah University in 2015. He later achieved his content marketing certification and merged his passion for writing and passion for technology to carve out his career path.
Wisdom brings with him to Cloudwards several years of experience writing in the software and tech space, B2B and SaaS. You can also read his work in TechRadar, ITProPortal, Tom's Guide and CreativeBloq. In addition to having his own work published, Wisdom has also worked behind the scenes managing content teams, proofreading and implementing content strategies.
Wisdom is driven by creating content that makes lives easier. He loves nothing more than using his writing talent to guide and help others gain a better understanding of the technology that can really make a difference in our lives.
Last articles
Last Reviews