Visit

Webroot
Certified as safe for banking by MRG Effitas
Sandbox feature for testing malware
Very affordable
Webroot SecureAnywhere Review
Webroot SecureAnywhere is a fast and efficient antivirus solution that boasts some of the most effective security measures we've seen. Though it's not perfect, it's interface could use some tweaking for one, it's a strong contender for most people's attentions. Read our full review for the details.
Webroot has been in the antivirus game for almost 15 years, and its experience shows. It's one of the fastest antiviruses out there and its price is competitive. We're especially fans of some of its unique features such as its sandbox mode.
However, we found it confusing to navigate, especially when it came to its customer support options. There are plenty of places in the antivirus where a little bit of attention to detail would go a long way. On top of these issues, its security testing is worryingly sparse.
In this Webroot antivirus review, we'll go over the pros and cons of choosing this program in detail. We'll give the program a hands-on test, look into all its features and even put its customer support to the test. Finally, we'll give you our verdict: is it worth purchasing?
In the past, Webroot has been on our list of the best antivirus software. However, its lack of lab testing and confusing customer support channels may prevent it from reaching the list again. If its speed and affordability appeal to you, its 14-day free trial is a great choice to try it out for yourself.
Strengths & Weaknesses
Pros:
Certified as safe for banking by MRG Effitas
Sandbox feature for testing malware
Very affordable
Small, fast & efficient
Cons:
Spotty history of lab testing
Confusing customer support
Cluttered UI
Alternatives for Webroot SecureAnywhere
Features
For such a small download — coming in at just 5MB — Webroot has a huge amount packed into its antivirus. The included security features go above and beyond what most antiviruses offer, putting it ahead of its competitors. Its sandbox mode is also a stellar addition to an antivirus.
The "PC security" section of the application has all your basic antivirus features. This includes real-time protection, a web shield and even a firewall. It's nice to see a firewall included, since many antiviruses don't have one at all, such as Avira (read our Avira review).
In its most expensive tier, Webroot SecureAnywhere Internet Security Complete, you get cloud storage as well. This includes 25GB of backup storage for your devices on Webroot's own cloud servers. Webroot's disk cleaner functionality is also only available on this tier.
Webroot puts a unique twist on its file shredder tool. Instead of having to open the program, you can easily enable a setting that allows you to simply right-click on a file and erase it completely.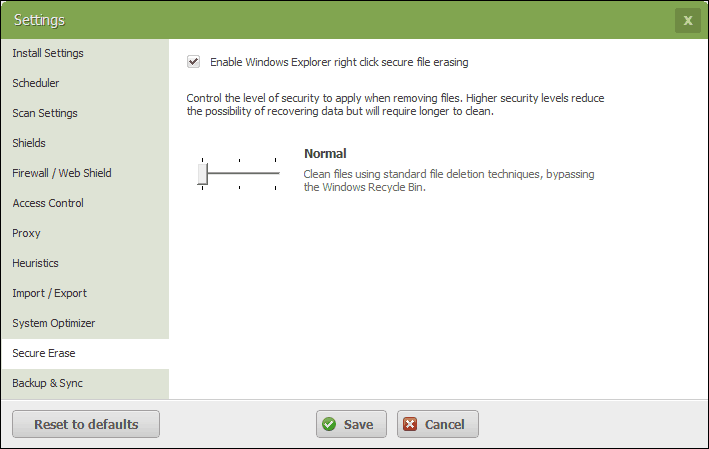 When you delete a file from your computer, the space it took up in your memory is left alone until it's needed again. File shredders, such as Webroot's, will overwrite that place in the memory, scrubbing the file completely from the computer.
Identity Shield
Webroot's identity shield works in the background and is tied into its web and phishing protection. It will block websites that steal your data, as well as protect you from websites that are compromised and are running malicious scripts.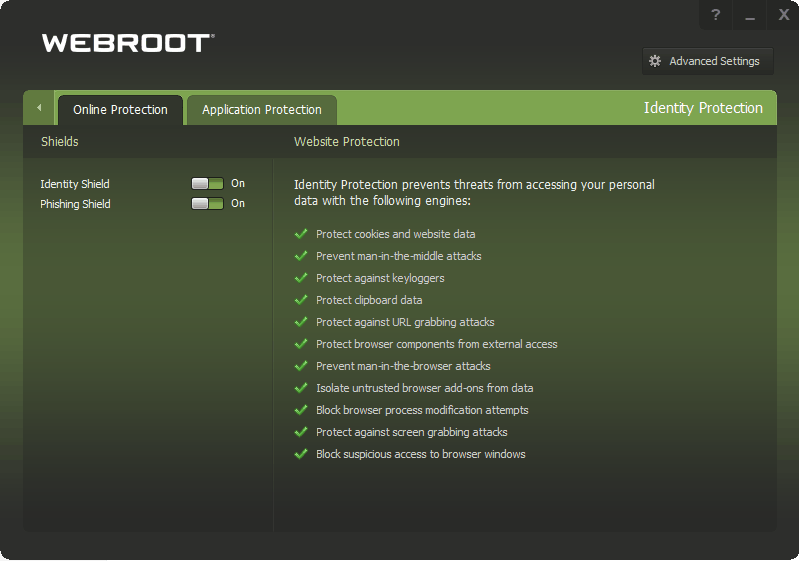 This is a great boon to stay safe online, but it's always a good idea to keep yourself protected, as well. Check out our tips to prevent identity theft for more ways to keep your data safe.
Although this identity shield is great in general, it's unfortunate that Webroot doesn't have anything specific for banking websites, like Bitdefender does (read our Bitdefender review). This identity protection could really be improved with a fully secure browser.
Password Manager
In the Internet Security Plus tier and above, Webroot bundles in a password manager along with its antivirus protection. This password manager isn't created by Webroot, but offered through a partnership with LastPass.
For a full rundown of LastPass' features and whether the LastPass Premium subscription offered with Webroot is worth it, take a look at our LastPass review. We love its free plan but prefer the paid plans of other password managers.
LastPass Premium doesn't top our list of best password managers, but its collaboration with Webroot is a solid choice if you'd rather bundle your antivirus and password protection together.
SafeStart Sandbox
One of Webroot's defining features is its sandbox tool. This isn't offered in many antiviruses (for another example, see ZoneAlarm Antivirus' threat protection), and we're honestly not sure why. It's an incredibly useful tool for investigating a potentially unsafe application.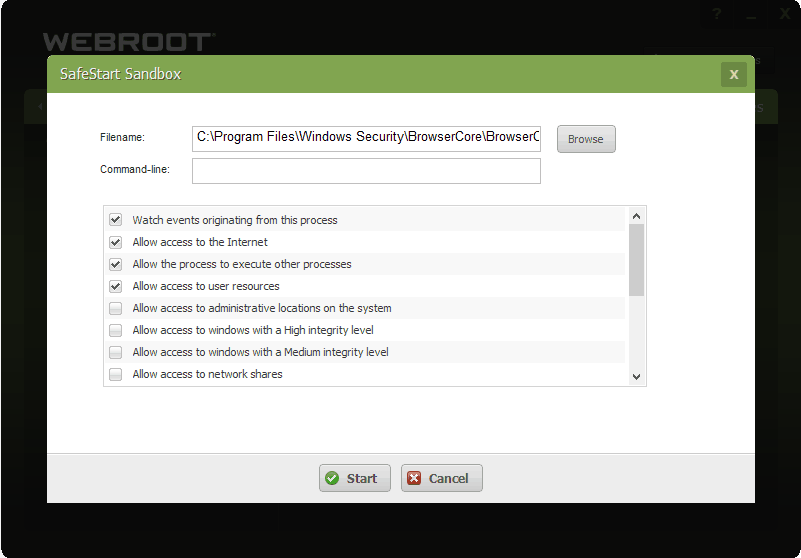 Once you choose the executable you'd like to test, you can run the program normally or under a set of specific conditions. For example, maybe your basic user account is an administrator and you'd like to see how the program acts if it has access to an admin account.
Webroot will then launch the program while giving you logs of exactly what it's trying to do. These logs are hard to understand for the average user, but the sandbox will block the program from doing anything malicious to your computer.
Two-Factor Authentication
Webroot's account security is somewhat inconvenient, but it's great if you have malware trying to log in to your account. The first hurdle is a second password you have to set when creating an account.
The login page will then ask you for two characters from that password, such as the first and sixth characters. This is an unusual way to verify someone's account, but it's appreciated.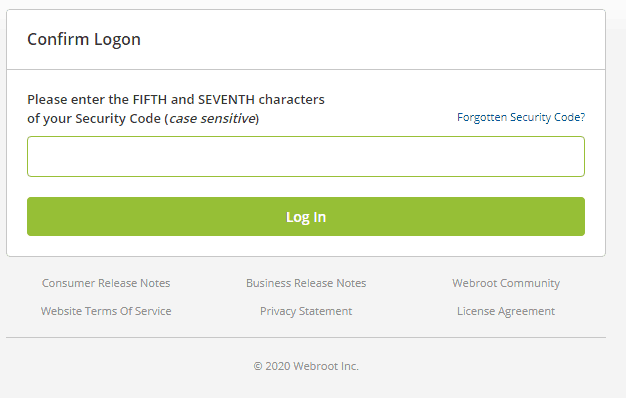 On top of that security offering, Webroot supports traditional two-factor authentication, or 2FA. 2FA is a system that requires the user to log in using both their password and a one-time code.
Although 2FA can be implemented using text messages, emails or phone calls, Webroot chose the software token. When you set up your 2FA, you scan a QR code into the 2FA application of your choice (if you're not sure which one to use, check out the best 2FA apps). You then have a code that changes regularly, and you input the code along with your password.
This level of security is unusual in an antivirus, but it's a great addition. It prevents anyone from logging in to your account unless they have your phone in their hand. This stops hackers or malicious software from remotely changing your account settings.
Webroot SecureAnywhere Features Overview
| | |
| --- | --- |
| Password manager | |
| File shredder | |
| Multi-OS support | |
| Parental control | |
| Disk cleanup | |
| VPN | |
| Profiles | |
| Ransomware protection | |
| Webcam protection | |
| Real-time monitoring | |
| Secure browser | |
| Download protection | |
| Phishing protection | |
| Firewall | |
| Windows | |
| macOS | |
| Linux | |
| Android | |
| iOS | |
| Desktop UI | |
| Mobile application | |
| Browser extension | |
| Help Center | |
| Forum | |
| Live Chat | |
| Phone | |
| Email | |
| 24/7 Support | |
| Video Tutorial | |
| Free Plan | |
Pricing

Webroot SecureAnywhere AntiVirus
One device, ransomware and phishing protection, firewall
Webroot SecureAnywhere Internet Security Plus
Three devices, mobile apps, firewall, password manager
Webroot SecureAnywhere Internet Security Complete
Five devices, file shredder, cloud storage, disk cleaner
Webroot's pricing is fairly affordable, although it's not as cheap as competitors such as Norton (see our Norton Security overview). Although it adds a few cool features at the highest tier, Webroot SecureAnywhere Internet Security Complete, we recommend you go one below and supplement with third-party applications.
Although it may be a bit more expensive to get the same amount of storage from one of our best cloud storage providers, the quality that you get will likely be higher, and even at the lowest tiers you'll be able to store your entire hard drive on the cloud.
We don't recommend the basic Webroot SecureAnywhere AntiVirus, simply due to its lack of extra devices. Everyone has a smartphone these days, and you need to get security not just on your desktop but on all of your devices.
The next level up, Webroot SecureAnywhere Internet Security Plus, offers mobile apps as well as a limit of three devices. Its affordability makes it the sweet spot. You'll have plenty of wiggle room in your budget to check out cloud storage providers, such as our favorite free choice, pCloud (check out our pCloud overview for more).
Although Webroot has no free plan — unlike antiviruses like AVG (read our AVG AntiVirus overview) — it does have a 14-day free trial that you can use to see if the program works for you.
User-Friendliness
In general, Webroot is user-friendly. There are some bumps in the road, but we didn't struggle too hard finding every feature and setting. However, the cluttered UI caused some problems, and we weren't impressed with its lack of attention to detail.
Webroot's website is easy to navigate and install. We did find it annoying that the antivirus program scanned as soon as it was downloaded, without any option to cancel it. We've seen this before with antiviruses, such as Sophos Home, but it never gets less annoying.
Every service is listed on Webroot's main page, with more detailed settings available if you click on them. This is a very compact view, but it can look a bit cluttered. For example, Trend Micro Antivirus+ has a similar layout but manages to make it look simple.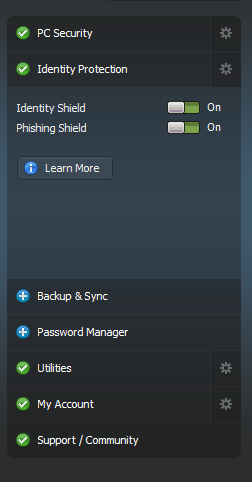 However, the PC Security tab does not have any scheduling or scanning options under its settings menu. This would be a lot less confusing if Webroot grouped each page by feature, instead of trying to fit it all on one.
Apparently, Webroot has updated its web portal without updating the application accordingly. Each section has a "learn more" button, but they all link to the exact same home page rather than the relevant feature page.
This isn't a huge issue, as the home page includes links to every feature, so you're really only one extra click away. However, a lack of attention to detail in antivirus programs can be a concerning sign.
Human Intervention
Webroot's "website blocked" page goes above and beyond most other antiviruses. You get the ability to mark a website as safe, which means a human will double-check whether or not it needs to be blocked and, if it's not a threat, that person will unblock it by default for everyone using Webroot.
The attention to detail is lacking on this page as well, though. Its copyright is from 2019, although Webroot has so far released two versions of the program in 2020.
Application Security
Password and captcha protection of the application itself is one of the less user-friendly but more secure options Webroot has. These are always a great idea because the first thing a virus usually does is disable or take over any antivirus software you have installed.
By default, password protection is disabled but captcha protection is enabled. This means that if you change any critical settings, such as the scanning schedule, you will be prompted to fill out a captcha to confirm the changes.
Both of these settings are a bit inconvenient, but the inconvenience is worth it for the extra protection. If a virus can immediately disable your antivirus, then you're in trouble no matter how well the program protects you otherwise.
Scanning
Webroot scans your PC every day at around 10 a.m. by default. This is annoying, especially at a time of day when most people will be using the computer. However, Webroot can get away with this due to how little impact its scans have on a device.
From the user-experience perspective, this is where Webroot shines. Its cloud-based protection means that its scans are not performed by the computer it's on, but by its servers. This allows you to use your computer with no issues while a scan is ongoing.
The antivirus scan options are basic but contain every option you realistically need: quick scan, full scan, custom scan and "deep scan," which includes scanning for rootkits and trojans.
To test its performance, we ran each of the scans except the custom scan. The quick scan gave us a noticeable CPU spike, about 30-percent higher at its peak. It finished in 15 seconds, though, which makes that spike not really even relevant.
The full scan option actually warned us that the average user won't ever need it. The CPU spiked even higher, maxing out at about 50 percent, but on average it had a 20-percent increase in CPU usage. This took at least 8 hours to complete.
Deep Scan
The "deep scan" is the default scanning mode for Webroot. Rather than scanning a full file, Webroot will send a signature of the file to its cloud services and only look deeper if it's not already found on its servers. This makes this scan method low on resources and quick.
The deep scan focuses solely on what programs are currently running and what may be running in the immediate future. This process may leave an inert virus on your computer temporarily, but its real-time protection blocks the virus from actually doing anything.
The scanning process took just 50 seconds. It did use a good chunk of our CPU during its spikes — up to 40 percent at its maximum — but that's not as concerning with a scan that takes less than one minute.
Protection
To test Webroot's protection capabilities, we ran it through our own tests on our devices. We also collected the results from lab testing. Generally, lab testing is a better way to judge protection than personal use, so we put more emphasis on those in our final ranking.
Webroot's test coverage is pretty spotty. One of the labs we rely on, AV-Comparatives, hasn't reviewed the software since 2012, so we weren't able to use its results. AV-Test did review Webroot recently, but the last review before this one was in 2013.
Webroot didn't perform well on AV-Test's report from June 2019. The antivirus was well below the industry average in its blocking of zero-day exploits, and it had a huge number of false positives. However, the antivirus didn't slow down the lab computers too much, and its protection from widespread malware was on par with the industry average.
MRG Effitas
The final lab that we consult is MRG Effitas, which last tested Webroot in its Q3 2018 360 Degree Assessment & Certification. Although this is now a year and a half old, the patch number indicates that there hasn't been a major patch since this report.
MRG Effitas gave Webroot a level 2 certification, the highest one it offers. It missed just 0.3 percent of all malware and blocked every example of ransomware and financial malware. However, it didn't do well at blocking adware and was beat out by competitors such as Avast (see our Avast review for more).
However, Webroot did come out on top in the performance test. It beat out every competitor by a wide margin, cementing its place as a fast and efficient antivirus.
MRG Effitas also put Webroot through its harsh banking simulation in Q2 2018. It was certified as safe to use for banking, blocking all financial malware and passing the botnet test. Fewer than half of the antiviruses tested were certified.
It did fail the simulator test, when malicious code is injected into a banking page, but very few of the antiviruses in the test passed this. Every antivirus that passed had a secure browser feature, but just having one wasn't enough. For example, Kaspersky failed this test as well, even though it has a secure browser (see our Kaspersky Anti-Virus review).
Hands-On Testing
With the spotty history of Webroot's testing, we wanted to make sure to get our hands on the antivirus ourselves and do some testing. To complete these tests, we used the Anti-Malware Testing Standards Organization — or AMTSO — and WICAR, a web-exploit testing website.
Webroot performed impressively in these tests. First, it blocked the entire WICAR website as containing malicious software, which we haven't seen before. That's fair, considering the entire purpose of the website is to safely simulate web exploits.
It also managed to block all 13 of the web exploits, and 12 of them came with graceful error messages letting us know why the page was blocked. This is a nice extra step, as many antiviruses will silently block these exploits without ever telling the user why the page didn't load.
Webroot's performance on the AMTSO tests was similarly impressive. It even blocked the phishing page, which is uncommon even among antiviruses that claim phishing protection. When we tested compressed files, it allowed us to download both the ZIP and RAR files.
However, this was an intentional choice by Webroot, not an oversight. If the malware had tried to actually harm the test device, it would have been blocked by its real-time protection. Both of these files were removed in the next scan we ran, as expected.
Overall, Webroot's performance in our hands-on testing was so strong that we find it confusing that its lab tests are so outdated. We'd love to see updated testing on the program, especially since cloud-based protection has the ability to evolve over time.
Support
Webroot's support is fairly robust, but it has a few quirks that make it difficult to navigate. If the company can iron out the pain points, this system would beat out most of its competitors.
Like many other antiviruses, Webroot hasn't done a great job of making sure the links in its program match its updated website paths. There is a link to get access to customer support in the application, but it sends you to a clearly outdated page.
However, if you access customer support through its website, you end up on the correct, slick-looking page. It would be great if the program directed you here when you had an issue, or allowed you to file a ticket from the program itself.
We've mentioned Webroot's attention to detail a few times over the course of this antivirus review, and this is just another example. The company took the time to update its support page, but didn't consider that all the places that link to the support portal also need to be updated.
Its knowledgebase is also confusing to navigate. Rather than presenting you with a list of options and allowing you to navigate menus and determine what you need, you have to talk to a chat bot.
Once you tell it what the issue is, the chat bot will provide you with relevant knowledgebase articles. This is painful because you have no idea how many articles there are on a subject because you can't see them all. You can see only what the bot thinks you might want.
This looks like chat support, which is offered by some antiviruses, such as McAfee (see our McAfee Total Protection review). However, since you're never connected to a human, you can go around in circles endlessly.
Webroot also has a community forum, which strangely also has its own version of a knowledgebase. The forum is active, with employees monitoring it and responding daily. The company also advertises Twitter and Facebook support, as well as a series of video tutorials.
If all of the above options don't work, Webroot also offers a 24/7 ticketing system and a phone line offered during business hours. We always appreciate antiviruses that don't give up on phone support, although it's more expensive to maintain.
We found Webroot's response time lackluster, as well. After sending in a ticket on a weekday morning, we got no response all day. This is unusual and off-putting.
The Verdict
Webroot is a solid choice for an antivirus if you're on a budget but need more than one of the best free antiviruses. It's affordable and fast, taking up almost no space on your computer. We're especially impressed with the two-factor authentication options and its sandbox feature.
We're concerned about the poor lab testing results, though. In the antivirus climate we're in right now, almost every antivirus performs admirably on lab testing, and the real difference comes down to features. Given that information, it's hard to recommend one of the few antiviruses that actually fell short in the lab.
Webroot also offers a VPN service, but you should read our dedicated Webroot VPN review to find out if the service suits you.
Do you have your own experiences with Webroot? What do you think of the antivirus? Let us know in the comments. As always, thanks for reading.
Webroot SecureAnywhere FAQ
Webroot is more affordable than the average antivirus, but it doesn't offer any fewer features. If you're willing to spend more money, there are other antiviruses that will give you improved protection at a higher price point, but Webroot is solid for its cost.

We weren't able to find enough recent lab testing to fully judge Webroot's security chops. In our hands-on testing, though, it performed better than the average antivirus. Webroot should be enough protection for the average user, although we would like to see more lab testing, to be sure.

Visit

Webroot