Best Password Manager for Mac 2023
The one-two punch of cybersecurity is an antivirus and a password manager. By using the most secure antivirus software and unique passwords on all of your accounts, you can easily combat the dangers of cybercrime. While most attacks are aimed at Windows, Mac users aren't totally in the clear.
We took a look at our our picks for the best password manager and evaluated how well they work with macOS to choose the best password manager for Mac. We came away with five choices and one honorable mention, each of which offers a long list of features and excellent security at a reasonable price.
We're going to lay out how we made out selections, explain why we like each option, then give some not specific to Mac reasons why we chose each password manager. While we like Dashlane the most for Mac, all of the options we present work well on Apple's OS. If you want more Mac-specific articles, check out our best VPN for Mac or best online backup for Mac pieces.
Best Password Manager for Mac 2023
What Makes a Password Manager the Best for Mac
macOS has made it very easy to store passwords as you browse Safari with iCloud Keychain. While that will be our honorable mention, it's limited in scope. In true Apple fashion, it doesn't support other operating systems and can cause a few problems when auto-filling.
While we're looking for the best password manager for Mac, support for other operating system shouldn't be ignored. We looked at password managers that perform well on macOS but have the flexibility to support other operating systems.
One of the key points of a paid password manager is its ability to sync passwords across devices. While a Mac system may be your main machine, limiting the password manager choices to only Apple products means that anyone with cohabitating operating systems is left in the cold. This was a major factor in our best password manager for iOS guide.
Next, we looked at ease of use. Password managers are meant to increase your security while making the internet easier to browse. Simple ways to organize your vault and the responsiveness of auto-fill are key points here.
Usability walks a thin line with power. As browsers have increasingly impressive password managers built-in, the need for extra features and power is paramount. We looked at the extras offered by password managers and how well they're implemented into the interface. This includes things like 1Password's Travel Mode and Dashlane's dark web monitoring.
Security is important, too. Browser-based password managers often have some form of encryption but you at a greater risk of things like ransomware and browser hijackers. Paid password managers not only encrypt your data but also put it through hundreds of thousands of rounds of hashing.
You can read our what is ransomware and what is browser hijacking guides to learn more about those attacks.
Finally, we considered price. Password managers are cheap as is, though, so this factor isn't as important as others. Our first pick, Dashlane, is the most expensive option, and even that will run you only a few dollars per month. Free plans are a plus.
1. Best Password Manager for Mac: Dashlane
Dashlane is our top password manager choice. Its abundant feature set, great usability and top-notch security outshine the other options on our list. The recent release of version six brought a price increase, but, with the extra features added, the plans still feel worth the money.
There are a few reasons we like it on Mac. It has an excellent UI that displays your passwords in a tile formation with large icons. It can be operated in your browser, too, and even includes support for Safari–something few password managers can boast.
Security is among the best we've seen. In our comparison of Dashlane vs. 1Password, we found that Dashlane's modern hashing mechanism, top-level encryption and constant monitoring of data breaches made it nearly impossible to access. Using Dashlane's password generator, it would take billions of years to crack a single encrypted password.
You can get an overview of your security using the security dashboard. Dashlane will show you an overall score for all of your accounts and notify you of any weak of reused passwords. This is also where you can see data breach notifications.
Other Reasons We Like Dashlane
Version six brought a price increase but it brought a lot of new features, too. Dashlane now includes dark web monitoring, which will sift through the dark web and notify you if your personal information shows up there. A password to your bank account, for example, could be changed before anyone can use it.
You can change passwords easily using Dashlane's Password Changer. This tool allows you to automatically update your passwords on multiple accounts. Among the list of supported sites is Adobe, Reddit and Box (read our Box Notes review). This makes a important but rarely followed security practice much easier.
Among the new features, the single-point VPN is the least impressive. While it will help you bypass the dangers of public WiFi, it is unremarkable when compared to the best VPN providers. That type of security is best handled with a tool like ExpressVPN (read our ExpressVPN review).
Even so, Dashlane's other features, like including auto-fill on desktop and secure file storage, are enough. There's a free plan, too, although it's limited to 50 entries and can't sync across devices. You can learn more in our Dashlane review or try out Premium with a 30-day money back guarantee.
---
Pros:
Excellent security
Password changer
Dark web monitoring
Cons:
Expensive
Limited free plan
1Password is inexpensive, easy to use and loaded with features, making in an excellent choice for Mac (as well as being our best password manager for small business). 1Password 7, the most recent version, supports macOS Sierra 10.12.6 or later, but there's support for legacy OSes as far back as OS X Mountain Lion 10.8.
The installer comes with the Safari extension which can be used on its own for access your account. If you're using Firefox or Chrome (which you should be given out analysis of the most secure browser), you can take advantage of 1Password X.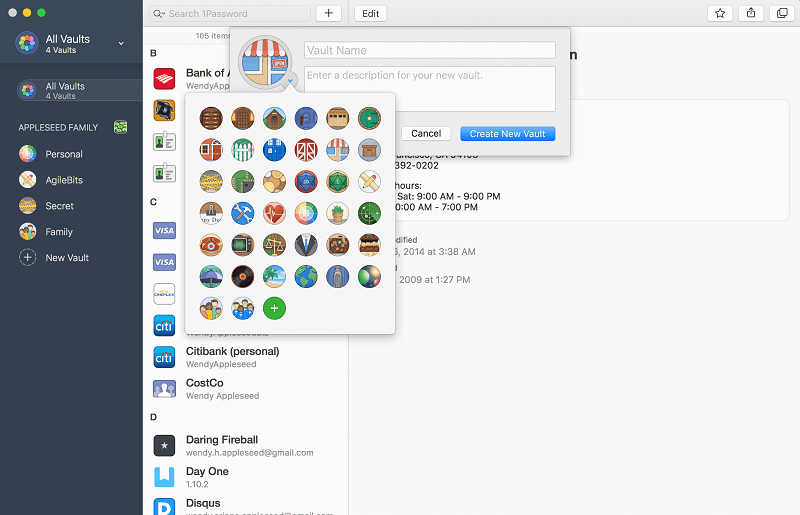 1Password X is a standalone version of the password manager that operates exclusively in your browser. You still have the same security, but integration into web use is easier than ever.
1Password will auto-fill any data in your vault including passwords, credit cards and addresses, suggest passwords when you signup for a new account and give you an easy way to enable two-factor authentication.
It also has integration with iOS and Apple Watch. You can view, edit and add entries to your vault from Apple Watch. You can also TOTP keys for 2FA without taking out your phone. You can learn more about these keys in our guide to the best 2FA apps.
Other Reasons We Like 1Password
1Password has a modest but well-rounded feature set at a reasonable price point, which makes it an attractive option. You can store as many entries in your vault as you like and access them on any device where you can install 1Password or 1Password X.
All of your data is backed up and synced through the cloud. If you delete an entry, you have a 365 day window to restore it. This happens by default, so you can get back any information you accidentally remove.
Our favorite feature is Travel Mode. Travel Mode allows you to remove all personal data from your device and store it in your vault. When you arrive at your destination, you can restore that data with a single click.
There's a lot to like about 1Password, including its support for custom field, around-the-clock breach monitoring with HaveIBeenPwned and top-level AES-256 encryption. You can learn more in our 1Password review or sign up for a free 14-day trial.
---
Pros:
Inexpensive
Travel Mode
Password backup
LastPass is, easily, the best free password manager available. It comes with a wide range of features, multi-device sync and support for unlimited entries without costing a dime. There are some limitations on the free plan, including the lack of application auto-fill, but it's nonetheless a great choice (read our KeePass vs LastPass comparison).
Normally, LastPass is a browser-based password manager. You use the extension, which is available for Chrome, Firefox, Opera, Safari and Internet Explorer, to access your vault through a web UI.
Mac users can also download a desktop application, which provides an easy way to look through your vault. Read our how to use LastPass guide to learn more.
While LastPass is a browser-based extension, you don't need to be connected to the internet to use it. LastPass Pocket, which is included with all extensions and native applications, gives you backup capability and offline access to your vault.
Like 1Password, it integrates with Apple Watch, too (read our 1Password vs LastPass comparison). LastPass Authenticator, which is similar to Google Authenticator, can be used from Apple Watch. It'll show you a time-based code which you can use as your second factor for authentication.
Other Reasons We Like LastPass
While we like the free plan from LastPass the most, an upgrade to Premium is cheap. You get some additional features, too, including LastPass for Applications. This desktop app will allow you access the auto-fill features of LastPass when you're not using your browser.
It also comes with extended sharing capabilities. On the free plan, you can share vault data with one user, which is limiting. On Premium, you can share anything in your vault, including passwords, WiFi logins and more with as many people as you want.
Additional features like 1GB of secure file storage, advanced multi-factor authentication options and priority tech support are nice to have, too. However, these features look better as part of a family plan.
LastPass Families is, essentially, five Premium licenses for the price of two. Features like file sharing operate better, as it's easy to share things like Social Security numbers and credit card info between family members (LastPass is one of our best password manager for families picks).
You can learn more in our LastPass review, and see how it compares with our top pick in our Dashlane vs. LastPass piece, or download the extension for free to try it yourself.
---
Pros:
Excellent free plan
Support for multiple data types
Offline support
Cons:
Mediocre premium offering
Sticky Password is an easy to use and feature dense password manager with a generous free offering. However, given the excellent interface and inexpensive price point, an upgrade to Premium feels like a no-brainer.
Like most free plans, Sticky Password's gives you unlimited item storage for a single device. It doesn't slack in the security department, though. You still use the same top-level AES-256 encryption, multi-factor authentication options and verification via biometrics.
Upgrades come with multi-device sync, which is important. Sticky Password syncs through the cloud to all of your devices, with support for macOS, Windows, Android and iOS. You can sync locally, too, which we'll talk about in the next section.
Sticky Password has the best browser support we've seen from a password manager. All of the usual suspects are available, as well as obscure browsers such as SeaMonkey, Pale Moon and Dolphin.
Other Reasons We Like Sticky Password
While Sticky Password offers cloud backup and sync, you don't need to use it. It's one of the few password managers that allows you to backup your data locally or sync over WiFi. For the most security conscious, this means that your data never leaves your machine, even in encrypted form.
You can also sync manually. Sticky Password supports USB export, so you can load your entire vault onto a flash drive. The data on that drive is readable from any Sticky Password instance. It's encrypted, so only you can access it with your master password.
Sticky Password has an annual subscription that's slightly more expensive than LastPass but still cheap. You can alternatively buy it outright for $149.99, which is something that we haven't seen from any other password manager.
Some of the cost goes towards the Save the Manatee Club. The manatee is the symbol of Sticky Password and Lamantine Software, so it's a nice gesture that some of its revenue goes towards saving this endangered species.
You can learn more in our Sticky Password review or download it for free. The free version comes with a 30-day trial of Premium.
---
Pros:
Offline access
USB export
Manual sync
Keeper has a strong focus on its business password manager, but its personal offerings are great, too. The desktop application can use some work, but the mobile application is among the best we've seen.
It's cheap, too (read our Dashlane vs Keeper comparison). Keeper is about the same price as LastPass. That price gets you unlimited password storage and sync, secure cloud backup and unlimited secure record sharing. Keeper also supports biometric authentication and can be used solely in your browser.
More attractive is the family plan. Like LastPass, it offers five licenses for the price of two. In addition to all features offered with the individual plan, the family plan also comes with 10GB of secure cloud storage.
On desktop, you also have access to KeeperFill. It allows you to use Keeper to auto-fill application data from your desktop using hotkeys. While not as simple as some other auto-fill systems, Keeper's reliably does the job.
Other Reasons We Like Keeper
No matter if you're using a personal or family account, you can grant emergency access to up to five users. Since Keeper can store a variety of data, having emergency access to that personal Information is important. You can setup time frames when your vault is unlocked and the trusted users can access it.
This is the only form of account restoration. Keeper uses a zero-knowledge model, meaning it never sees your master password or vault data. In the event you forget your master password, the only way to restore your account is through emergency access.
If you're using Keeper on your mobile device, you can use KeeperChat. It's a secure messaging service that encrypts messages before they're sent. It has extras such as a self-destruct timer on messages and a private media gallery, too.
While the desktop application could use some work, Keeper is nevertheless an excellent password manager. You can learn more in our Keeper review or download a free trial, which doesn't require a credit card.
---
Pros:
Excellent mobile application
KeeperChat
Cloud backup
Cons:
Medicore desktop application
Honorable Mention: iCloud Keychain
If you use exclusively Apple products, iCloud Keychain is a free and easy to use password manager that's setup by default. It uses Apple cloud storage service, iCloud, to backup your passwords, a feature that you can turn off during setup (read our iCloud review for our thoughts on that service).
Keychain can store passwords, WiFi logins, credit card information and more. Developers for macOS can also write support for Keychain into their applications. This means you can use it to login on desktop applications. We have a complete guide on how to find passwords on Mac using iCloud Keychain.
Keychain only works on Apple systems and with other Apple software, which means you'll have to use Safari. Additionally, importing passwords from another manager or exporting them for use with another manager are likely to cause headaches.
There's no functionality outside of the "Apple ecosystem." You use your Apple ID to login, too, meaning that Apple has your username and password stored on its servers. ElcomSoft, a Russian forensics software developer, was able to access and decrypt Keychain data under certain conditions using Phone Breaker 7.0.
This breach was on beta versions of iOS 11 and macOS High Sierra and, at the time, ElcomSoft CEO Vladimir Katalov said that it's not an exploitation of a vulnerability and there's nothing Apple can patch. ElcomSoft isn't breaking through a flawed security system, just using a technique that'd be applicable to any system of its structure.
As such, Keychain falls victim to the same inferent flaw as other browser password managers, such as the one offered with Chrome. It's good to have for managing unique passwords across your accounts, but you'll get more features and better security with another option.
Final Thoughts
While Apple makes it easy to use Keychain across your devices, it doesn't come with the features or security of a dedicated password manager. Likewise, it lacks the functionality to be used across multiple operating systems and browser.
Our first choice for Mac is Dashlane for its large set of features and excellent security. It comes with a hefty price tag, though, which may make another option, such as 1Password, more appealing.
What password manager are you using on Mac? Let us know in the comments and, as always, thanks for reading.