CyberGhost Review
CyberGhost has been one of our favorite VPNs for a few years now, and after this latest update of our CyberGhost review we see no reason to bump it off that list. It's pretty fast, gets into Netflix and is downright cheap, to boot. Read all the details here.
Starts from
$
2
25
per month
CyberGhost consistently ranks among the best VPN providers, and for good reason. It has excellent features, a wonderful desktop app and enough servers around the world to make your head spin. There's a little more to the story in this CyberGhost review, though.
Although CyberGhost remains an excellent VPN, problems with streaming performance and its parent company hold this VPN back from getting our full recommendation. However, that doesn't mean CyberGhost is automatically a bad option — it remains an excellent VPN service.
Key Takeaways:
CyberGhost remains one of the best VPN apps, thanks to its excellent desktop client and wealth of features.
It works with Netflix, but CyberGhost failed to unlock Hulu, Amazon Prime Video and BBC iPlayer in our testing.
Although CyberGhost operates independently, its parent company — known as Crossrider before rebranding to Kape Technologies — is best known for spreading malicious software.
We'll dig into the features, security, streaming performance and more in this CyberGhost review. If you'd rather skip the reading, you can sign up for a one-day free trial or take advantage of the 45-day money-back guarantee on its longer paid plans (14 days on the monthly plan).
CyberGhost Video Review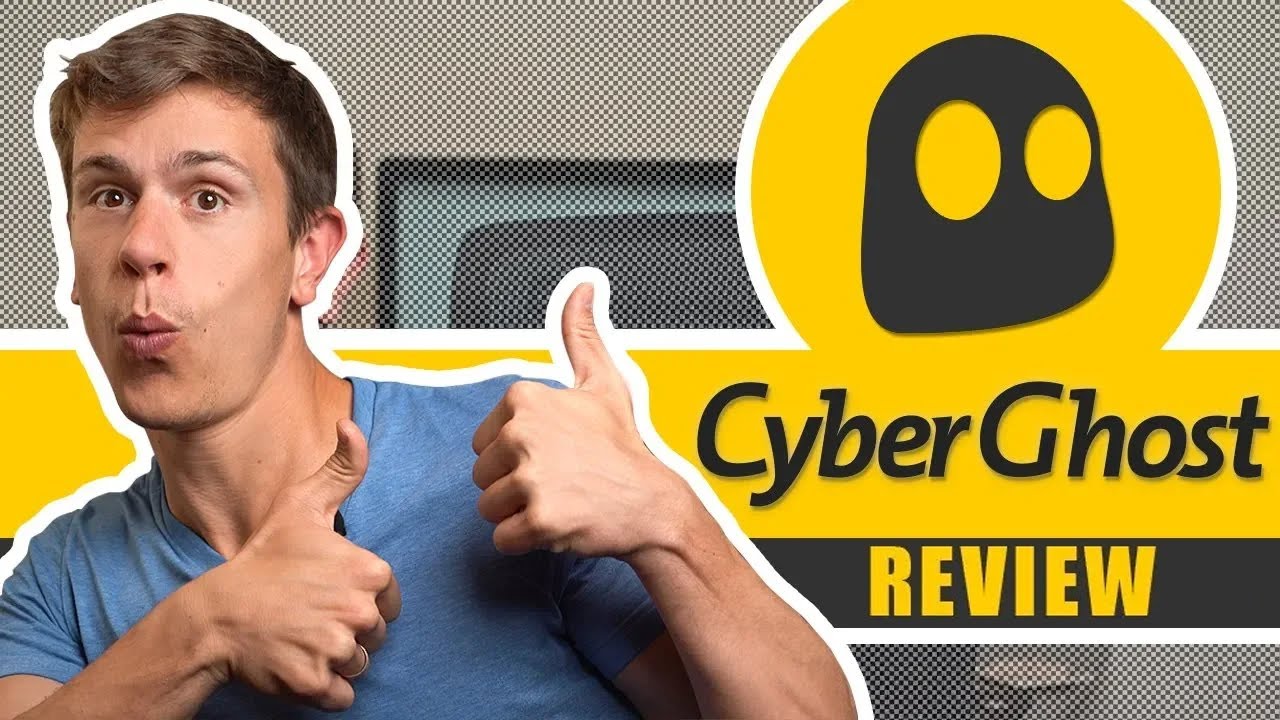 CyberGhost uses the industry-standard 256-bit AES encryption and maintains a no-logs privacy policy. However, its owner Kape Technologies previously wrote malware that would redirect browser traffic to advertiser websites.

CyberGhost and NordVPN are two competitive services, but NordVPN is slightly better. It comes with features like Tor over VPN and double-hop protection for around the same price as CyberGhost.

No, CyberGhost is not free. There's a one-day free trial, but you'll need to upgrade to a full plan after that. Prices start at $12.99 for one month and top out at $87.75 for three years. The monthly plan comes with a 14-day money-back guarantee, and all other plans come with a 45-day one.

CyberGhost isn't the fastest VPN service on the market, but it still isn't slow. If you're experiencing slow speeds, try switching to another server or contacting support for troubleshooting steps.
Strengths & Weaknesses
Pros:
Excellent desktop application
VPN automation features
Works with Netflix
Dedicated torrenting & streaming servers
Cons:
Doesn't work with all streaming platforms
Disjointed knowledgebase
Concerning parent company
Features
CyberGhost comes with a number of useful features. The first is "smart rules," which allows you to trigger certain VPN functions when you do different things. For example, you can configure the app to automatically connect to a specific location when it launches and have it open another app in the process.
You can even set rules for WiFi networks, automatically connecting to unknown networks when they pop up (a great feature for mobile users and frequent travelers). Additionally, you can trigger CyberGhost to launch with a specific application (say, a torrenting client).
In the same area where you set up "smart rules," you can configure split tunneling. CyberGhost handles the feature differently than a service like PureVPN, though (read our PureVPN review). Instead of application split tunneling, you can enter certain websites as exceptions to the VPN tunnel.
Although this is a useful feature to have around, it undermines the purpose of split tunneling a bit. In practice, split tunneling works best when a high bandwidth application — like an online backup service — can operate outside the VPN tunnel. Splitting websites up has less utility.
Those two features stand out, but CyberGhost also offers dedicated IP addresses (at a premium), high-security NoSpy servers and a few extra privacy features. We'll talk about that later in this CyberGhost review.
New Features in CyberGhost 8
Not much has changed in CyberGhost 8. The latest version only refines the previous one, unlike the jump from CyberGhost 6 to 7, so you shouldn't notice much of a difference in practice. However, some of the options are condensed, the app starts in dark mode and the UI has changed slightly.
The big addition in version 8 is WireGuard. We'll talk more about the WireGuard protocol in the "security" section below, but in short, it's one of the fastest and most secure VPN protocols available.
Overall, though, CyberGhost 8 is the same CyberGhost you know. It has a fresh coat of paint and a few adjustments, but that's it. The new version looks like a way to accommodate the new security suite available, which we'll get to later in this CyberGhost VPN review.
CyberGhost Features Overview
| | |
| --- | --- |
| Payment methods | PayPal, Credit card, bitcoin |
| Accepts cryptocurrency | |
| Simultaneous connections | 7 |
| Supports split tunneling | |
| Unlimited bandwidth | |
| Free trial available | |
| Refund period | |
| Worldwide server amount | 6,800+ servers in 90 countries |
| Desktop OSes | Windows, MacOS, Linux |
| Mobile OSes | Android, iOS |
| Browser extensions | Chrome, Firefox |
| Can be installed on routers | |
| Can access Netflix US | |
| Can access BBC iPlayer | |
| Can access Hulu | |
| Can access Amazon Prime Video | |
| Encryption types | 256-AES |
| VPN protocols available | OpenVPN, IKEv2, WireGuard |
| Enabled at device startup | |
| Allows torrenting | |
| No-logging policy | |
| Passed DNS leak test | |
| Killswitch available | |
| Malware/ad blocker included | |
| Live Chat | |
| Email support | 24/7 |
| Phone support | |
| User forum | |
| Knowledgebase | |
Pricing
CyberGhost is about as expensive as most other leading VPN services. The base price of $12.99 per month is matched by ExpressVPN and Surfshark (read our Surfshark review), with some services, such as IPVanish, clocking around the $10 mark. CyberGhost isn't expensive, but it's not cheap, either.
Outside of the monthly plan, you have the choice between one, two or three years of VPN service. The annual plan is a great deal, even beating traditionally cheap services like Windscribe (read our Windscribe review). However, unlike that VPN provider, CyberGhost doesn't offer a free plan.
The three-year plan is great, too, and it even comes with three months of free service. The two-year plan is pointless, though. With only $4 separating the two- and three-year options, it's hard for us to imagine anyone signing up for CyberGhost for only two years. The two-year plan is only there to push users to the three-year one.
Regardless of the plan you choose, CyberGhost comes with seven simultaneous connections. More accurately, it comes with support for seven devices. Unlike other VPN apps, which allow you to connect any device as long as you're under the connection limit, CyberGhost registers the devices you're using. So you have to bump one device off if you want to use another, even if you don't have seven connected at the same time.
CyberGhost doesn't offer a free plan, though it offers a one-day free trial. Additionally, it comes with a 45-day money-back guarantee outside of the monthly plan. If you want the month-to-month option, you only have 14 days to get a refund.
User-Friendliness
CyberGhost knows how to design an app. The CyberGhost VPN app is among the best we've used, walking a line between being user-friendly while still offering enough features for power users. Other VPN services should take note; this is how you design a VPN app.
The Windows client starts in the taskbar, but you don't have to keep it there. The main screen shows a large "on" button and a small server selection tab. Simply flip the switch, and you're good to go. If you want a few more options, you can drag the window away from the taskbar and expand it, opening up the full VPN server screen.
It's not as show-stopping as ProtonVPN's interface — read our ProtonVPN review — but CyberGhost's desktop client still looks great. The servers are split into several categories, and the app allows you to favorite locations and sort by distance or load. All of that, and CyberGhost still provides access to its 6,500+ servers.
Instead of throwing all the locations into a pile like AirVPN does (read our AirVPN review), CyberGhost shows only the countries where it's available. You can double-click on a country to connect to the fastest server there or use the arrow next to the location to reveal a list of all the servers.
CyberGhost further separates torrenting, gaming, streaming and NoSpy servers, and even includes a search bar, so you can quickly find the location you want.
Dispersed Settings
Server navigation is excellent, but the desktop app isn't perfect, as the condensed list of settings isn't available in a single area. Instead, some of the settings are found through the cog icon in the application, while others are through the "privacy settings" button under the server selection menu.
It's a small gripe, but we would like to see all of the settings in one area. At the very least, CyberGhost should add the privacy settings as an option on the settings page to avoid users bouncing between different areas of the app.
An App for Every Occasion
In addition to the Windows client, CyberGhost has apps for Android, iOS, macOS and Linux. It also comes with multiple TV apps for the Amazon Fire TV Stick, Android TV and Apple TV, along with setup guides for PS4, PS5, Xbox Series X, Xbox One and routers.
For routers, CyberGhost has a list of articles available depending on your router's firmware. Unlike some other support articles, which we'll get to shortly, these setup guides are straightforward and easy to follow.
Speed
CyberGhost is one of the fastest VPN services on the market — at least in some locations. Using Chicago — the "best location," according to CyberGhost — we maintained most of our download and upload speed without adding too much latency. We re-tested this server with the new WireGuard protocol, and the results were even closer to our unprotected speed.
Location
Ping
ms
Download
Mbps
Upload
Mbps
Unprotected

8

458.64

21.65

Chicago (best location)

14

306.15

19.64

Chicago (best location, WireGuard)

29

426.72

19.33

New York (Netflix U.S.)

32

68.26

18.64

United Kingdom

98

114.67

15.61

Netherlands

136

201.78

15.71

Japan

158

64.87

10.72

Average

78

197.08

16.61
Similarly, the United Kingdom and Netherlands locations stayed quick while keeping our ping low. CyberGhost has dedicated gaming servers, but its low latency across locations is what earned it a spot in our best VPN for gaming roundup.
There are some slower locations, though. We understand dropping some speed in Japan, connecting to a server on the other side of the world. The oddball is the Netflix U.S. server in New York, which tanked our download speed. Unlike its other locations, CyberGhost doesn't list the distance or load of its streaming servers. We expect the load is high, though, which could explain our results.
We can't test all of CyberGhost's 6,500+ VPN servers. However, the locations we chose to test paint a clear picture, showing that CyberGhost is among the fastest VPN services on the market. There are slow locations, but with WireGuard and IKEv2 available as protocol options, you can increase your speed.
Out of all of the tests, CyberGhost shows a tight grouping in latency and upload speeds, with most of the variance coming from download speeds.
How We Ran Our CyberGhost Speed Tests
As with all of our VPN speed tests, we tested CyberGhost using OpenVPN UDP. We noted our unprotected speed test for reference, but keep in mind that your speed will drop significantly after the first connection (read our NordVPN review to see that in action).
We use OpenVPN because it's the most widely adopted VPN protocol. That gives us a baseline speed and makes it easier to compare two VPN providers to one another. However, CyberGhost has other protocols. WireGuard and IKEv2 have better VPN connection speeds but slightly different encryption standards.
Security
CyberGhost provides the security we'd expect from a VPN service, and even goes further in a few areas. For starters, CyberGhost uses AES-256 encryption — read our description of encryption for more — and offers the IKEv2, OpenVPN and WireGuard VPN protocols. With WireGuard, CyberGhost uses ChaCha20, offering similar protection to AES-256.
We took all three protocols out for a spin across a variety of locations. Thankfully, we didn't find any DNS leaks, even when connecting to virtual servers with the weakest IKEv2 protocol. We didn't pick up any WebRTC or IP leaks, either. We tried to turn off DNS leak protection for a worst-case scenario, but CyberGhost wouldn't let us (a good thing, in this case).
CyberGhost uses IKEv2 by default, which is fine for most cases. That said, we recommend OpenVPN more on desktop, as IKEv2 really shines on mobile connections, switching between WiFi and LTE connections.
WireGuard is a new addition, and it's a big one. It's a slimmer, modernized version of OpenVPN with far fewer lines of code and the newer ChaCha20 cipher. Only a few VPN services support WireGuard, including Private Internet Access and Mullvad, but support is still growing. We're glad to see CyberGhost jump on board, especially as ExpressVPN pushes forward with its Lightway protocol.
CyberGhost has a number of security features through its desktop and mobile apps, including an ad blocker, IPv6 connection blocker, and it's NoSpy servers. We'll talk more about those in the upcoming sections.
CyberGhost Security Suite
CyberGhost is expanding its service, following in the footsteps of NordVPN. The CyberGhost Security Suite is now available on Windows as an add-on to your subscription and includes an antivirus, privacy guard and automatic app update utility. The package runs $5.99 per month on top of your subscription, but CyberGhost offers a generous discount for new subscribers.
The antivirus comes from Intego, which is a "trusted ally," according to CyberGhost. Intego was purchased by CyberGhost's parent company in 2018. Prior to that, Intego was mostly known for its Mac antivirus, but it now offers a Windows version, too. It might not stand up to the best antivirus software, but Intego's current offerings score highly in antivirus lab testing.
The privacy guard protects against Microsoft's monitoring on Windows. It's not clear what this tool does, but CyberGhost claims it helps protect your privacy with Microsoft Edge, Defender and Windows feature updates. However, you can customize your privacy settings in Windows, so this is likely the weakest link in the bundle.
Finally, the automatic app updater, well, automatically updates your apps. It scans your device for its software, finds apps that are out of date and shows you what you need to update. This is probably the best feature of the bundle.
It's not clear if the CyberGhost Security Suite abides by the same privacy principles as the VPN, though. As we'll dig into in the next section, CyberGhost's parent company has a rocky past with privacy. Combined with antivirus — which is notorious for collecting large amounts of user data — the extra tools are a little concerning.
Privacy
Privacy and security go hand-in-hand, but there's a little more to talk about for the former. CyberGhost maintains a strict no-logs policy and reminds users at the top of the policy that privacy is of the utmost importance. However, CyberGhost's parent company — Kape Technologies was previously known as Crossrider — is best known for spreading malware through its development platform.
First, the privacy policy. CyberGhost claims a no-logs policy but only relates it to using the VPN service itself. The first section clarifies that CyberGhost collects your IP address and approximate location when signing up or using the website, but says this data is anonymized. It probably is, but that doesn't make a difference with browser fingerprinting.
CyberGhost may share this data with its parent company and subsidiaries, which brings a host of concerns that we'll address soon. For now, it's important to note that although CyberGhost collects some personal data, it doesn't log anything about the VPN and how you choose to use it.
In the app, CyberGhost offers a few privacy features. That includes a kill switch feature and DNS leak protection, which are both enabled by default, and an ad blocker that claims to block not only ads but also malware and trackers. The ad blocker worked in our testing, though it has drawn some criticism in the past.
Crossrider: A Malware Story With a Happy Ending?
If the name Crossrider was new to you before reading this article, congratulations; you've successfully bypassed one of the most annoying development platforms to plague the internet.
Crossrider was a development platform that was used to spread malware; It was traditional adware, hijacking either your desktop or browser to redirect your traffic to advertisers while skimming your personal data.
Crossrider made a name for itself. The software was even named by Google in a 2015 ad injection alert. So, imagine our surprise when CyberGhost decided to sell to Crossrider in 2017 for over $10 million.
Shortly after, Crossrider rebranded as Kape Technologies before purchasing VPNs ZenMate and Private Internet Access. Kape also agreed to buy ExpressVPN in September 2021 for $936 million.
Timo Beyel, CTO of CyberGhost, assured CNET that "CyberGhost is working independently," but the connective tissue is there. Worse yet, users have discovered Crossrider variants as soon as 2018.
CyberGhost isn't operating solely as an independent entity, either. The privacy policy still clearly states that CyberGhost can "disclose your personal data to any member of our group of companies."
VPN services live or die based on trust, which is why CyberGhost claims a no-logs policy, and that may be true. However, it's hard to trust that policy and any responses to challenging it when CyberGhost is owned by a company notorious for creating malicious software that does exactly what a VPN is supposed to protect against.
The final cherry on top is that in 2020 Kape Technologies bought Webselenese, which runs the VPN review site, VPNMentor. Although Kape Technologies promises that this site will maintain editorial independence, the acquisition does raise eyebrows.
Streaming Performance
Despite sporting dedicated streaming servers, CyberGhost isn't great for streaming. Across locations, BBC iPlayer, Hulu and Amazon Prime Video all blocked our connection. That was true across locations. We tested the standard VPN servers and the streaming-specific servers, and both were blocked on all three platforms.
It's frustrating that these services don't work, especially since CyberGhost explicitly states that they work on its website. What's even more frustrating is that the streaming servers don't work. The Hulu server didn't work with Hulu, and the Amazon Prime server was picked up by Amazon like all of the others we tested.
There's some variance with streaming, so it's possible — and likely, even — that there are servers in CyberGhost's network that can break through the VPN block. That's not enough, though. We test VPNs following the same process a normal customer would, and we were disappointed to find that servers "optimized" for a specific platform didn't work.
Netflix With CyberGhost
The exception is Netflix. Across locations, CyberGhost connected to Netflix without any issues. We tried locations in the U.S. and UK, streaming locations as well as normal ones; all of them worked. CyberGhost will retain its spot in our best VPN for Netflix guide, and for good reason.
Server Locations
At the time of writing, CyberGhost has more than 6,800 servers spread across over 110 locations in 90 countries. It has one of the largest server networks out of any VPN service we've reviewed, even beating out HideMyAss (read our HideMyAss review). However, only some of those servers are bare metal.
Exotic locations like Belarus and Cyprus feature virtual servers. Virtual servers aren't located in the listed country. Instead, they use an established server location to route your connection, spoofing the IP address of the destination to make it appear as if you're there.
A virtual VPN server isn't inherently bad. However, they may be less secure than a physical location, and they may have a higher latency depending on your connection location. Virtual locations are usually there to bolster the number of servers a VPN provider can offer, and that looks like the case here.
Thankfully, there aren't any restrictions on the locations. You can use any protocol you want across locations and can connect to any server regardless of the device you're using.
CyberGhost Specialty Servers
CyberGhost offers several different types of servers. The streaming servers are optimized for different streaming services; the torrenting servers are optimized for peer-to-peer downloads; the gaming servers are close to major hubs for low latency; the NoSpy servers are independently owned and operated.
Most of them speak for themselves, but we want to highlight the NoSpy locations. Most VPN providers don't own the servers they use. They rent them. CyberGhost likely does, too, but it also offers a list of locations near the company's headquarters in Romania, outside the jurisdiction of the Five Eyes alliance.
CyberGhost guarantees anonymity on these servers, and we like having them as an option. You shouldn't use them all the time (unless you're close to Romania, that is), but for highly sensitive browsing, the NoSpy servers are great to have in your back pocket.
Customer Service
In terms of customer service, CyberGhost offers email and live chat support. Live chat is great for quick answers, and during our testing, we got a response within a few minutes. For email, CyberGhost has an extensive online form that you can fill out. However, all the support pages push you to use live chat before reaching out via email.
Thankfully, you can solve a lot of problems yourself. CyberGhost offers a large knowledgebase that includes setup guides, troubleshooting articles, FAQs and announcements. They're not all made equally, though. For example, "Netflix tips and tricks" was in the troubleshooting section and featured formatting issues and missing images.
There's a consistency problem, though. Some guides are just a list of steps with accompanying images, while others get in the weeds without much clear direction. That's not inherently a problem. However, CyberGhost doesn't go out of its way to separate the wheat from the chaff, which leads to a disjointed support experience.
We were happy to see a few alerts for down-streaming platforms on the knowledgebase's homepage (though, no alerts for Hulu or Amazon Prime Video). These alerts work, but there are more modern ways to distribute information, especially from a company that sells software. A support Twitter or subreddit would go a long way.
CyberGhost's support isn't bad, but it lacks focus. You don't need to look much further than the "promoted articles" section of the knowledgebase to see that, which lists over 50 guides, including ones relating to specific network issues from over a year ago. Live chat support is good, though, so we recommend sticking with that.
The Verdict
CyberGhost is in a strange spot. It's undoubtedly one of the easiest-to-use VPN apps available and provides enough protection to keep you safe from your internet service provider and anyone else that might want to skim your data. That said, it struggles with at least a few major streaming platforms, and its parent company isn't known for being privacy-friendly.
You have to take a leap of faith with any VPN app. Trust is everything, so a tarnished reputation is hard to recover from; Kape Technologies claims it is out of the malware game, and it likely is. However, the company still owns multiple VPN apps, an antivirus company and a VPN review site, and that connection is a little too close for comfort.
Still, there's a lot to like about CyberGhost. It has excellent features and unmatched usability, and for most, that's what matters. So, are you going to give it a shot? Are the privacy concerns too much? Let us know in the comments below and, as always, thanks for reading.