Dropbox vs Tresorit in 2023: Cloud Storage Usability vs Security
Dropbox might be the most well-known name in cloud storage, but despite that, it ranks low on our list of the best cloud storage services. Its 2012 data breach is largely the culprit, exposing 68 million user accounts in a single attack. Dropbox has upsides, but when it comes to security, it falls apart.
Tresorit ranks much higher in our roundup, not because it has more features or better usability, but because its security is second to none. In this Dropbox vs Tresorit comparison, we're going to throw both services into the ring to see which one comes out on top.
Before diving in, make sure to have our Dropbox review and Tresorit review handy. We'll cover the main points here, but our reviews offer a full, in-depth analysis of each service.
Dropbox vs Tresorit Cloud Storage Matchup
Even more so than our other comparisons, this one requires some setup. Dropbox and Tresorit are two very different beasts, so comparing them directly is tricky. Tresorit offers end-to-end encryption with the strictest security standards, while Dropbox lets security fall by the wayside in favor of usability. In short, this comparison won't play out as cleanly as our Sync.com vs Tresorit matchup.
We have six rounds, and each round is worth a point. Whichever service has more points at the end will be our overall winner. As we said, though, Dropbox and Tresorit are two very different services. We'll award points as we go, but most rounds come down to how you'll use the service and if you value security above all else.
Because of that, it's important to read through each round rather than just skimming the winners. This is especially true for this comparison. Dropbox may have better usability and faster speeds, but that doesn't matter if you need top-notch security. Our ratings are here to guide you, not to offer a definitive answer.
www.dropbox.com

tresorit.com
1. Features
Dropbox is our top pick for the best cloud storage for collaboration, and that's because of its range of integrations. It doesn't matter if multiple people are working on a Word document or if you want to send a large file through Slack, Dropbox has an integration for it. Tresorit, on the other hand, has Outlook integration alone.
Dropbox's security policies aren't as tight as Tresorit's, allowing it to easily integrate with other platforms. Still, there's a trade-off. Tresorit doesn't seamlessly work with different applications, but it has much stricter security, which is something we'll explore more in the "security and privacy" round below.
There are some security features for this round, though. Both services operate with HIPAA compliance, and they both support two-factor authentication. On the business end of things, both services support SSO, too, allowing you to use a service like OneLogin.
Outside of that, Dropbox includes Dropbox Paper, which doesn't rank among our best note-taking apps but is still a competent tool (read our Dropbox Paper review for more). There's also Dropbox Spaces, which creates a collaborative folder, but Tresorit has a similar feature, as well.
Dropbox puts its features on full display, but they don't hold much water in practice. Tresorit is more reserved in its approach, but you'll likely end up using its features more. For example, its network drive allows you to maintain a cloud-based hard drive on your local machine, all without taking up any local storage space.
Beyond that, Tresorit's versioning capabilities stand out. It ranks near the top of our best cloud storage for versioning guide. Tresorit stores a snapshot of each file in your vault every time you update it, and it's easy to revert back to those versions if you need to. Plus, you can share the version history whenever you generate a secure file sharing link.
There are plenty of business-focused features, too. For example, Tresorit includes data residency options, allowing you to choose where your files are stored. Admins can also enforce a security policy and easily monitor activity across the account. That includes tracking down rogue login attempts.
Choosing a winner in this round is nearly impossible. It all depends on what you're going to use the service for. For personal users, Dropbox is a solid option when compared directly to Tresorit. Compared to the rest of the market, though, there are better options (Sync.com and pCloud come to mind).
Tresorit, on the other hand, is excellent for businesses, compared to Dropbox and to the rest of the market. It's a small advantage, but enough for a win this round.
2. Pricing
Dropbox made a name for itself with its free 2GB tier, offering potential customers a small amount of storage to get a feel for the service. Although that was impressive a few years ago, Sync.com and MEGA beat out Dropbox in our best free cloud storage roundup. Even Tresorit has a better free plan, offering 5GB of storage to Dropbox's 2GB.
That trend continues into the paid plans, with Dropbox lagging behind like it's still 2012. Dropbox Plus is around $10 per month for 2TB of storage, while Dropbox Professional is around twice as much for 3TB of storage. As you can see in our Dropbox pricing breakdown, it's not the price that's a problem; it's the storage space.
For example, Sync.com's Standard plan is the same price as Dropbox Plus. However, it comes with 3TB of storage. Similarly, MEGA's Pro II plan is around the same price as Dropbox Professional, but it comes with 8TB of storage. Compared to the entire market, Dropbox is expensive.
It's not expensive compared to Tresorit, though. Tresorit's Premium plan runs around $12 per month, and it only comes with 500GB of storage. The top-tier Solo personal plan is nearly $30 per month, with a lousy 2.5TB of storage. Worse, Tresorit limits the number of devices you can use — five and 10, respectively — which is something Dropbox doesn't do.
Dropbox vs Tresorit Business Pricing
Things get a little more interesting when business pricing is brought into the fold. Tresorit maintains its pricey stance. No matter if you're purchasing the Small Business plan for fewer than nine users or the Enterprise tier for more than 100 users, the price is around $20 per month per user.
That buys you a lot of storage, though. The cheapest plan comes with 1TB of storage per user, while the mid-tier one comes with 2TB per user. Enterprise, the most expensive option, offers "scalable encrypted storage," meaning it's basically unlimited.
As you can see in our Dropbox Business review, it offers a similar setup to Tresorit. The most inexpensive plan, Standard, costs less than Tresorit, but it comes with 5TB of shared storage. Worse, it's still priced per user. At least with Tresorit, you're getting more storage space the more users you have.
Above that, though, the Advanced and Enterprise plans offer unlimited storage for around the same price as Tresorit. Even better, Dropbox has a much higher file size limit (50GB compared to Tresorit's 5GB to 20GB, depending on your plan).
Tresorit charges more for less storage on its personal plans, so Dropbox wins on that front. For businesses, things are a little more interesting. Tresorit is usually more expensive, but not by much.
As we'll see at multiple points during this comparison, security is a huge factor for Tresorit, and when that's brought into the mix, Tresorit is clearly the better option for businesses. For pricing overall, though, Dropbox is still the winner.
3. Usability
Dropbox sets the bar when it comes to cloud storage usability. Although Google Drive takes its own approach that's equally as accessible — read our Google Drive review for more — Dropbox was the first to popularize the system of using a local sync folder to store your files. That core simplicity remains today, but Dropbox's evolution as a platform has added a few too many bells and whistles.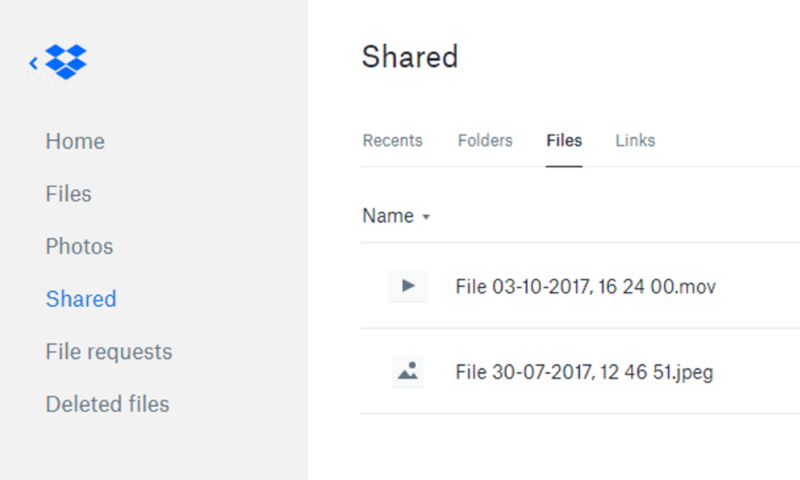 For years, Dropbox handled things simply. There's a web application where you can manage your files, as well as a local application, whose sole purpose was to create a local Dropbox folder. Last year, that changed. Now, there's a local application that mirrors the web one, and it comes with some exclusive features, such as starting a Zoom meeting.
Not that this change is bad, or that it ruins the experience. It's just a small hurdle for Dropbox users who have become accustomed to the way things have been for years.
Tresorit handles things similarly. There's a web application, as well as a local application for Windows, macOS and, impressively, Linux. In fact, Tresorit earned the silver medal in our roundup of the best cloud storage for Linux. It did so because it's an excellent service, but more importantly because it's one of the few cloud storage providers that offers a Linux application.
In use, Tresorit keeps things simple, adopting a similar interface to Dropbox across the local and web applications. You can also manage your storage through a local folder, if you choose. However, Tresorit isn't nearly as fluid as Dropbox. It has some strange stipulations to account for its high security.
First, you can't add files to the root directory of your account. Everything must go inside a "tresor" — Tresorit's name for folders — before you can secure it. That's because Tresorit stores the encryption keys for each individual file inside its tresor.
Second, there's the issue of tresors. "Tresor" is a German word that roughly translates to "safe" or "vault." It's a cute marketing ploy, but the naming scheme is more confusing than it has any right to be. Thankfully, it's easy to overcome this issue, but it's one that shouldn't be present in the first place.
Those are small issues, but there's one big one. Unlike Dropbox, you can't directly edit or stream files inside your vault. Dropbox makes it easy to, say, load up an audio or video file in your account. That isn't possible with Tresorit. There's a security reason why that isn't possible, but it's nevertheless annoying.
Tresorit isn't inherently difficult to use. Like any secure system, there are just more steps. Compared to Dropbox, though, it's hard to side with Tresorit. Dropbox has such a fluid system worked out, even with its new desktop application. There are some security concessions to make that system work, but for the average user, the rewards outweigh the risk.
4. File Syncing and Sharing
Dropbox remains among the best cloud storage for file sharing, taking a seat just before Tresorit in our roundup. It has the standard link-sharing settings, allowing you to send password-protected links with an expiration date.
Tresorit has these same features, but a few more, too. When sharing a link with Tresorit, you can specify how many times a link can be opened, as well as if you want to share access logs with the recipient.
Tresorit is great on the sharing front, but Dropbox is better. As long as you have a paid subscription, you can send files directly, up to 100GB. That put Dropbox ahead in our Dropbox vs WeTransfer comparison. Tresorit, by comparison, is limited to 5GB.
Dropbox's integrations make the difference, though. From Gmail to Trello to Slack, Dropbox has integrations for just about any platform you could want. You could just generate a link, but it's a lot more convenient to, for example, send a file directly through Slack. That also allows the recipient to preview the file without opening it.
On the syncing front, both services support selective sync, but Dropbox goes a step further with its "smart sync" feature. With it, you can see every file in your Dropbox account, but you can choose the files you want to store locally and the ones you want to keep in the cloud.
Tresorit has a comparable — and possibly more useful, depending on your use case — feature called "network drive." It functions similarly, offering you a "hard drive" on your computer that's stored in the cloud instead of locally.
"Network drive" is not as elegant of a solution as "smart sync," though. First, you have to actually create the drive manually, but more importantly, you can't directly edit files like you can with Dropbox.
Tresorit isn't down and out, though. It has much finer permission control, allowing you to easily specify how your recipients can interact with the file or folder you're sharing. Furthermore, Tresorit offers file versioning with "no upper limit." Dropbox keeps file snapshots, too, but only for 180 days.
As is the case with most rounds in this comparison, Dropbox offers more features and a more fluid system. We'll talk more about Dropbox's security policies in the appropriate section below, and that puts a lot of things in the proper context. For now, though, Dropbox is the winner, but Tresorit is close.
Round: File Syncing and Sharing
Point for
Dropbox
5. Speed
Dropbox isn't the fastest cloud storage service we've tested; pCloud holds that title, as you can read in our pCloud review. That said, it will always be faster than Tresorit. Sitting among Google Drive and OneDrive, Dropbox is one of many cloud storage services that optimizes for speed and convenience, not security. Tresorit optimizes for security, but at the cost of speed.
Upload times make the difference for our two competitors. Tresorit puts up acceptable upload speeds, taking around 30 percent longer than we'd expect. That's ignoring encryption and other network conditions. Dropbox is a bit faster when uploading a file from scratch, but not by much. Block-level sync is what sets Dropbox apart.
If you're unfamiliar, here are the basics. When you upload a file to a cloud storage service, that entire file is written to the provider's servers. If you make changes to that file, cloud storage services usually need to overwrite the existing file by fully uploading the new one, even if the two files are largely the same (like a Word document with a few extra paragraphs).
Block-level sync solves that issue. Instead of uploading the entire document, service providers like Dropbox only update the data that's relevant. Going back to the Word document, for example, it would only update the extra paragraphs, not the rest of the document. That translates to less data uploaded and, therefore, less time waiting for your files to upload.
Tresorit isn't negligent to block-level sync. It's just not possible with Tresorit's encryption model. Zero-knowledge providers, as we'll discuss in the next round, don't have the keys to decrypt your data. Because of that, updating files on a block-level isn't possible. Tresorit puts up decent numbers, despite that, but the security structure remains. Dropbox will always upload files faster.
Download speeds increase the gap. Again, Dropbox isn't the fastest provider we've tested, but it beats Tresorit. Tresorit has an issue where downloads will hang at 97 percent completion for multiple minutes (sometimes longer, depending on your internet speed).
Dropbox wins this round, but we knew that going into it. The more important discussion is whether speed or security is more important to you.
Tresorit is great for small business, for example, and security is usually more important than speed in that context. Personal accounts are generally less risky when personal photos and a few documents make up the bulk of storage. In that case, speed wins.
6. Security and Privacy
This round is pretty cut-and-dried. Tresorit made our list of the most secure cloud storage, while we heavily criticized Dropbox's security and privacy practices in our review. On the security front, this comes down to one thing: zero-knowledge encryption. Tresorit has it, Dropbox doesn't, and that's important.
Zero-knowledge encryption is a security model that offers host-proof hosting. Like a governmental checks-and-balances system, zero-knowledge encryption is a check against the host. Essentially, it means that the host — the cloud storage service — doesn't have the necessary information to unlock your account. It has "zero-knowledge" of your encryption keys.
Tresorit offers a zero-knowledge model, keeping with its end-to-end encrypted theme. Dropbox doesn't, but that's not due to carelessness. Dropbox offers integration with services like Office 365 and G Suite; with a zero-knowledge model, those integrations wouldn't be possible. As we discussed in the "features" section, Tresorit simply can't compete on the integration front.
The more pressing issue is data vulnerability. If Dropbox can access your password, then there's always a chance someone else can, too. We saw that play out in 2012, when a Dropbox data breach exposed 68 million user passwords. Encryption isn't to blame here; it's the nature of running a massive cloud storage service without the proper precautions.
Dropbox offers AES-256 encryption for data at rest, as does Tresorit (read our description of encryption for more). For in-transit data, both services use a SSL/TLS tunnel, encrypted with AES. The main difference between them is that Dropbox has the keys to decrypt your data while Tresorit does not.
The gap between our competitors only widens when privacy is brought into the fold. Dropbox keeps data in the U.S., which is a worrying idea under the Patriot Act. The Snowden leaks confirmed that Dropbox was once a consideration for the PRISM surveillance program, too, which would've given the NSA a direct line to the data in your account.
Worse, former U.S. Secretary of State Condoleezza Rice — who allegedly aided the Bush administration with warrantless wiretap laws — is still on the Dropbox board of directors today. Even without the sketchy surrounding circumstances, Dropbox makes it clear in its privacy policy that it can access your data to weed out any breaches of the terms of service.
Tresorit, by contrast, is located in Switzerland, which has some of the best privacy laws in the world. Given Tresorit's zero-knowledge model, it simply doesn't have the necessary keys to spy on your account. Even better, Tresorit includes easy TL;DR snippets in its privacy policy, so any normal person can get an understanding of how their data is being handled.
Eight paragraphs later, our judgement remains the same. Tresorit wins on every front when it comes to security and privacy. Dropbox isn't even close.
Round: Security and Privacy
Point for
Tresorit
7. The Verdict
Context is as important as ever in this comparison. Dropbox has a lot of strong points, from its ease of use to its range of third-party integrations. That's all for nothing, though, if your data isn't safe. Dropbox hasn't had a blemish since its 2012 data breach, but the corporate structure is still a looming factor when it comes to privacy. Regardless, on our points scale, Dropbox wins.
Winner: Dropbox
It wins, oddly, because of its subpar security practices. Tresorit has more usability hurdles and slower speeds, but that's only because it has stricter security. If you're at all concerned about someone looking through your account, Tresorit is the better option. That's not to say Dropbox is actively looking at user accounts, just that Tresorit offers more protection against that.
Do you agree that Dropbox is the better option? Or is security just too important? Let us know in the comments below and, as always, thanks for reading.