Best Business VPN in 2023: Top Five Services for a Corporate Network
If you want a VPN for your business, you're reading the right article. Although VPNs were originally created for businesses, not all VPNs have what it takes to protect small and large businesses. We've researched, tested and compiled a list of the absolute best VPNs for your needs.
Key Takeaways: Best VPN for Business Needs
Using a VPN for work is becoming more common in order to protect a company's online data, give employees remote access to business systems, and mask IP addresses to protect against man-in-the-middle hacking attacks. However, it can be challenging to decide on the best business VPN for your needs. Keep reading for a complete guide on the best business VPN options.
A virtual private network (VPN) establishes a secure tunnel between your device and your internet service provider (ISP). It does that by encrypting and anonymizing your internet traffic, ensuring that hackers or your ISP can't make sense of your data or see your real IP address. Using a VPN is also a great choice for remote working, as it can give employees remote access to your business systems without compromising security.
In this article, we'll provide a list of the five best VPNs for your business, whether you're a small business or a global brand. You'll find many of these VPNs included in our best remote access VPN article, but this article focuses on more dedicated business VPN options.
04/01/2023 Facts checked

Rewrote the article to include a fresh evaluation of the best VPN for business options.

10/08/2023

Updated NordLayer's new pricing.

10/25/2023

Updated the article to reflect ExpressVPN's recent increase of 5 simultaneous connections to 8, as well as its expansion of server presence to 105 countries, previously 94.
What Makes the Best Business VPN?
An excellent business VPN must meet a number of criteria. It must be able to connect multiple users and provide flexible user management features. It should have excellent security features, compatibility, fast speeds and responsive customer support.
We'll get into these points in the next paragraphs, but first, here's the list of the VPNs that made the cut.
Consumer VPNs usually limit the number of people who can use one subscription at the same time. Business VPNs, on the other hand, often allow more user accounts and router compatibility. A good business VPN should also provide a centralized dashboard or control panel where you can monitor user accounts, assign permissions and tweak settings.
The business VPN you choose should be scalable and easy to integrate with your existing software. It should also have advanced security and privacy features, including AES encryption (or equivalent), multiple protocols (including OpenVPN), a kill switch, split tunneling and an assurance that it won't log your data.
If a VPN is slow, it can hamper your business processes. A good business VPN should have fast servers that are also great at unblocking and bypassing geoblocks. Responsive customer support is a must-have because with so many user accounts, you're likely to have some technical questions.
The 5 Best VPNs for Business
Now that we've laid out what we were looking for in a business VPN, let's dig into our top five picks. We'll show you why they made the list by highlighting their standout features. It's worth mentioning that all the VPNs here have 256-bit encryption, a strict no-logs policy and various protocols, including OpenVPN.
More details about NordLayer:
Pricing: $8 per month (one-year plan)
Provider website: nordlayer.com
Pros:
Large server network
User management features
Dedicated account manager
Cons:
High latency on faraway servers
NordLayer, formerly known as NordVPN Teams, is hands down the best VPN for businesses. You can set up accounts for an unlimited number of users (though it has a five user minimum). It has an intuitive control panel that allows you to perform several tasks, including setting permissions, viewing activity reports and transferring licenses.
Furthermore, NordLayer offers shared gateway locations (servers) in over 30 countries and virtual ones, depending on the plan. You can assign workers a fixed or dedicated IP address that they can use to access your systems. Plus, you get a dedicated account manager and 24/7 live support.
System Security Features
Just like its sister VPN product, NordVPN (read our NordVPN review), NordLayer offers an excellent security suite to replace legacy and outdated business systems. It has NordLynx, a WireGuard-based protocol that offers an excellent mix of speed and security. There's also ThreatBlock, which stops viruses, malware and ransomware from infiltrating your network.
You can purchase NordLayer monthly or yearly. The Lite plan costs $8 per user per month when paid annually. The Core plan costs $11 per user per month when paid annually, the Premium plan costs $14 per month when paid annually, and if you want to add a dedicated server, you can add it for $40 per month.
The only extras you get with a custom plan include premium support, up to 10Gbps server performance, and up to 60 virtual private gateway locations. You can reach out to NordLayer for a custom plan or you can also book a demo with NordLayer to check if it's a good fit for your business.
Plan
Price
Lite
$10 (monthly)
$8 ($96 yearly)
Core
$14 (monthly)
$11 ($121 yearly)
Premium
$18 (monthly)
$14 ($168 yearly)
Enterprise
Request a quote
Prices are per user, per month.
More details about Perimeter 81:
Pros:
Dedicated gateways
Automatic WiFi protection
Excellent user support
Cons:
Small number of shared gateways
Perimeter 81 doesn't have a consumer VPN; it focuses all its resources on creating a business-grade VPN — and it shows. Perimeter 81 has excellent user management features. You can set up multiple user profiles and add automatic WiFi protection to each user account.
It also offers multilayered security tools including IP allow-listing, which ensures that no outsider can access your system. In terms of support, Perimeter 81 leads the pack. Aside from a dedicated account manager, you get a technical account manager to help with technical needs. The VPN service also has a knowledgebase, dedicated chat, email support and phone support.
Ensure Business Compliance
Without meeting compliance laws in the region you work, your business might end up being fined or, in the worst case, shut down. Perimeter 81's features help you with data storage, data transmission and encryption — which are all pillars of compliance. Perimeter 81 can help you comply with the following laws: GDPR, HIPAA, SOC 2 Type 2, and ISO 27001 & 27002.
Perimeter 81's basic monthly plan costs $10 per user per month, while the yearly plan costs $8 per user per month. For extra security features, purchase the Premium plan, which costs $15 per user per month or $12 per user per month when paid yearly.
The Premium Plus plan is made for large companies with a minimum of 20 workers. It costs $20 per user per month or $16 per user per month paid yearly. If you have more than 50 workers, you can contact Perimeter 81's support agents for an enterprise plan. You can read our Perimeter 81 VPN review or request a demo.
More details about TorGuard:
Pricing:

$32.99 (one-month plan)

Provider website: torguard.net
Pros:
Ready-made business plans
Dedicated user management portal
Over 3,000 servers
Our next business VPN option is TorGuard. It offers premade plans for small, medium and large businesses. Each plan includes dedicated IP addresses and encrypted email accounts. This makes TorGuard an ideal choice if your business uses email often and you don't want to be at the mercy of phishing and man-of-the-middle attacks.
TorGuard has a server footprint of more than 3,000 servers in over 50 countries. What's more, TorGuard offers a stealth VPN feature, which masks your VPN use to help you avoid deep packet inspection and firewalls. This is vital if your business uses tools like Dropbox, Google Workspace apps and VOIP apps (see our best VoIP VPNs).
Dedicated User Management Portal
TorGuard has a flexible and easy-to-use dedicated management portal to help you oversee access control, assigning dedicated IPs and even allowing customization with your company logo on TorGuard's apps. Your business will be assigned a dedicated account manager who will be on standby if you have any challenges.
You can choose from any of TorGuard's four business plans. There's the Starter plan ($32.99 per month) which is good for five users. The Small business plan is a good fit for a business with about 10 workers and it costs $69 per month. For 15 people (Medium plan), it will cost $110 per month.
TorGuard's Large plan costs $169 per month, and it's designed for businesses with around 20 employees. You can add a business email to each plan upon request. Be sure to read our TorGuard review to get a clear idea of what it offers.
More details about VyprVPN:
Pricing:

$299 (one-year plan)

Provider website: vyprvpn.com
Pros:
Dedicated servers
Optimized for the cloud
Chameleon protocol
Cons:
Few business features
No advanced security for business
Technically, VyprVPN is a consumer VPN with a business plan, so it doesn't have the extensive features and business support offered by the other VPNs on this list. However, it's still a useful business VPN with two pricing plans: VyprVPN for Business and Business Cloud. Both plans can accommodate up to three users.
It offers a dashboard where you can manage the settings and preferences of each user. You can access VyprVPN on all major operating systems, including Windows, iOS, Android, macOS and routers. Each user can access the VPN on five devices simultaneously. This means a sole proprietor or freelancer can use it without needing a full business plan.
Business VPN for the Cloud
If your business runs on cloud platforms like DigitalOcean, VirtualBox and Amazon Web Services (AWS), VyprVPN is a good pick. When you sign up for VyprVPN's Business Cloud plan, you'll get a dedicated server and a dedicated IP address. It's also optimized so that you can set up the VPN and cloud in a few minutes.
VyprVPN's Business plan costs $299 per year. It offers access to global business servers and a dedicated account manager. The Business Cloud plan gives you your own dedicated server and it costs $349 per year. If you're not satisfied with VyprVPN's service, you can request a refund within 30 days of purchasing a subscription. Learn more in our VyprVPN review.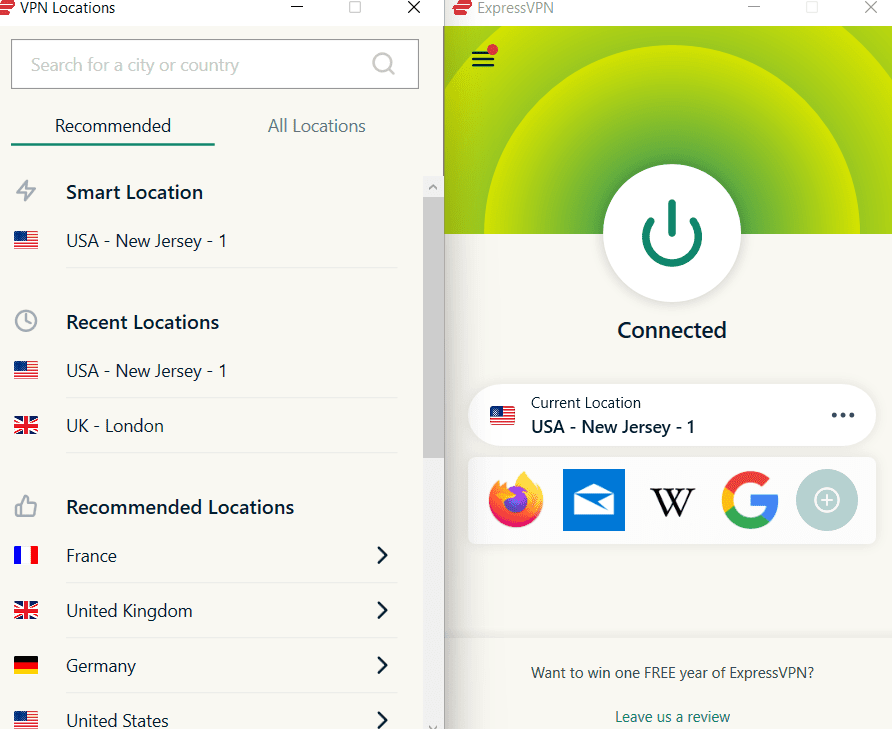 More details about ExpressVPN:
Pricing:

$6.66 per month (15-months plan)

Provider website: expressvpn.com
Pros:
Cheaper than most business VPNs
Fast streaming servers
Excellent security & privacy
Cons:
Only 5 simultaneous devices
As VPNs go, ExpressVPN is a class act. It ranks number one as the overall best consumer VPN. Technically, it's not designed to be a corporate VPN, but its excellent security, privacy features and performance make it far better than many business VPNs not on this list. It adheres to a strict no logs policy — one of the reasons it's the best VPN for privacy.
ExpressVPN is user-friendly, fast and the best VPN for streaming. Its main limitation as a corporate VPN is that it only allows eight simultaneous connections per subscription. However, small businesses could download ExpressVPN on a router to cover the entire building. You can dig deep into ExpressVPN by reading our ExpressVPN review.
Obfuscated Servers to Bypass Restrictions
Servers are one of ExpressVPN's standout features. It has a massive network of server network in 105 countries. All its servers come with obfuscation, which makes it hard for anyone to know you're using a VPN; no wonder it's the most secure VPN. This is great if you do business in censorship-driven countries like China. Plus, all its servers are optimized to unblock virtually any platform.
Compared to most corporate VPNs, ExpressVPN seems cheap. The monthly plan costs $12.95, but if you sign up for six months you'll pay $9.99 per month. The cheapest plan is the one-year plan, which is priced at $6.66 per month. All ExpressVPN plans are covered by a 30-day money-back guarantee.
Do You Need a VPN for Small Business?
If you have remote workers or you allow remote employees to use their own devices, a VPN is a must-have. It lets workers access your business systems remotely without compromising your security.
Some websites restrict IP addresses from certain locations. A VPN can change your location and give you access to those websites so you can transact business without any hiccups.
Furthermore, every small business needs cybersecurity tools, including a VPN service. That's because IP-based cybercrimes have become all too common. Even worse, these attacks are continuously evolving, making it hard to keep business systems secure. A VPN solves that challenge by encrypting your internet connection and masking your true IP address.
As you'll notice in our best VPN for WiFi piece, you need a VPN if your workers will be accessing your systems using public WiFi. While using free WiFi in coffee shops and airports while working may be tempting, it might make your business vulnerable to attacks.
Final Thoughts: Best Business VPNs
From our testing and research, NordLayer stands out as the best option for businesses, thanks to its large server network, excellent security features and user management features.
The next best VPN for businesses is Perimeter 81, especially if you want your business to pass compliance regulations tests. TorGuard is another good choice, a VPN with excellent email protection features and a flexible user management portal. If you're a freelancer or a business, VyprVPN or ExpressVPN should do the job. You can compare the two further in our comprehensive VyprVPN vs ExpressVPN guide.
Have you or your business experienced any cyberattacks lately? What tools have you deployed to prevent attacks? Have you ever used a VPN to safeguard your business? What was your experience? Did any of the VPNs we listed pique your interest? Share your thoughts with us in the comments section below. As always, thanks for reading.
Most businesses seem to prefer NordLayer. So far, this corporate VPN service has served over 6,500 businesses.

NordLayer is the best commercial VPN. It has robust security features, a sizable server network, dedicated user management features and a dedicated account manager — features perfect for both small and large businesses that want employees to have secure access to business systems.

Absolutely. Using a VPN can help safeguard your business from all kinds of cybercrime, including IP address–based phishing and malware attacks. Whether you're implementing a remote working or "bring your own device" (BYOD) policy, a VPN will encrypt your connection and anonymize your IP address.

The price of a VPN for a small business depends on the number of user accounts and features you want. For instance, NordLayer's basic plan costs $9 per user per month, while Perimeter 81's Essentials plan costs $10 per month and TorGuard's Starter plan costs $32.99 per month.