Most Secure VPN of 2023: Keep It Secret, Keep It Safe
The primary function of a VPN is to secure your internet connection and ensure your privacy, so it would make sense you're looking for the most secure VPN. Read on for the five top paid VPNs and three most secure free VPNs.
The internet is an intrinsic part of our daily lives through working, shopping, streaming movies and interacting with friends online. However, if you have been doing these activities without the most secure VPN, you've most likely had your sensitive information compromised at some point.
The average internet user in the U.S. had personal information stolen at least four times in 2019, and the number is increasing by the year. A virtual private network encrypts all your traffic to protect personally identifiable information from bad actors.
Key Takeaways:
Online security entails the protection of personal data, from name and address to credit card information and IP address. Privacy is all about keeping your digital trail private.
ExpressVPN is the best VPN for online security. It offers key security features, has been verified through rigorous third-party security audits and has never had a server breach.
NordVPN is a secure and budget-friendly alternative to ExpressVPN. It's also the best remote-access VPN if you need to protect company data.
In this guide, we'll reveal five VPN services that deliver the highest level of digital security, plus three free options. We'll discuss their strengths, weaknesses (if any) and pricing to help you make the best choice. If you're new to the topic, we have a full guide on what is a VPN. Otherwise, you can keep reading.
08/15/2022 Facts checked

We have updated this review to include three new VPNs: Private Internet Access, Surfshark and VyprVPN. We also added independent security audit details for each VPN to help you make an informed choice.

08/08/2023 Facts checked

Updated information regarding TunnelBear free data allowance.

09/16/2023

Updated information on VyprVPN's parent company, which is now Certida.
Based on our testing, ExpressVPN is the best secure VPN service. The VPN service has all the security features, has never had a server breach, and independent security audits have found no chinks in its armor.

ProtonVPN takes the crown as the most secure free VPN. Even though it's not as generous as Windscribe in terms of usage limits, its security features (secure protocols, AES-256 encryption) are impressive. It's based in Switzerland and third-party audits didn't uncover any significant flaws.

OpenVPN and WireGuard are the most secure VPN protocols. However, experts recommend using OpenVPN because it has been around for a long time. It has undergone numerous third-party security audits and has deployed numerous patches to seal the most common vulnerabilities.
The Top Secure VPNs
What Makes the Most Secure VPN?
We picked the following VPNs because they tick all the right boxes. Besides the features mentioned above, the VPNs have a kill switch that cuts internet traffic when the VPN connection fails. In addition, they have built-in IP, WebRTC and DNS leak protection. Here are the highlights of our most secure VPN services:
The most secure VPNs use solid protocols such as OpenVPN and WireGuard. OpenVPN is a tried-and-tested protocol with no known security vulnerabilities. WireGuard is a lightweight protocol that's equally secure and can be faster than OpenVPN. You will also find proprietary open-source protocols that offer an impressive balance between security and speed, such as ExpressVPN's Lightway.
In addition, the VPNs come with different VPN encryption ciphers. AES-256 is the gold standard of encryption, as it's virtually unbreakable and works flawlessly with all tunneling protocols. However, some VPNs — especially those that support WireGuard and its variations — use ChaCha20, which is another reliable encryption cipher.
Because the VPN company is in control of your traffic and can take a peek if it wants to, it needs to have a no-logs policy. The no-logs policy is a promise that the provider won't monitor, store or share your data. Even if a data breach occurs or a government seizes a VPN server, your data won't be exposed because the VPN provider doesn't store it in the first place.
The 5 Most Secure VPNs
The VPNs below might look similar at first glance, since they all have comparable basic features. To set them apart, we'll look at their unique and advanced security features. We'll also examine other critical factors that depict each VPN's security posture, such as audit reports.
Let's dive straight in, starting with the most secure VPN, ExpressVPN.
More details about ExpressVPN:
Pros:
Obfuscated RAM-based servers
Perfect forward secrecy
Third-party audited
ExpressVPN — our overall best VPN provider — tops this list for good reason. It uses AES-256 encryption in conjunction with VPN protocols OpenVPN and Lightway. The latter is a proprietary and open-source protocol that stacks up well to OpenVPN in terms of security, yet achieves better speeds.
ExpressVPN adheres to a strict no-logs policy, and doesn't collect or share user logs — and there's proof to this claim. In December 2017, Turkish authorities seized the ExpressVPN servers in the country. They found an empty server, proving that ExpressVPN means every word in its no-logs policy.
Moreover, ExpressVPN uses TrustedServer technology on its entire server fleet. In other words, the servers are RAM-based and are configured to purge browsing history with every reboot.
Plus, ExpressVPN offers obfuscation on all of its servers. Obfuscation is technology that makes your VPN traffic appear like regular traffic, and is thus helpful in countries where VPNs are banned, like China. During our testing, we also didn't find any WebRTC, DNS or IP leaks with the VPN, which is a sign of its stellar security.
Enjoy Excellent Security With Perfect Forward Secrecy
Another great addition to ExpressVPN's armory is perfect forward secrecy (PFS). With PFS, ExpressVPN changes the encryption keys every time you switch networks, terminate the VPN connection or every 15 minutes for longer sessions. If a cybercriminal gets hold of one key, they can't decrypt all the traffic, so your personal information is safe.
Additionally, ExpressVPN has undergone multiple independent security audits. F-Secure has audited its Windows app for vulnerabilities, whereas Cure53 audited the Lightway protocol and browser extensions. In all cases, the VPN provider received the seal of approval for its top-notch security.
ExpressVPN is pretty much impossible to beat on the security front, but it doesn't come cheap. Its monthly plan is on the higher side of the VPN pricing spectrum, but the yearly plan is discounted. Each plan has a 30-day money-back guarantee; read more in our full ExpressVPN review.
More details about NordVPN:
Pros:
RAM-based servers
Double VPN & obfuscated servers
Threat protection
NordVPN missed out on the first spot by a hair's breadth. NordVPN uses a tool called dark web monitor to scour dark web repositories for data related to your NordVPN email. If it finds a hit, it alerts you to block affected credit cards or change the passwords of affected accounts.
NordVPN also uses secure VPN protocols: OpenVPN and NordLynx (a version of WireGuard). The former pairs with AES 256-bit encryption, whereas the latter uses the ChaCha20 encryption cipher to deliver top-notch security. In addition, it has kill switch protection, DNS leak protection and threat protection (a malware and ad blocker).
Unfortunately, NordVPN suffered a server breach in 2018, which is why it misses out on the top spot. Thankfully, as a result of NordVPN's prompt response, no personal information was exposed — proof that NordVPN adheres to its strict no-logs policy. It also addressed these security issues.
Get Extra Protection With Specialty Servers
To further enhance online security, NordVPN comes with specialty servers. For example, the double VPN servers bounce your internet traffic off two VPN servers. Doing so makes sure that even if one server is compromised, your data is still protected. Other notable specialty servers include obfuscated servers, which hide your VPN use from oppressive governments.
The findings of NordVPN's independent audits should dispel any doubt you have about this VPN service provider. PricewaterhouseCoopers (PwC) verified that NordVPN's infrastructure, including standard, obfuscated, P2P and double VPN servers, is of sound security.
In addition, VerSprite (another independent audit firm) put NordVPN's no-logs policy to the test and verified that it's fully compliant.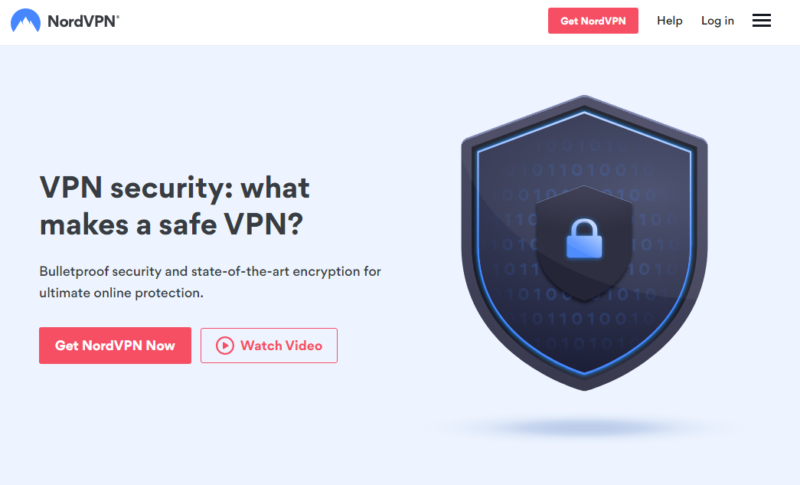 NordVPN is a cheaper ExpressVPN alternative. Its monthly plan is quite expensive, but the two-year plan offers a huge bang for the buck. Each plan offers six simultaneous connections and unlimited bandwidth and data. There's a 30-day money-back guarantee in case you change your mind. Read our NordVPN review to learn more.
More details about Private Internet Access:
Pros:
Pocket-friendly
Shadowsocks proxy
Fast malware blocker
Cons:
No 3rd-party security audits
Slow speeds outside the U.S.
Private Internet Access's overall package can't match top-tier services like ExpressVPN or NordVPN. However, if you look at it through the security lens, it gives our top picks a run for their money. It's easy to use and affordable — the perfect combination if you're looking for the best secure VPN for beginners.
Like ExpressVPN, PIA has all the hallmarks of a secure VPN. It supports the OpenVPN and WireGuard protocols and lets you vary encryption between AES-256 and AES-128. You also get essential features like a no-logs policy, kill switch and DNS leak protection. Plus, with automation rules, you can configure PIA to auto-connect when it detects unsecured or public WiFi.
In addition, PIA has a multi-hop tool, but this isn't your typical double VPN tool. Unlike NordVPN's double VPN, the multi-hop sends your traffic through a VPN server and a Shadowsocks proxy, and that comes with a unique advantage. Besides adding an extra layer of protection, the Shadowsocks proxy disguises VPN traffic as regular web traffic to hide VPN use.
Kick Out Malware With PIA MACE
Like NordVPN's Threat Protection, PIA MACE prevents you from landing on malicious sites. However, MACE fends off malware at the DNS level on desktop and Android. That means your browser doesn't have to cross-check malicious sites against a blocklist. As a result, PIA MACE is faster and more memory efficient than other blockers.
That said, the lack of independent audits takes marks away from PIA's security scorecard. Thankfully, the open-source apps let users inspect PIA code, and at the time of writing this guide, no vulnerability or violation had been reported. That adds a degree of assurance, though we'd like to see third-party audits by dedicated security firms.
As we mentioned, Private Internet Access stands out for its affordability. As usual, the monthly plan is quite expensive, but you get a large discount with the three-year plan. Each plan offers 10 simultaneous connections and comes with a 30-day money-back guarantee. Read our full Private Internet Access review to learn more.
More details about VyprVPN:
Pricing:

$5 per month (one-year plan)

Provider website: vyprvpn.com
Pros:
Zero-knowledge DNS service
User-friendly client
Proprietary Chameleon protocol
VyprVPN doesn't appear in most of the best-of lists because it's pretty expensive — and unlike ExpressVPN, it doesn't offer the features to match. However, from a security standpoint, VyprVPN is quite reliable. You have plenty of protocol options: You can pick WireGuard, OpenVPN or the proprietary Chameleon protocol, which is apt for bypassing censorship.
In addition, VyprVPN still supports internet key exchange version 2 (IKEv2), a secure yet less CPU-intensive option. The protocols all use the industry-standard AES-256 bit encryption. During our testing we never experienced IP, WebRTC or DNS leaks with VyprVPN, and that is solid proof the protocol and encryption work as intended.
VyprVPN's no-logs policy offers an assurance that the VPN provider won't collect, store or share your data. Another addition to its arsenal is automatic WiFi protection, which lets you set VyprVPN to connect automatically when it detects a new WiFi network.
Enhance Security With VyprVPN Zero-Knowledge DNS
VyprDNS — a zero-knowledge DNS service — thwarts DNS man-in-the-middle attacks. It handles DNS requests within VyprVPN's network, guarding them against third-party monitoring, logging and manipulation.
Leviathan audited VyprVPN's no-logs policy in 2018 and confirmed that it holds up. We'd like to see regular audits on the no-logs policy, perhaps yearly, to authenticate the frequent updates.
Plus, a more recent one is needed since it's move from Golden Frog to new parent company, Certida. VyprVPN should also invest in auditing its infrastructure and apps, not just the no-logs policy.
VyprVPN isn't the most expensive VPN out there and its monthly plan costs less than ExpressVPN's. Its yearly plan offers a significant discount, but it's still on the higher end compared to some of our other recommendations. Each plan supports 30 simultaneous connections and comes with a 30-day money-back guarantee. Read our VyprVPN review to learn more.
More details about Surfshark:
Pros:
RAM-based servers
Unlimited simultaneous connections
Double VPN servers
Even though Surfshark is relatively new in the VPN market, it's no slouch when it comes to security. Like most of our picks, it uses OpenVPN and WireGuard with AES-256 bit encryption. During our testing, we found that the kill switch works as you'd expect and the VPN doesn't experience IP or DNS leaks.
Beyond that, the British Virgin Islands–based provider doesn't collect or store user logs. However, the vendor might collect your real IP address and device's unique identifier when you visit its website and keep that data for two years.
That aside, all Surfshark servers are RAM-based, so they wipe your browsing history and configuration files with every reboot.
Surfshark has never been in any negative news, which is great. In addition to its clean track record, Surfshark has an exciting suite of advanced security tools. It comes with a double VPN feature (called MultiHop) and CleanWeb, which blocks ads and websites known to spread malware.
Unlimited Simultaneous Connections
Surfshark's unlimited simultaneous connections set it apart from other VPN providers, allowing you to protect all the devices in your home — smart TVs, computers, mobile phones and routers — under one account. The beauty of it all is that with unlimited bandwidth, connection speeds won't dip regardless of the number of devices connected.
Cure53 audited Surfshark's browser extension and verified it to be secure. To quote the report, "Cure53 is satisfied with the strong security posture of the browser extension." The reports add assurance, but still, we would like to see Surfshark's infrastructure and the no-logs policy put to the test.
If affordability is a priority, Surfshark ticks that box. The monthly plan is expensive, but the two-year plan is quite affordable. Each plan offers a 30-day money-back guarantee. Read our Surfshark review to learn more.
Surfshark Starter
Unlimited GB bandwidth, Unlimited devices, Secure VPN, Ad blocker, Cookie pop-up blocker.
Unlimited GB
Unlimited
Yes
Surfshark One
Everything in Starter, plus Antivirus protection, Identity protection, Email Breach and Credit Card Alerts, Online Alias
Unlimited GB
Unlimited
Surfshark One+
Everything in One, plus Data removal
Unlimited GB
Unlimited
Most Secure Free VPN
Your personal information is precious and you should protect it at all costs. However, if you're on a tight budget or don't want to pay for a VPN service, you can try a free VPN.
Unfortunately, not all free VPN services are secure. In fact, most of them are scams or don't encrypt your traffic, and some will flat-out steal your information and sell it to marketers. That said, there are a few free VPNs you can trust. Here are the most secure free VPN services.
ProtonVPN comes in second (behind Windscribe) on our best free VPN guide, and that's because of its usage limits. While no free VPN can beat its unlimited data offering, servers in only three countries, middling speeds and a single connection tip the scales in Windscribe's favor.
However, from a security standpoint, ProtonVPN is difficult to beat as a free VPN. It has key security features, including secure protocols, AES-256 encryption, a kill switch and a strict no-logs policy. Even better, ProtonVPN has been independently audited and verified by the security firm Securitum.
As further proof the no-logs policy works, the provider was embroiled in a legal case in 2019. The Swiss court approved the complainant's data request, but ProtonVPN didn't have anything to hand over because it keeps no user logs. Read our ProtonVPN review to learn more.
Windscribe snags the second spot here, and that's down to ProtonVPN's superiority on the security front. However, Windscribe is still excellent as it offers premium security features. Besides secure protocols and encryption, it comes with R.O.B.E.R.T. — a reliable malware blocker you don't find in other free VPNs.
Windscribe hasn't had any third-party security audits, which is its only negative. However, the vendor claims to receive numerous data requests from DMCA and law enforcement and has never shared user data because it adheres to its no-logs policy.
In terms of usage limits, Windscribe is quite generous in its free plan. It offers 10GB of free data per month, access to servers in 10 countries and unlimited simultaneous connections. Read our Windscribe review to learn more.
Free
Up to 15 GB free with email confirmation and Tweet
15GB
Unlimited
TunnelBear's overall quality and mediocre speeds place it behind Windscribe and ProtonVPN in our best free VPN showdown. Its 2GB monthly data allowance doesn't come close to Windscribe or ProtonVPN. That aside, TunnelBear performs well on the security front.
It offers OpenVPN protocol, but still supports less secure options like L2TP and IPsec. We recommend using OpenVPN with AES-256 encryption for a high level of security. You can rest assured that TunnelBear never collects, stores or shares user data, thanks to its no-logs policy.
TunnelBear is an example of how VPNs should conduct independent security audits. It undergoes annual audits and the latest one verified that TunnelBear's security posture is sound. Read our TunnerBear review to learn more.

Individual
Unlimited GB, five devices, priority customer service
Unlimited GB
5
Yes
Teams
Unlimited GB, five devices per user, centralized billing, account manager, price per user per month
Unlimited GB
5
Yes
Final Thoughts: Most Secure VPN
VPN security is about keeping personal information safe. Privacy, on the other hand, entails keeping your online activities to yourself. These two are entwined, and you can't talk about one without mentioning the other. In that regard, be sure to read our best VPN for privacy guide.
Hopefully, we have made it easier for you to pick the best secure VPN. If you're at a crossroads and can't decide which VPN best suits your needs, ExpressVPN never disappoints. It offers exceptional all-around performance and is our number one pick for streaming services, gaming and crypto trading, to name a few.
Have you been a victim of a data breach before? If yes, which VPN do you use to prevent that from happening again? If not, are you planning to subscribe to a VPN to protect your data? Which security feature do you think is paramount? We'd like to hear about it in the comment section. As always, thanks for reading.