Best VPN for Privacy: Which No-Logs VPN Service Is the Best in 2023?
A VPN's main purpose is to keep you safe and private online. However, not all VPNs are the same, and not every VPN can achieve that goal – some will expose your private information. We separated the wheat from the chaff for you, so read on to find the best VPN for privacy.
If you've been traversing the internet without the best VPN for privacy, your personal data could be at risk. This is because the internet landscape is a honeypot for hackers, digital marketers and other third-party snoopers. If your internet traffic travels through the standard unprotected route, it leaves the door open for them to intercept it.
Key Takeaways:
ExpressVPN is without a doubt the best VPN for privacy. It might be pricey, but considering its security and privacy features — from secure protocols and solid encryption to perfect forward secrecy and RAM-only servers — it's worth every penny.
NordVPN comes in a close second, and it has the capability to match ExpressVPN's performance. It also offers incredibly fast speeds and has additional tools such as dark web monitoring. However, the 2019 server breach can't be overlooked, so it's been relegated to the second spot.
Surfshark and CyberGhost are cheaper alternatives that are also great at safeguarding your online privacy.
Hackers can steal your personal information and sell it on the dark web data marketplace, or use it for phishing attacks. Advertisers, on the other hand, harness your personal data to build a digital persona about you for targeted ads. Not to mention, a rogue internet service provider (ISP) may mass-collect information about the legal things you do online.
The snoopers hatch up a variety of traps — from malware on public WiFi to fingerprinting — to get the information they need. Thankfully, a virtual private network (VPN) such as ExpressVPN — our best privacy VPN — helps defeat most of these schemes. However, ExpressVPN isn't the only reliable VPN for privacy, so read on to find reputable alternatives.
VPNs are good for privacy because they mask your IP address and encrypt your internet traffic, making it difficult for snoopers (including your ISP) to track or read it.

Most top-tier VPNs disguise your IP and encrypt your traffic to keep you anonymous online. However, the most anonymous VPNs come with additional tools, such as ad and malware blockers, to prevent third parties and malicious snoopers from tracking you. We recommend ExpressVPN, though NordVPN is a great alternative if you're on a budget.

Just like anonymity, it's difficult to pinpoint a single VPN as the most secure. The thing is, top-ranking VPNs such as ExpressVPN, NordVPN and Surfshark don't disappoint when it comes to protecting user privacy and security.
Top VPNs for Privacy
What Makes the Best VPN for Privacy?
While many VPN providers claim to enhance your privacy, not every VPN is up to the task. We put various services through the wringer, and the VPNs below were the standout performers.
A VPN for privacy must ably protect the personal information you use or create while using the internet. The VPN should mask your real IP address to make it impossible to track. It should also have solid VPN protocols and encryption for wrapping your traffic in an impervious encryption layer to stop snoopers from intercepting or reading it.
Beyond that, you want a VPN to have a kill switch to cut off your internet traffic when the VPN connection drops. This, coupled with IP, WebRTC and DNS leak protection, prevents accidental leaks that could expose your personal information to third parties and malicious snoopers. That includes your ISP, hackers and surveillance agencies.
With these tools, you'd think the privacy problem is solved, but there's a big catch. The VPN provider can still see your digital footprints and personal information. That's why a VPN needs a tested no-logs policy that offers the assurance that the VPN company won't collect, store or share your personal data.
The 5 Best VPN Services for Privacy
Security and privacy go hand in hand, so our list includes VPN services that excel on both fronts. As you'll notice, the VPN services have an identical core, but spruce that up with different bells and whistles. We'll discuss their nitty-gritty details and disclose the pricing information, starting with ExpressVPN.
More details about ExpressVPN:
Pros:
Fast speeds
Solid privacy & security
Strict no-logs policy
Ability to bypass geoblocks
ExpressVPN is undoubtedly the best VPN for privacy, thanks to its comprehensive suite of privacy and security features. Starting with the basics, the VPN uses the tried-and-tested OpenVPN and its own Lightway protocol with AES-256 encryption to keep your online activities safe. You also get a kill switch (called Network Lock) and leak protection to prevent unintended DNS or WebRTC leaks.
Beyond that, ExpressVPN's strict no-logs policy offers an assurance that the provider won't collect, store or share your activity logs. Over the years, we've seen VPN providers offer a no-logs claim, only to do the opposite when coerced by government agencies. Thankfully, ExpressVPN hasn't been in the bad news so far, which means it abides by its privacy policy.
Further, the VPN provider is headquartered in the British Virgin Islands — a country with no data retention laws (learn more in our full BVI privacy laws guide). ExpressVPN has an ioXt alliance certification for its stellar security, which adds extra privacy and security assurance.
Use Reliable Privacy-Focused Technologies
The use of TrustedServer and perfect forward secrecy (PFS) technologies epitomizes ExpressVPN's commitment to safeguarding user privacy. With PFS, ExpressVPN periodically changes the encryption keys, meaning that even if a snooper gets hold of one key, they can't decrypt the entire string of traffic.
Even better, ExpressVPN is one of the industry pioneers to shun the traditional hard drive servers. Instead, it uses RAM-only servers, which wipe your browsing data and configuration files with every reboot. This way, it leaves no hint about your digital footprint, making it hard for snoopers to track you.
The only quibble is that ExpressVPN is one of the most expensive VPN services. However, its comprehensive set of VPN features and fast speeds justify the price. Each plan has a 30-day money-back guarantee just in case you need more time to make a decision. Read our full ExpressVPN review to learn more.
More details about NordVPN:
Pros:
Solid security & privacy
Dark web monitoring tool
Blocks ads, malware & trackers
Large server network
Includes obfuscated servers
Cons:
A steep learning curve for advanced features
Data breach in 2019
NordVPN boasts an array of security features — from a kill switch and DNS leak protection to secure protocols and solid encryption — that ensure your traffic travels through an encrypted tunnel, with no accidental leaks. Beyond that, its fast speeds let you watch movies on streaming services or play online games without lag.
NordVPN's threat protection tool is apt at blocking web trackers that collect your personal data. This way, third parties can't use your browsing history to serve intrusive ads, whereas hackers can't build an elaborate profile for use in phishing attacks. Even better, it flags and deletes infected downloaded files, preventing cybercriminals from installing spyware on your device.
Like ExpressVPN, NordVPN has a no-logs policy, so it doesn't know anything about your browsing history or VPN connections. Auditing firm PricewaterhouseCoopers audited NordVPN's no-logs policy in 2021 and confirmed that the provider is fully compliant. However, NordVPN updated the policy in early 2022 and the clauses about data requests are a bit less reassuring. (We can't wait for the 2022 no-logs audit.)
Secure Your Personal Information With Dark Web Monitoring
The dark web monitoring tool is another great addition to NordVPN's privacy toolbox. The feature scours dark web repositories for data associated with your email. If it finds any, it sends you an alert, so you can take remedial action.
NordVPN's other notable features include double VPN, which sends your traffic via two servers for an extra layer of protection. The obfuscated server hides the fact that you're using a VPN, and Onion over VPN servers come in handy when circumventing internet censorship.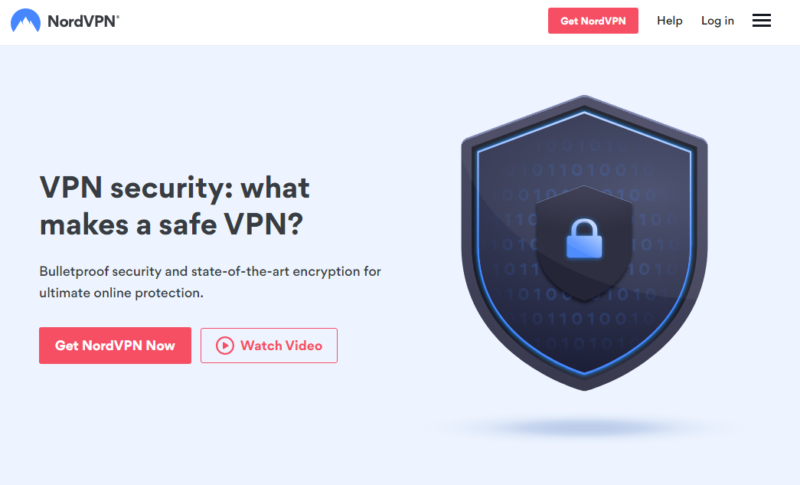 NordVPN is a cheaper, faster ExpressVPN alternative (read our NordVPN vs ExpressVPN). Like our first pick, its monthly plan is pricey, but extended plans offer significant discounts, making NordVPN the overall best cheap VPN. Each plan comes with unlimited bandwidth and data and six simultaneous connections (read our NordVPN review). You also get a 30-day money-back guarantee.
More details about Surfshark:
Pros:
Unlimited simultaneous connections
Anonymity with IP rotator & CleanWeb
RAM-only VPN servers
Surfshark is a cheaper NordVPN alternative for the privacy-conscious folks. Like our top two picks, it has a comprehensive suite of security features, from solid protocols and encryption to a kill switch and DNS leak protection. Moreover, its servers are RAM-based, meaning your browsing data, IP addresses and configuration files are wiped with every reboot.
What's more, its CleanWeb feature is a handy tool if you're wary of accidentally installing malware or trackers that could expose your personal information. Its catch rate isn't on the same level as the best antivirus, but it does get most malware-ridden links and suspected phishing domains off your browser traffic.
As far as the logging policy goes, there are no sneaky lines or legal jargon to get you worried. However, Surfshark's website might collect a bit too much data, including your real IP address.
Thankfully, Cure53 audited Surfshark browser extensions and affirmed that they don't keep logs, though we'd like to see independent audits on its main VPN apps.
Sidestep Government Surveillance With NoBorders Mode & MultiHop
If you're in a country where surveillance agencies and ISPs notoriously monitor your internet activity, it's advisable to use the MultiHop servers. This feature sends your traffic through two VPN servers, such that even if one server fails, the second one will still encrypt it to hide it from the snoopers. It's an invaluable tool for journalists, human rights activists and whistleblowers in despotic regimes.
If you're in a repressive country, you can also use Surfshark's NoBorders servers, which are specifically configured to bypass government blocking, like China's Great Firewall. Another notable addition is the Surfshark One security suite, which includes an antivirus to thwart any attempt by cybercriminals to install spyware on your device.
Surfshark has the cheapest long-term plans among our top three picks. As usual, the monthly plan is on the higher side of the spectrum, but its two-year plan offers the best deal. Regardless of the plan, you get unlimited simultaneous connections, unlimited bandwidth and 30-day money-back guarantee. Read our full Surfshark review to learn more. 
Surfshark Starter
Unlimited GB bandwidth, Unlimited devices, Secure VPN, Ad blocker, Cookie pop-up blocker.
Unlimited GB
Unlimited
Yes
Surfshark One
Everything in Starter, plus Antivirus protection, Identity protection, Email Breach and Credit Card Alerts, Online Alias
Unlimited GB
Unlimited
Surfshark One+
Everything in One, plus Data removal
Unlimited GB
Unlimited
More details about CyberGhost:
Pros:
Always-on WiFi protection
45-day money-back guarantee
Includes NoSpy servers
Another great VPN for privacy is CyberGhost — a privacy juggernaut that's user-friendly. Whether you're a VPN rookie or seasoned user, you won't struggle to find your way around the security and privacy options. Even the advanced options have descriptions about what they do to help you configure the app to suit your privacy preferences.
Beyond the usual privacy and security features, CyberGhost offers the privacy-focused NoSpy servers. The VPN provider owns and operates the servers at its headquarters in Bucharest, Romania, to prevent government seizure or intrusion by unauthorized individuals. Moreover, Romania has privacy-friendly laws that don't obligate CyberGhost to turn over your data if the authorities come calling.
Even if authorities coerced CyberGhost into handing over your data, the provider would have nothing to share. As per the no-logs policy, CyberGhost doesn't monitor, record, store or share your traffic logs while you're using the service.
There's no third-party audit to authenticate every claim of the no-logs policy, but the fact that CyberGhost has never been in the negative news is a good sign.
Protect Your Personal Information With Automatic WiFi Protection
Man-in-the-middle attacks are a popular way for hackers to steal your personal data — from emails to credit card information — while you're using unsecured WiFi. With smart rules, you can set the VPN app to establish a secure connection when it detects an unsecured WiFi network.
Doing so ensures that your internet traffic is encrypted every time you connect to a public WiFi network. As a result, any hacker's attempt to steal your personal information would be futile.
CyberGhost's monthly plan is expensive and it only has a 14-day money-back guarantee. However, extended plans are heavily discounted and come with a generous 45-day money-back guarantee. Read our comprehensive CyberGhost review to learn more.
You can also check how CyberGhost differs from NordVPN to see which one better fits your needs.
More details about Private Internet Access:
Pros:
RAM-based VPN servers
Email breach monitor
Affordable VPN service
Cons:
Inconsistent upload speeds
Private Internet Access — a low-cost CyberGhost alternative — comes last on our list, but it's not short on unique privacy features. In terms of the basic security features, there's nothing too conspicuous to set PIA apart from the rest.
It has secure protocols, solid encryption and a kill switch, all of which worked just fine in our testing. What's more, PIA offers full leak protection against WebRTC, IPv6 and DNS leaks.
Another interesting addition is PIA MACE — a tool that stops you from visiting malicious websites and prevents cross-site trackers from monitoring the websites you visit. Because of the way it works, MACE is faster than normal blockers, and using it on mobile devices reduces battery drain as you browse.
One of PIA's distinguishing features is that its apps are open source. This doesn't make Private Internet Access a better privacy VPN than the rest, but it adds some assurance you don't get with other providers. Essentially, it means that anyone is free to inspect PIA's code to see if the VPN keeps its promise to safeguard your online privacy.
Leverage Privacy-Focused Features
Beyond the VPN security features, PIA Uses RAM-only servers, meaning a government agency would have nothing to recover if they were to seize a server. This is a great privacy tool, particularly in restrictive regimes like China, Russia and Turkey. Moreover, PIA uses perfect forward secrecy technology that regularly changes encryption keys to prevent hackers from spying on your data.
The Identity Guard feature serves the same purpose as NordVPN's dark web monitoring. It enables you to find out if your email and other sensitive information related to it have fallen into the wrong hands. It also monitors your email and alerts you of any data breach.
PIA's monthly plan is cheaper compared to the others, but it's still on the higher side of the pricing spectrum. However, the extended plans are some of the cheapest in the business, with the three-year plan offering the best value for the money. Each plan supports 10 simultaneous connections, unlimited bandwidth and offers a 30-day money-back guarantee. Read our Private Internet Access review to learn more.
Best Free Private VPNs
Nothing in life comes for free, and that holds true for VPNs as well. Running a secure VPN software requires a great deal of resources and investment. VPN providers that have your best interest at heart will charge for their service to recoup the investment and turn a profit.
Most free VPN services collect your data and sell it to turn a profit. For this reason, you should avoid free VPNs because most of them don't have your online privacy in mind. VPNs that offer a free plan in addition to a premium paid VPN service are much more trustworthy, as you can read in our best free VPN guide.
For example, Windscribe is a free VPN service you can trust to protect your digital privacy. Its free version is quite generous, as it lets you tinker with all the tools in the Windscribe arsenal, and you get access to 10 server locations and 10GB of monthly data. It's the best free VPN for PCs, among many other categories.
Read our free VPN vs paid VPN to learn how they differ and make an informed decision when and why to choose a paid VPN over a free service.
Final Thoughts
The internet landscape is fraught with digital privacy risks. Hackers are lurking online, scanning for any vulnerability in your security system to penetrate your device and steal your personal information.
Rogue ISPs and advertisers are looking for an opportunity to mass-collect user data and sell it to the highest bidder, whereas some restrictive governments want to snoop on your online activities.
We recommend using one of the best privacy VPNs to enhance your online privacy. If you're just getting started, ExpressVPN should be right up your alley. Besides being user-friendly, it has all the tools you need to remain safe and anonymous online. If the price is a turnoff for you, the rest of our list has cheaper yet capable alternatives.
If the need for privacy and anonymity is born out of your desire to do ethical hacking, be sure to read our best VPN for hackers.
Which VPN do you use to enhance your digital privacy? Is there a specific privacy feature that you look for? What other best practices do you follow in order to maintain top-notch privacy online? We'd like to hear about it in the comment section. As always, thank you for reading.