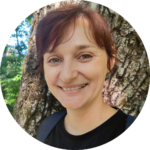 Vildana Bratic
Video Editor, Fact-Checking Editor
Snap Shot
Vildana Bratic, also known as Viki, is a video editor for Cloudwards. She edits videos for the Cloudwards YouTube channel.
Background & Education
Vildana "Viki" Bratic completed a course in graphic design, web design, 2D and 3D animation in 2009 and went on to obtain her bachelor's degree in comparative literature, library and information science in 2014.
She began her career as a designer in 2010, creating graphic designs and printing banners, concert tickets, posters and brochures. Since then, Viki has completed projects in graphic design, video and photo editing for numerous clients. She has also worked as a web designer and developer and even has experience creating virtual reality tours.
Having always been imbued with creative flair and a passion for crafting, Viki also works as a craftswoman alongside her work as a video editor for Cloudwards. She opened her workshop in 2016 and has been crafting jewelry and other beautiful products since.