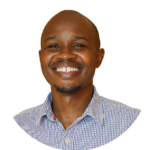 Samson Kiarie
Writer
Snap Shot
Samson Kiarie is a writer for Cloudwards. His writing and research focus on VPN comparisons and reviews. 
Background & Education
Samson obtained his bachelor's degree in mathematics from Maasai Mara University in 2014. With an insatiable desire to learn about SaaS and how tech tools work, he became drawn to writing and researching as a career. Since 2016, he has written for several websites in the SaaS and B2B niches.
Shortly after entering the world of content writing, Samson began managing a team and was responsible for editing and proofreading the work of fellow writers before publishing. A seasoned professional in the tech niche, he joined Cloudwards in early 2021 as a freelance writer. He has primarily written VPN reviews and comparisons for the website.
Samson's dedication and passion for technology, B2B and SaaS has led to clients requesting his services time and time again.
Last articles
Last Reviews