How to Watch Netflix With NordVPN: Does It Work in 2023
Netflix has some of the most efficient VPN detectors of all streaming services. To find a way around the strict Netflix geoblocks, you need a reliable VPN such as NordVPN. Keep reading to learn how to watch Netflix with NordVPN.
Even though Netflix is available in more than 190 countries, the library of movies and TV shows varies from country to country. For example, movies on Netflix U.S. may not be available on Netflix Canada. In this guide, we'll show you how to watch Netflix with NordVPN and gain access to content in all Netflix regions.
Key Takeaways: Unblock Netflix With NordVPN
NordVPN accesses Netflix with ease, allowing you to watch shows and movies on American Netflix or any international Netflix library.
The Netflix proxy error isn't necessarily a sign that NordVPN is unable to unblock Netflix. On the contrary, there could be another underlying issue, such as choppy internet, poor router setup or lingering third-party cookies exposing your true location.
Before unblocking Netflix with NordVPN, clear the cache and update your VPN software. Switching NordVPN servers can also help circumvent the notorious Netflix geoblocks.
NordVPN, one of the best VPN services, helps you get around Netflix's territorial licensing and distribution restrictions. If you're in the U.S., you can unblock Netflix Canada to watch The Shawshank Redemption. Plus, NordVPN has a trick that can bypass Netflix's upcoming password-sharing restrictions.
We'll also discuss some VPN best practices to get around the dreaded Netflix error. First, let's get the basics out of our way — does NordVPN work with Netflix?
03/15/2023 Facts checked

Rewritten to add a step-by-step guide and information on NordVPN's Meshnet.
NordVPN is one of the best VPN providers for Netflix and rarely gets blocked by the popular streaming service.

If Netflix isn't working with NordVPN, it could be because you've not cleared your cache and third-party cookies. Alternatively, Netflix has banned the IP address you're connected to or your internet connection is choppy.

To fix the NordVPN Netflix streaming error, switch NordVPN servers. Also, clear your cache and make sure the VPN software is up-to-date.

If NordVPN isn't working with Netflix, reconnect the VPN or switch VPN servers.
The NordVPN-Netflix Connection: Does NordVPN Work With Netflix?
In terms of unblocking ability, NordVPN isn't quite on par with ExpressVPN — the best Netflix VPN. While it might struggle with BBC iPlayer, it bypassed Netflix's geoblocks on the first attempt for us, as you can read in our full NordVPN review. The story should be the same for you.
How to Watch Netflix With NordVPN
While streaming Netflix with NordVPN should be a cinch, we'll walk you through the process. Before we get going, install the latest version of the NordVPN app on your streaming devices: smart TV, Windows, Mac, iOS or Android. We have a complete guide on how to use NordVPN in case you hit a snag.
NordVPN Not Working With Netflix: What to Do
If you followed the above steps and still can't find a way around Netflix geoblocks, the VPN isn't necessarily the problem. If Netflix keeps blocking you, here are some of the best solutions.
1. Install the Latest Version of NordVPN Software
Netflix vs VPN services is a cat-and-mouse game. When Netflix detects one of NordVPN's, or another VPNs', IP addresses, it blocks it immediately. On the other hand, NordVPN keeps replenishing the pool of IPs to stay ahead of Netflix geoblocks. Keeping your VPN software up-to-date ensures you use a "clean" IP address and avoid bugs and glitches.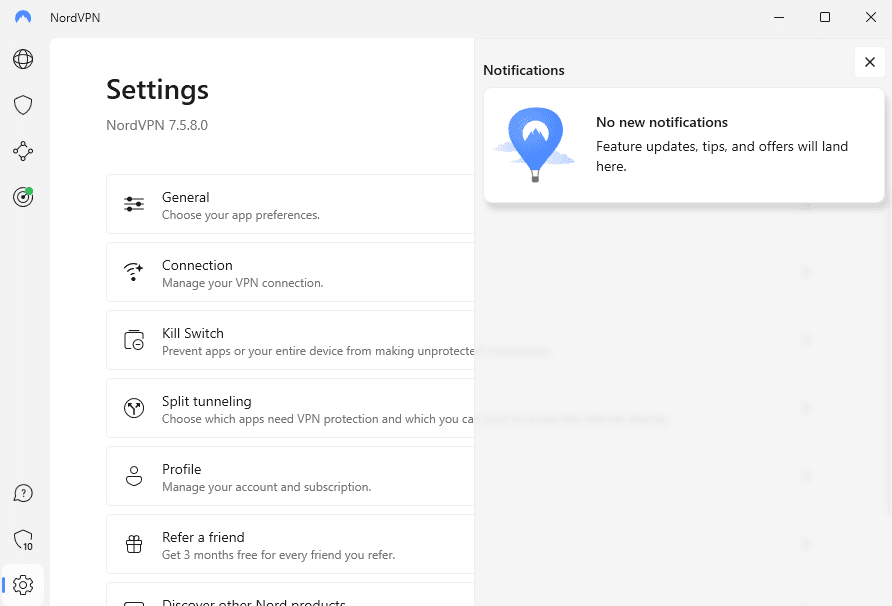 2. Clear Cache
Cache and third-party cookies store location identifiers. Some of these identifiers are so notorious that they leak your location details even when you use a VPN to hide your actual IP address. Before you access Netflix with NordVPN, clear your cache and cookies to remove any lingering location identifiers.
3. Reconnect NordVPN
As we mentioned earlier, Netflix is constantly blocking VPN IP addresses. If you connect to NordVPN and keep getting the proxy error, the VPN probably assigned you a blocked IP. Try reconnecting to get a brand new IP address.
4. Switch NordVPN Servers
If the proxy error persists, switch NordVPN servers until you find one that can unblock Netflix and is fast enough to stream without lag or buffering. Thankfully, NordVPN has a huge server network, so you won't struggle to find an ideal server. NordVPN has fast server switch times, too.
5. Confirm Your Internet Connection Is Okay
It may sound simple, but this could be the reason NordVPN isn't accessing Netflix. NordVPN might not connect properly if your internet is choppy or you're constantly switching between Wi-Fi and mobile data.
Check your router setup and confirm all the cables are plugged in correctly. If NordVPN runs on your router, confirm you have entered the correct credentials. You can't connect to a VPN server if the credentials are incorrect.
How to Use NordVPN Meshnet to Bypass Netflix Password Sharing Limits
If you have been sharing your Netflix password with family members or friends, the time is coming when that won't be possible. The Netflix password-sharing crackdown is in full swing, and NordVPN Meshnet has the potential to circumvent it. 
Meshnet is the latest VPN innovation by NordVPN and helps you access devices through encrypted tunnels — not the usual VPN tunnel. In this case, you don't connect to a VPN server. Instead, you route your traffic through other devices logged in to the same account.
This lets you connect to your living room device from anywhere, meaning you can access Netflix as if you were at home. What you should know is that Netflix uses your device's IDs and IP address to determine where you sign in and on what device.
By using Meshnet, you can choose to route your smartphone's traffic via a Windows PC back home. This way, you're accessing Netflix with the Windows PC's IP address, not that of your smartphone.
Up to 10 of your friends or family members can route traffic through the Windows PC using Meshnet, meaning you can share one Netflix account without violating the password-sharing policy.
Final Thoughts
NordVPN unblocks Netflix with ease and is fast enough to load and stream videos without lag or buffering issues. In addition, NordVPN offers unlimited data and bandwidth, allowing you to binge-watch Netflix shows without worrying about being cut off in the middle of the month.
In terms of compatibility, NordVPN works with major operating systems, including Windows, Mac, Linux, iOS, Android and smart TVs. If you use Apple TV or any other smart TV that doesn't natively support VPN apps, you can use the VPN on your router to find a way around Netflix.
Keep in mind that while NordVPN opens Netflix with ease, sometimes technology can go haywire. If you ever encounter the Netflix error code with NordVPN, fret not. Instead, follow the steps we've recommended, to remove potential roadblocks and prevent your internet service provider (ISP) from throttling your VPN connection.
For more remedies, be sure to check out our NordVPN troubleshooting guide. We also have a complete guide on how to fix the Netflix error code.
Have you used NordVPN to stream Netflix content? Did you experience any issues? What did you like most about watching Netflix with NordVPN? We'd like to hear about it in the comment section. As always, thanks for reading.