Best Singapore VPN in 2023: Best Free & Paid VPNs
The island of Singapore is a highly advanced nation, but it also has some strict censorship and restrictions. To bypass those, you should employ the best Singapore VPN services instead of unsafe ones or proxies.
The nation of Singapore is known for its historic districts, diverse culture and a total ban on chewing gum. Online threats can eventually catch up if you connect to the internet, and there are many lurking around the corner. However, you can keep yourself safe with a reliable VPN. Keep reading for the best Singapore VPN apps.
Key Takeaways: VPN for Singapore
Singapore has limited freedom of speech, and the government monitors online activity.
You'll need a VPN to access geoblocked content in Singapore and maintain online safety and privacy in the country.
The best VPN for Singapore is ExpressVPN, but there are seven others that also work well, including free VPNs.
Within the entire Asia-Pacific region, Singapore has some of the most advanced methods for monitoring internet users. A proxy doesn't have encryption, so it's not enough to help you evade governmental surveillance.
However, a good virtual private network (VPN) offers encryption and privacy, and the best VPNs for Singapore will help you avoid online dangers. Keep reading for our full list of the best VPNs for Singapore, including five paid VPNs and two free VPNs.
02/25/2023 Facts checked

Article edited to account for increased VPN options and up-to-date information.
Yes, they are legal to use in Singapore.

All of the paid VPNs we covered have servers in Singapore. However, Proton VPN and Windscribe lock their Singapore servers behind paid plans.
Top VPNs for Singapore
What Makes the Best Singapore VPN?
Security and privacy protections are the most important thing we considered when making the list of the best VPN for Singapore. These VPNs should have DNS leak protection, robust protocols and an internet kill switch. You'll want to look for other features like ad blockers, split tunneling and double VPN servers. The premium products have no-logs policies.
Additionally, the VPN app should be easy to use; a user-friendly VPN should be simple to use and easy to connect. Additionally, a large server network spread out across the world ensures that you can access content libraries from other countries, such as U.S. Netflix.
Finally, if you want to use your VPN provider to access local services like online banking or streaming platforms like iQIYI or Viu, it needs to have VPN servers in Singapore, so you can get a Singapore IP address. Here are the best VPNs for Singapore.
All five of the premium VPNs offer everything you need to get a Singapore IP address or that of a different country. Moreover, they have top-tier security and privacy ratings.
We've also included three free VPN services if you need a backup option that doesn't cost money or you simply like their features. Only TunnelBear has free Singapore servers, while Proton VPN and Windscribe require a paid subscription before you can connect to theirs. These free VPNs are highly secure and don't keep logs, though the free plans do have their limitations.
The 5 Best Premium VPNs for Singapore
It's now time to delve into the five best VPNs for Singapore, and we'll start with our top suggestions, ExpressVPN.
More details about ExpressVPN:
Pricing:

$6.66 per month (15-months plan)

Provider website: expressvpn.com
Pros:
Lightway protocol
Unblocks all streaming apps
Easy to use
ExpressVPN has every standard feature a premium VPN service should have, such as universal split tunneling, a kill switch, multiple protocols and various advanced features. The proprietary Lightway protocol is available over TCP and UDP, with the latter being faster. Lightway is highly secure due to its use of ChaCha20, an encryption cipher with a perfect record.
Users can easily connect to a Singapore server and get a Singaporean IP address, while its various servers worldwide also let you visit restricted websites while in Singapore. The connection speeds are good, only slightly trailing those of NordVPN.
TrustedServer Technology
Many VPN providers provide RAM-only servers, but ExpressVPN takes them a step further. Its TrustedServer technology not only wipes these servers once per hour, but also reinstalls the software every time they reboot.
Additionally, ExpressVPN is extremely easy to use, with a one-click setup that earned it the top spot in our best VPN for beginners guide. Most of its security features are built in to all servers, which means even a novice can have full protection from the get-go.
ExpressVPN's current deal is its 15-month plan that goes for $6.66 per month. The six-month subscription costs $9.99 per month, while a monthly plan is $12.95. All plans come with a 30-day money-back guarantee. You can use the guarantee as a free trial; otherwise, read our ExpressVPN review for more information.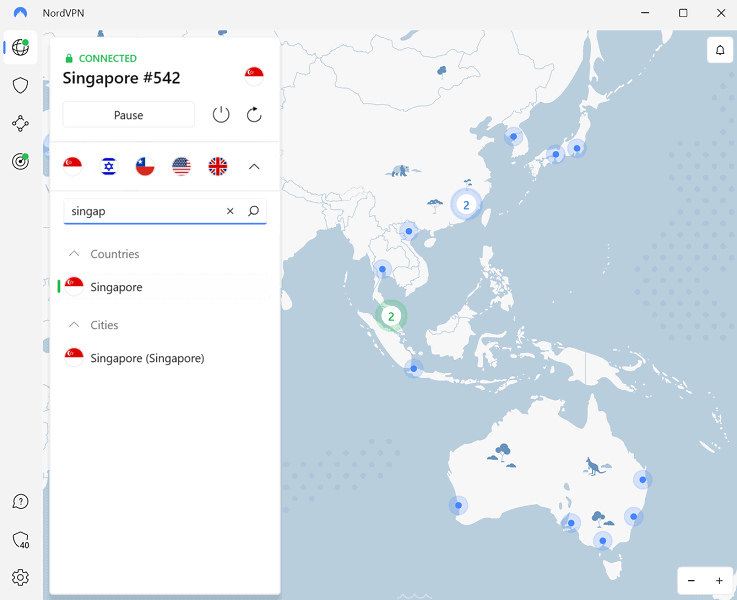 More details about NordVPN:
Pricing:

$3.49 per month (two-year plan)

Provider website: nordvpn.com
Pros:
Very secure & private
Fastest VPN
Affordable longer plans
Cons:
No macOS/iOS split tunneling
Challenging map on mobile
With NordVPN, you can enjoy everything a premium VPN service should have, such as a kill switch, split tunneling and multiple VPN protocols. However, the VPN is a little less user-friendly, with different servers offering different levels of security features, and the mobile map interface being a bit more challenging to use.
NordVPN has Singapore VPN servers. However, lucky for NordVPN, it has faster Singapore server download speeds than ExpressVPN. Even so, ExpressVPN and NordVPN aren't too far apart.
Note that Singapore is one of our regular testing locations for VPN speed, and NordVPN earns the top spot in our fastest VPN article. These incredible speeds are possible thanks to its custom NordLynx protocol, which is based on the WireGuard protocol but modified for speed.
Threat Protection
Regular NordVPN users who have relied on it for years may know the "threat protection" feature as CyberSec. This feature is NordVPN's ad and malware blocker, which prevents others from stealing data or planting malware in your systems. It's not a complete substitute for dedicated antivirus software, but it helps defeat most threats.
Threat Protection will scan all downloaded files to prevent malicious software from infiltrating your systems, and it will prevent you from accidentally stumbling upon shady websites. It comes in two versions, one for Windows and macOS, while the Lite version works on mobile devices.
The three NordVPN plan tiers are Standard, Plus and Complete. Standard includes just the VPN and costs $3.49 per month on the two-year plan. Plus adds the NordPass password manager and a data breach scanner, but ups the price to $5.19 per month on the two-year plan.
Finally, the Complete plan offers 1TB of cloud storage and costs $6.69 per month on the two-year plan. All plans have a 30-day money-back guarantee, and you can learn more by reading our NordVPN review.
More details about Surfshark:
Pricing:

$2.49 per month (two-year plan)

Provider website: surfshark.com
Pros:
Unlimited device connections
Affordable plans
Powerful security features
Surfshark is an affordable VPN service that comes with various features, but many know it for the incredible speeds the servers offer. While the latency sometimes reaches high levels, you can easily watch your favorite shows in full HD.
All standard VPN features like a kill switch and various protocols. It also includes a Singapore VPN server. There are also additions like a highly effective ad blocker and the powerful NoBorders mode. This setting allows you to use Surfshark in countries like China. For those who want them, static IP addresses are also available.
MultiHop Servers
Sending your internet traffic through more than one VPN server can improve security and prevent detection. Surfshark used to only have 14 pairs of servers, but with the introduction of Dynamic MultiHop, users can create their own pairs for the best speeds.
The Dynamic MultiHop feature employs Surfshark's Nexus technology that groups all VPN servers into one network. All you have to do is select two servers and your VPN connection will be double protected.
Few VPN providers offer more affordable plans than Surfshark's, with its two-year plan costing $2.49 per month. A single month is more expensive at $12.95, but a year-long subscription drops the price to $3.99. All plans have a 30-day money-back guarantee, or you can learn more by reading our Surfshark review.
More details about CyberGhost:
Pros:
User-friendly
Powerful automation features
Extended refund period
Cons:
Slower speeds
Not best for streaming
CyberGhost is near the bottom of our premium VPN picks, but that isn't a reason to ignore it. This powerful VPN has multiple servers in Singapore, and all of them are speedy unless you happen to be halfway across the globe. It has the standard features you'll need to stay safe in the country too, including an internet kill switch, malware blocker and more.
Users who prefer having a dedicated IP address may consider CyberGhost, as it's ranked among the best VPNs with dedicated IP. CyberGhost provides dedicated Singapore IP addresses as well. Thanks to its token-based system, the Singapore government won't be able to track you.
The Windows and iOS user interface is sleek and easy to use, but it spreads the advanced settings across three areas. You may find that confusing at first, but that will change after using CyberGhost for a more extended period. The options have clear labels and descriptions to guide you.
Smart Rules
If you've wondered if it was possible to make a VPN do something automatically, then CyberGhost has an answer. Its Smart Rules are customizable automation features that let you configure things once and continue doing what you were doing. It can even launch designated apps or connect to specific servers.
Public WiFi is available all over Singapore, as the government aims to keep people connected. You can configure the Smart Rules so CyberGhost launches if you're connected to public WiFi networks.
All CyberGhost plans have a 45-day money-back guarantee, except for the month-long subscription for $12.99, which has 14 days. To save money, you should purchase a six-month plan for $6.99 per month or a two-year plan for $2.37. If you're looking to test CyberGhost, you can do so on PC for a day and on mobile devices for seven days free. You can read our CyberGhost review to learn more.
More details about Private Internet Access:
Pros:
Affordable plans
Easy to customize
Comes with ad blocker
Cons:
Can't unlock BBC iPlayer or Hulu
Inconsistent upload speeds
Private Internet Access (PIA) has a huge server network comprising thousands of servers across the planet, with several Singaporean servers. The speeds are fast enough to avoid buffering when you use video-streaming services. PIA's security features meet premium VPN standards and include a kill switch, multiple protocols and the ability to set up port forwarding.
Customizability is crucial for VPN users who want to access online content with their preferred configurations. PIA offers tips to help newer users adjust their settings without feeling lost. Accessing geoblocked websites and online banking services is easy with PIA, as is Netflix and Amazon Prime Video. However, it struggles to unblock other video streaming services like BBC iPlayer and Hulu.
MACE
MACE is Private Internet Access' ad blocker, but it uses a different approach. Instead of blocking incoming DNS requests outright, MACE redirects them to your IP address, so it doesn't have to check a blocklist before making a denial. This unique method allows PIA to block ads faster, preventing malware and adware from slipping past your system's defenses.
One month of Private Internet Access is $11.95, while the one-year plan costs $3.33 per month. You can save money by purchasing a three-year subscription that goes for $2.19 a month. All plans have a 30-day money-back guarantee. Our Private Internet Access review goes into further detail.
The 3 Best Free VPNs for Singapore
Here are the best free VPNs for Singapore. All of the VPN providers have excellent reputations and don't sell your data.
More details about TunnelBear:
Pros:
Fully featured free plan
Simple to navigate
Affordable paid plans
Cons:
Limited features
Locked protocols on mobile
Free plan limited to 500MB
Besides its cute theme and simple UI arrangement, TunnelBear earns the spot as the best free Singapore VPN provider, thanks to having all servers and features available on the free plan. Everything is laid out clearly, and you only need a few minutes to get used to this interface. The three tabs in the settings menu contain all the advanced features, including its VigilantBear kill switch.
In the spirit of the theme, the developers refer to TunnelBear's split tunneling function as SplitBear. It's only available on mobile devices, with Windows and macOS versions coming soon. Protocol options aren't named after bears, but you can pick between OpenVPN, IKEv2 and WireGuard. Sadly, mobile users can't change protocols unless they toggle TCP override on.
The biggest problem with Tunnelbear's free plan is that you only get 500MB a month, and tweeting about TunnelBear will only give you an extra 500MB of data. A paltry free data can disappear in hours or even minutes if you're streaming in higher resolutions or playing games. Since there's unlimited bandwidth, you'll quickly hit your quota unless you stick to casual browsing.
GhostBear
Countries like China ban VPN usage and have measures set up to see if you're using one. TunnelBear's solution is to implement an obfuscation protocol called GhostBear. GhostBear will encrypt your web traffic to prevent eavesdroppers, but that's not all it can do.
To bypass the Great Firewall — China's internet censorship initiative — GhostBear makes your internet traffic look like you're not using a VPN at all. While it's not necessary for users in Singapore because VPNs are legal, Singaporean users in China can access their bank accounts online in a pinch. Obfuscation slows connection speeds, and you should only use it when TunnelBear fails to connect.
TunnelBear's Unlimited plans include one-month, one-year and three-year plans, costing $9.99, $4.99 and $3.33 per month, respectively. The Teams plan goes for $5.75 per user per month. There is a seven-day free trial but no money-back guarantees, though you can request a refund. TunnelBear grants them on a "case-by-case basis."
The free TunnelBear plan has many restrictions, but it has genuine DNS leak protection and is a secure VPN proven to bypass internet censorship. It's not a bad idea to have it as a backup VPN in case one fails. Read our TunnelBear review for a deeper look.

Individual
Unlimited GB, five devices, priority customer service
Unlimited GB
5
Yes
Teams
Unlimited GB, five devices per user, centralized billing, account manager, price per user per month
Unlimited GB
5
Yes
More details about Proton VPN:
Pricing: Free,

$4.99 per month (two-year plan)

Provider website: protonvpn.com
Pros:
Swiss privacy laws
No data limits on free plan
Excellent security
Cons:
Only 3 free server locations
No Singapore servers for free
Expensive paid plans
Proton VPN is a product of Swiss company Proton AG that also offers other privacy-first services. It doesn't have limited data or bandwidth, but you can't access the Singapore servers unless you upgrade to a paid plan. That said, the fact that it complies with Swiss privacy laws is a significant advantage, meaning the company barely keeps any information.
The Proton VPN free plan has servers only in the U.S., the Netherlands and Japan, though the app chooses the fastest VPN servers by default. The three available protocols are OpenVPN, WireGuard and IKEv2. ProtonVPN also selects the best protocol depending on where you are, such as in China or Russia.
Locking the other servers behind a paid plan is why Proton VPN isn't first place on this list, but its security and privacy are cutting edge. It unblocks streaming services effortlessly, like the best Singapore VPNs. We found no DNS leaks in our extensive testing.
Secure Core Servers
Proton VPN employs world-class VPN protocols and AES-256 encryption. Its Secure Core servers are highly guarded installations, and the servers were physically installed by the company's trusted employees. They own all the IP addresses on the private network, ensuring there is little chance for a security loophole. 
Physical security is crucial for Secure Core servers; one example is its Iceland data center. This location is a former military base refurbished for a new purpose. Not many providers have such an emphasis on security.
The Proton VPN Plus plan starts with a monthly subscription that goes for $9.99, but the one- and two-year plans are $5.99 and $4.99 per month, respectively.
The Plus plans unlock Secure Core servers, the NetShield ad blocker and the complete server list, among other features. The Proton Unlimited bundle also contains the full VPN experience, which is excellent if you want other Proton services. For more information, visit our ProtonVPN review.
More details about Windscribe:
Pricing: Free,

$5.75 per month (one-year plan)

Provider website: windscribe.com
Pros:
10GB base free plan
Strong security
Good privacy solutions
Cons:
3 day money-back guarantee
Mildly confusing UI
Only 11 free server locations
Windscribe is one of the most trustworthy free VPNs you can get. It has a generous data limit of 15GB if you verify your email address and tweet about the app. The free version doesn't include the Singapore servers, but you can access other servers in 11 countries. There are no bandwidth limits.
Besides choosing from OpenVPN (TCP and UDP), WireGuard and IKEv2, users can keep themselves safe with Windscribe's Stealth and Websocket Stunnel protocols. The former is an obfuscation function with 11 ports, which makes your activity look like HTTPS traffic. Websocket Stunnel, or WStunnel, will mask OpenVPN traffic specifically to look like Websocket traffic.
While most of Windscribe's features have straightforward names, its customizable ad blocker, called R.O.B.E.R.T., can also block various website categories while allowing others on a list. Users can block eight categories including social media networks, fake news and gambling sites.
Double-Hopping
Windscribe has a browser extension that can work without the desktop client. Still, the developers recommend installing both if you want to initiate double-hopping, also called double VPN by some providers. You don't need to look for a setting in an obscure corner to activate this feature.
For example, you can connect to Germany on the desktop app, but you select the Zurich server on the browser extension. This form of double-hopping allows for thousands of combinations that suit your situation.
Windscribe's paid plans include a $9 monthly plan, a $5.75 per month yearly plan and a customized subscription that costs $1 per server location per month. This last option allows you to save money if you only want a specific location, such as Singapore. It comes with R.O.B.E.R.T. and 10GB of extra data per month. Note that the build-a-plan option has a minimum checkout value of $3 per month.
Windscribe's user interface can be confusing for new users, especially if they're new to VPNs. However, this secure VPN will never leak your IP address or WebRTC. If you're interested, check out our Windscribe review for more info.
Free
Up to 15 GB free with email confirmation and Tweet
15GB
Unlimited
Why Use a VPN in Singapore?
The Singaporean government does protect its citizens' freedom of speech, but privacy isn't a right in the country. Additionally, the government actively surveils its citizens.
The Foreign Interference (Countermeasures) Act, or FICA, was passed on October 4, 2021. FICA tightens restrictions over local internet traffic and further limits freedom of speech. Many other laws have also allowed the Singaporean government to silence the media and bloggers for speaking out.
Cybercrime in Singapore has only risen since 2018, and it will continue to increase. That's why using a VPN in Singapore will help keep you safe. You don't want the government and criminals peering into your browsing activity.
Is Torrenting Illegal in Singapore?
Local internet service providers have blocked pirating sites, including The Pirate Bay, since 2018. Torrenting itself isn't inherently illegal, but downloading copyrighted content is. The authorities will track down those who ignore these restrictions, and jail time and fines are standard punishments for piracy.
Is Porn Illegal in Singapore?
Yes and no. Watching porn is legal in Singapore, but Singaporeans can't produce or sell pornographic materials. In 2022, Titus Low was fined and jailed for sharing such content on his OnlyFans account. The country is generally conservative and blocks porn websites to protect minors.
Final Thoughts: Best VPN for Singapore
With all things considered, using a VPN in Singapore helps you avoid government surveillance and cybercrime. The government has no qualms tracking you in the name of national security and has done this to others many times. You can also bypass geoblocks within or from outside the country to access any content you want.
The best VPN for Singapore is ExpressVPN, with NordVPN close behind. Both offer a refund period of 30 days, which grants you plenty of time to try the VPN out.
Have you used a VPN in Singapore? How did that go for you? Let us know in the comments section. Thank you for reading to the end.